If you are a Windows user and want to use Linux, this can be done by easily by using Virtual Machine or using Live from USB. You will use full features, but you will lose your data or your work that is in Virtual OS when turned off and Live OS is slow. You can overcome this problem by installing two operating systems on one computer – dual boot.
This article will help you to overcome the problem and will guide everyone how one can make dual boot Windows 10 and Linux work easily. You just have to follow our footprints to get a dual OS on your exiting computer. Having two way system has along of benefits especially hardware free is highlighted among them.
Part 1: How to Dual Boot Windows 10 and Linux
Before we begin, you need:
1. Linux Mint ISO file
To download the Linux Mint ISO file, you need to go here Linux Mint Website. It is recommended to use the Cinnamon environment if you are a newbie.


2. Portable drive like USB or any of your choice
Now you have downloaded the file you need a portable drive that should be written with Linux Mint ISO file in other words your portable drive should be bootable / Live. For this purpose, you can use Rufus or any software of your choice.
You can download Rufus from here and simply plug in your portable drive and click Select to downloaded Linux Mint ISO file. Press start when Ready and after some time your bootable portable drive is ready.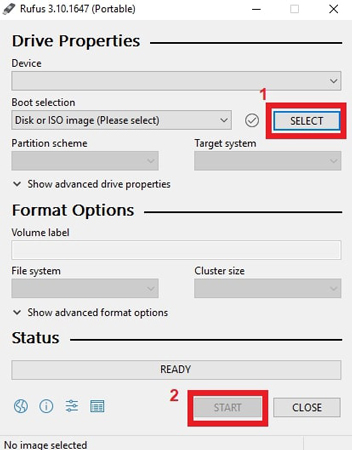 3. Empty space for Linux.
Now you need to create an empty partition for Linux from disk management window by clicking unallocated space.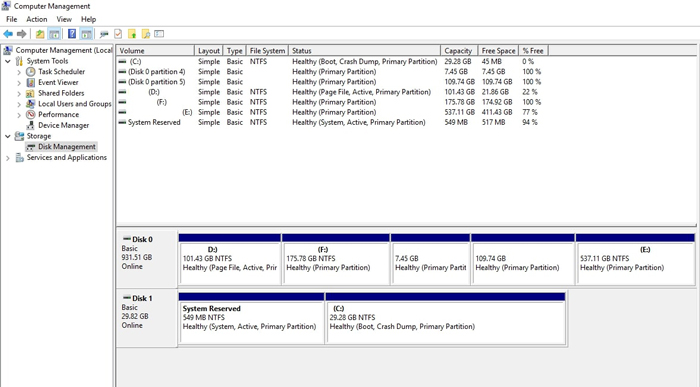 If you have no space left like in my case, then you can shrink the existing volume of your choice and then create a space and left it blank or create your partition. If you have space left, then simply create your partition.
Note: Linux can be installed in less space, but it is recommended to make partition of 30GB or more.
Now that you have completed all the requirements, you can now begin to install the Linux Mint by following the steps mentioned below:
Plugin your bootable drive and restart your PC / laptop. Press "F11" or "F12" or "F9" to enter the boot menu while booting.
Now choose "USB" or "Removable Media" option to boot.
Now the process is in progress, and you will have to wait. Once the boot is complete, you will be able to see Desktop, click "Install Linux Mint" and wait for some time.
After a few seconds, you will be able to see the installation menu. You will be asked to choose the operating system language.
Now you need to select where you want to install Linux Mint, there will be multiple options under the heading of Installation type, but you need to choose "Something Else".
Now select the empty partition that you have in windows and press plus icon. You will have to create a root partition, swap partition and home partition. These partitions are relevant because the root is similar to C drive in windows where all of the data is installed and swap partition that is designated as swap space. Please try to allocate more space to a home partition.
Now if you are done creating a partition, just press "Install Now" and follow the simple instructions (Choosing Region, Keyboard layout, Login Credentials) to complete the process.
Once the installation is done, Restart the computer.
Extra Tips: Should I Dual Boot Linux?
The answer to the question "What should be the ideal condition to use Dual boot Linux?" Is based on your requirements, you should know when to use and when not to use.
There are several reasons why you should use Dual boot Linux:
Virtual machines and Live OS are slow, so dual boot is fast.
It is easy to switch between the Operating system and run the software/application in the desired environment.
Theoretically, dual-boot eliminates hardware redundancy – reduces the number of devices user own and maintain.
User will be able to save work and update progress.
If one operating system fails to perform, then others can carry out the work.
On the other hand, there are reasons why you should not use Dual boot Linux on your computer:
It does take time to turn off one Operating system and restart another or sometimes won't boot properly.
Storage systems are incompatible: downloading, creating, editing the file in one operating system will not available in seconds operating system. With Linux, you can access Windows files, but in Windows, you cannot access Linux files.
Sometimes while updating, Linux's grub gets bugged and become unusable (unbootable drive).
Windows 10 updates sometimes cause the issue with the dual boot or worse gives blue screen error.
If you have these issues ever do not worry because anything can be solved: you can answer all of your problem with Tenorshare Windows Boot Genius. It is designed to solve blue or black screen error, solve windows 10 update issues, works effectively on damages partitions and solve system crash issues.
Summary
This article teaches user about how they can install a dual boot Windows and Linux on their computers. Apart from that it has two parts first one explains a detailed guide on how to create bootable usb to installation of Linux along with Windows. The extra tip then highlight the usage of Linux in dual boot and Tenoshare software known as Windows Boot Genius that helps get all of this done in easy steps.