While using a computer, it's common to have multiple hard drives within it for segregating the various files stored there. Disk slicing/partitioning means creating more than one area on a hard disk or secondary storage spaces to help the OS manage data distinctively for each region. These regions are commonly addressed as partitions or hard disk partitions or drives. If you are wondering how to add hard drive to pc, this article is going to offer you a elaborate guide for that. Keep reading to know more!
Part 1. Precautions Before Adding Hard Drive
Well, before understanding how to add a hard drive to Windows 10 computer, you need to learn about the necessary precautions that you must take prior to a hard drive partition.
Here is the list of precautionary measures before partitioning your computer hard drive.
When it comes to partitioning, formatting or creating a new hard drive, the process completely wipes out the data from the respective drive source. So, it is highly recommended to pay strict attention during the process to prevent the wrong drive being erased or partitioned.
It is advisable to back up the data in some other drive and then partition a desired drive, to prevent data loss. Though a fresh drive doesn't go through all the hassle.
As a precautionary measure, disconnect all the external drives attached to your computer, so that you don't partition or format them accidentally.
Part 2. How to Add a Hard Drive to Windows 10
Now that we are well aware about the precautions we need to take prior to adding hard drive on Windows 10, let's go through the actual process. In this part of the article, we are going to explain, how you can add a hard drive to your Windows 10 computer.
Here is the guide-
Launch the "Windows Disk Management" tool as you will need it to format the new hard drive. Right-click on the "Windows Start" button and then tap on "Disk Management". Your hard drive will be visible on the "Disk Management" tool's interface.
Now, you need to initialize the new disk by right-clicking "Disk Label" and then tap "Initialize Disk". Select "M/p (Master Boot Record)" under "Initialize Disk" dialog box as your "Partition" style followed by OK.
You need to create a new volume by right-clicking "Unallocated" (or free space) and then "New Simple Volume" afterwards from the context menu and proceed. From the "New Simple Volume Wizard" window click the "Next" button.
Again on the "New Simple Volume Wizard" mention the new Windows 10 partition drive size. You need to allocate specific amount of space or the maximum available disk space to it.
Now, assign a drive letter to the new drive followed by clicking the "Next" button. By default the drive name is "E".
For formatting the drive, you need to hit the "Next" button. Choose the "Format Type" by clicking "Format disk" option, as well for your Windows 10 partition and then tap "Finish".
Part 3. Want to Change Hard Drive Settings But Forgot Administrator Password
When you need to partition or format disks in your Windows 10 computer, you might need the administrator level passwords to manage the drives. If by any chance, you have forgotten the password or lost it then what are your chances of proceeding with the partitioning flawlessly? Well, there will be a speed-/peaker that will hamper Windows 10 adding a hard drive on your system. To prevent this, you can opt for PassFab 4WinKey, which is an absolute solution for recovering, resetting, removing, and creating new passwords. It can work for Windows accounts, Microsoft Active Directory, local and domain level passwords. It helps you reset administrator level as well as user level and Microsoft accounts, with ease.
Let's go through the detailed guide for PassFab 4WinKey to reset your forgotten password and continue with Windows 10 hard disk partitioning.
Step 1. Install and run the software on your PC and then connect a USB flash drive to the same computer.
Step 2. Select "USB Flash Drive" within the software interface and hit the "Burn" button thereafter. Click the "OK" button and wait till the disk is burned, then eject it.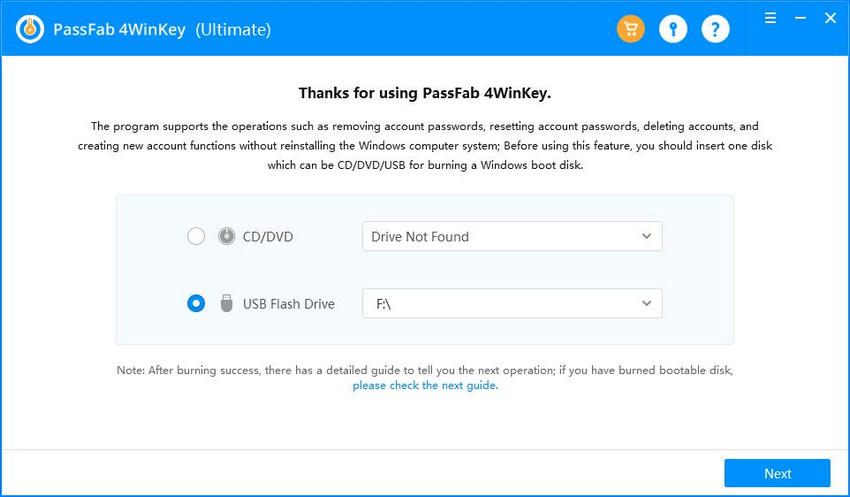 Step 3. Now, go to your locked and password forgotten computer and plug in the USB flash drive. Click on the "F12" (Boot Menu) key to reboot the computer. Select the USB flash drive in the options and then hit "Enter".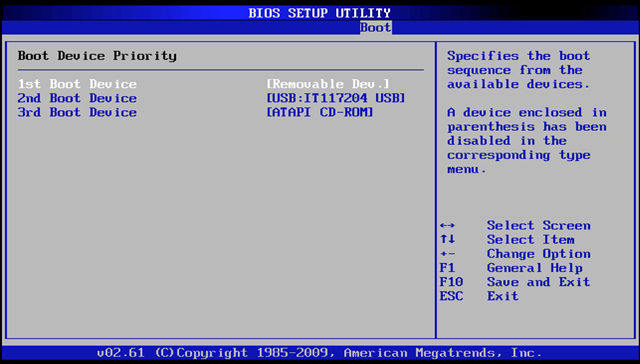 Step 4. choose "Windows 10" as the operating system here and tap the "Next" button.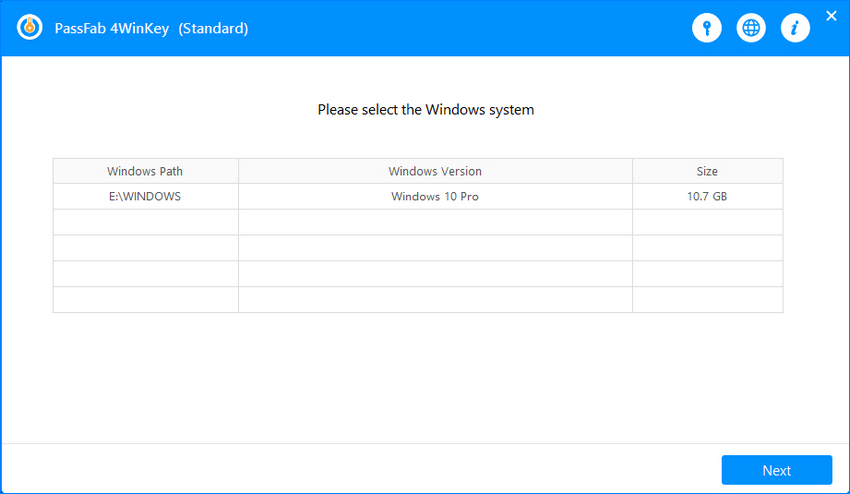 Step 5. Mention the account type as Admin/Guest/Microsoft account for which you want to reset the password for. Hit on the account name next to it and then press the "Next" button.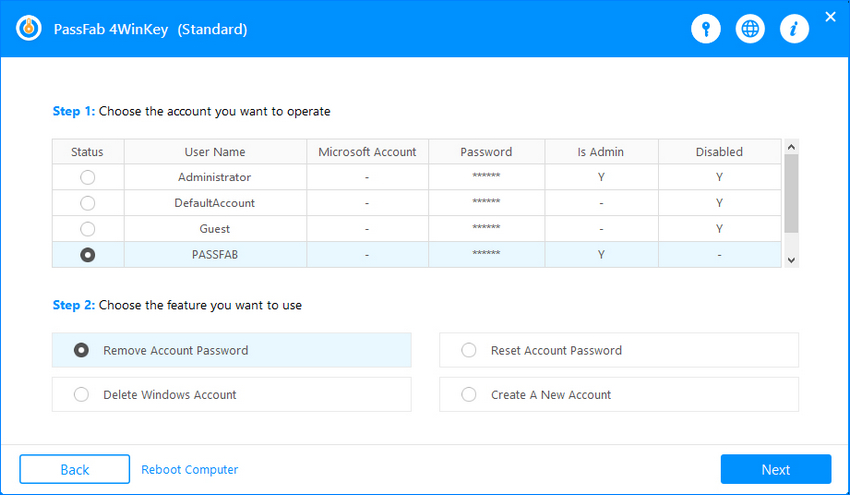 Step 6. By clicking "Reboot" and then "Restart Now" you will be resetting the Windows 10 password.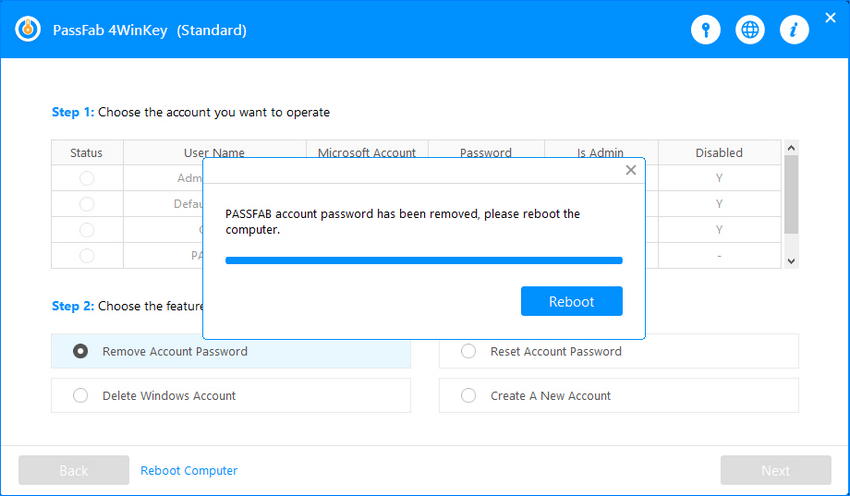 Bottom Line
From the above article, we conclude that, when it comes to adding hard drive on Windows 10 you need to have the right password. But, for cases when you don't have the password or forgot it for some reason, there is PassFab 4WinKey for your rescue. You don't need to bother about the account type or the complexity of the password.