Every object, file or folder in Windows have an icon, but people always use the default icons on their PC that it can get boring after some time. You might want to know "How do I change my desktop icon on windows?" so that you can give your PC a personal look. In this article, we will tell you how to do it. Moreover, we will teach you to change the icon size on Windows 10.
Section 1. How to Change the Desktop Icon on Windows 10
Before the start, I have to tell you that change the desktop or folder icon require a password. Without entering the correct combination of password key, it is not possible to change the desktop icon settings. According to the research, around 90 percent of users forget their password of the computer. Are you one of them? Well, you can try PassFab 4WinKey in order to change the password on Windows computer in a few simple shots.
Step 1: First of all, you have to right click on the empty area on the screen and choose "Personalize" from the popup menu.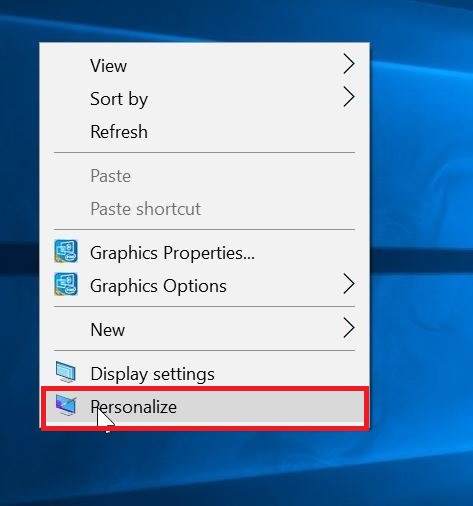 Step 2: Settings window interface will appear, simply click on the "Themes" option under the Personalization category.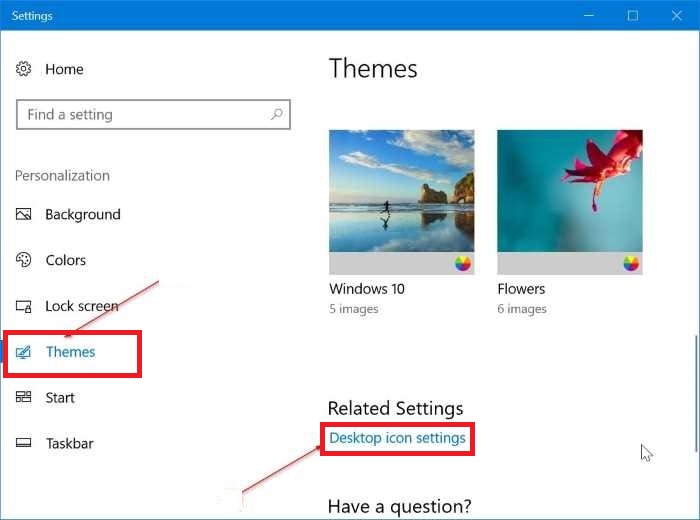 Step 3: On the Themes interface, click on the "Desktop icon settings" link to open the Desktop Icon Settings dialog box.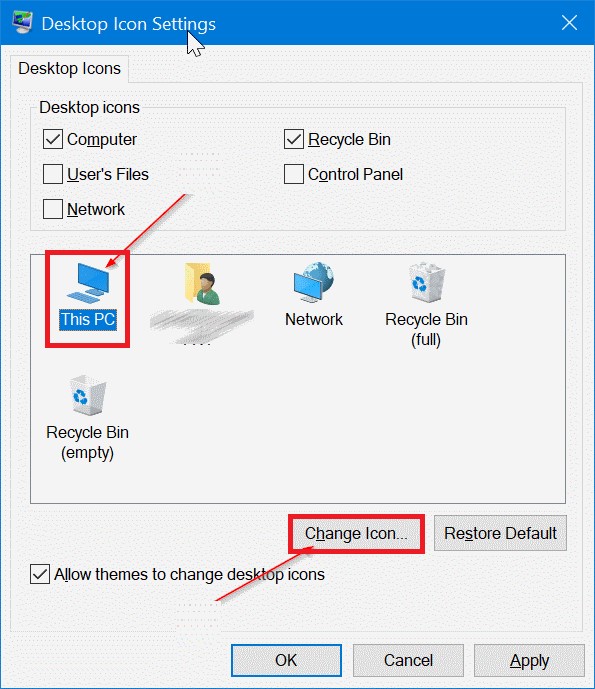 Step 4: On the Desktop icon settings dialog box, you will find lots of options. Simply choose any of windows 10 desktop icons that you would like to change and hit on the "Change icon" button.
Step 5: Change icon interface will appear; simply click on available icons that you would like a set. If the icon is not available on the list then, click on the /powse and choose the icon with .ico file format and hit on the "Open" button.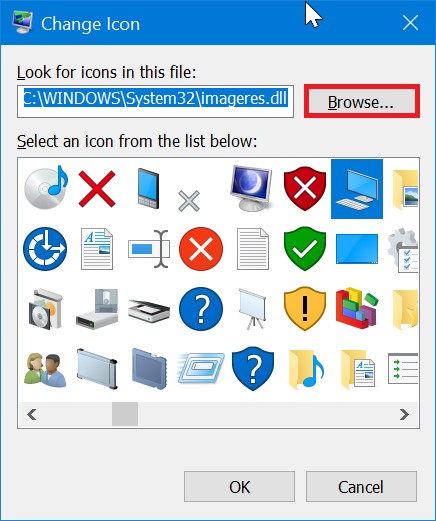 Step 6: After that, click on the "Apply" button to make changes that you have made.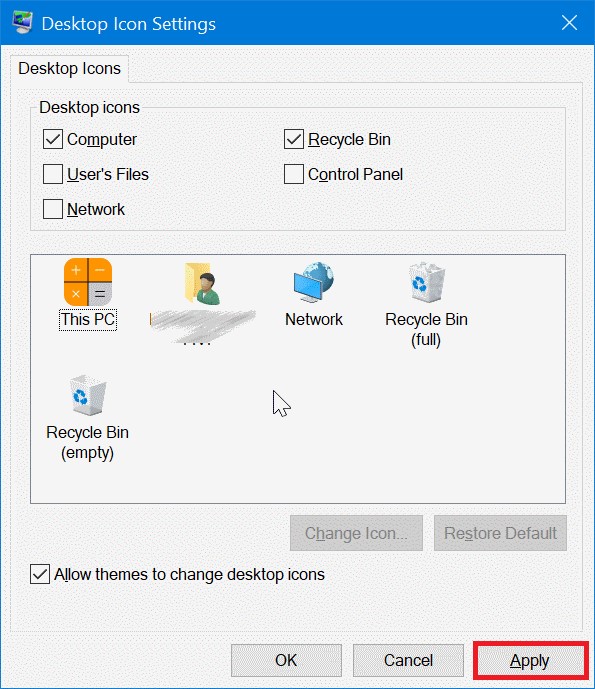 Note: If you want to revert the changes then, you can follow the below steps.
Initially, you have to open the settings and go to the "Personalization" and hit on the "Themes".
You have to choose the "Desktop icon settings" link to open the Desktop icon settings interface.
Now choose the icon which you would like to restore. Click on the "Restore Default" to restore the icon change settings. Hit on the "Apply" to made changes.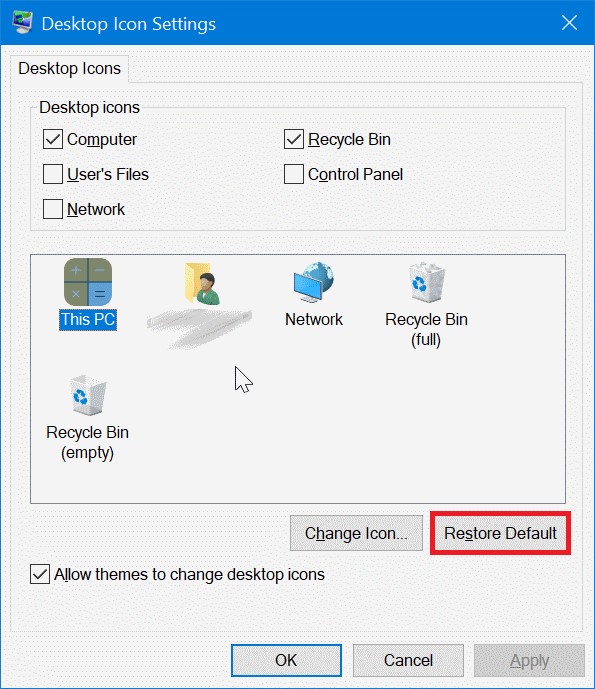 Section 2. Useful Information about Widnows 10 You Can't Miss
By learning more about Windows 10, you can use it more comfortably. That's the reason why I gather these information for you guys. Keep reading to check it out!
1. Activity History
Windows 10 has a new Timeline feature that records all your activities in supported apps. You can not only resume from where you left and it also keeps the related apps used together so that you can easily continue with the reference used last time. Moreover, you can sync this feature across multiple devices. You can summon this feature by pressing Windows + Tab keys. Though, at the time only limited apps are supported.
2. Manage Notifications Easily
Action center in Windows 10 is completely revamped to enhance user experience. Now, you can easily access Action Center by clicking on the notifications icon in the system tray and see all the applications or system notifications.
3. Customize Start Menu
Think the start menu is too big or small? Decrease or increase the size to suit your taste. The Start menu in Windows 10 is fully customizable, meaning, you can change the size of the start menu simply by pressing and holding the cursor on the edge of Start Menu and drag to a size you want. You can also increase or decrease the number of tiles that you want on the Start Menu. The customization isn't limited to all this. If you want, you can also enable the full-screen start menu like in Windows 8. While there are a lot of other options that you can access by going to Settings > Personalization > Start Page.
4. Use the New Keyboard Shortcuts
New shortcuts have been added to Windows 10 for easy access to new features. Pressing Windows + C enables voice input for Cortana, Window + S shows daily weather, sports, and news in Cortana.
5. New Way to Lock PC
Now, you don't need to press Window + L to lock the computer whenever you go somewhere. You can use the Dynamic Lock feature on Windows 10 to automatically lock your PC when you go away from it. You need to pair your phone with the computer with Bluetooth and then it will automatically lock down when you go away from it. To use this feature, first, you need to pair your devices in Control Panel > Hardware and Sound > Devices and Printers. Afterward, go to Settings > Account > Sign-in Options and enable Dynamic Lock.
6. Free up Storage Space Automatically
Windows 10 has a Storage Sense feature that automatically deletes temporary files on your computer and Recycle Bin files so that your storage doesn't fill up with unnecessary junk. To activate this feature, go to Settings > System > Storage and enable Storage Sense. You can customize the settings for deleting recycle bin files. It is also possible to delete Downloads folder files if they have been stored for too long.
Summary
Are you feeling bored of the default Windows 10 desktop icons and want to know how to change the icon on Windows 10 and how to change icon size in Windows 10? In this article, we have given you a simple way to change the icon on Windows 10 as well as some other tips to utilize new features on Windows 10. Moreover, we have introduced PassFab 4WinKey, the beast Windows password recovery tool that will help you reset forgotten Windows password without needing to reinstall Windows.