Sticky keys is an accessibility feature on the Windows operating system that allows users to enter keyboard combinations in sequence rather than simultaneously. This feature makes it easier to use keyboard shortcuts for users with physical disabilities. When Sticky Keys feature is enabled on Windows, you can press a modifier key like CTRL, ALT, SHIFT, Windows, etc. and they will stay active until you press another key.
Sticky Keys was first introduced in Mac OS and Windows 95 was the first Window OS with Sticky Keys feature. Windows 10 also includes Sticky Keys features and can activate through Ease of Access menu or by pressing Shift key 5 times. But, as useful sticky keys are, it can also cause some troubles to users who play games on their PC. So, a lot of users want to know Windows 10 disable sticky keys procedure. For these users, we have given several methods for Windows 10 disable sticky in this article.
Part 1. How to Disable Windows 10 Sticky Keys
On Windows, there are several ways to perform a function. Windows 10 disable sticky keys can also be performed through several methods. Here, we will tell you all the methods to disable Sticky Keys on Windows 10.
Method 1: Disabling Sticky Keys using Keyboard
You can disable Sticky Keys using Keyboard keys. Sticky Keys can be activated by pressing the Shift Key 5 times consecutively. But this method can also be used to disable Sticky Keys on Windows 10. You just need to press Shift Keys consecutively for 5 times. It will disable Sticky keys on Windows 10. You can confirm that Sticky Keys is disabled by checking the Sticky Keys icon on the taskbar.
Alternatively, Windows 10 disable sticky keys can be achieved by pressing a combination of modifier keys. If Sticky keys are enabled, just press any two keys from Ctrl, Alt, Windows or Shift keys to disable Sticky keys.
Method 2: Disable Sticky on Windows 10 through Settings App
You can also disable Sticky Keys on Windows 10 through the Settings app. The Settings app on Windows 10 gives access to many settings options of Windows OS, including Ease of Access. Follow the below steps to know how to disable Sticky Keys on Windows 10 using Ease of Access in Settings app -
Step 1: Open Settings app through the Start Menu and then go to Ease of Access option.
Step 2: Click on Keyboard in Ease of Access and then toggle off the switch for "Press one key at a time for keyboard shortcuts" option under the Sticky Keys section.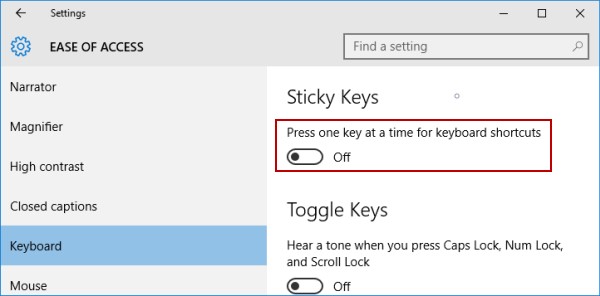 Step 3: Doing so will disable Sticky keys on Windows 10.
Method 3: Disable Sticky Keys through the Sticky Key icon
You can also disable Windows 10 Sticky keys by accessing Sticky keys settings by pressing the Sticky Keys icon from the taskbar. This will take you to the Ease of Access Sticky keys windows in the control panel. Though you can navigate to the said windows through Control panel, but pressing the sticky keys icon is easier and faster. Follow the below steps to know Windows 10 disable sticky keys through Sticky keys icon -
Step 1: Double-click on the Sticky Keys icon on the taskbar and it will display the Set up Sticky Keys window.


Step 2: Now, uncheck the Turn on Sticky Keys option to disable Sticky Keys.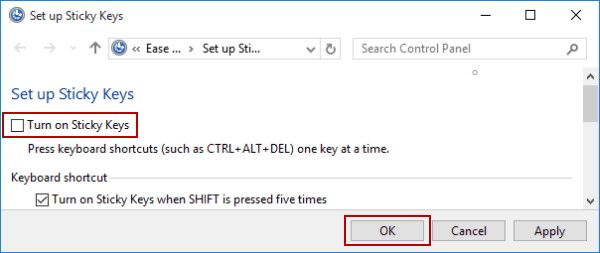 Step 3: If you want, you can also disable the Sticky Keys prompt when you press shift keys 5 times. To do this, uncheck the "Turn on Sticky Keys when SHIFT is pressed five times" option under Keyboard shortcut.
Step 4: Then, click Apply to save the settings and the sticky keys will be disabled.
Part 2. What Should You Do After Forgot Windows 10 Password
There are many types of password on a computer like an administrator, Microsoft, and standard user password. Administrator account password secures the admin account, the primary users of the computer. Microsoft account password is used to authorize Windows login using Microsoft account as well as gives access to Microsoft's cloud services. The login password is the term given to the password that is used by all users of the computer to access the computer. If there is only one user on a computer, then login password will be same as the administrator password, otherwise, each subsequent users will have different passwords.
With so many types of Windows user password, it can get confusing to manage them. Forgetting Windows 10 password is a common occurrence. Though you can reset a forgotten password but will require you to reset or reinstall Windows and you will have to set up your computer again. If you also forgot your Windows 10 password, but don't want to reset Windows for resetting it, you can use PassFab 4WinKey.
This Windows password recovery tool that allows you to reset/change/remove forgotten Windows 10 administrator, local as well as Microsoft account password very easily. You can also reset/remove domain admin or standard user password. Moreover, it is fully secure from any kind of data loss. So, you don't need to set up your computer again after resetting the password. PassFab 4WinKey can recover forgotten password for a range of Windows OS besides Windows 10 like Windows 8.1/8/7/Vista/XP etc.
How to reset forgotten Windows 10 password using PassFab 4WinKey?
Step 1: Download and install PassFab 4WinKey on your computer and then launch it.
Step 2: Then, select the Advanced Recovery Wizard.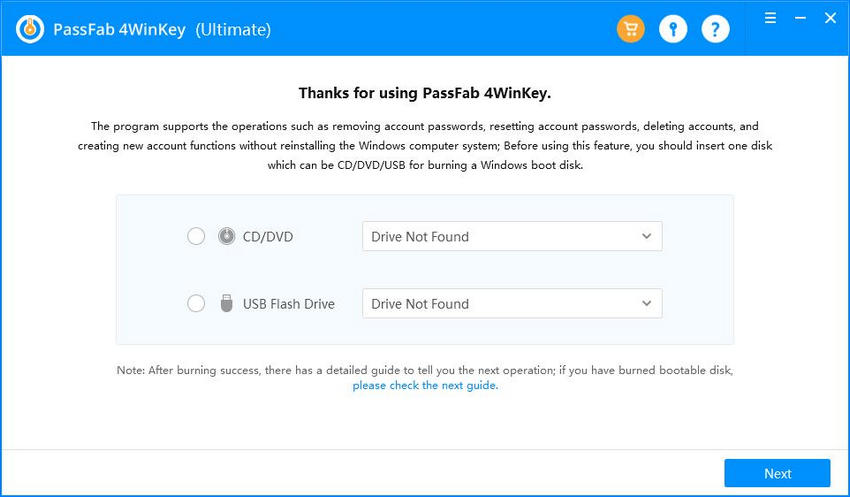 Step 3: Now, select Windows 10 as the target OS version.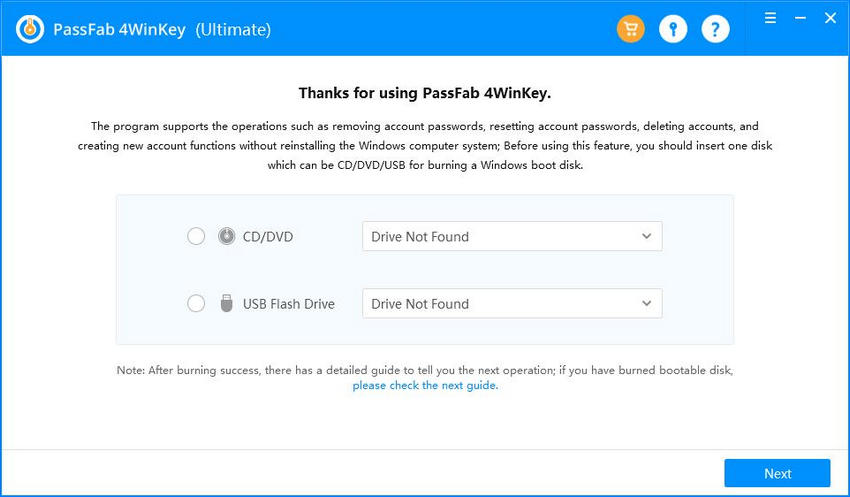 Step 4: Next, select a Boot media and create a password recovery disk by burning it from PassFab 4WinKey.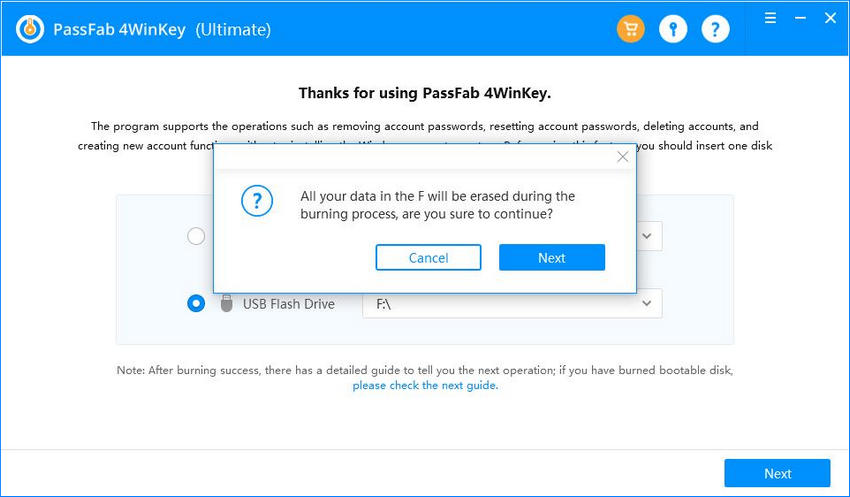 Note: If you use USB disk, back it up as all data on it will be deleted to create a recovery disk.
Step 5: Insert the password recovery disk into the Windows 10 computer and restart it.
Step 6: Press F12 or ESC while PC is starting to enter the Boot menu and then select boot from the recovery disk.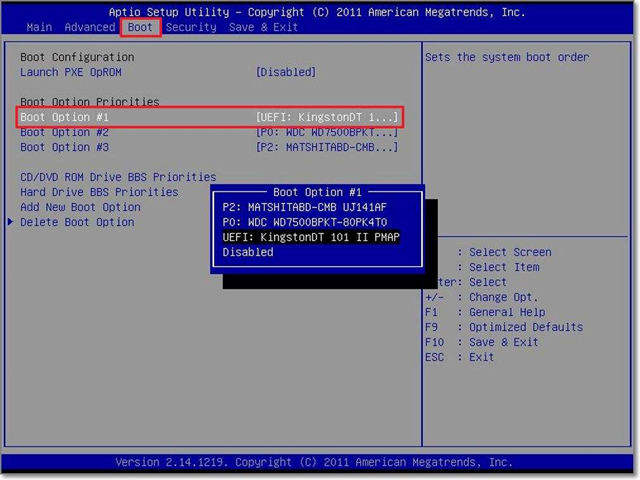 Step 7: Select Windows installation on the computer and then check "Reset your password" option.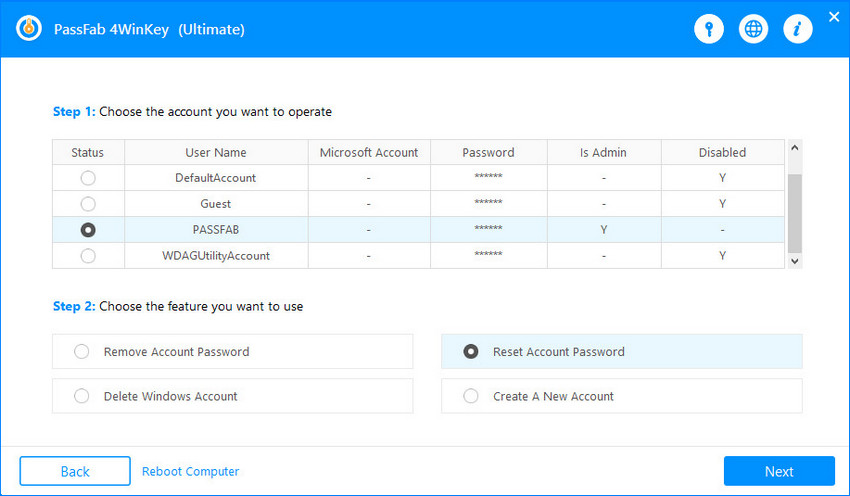 Step 8: Select a user account and enter the new password in the New Password text box. Click Next to reset the password.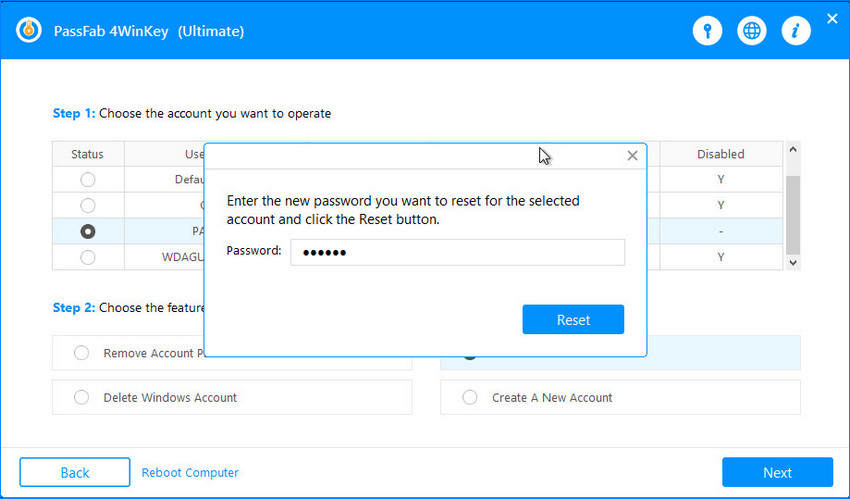 Step 9: Wait for a while for PassFab 4WinKey to reset Windows 10 password and then restart the computer. Now, login in with the new password.
Summary
Sticky Keys may be a useful feature, but it can also get very troubling, especially while gaming. If you feel annoyed with Sticky Keys and want to disable it, here we have given a comprehensive guide to Windows 10 disable sticky keys. In the end, we have also shown you how PassFab 4WinKey can help you reset forgotten Windows 10 password without resetting Windows.