"The new 2020-04 Cumulative Update for Windows 10 version 1909 for x86 based systems KB4549951 will not install, I keep getting the error code 0x800f0831 all prior updates installed successfully until now. Is there a fix to this? This is ridiculous, and Microsoft needs to do something about this soon! Ever since Windows 10 was first released, it has been a security AND privacy issue with nothing but flaws and bugs..."

Are you struggling with resolving the issue of Windows 10 update KB4549951 error? This article can help you in dealing with this problem.
Part 1: 6 Symptoms of Windows 10 KB4549951 Update Failure
Windows 10 update error KB4549951 has the following symptoms.
Symptom 1: Blue Screen of Death (BSOD)
It now appears that the most common Blue Screen of Death error messages are (listed by Windows Latest):
PAGE_FAULT_IN_NONPAGED_AREA
CRITICAL_PROCESS_DIED
ACPI_BIOS_ERROR
INACCESSIBLE BOOT DEVICE
MEMORY_MANAGEMENT
DPC_WATCHDOG_VIOLATION
Portcls.sys
Symptom 2: Delete Files (Data Loss)
Several users have reported that with the new update, a few of the pictures, files, and other documents are automatically getting deleted from their computer.
Symptom 3: Computer Crash
Some users also reported that their computer suddenly crashes, and in some cases, it does not even start up again.
Symptom 4: Wi-Fi Network Issue
The display, as well as the Wifi network issue, is also pretty common with the new Windows 10 update.
Symptom 5: Bluetooth Issue
Once Windows 10 gets updated, some users also experienced that the Bluetooth on their system stopped functioning, and the option is no longer available on the Device Manager also.
Symptom 6: Microphone Issue
After the update on the Windows system, in some cases, even the microphone stopped functioning.
Part 2: 3 Solutions to Fix Windows 10 Update Patch KB4549951 Error
If you are experiencing any of the symptoms described above, your system may be suffering with the KB4549951 error. You can try out the following solutions for resolving this problem on your system.
Solution 1: Uninstall Windows 10 Update KB4549951
The best way to resolve the problems due to the Windows 10 update is to uninstall it. You can do this by following the steps below.
Step 1: From "Control Panel", go to "Programs".
Step 2: From the available options, select "Programs, and Features".
Step 3: Click on "View Installed Updates".
Step 4: Right-click on KB4549951 and confirm by clicking on "Yes" when the prompt appears.

Your device will restart, the update will be uninstalled, and your system will start functioning normally again.
Solution 2: Roll Back to An Older Windows 10 Version
Another way to resolve the problem of the update is by rolling back to an older version of Windows 10.
Step 1: From the "Start" menu, go to "Settings".
Step 2: From the "Update and Security" section, click on "Recovery".
Step 3: In the "Go back to an earlier build" section, click on "Get Started".

After a while, your system will restart and will go back to an older version.
Solution 3: Make Use of Tenorshare Windows Boot Genius
You can also make use of a third party tool if you are unable to install KB4549951 on your Windows system. The best tool for this purpose is Tenorshare Windows Boot Genius. You can use this tool in the following way.
Step 1: Run the program and also insert the prepared CD on your system and click on "Burn".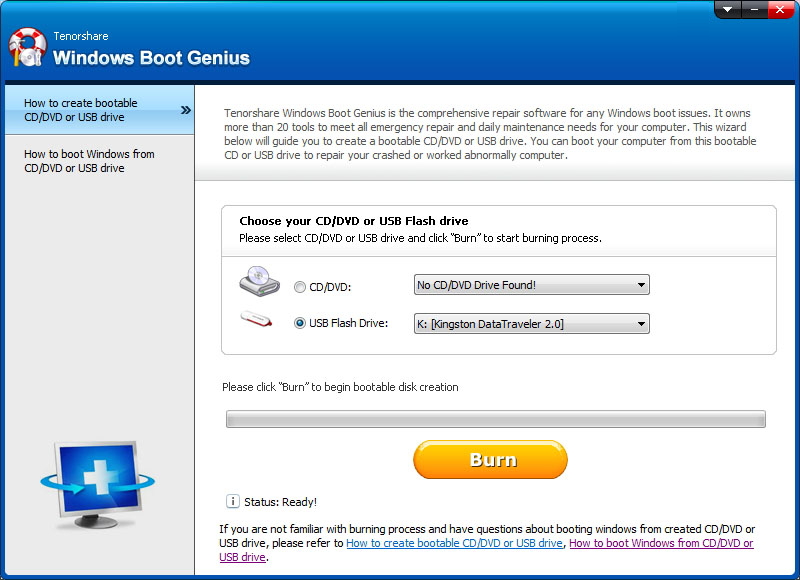 Step 2: After this, boot your PC with the bootable disk.

Step 3: Try out all the solutions below "Solution Center" till your Windows system starts functioning normally again.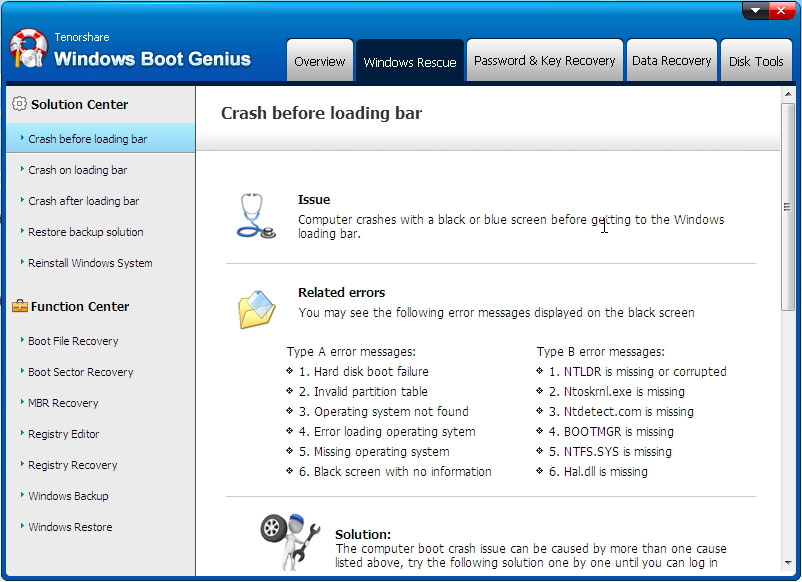 This is an easy way in which you can fix your Windows system.
Extra Tips: What's the New Features of Windows 10 KB4549951 Update?
A few of the notable features of the Windows 10 KB4549951 update are given as follows.
Improved security when Microsoft Office applications are used.
Improved security when basic operations are performed by Windows.
Enhanced solutions for management and storage of files.
Conclusion
The new Windows 10 update was introduced to basically sort out some security issues on the Windows 10 system. However, instead of sorting out previous issues, it has given rise to many other serious problems that affect the functionality of the system. The solutions mentioned above can help you in resolving these issues and can also help you if you can't uninstall Windows update KB4549951. If, in case you forget the login password of your computer, you can make use of PassFab 4WinKey to access your Windows system without a password.