You sit down to log into your Windows computer, type in what you believe is the password, and then realize you've forgotten it! You scramble to find various letter and number combinations to see what matches, but none does. What are your options now?
Thankfully, restoring your password in Windows 10 is very similar to restoring your password in Windows 8 and higher, with a few minor differences. Here's how to reset windows 10 login password.
Part 1: Is There An Official Function to Encrypt Folder in Windows 10?
To open the Settings app, press the Windows + I keys together. Go to Accounts and click on it.

On the left side, choose Sign-in options, and on the right, select the "Change" button under the Password section.

Next, enter your current password.

Set a login hint and reenter a new password. Continue by pressing the Next button. Now your new password has been updated.
Part 2: Windows 10 Login Reset Password via CMD When Remember
Wondering about how to reset login password on windows 10 using CMD? If yes, then this section is for you. Follow the steps below to reset your windows 10 password using cmd.
Open an elevated Command Prompt in Windows 10. You can simply press "Windows + R" to open Run and type "cmd."

Type "net user" into the Command Prompt and hit Enter. It will show a list of all user accounts on your screen, including the one for which you want to reset the password.

To reset your user password, run the command below. "Administrator 123" should be your user name and "123" should be your current password.

net user Administrator 123

You've just successfully reset the password on Windows 10 using cmd.
Part 3: 4 Verified Ways to Reset Password Login Windows 10 When Forgot
You won't be able to install any application if you forget your Windows 10 admin password. You will not even be able to access your computer at times. While Microsoft does not make it simple to change your password, you do have some choices.
In this guide, we'll teach you h ow to reset Windows 10 password from login screen. You should be confident that at least one method can assist you.
Option 1: 100% Workful to Reset Windows 10 Login Password
If you are not signed in to your laptop and have lost both your PIN and password, a software called "PassFab 4WinKey" is a better suggested and faster way to fully reset your Windows 10 password. This method of reset Windows password without logging in for Microsoft Windows 10 has proven to be 100 percent effective and time-saving.
First you have to download PassFab 4WinKey. The installation process is quite simple, so after the Installation is completed, launch the PassFab 4WinKey.

Next, you have to select USB or DVD for the burning process. I will recommend you to use USB. Select your USB from the drop down menu and click on the "Next" button to initiate the burning process.

Now, you have to wait for a few seconds so the burning process gets completed successfully. This process doesn't take more than a minute.

Once your USB drive successfully burns, you will see the following interface containing the instructions and steps to continue with the process. Read the instructions at each step and you will also find these steps with guidelines in the next section.
Option 2: Reset Windows Login Password via Password Reset Disk
A password reset disc enables you to gain access to your account on a local computer in the event that you forget your password. When you make a password reset disc, it enables you to reset password windows 10 login screen regardless of how many times it has been changed.
How to Create Password Reset Disk?
Connect your USB drive to your computer.
To open up the search bar, press the Windows key + S on your computer.
Type in "User accounts."

Click on "User Accounts."

Click on "Create a password reset disk." Click on "Next".

Click on the "dropdown menu." Select the device on which you want to create the password reset disc.

Enter the password for your local account. This is the password you are now using to access your account on your PC. Click "Next".

When the progress bar hits 100%, click "Next." Click "Finish."
Using Password Reset Disk
Prior to beginning, ensure that your USB drive is inserted into your PC.
Click "Reset password." Click "Next."
Click on the "dropdown menu." Select the device on which your password reset disc is stored.
Click Next. Type in a new password.
Type in the new password again. Type in a password hint. Click "Finish."
Your account's password has been changed! You will now access your account with the newly created password.
Option 3: Professional Way - Windows 10 Login Password Reset via MSDaRT
DaRT, otherwise referred to as the Microsoft Diagnostics and Recovery Toolset is a Microsoft-developed technical tool.
Everything you have to do is restart your computer from the A DaRT Recovery Disk. Then you simply open the built-in Locksmith Wizard to reset windows 10 login password for every local account on Windows 10. The main drawback is the DaRT is not available for free.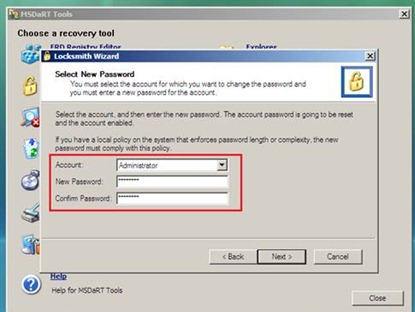 Option 4: Try to Use Windows Password Key
Whether it is the local administrator or other user passwords for Windows, even the Microsoft account password, this Windows password reset tool can be an option to do windows 10 login password reset.
First you need to insert your bootable USB or DVD drive into your password-protected computer and restart your computer to access the Boot Menu.
Select the USB or DVD you inserted in your computer and press "Enter" to continue.
Select the user account for which you want to change the password and click on "change windows password." Click "Next" to continue the process.

Now you have to enter your new password and restart your computer to access it with the newly-generated password.
Conclusion
| Methods | Requires bootable device | Time Consuming | 100% Effective |
| --- | --- | --- | --- |
| PassFab 4WinKey | Yes | About 5 Mins | 100% |
| Password Reset Disk | Yes | About 10 Mins | 90% |
| MSDaRT | No | About 10 Mins | 85% |
| Windows Password Key | Yes | About 10 Mins | 90% |
If you've forgotten or missed your Windows password, there are many methods for recovering it. This is possible regardless of whether you are an administrator. All of the methods explained in this article to reset password windows 10 without login are effective.