"Hi, I am on windows 10 home, how to password protect or encrypt a folder?"from Microsoft Community
As the saying goes, prevention is always better than cure, password protecting folder in Windows 10 is no less than prevention. Prevention of important information from any unauthorized access as we cannot judge who has what intention! Thankfully, Windows has the provision of basic password protection that can allow you to keep your files save from people with inappropriate purpose. In this article, we have collected 5 ways that can assist you encrypting folder in Windows 10. Let us know more about it.
Part 1: Is There An Official Function to Encrypt Folder in Windows 10?
Basically, we do not get the privilege of any official function with the help of which we can get the folder protected by setting password. We can only follow some basic steps that can help us encrypt our folder thereby not letting anyone accessing your folder with different user account. Here are the steps for the same.
First of all, you need to right click the folder to be protected.
Now, click on "Properties" and wait for the new dialog box.
From the dialog box, select "Advanced" given at the bottom right.
After this, choose "Encrypt contents to secure data". You are good to go now.
Part 2: Top 3 Free Folder Locker Software in Windows 10
1. 7Zip
7Zip is one of the software that can help you secure your folder in Windows 10 easily. It is an open source software offering localization of 87 languages. It can easily work in different Windows version ranging from NT to Window 10. Therefore, it can be one of the most effective ways to encrypt folder on windows 10. On top of tap, the compression ratio is approximately 2-10% much better than that is offered by WinZip.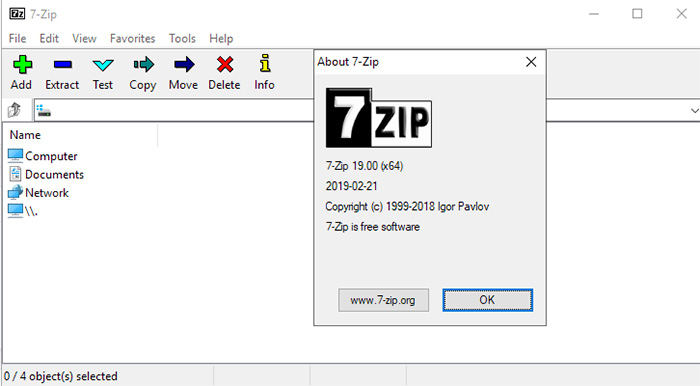 2. My Secret Folder
My Secret Folder is one of the best password protect folder for windows 10. With this powerful tool, you not only can hide your private folders but also can lock them with a password for even better security. What's more? Well, this tool supports both FAT and NTFS file systems and works smoothly with it. Once you hide and password protect folder with this tool, no one can gain unauthorized access to it until a valid password is punched into the tool.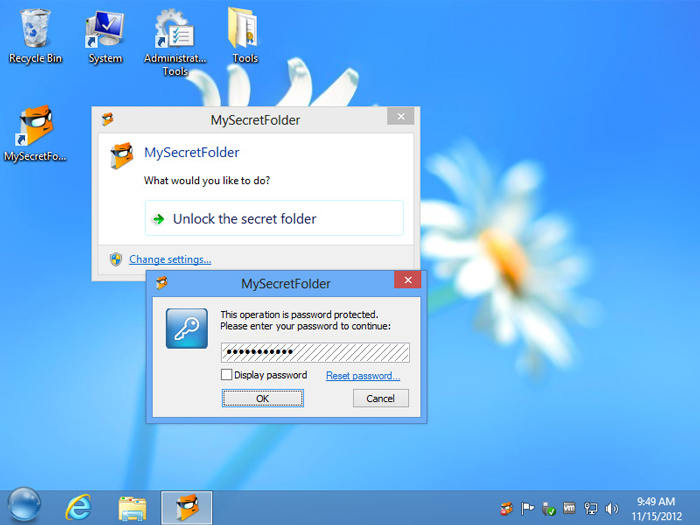 3. Lock-A-Folder
Lock-A-Folder is the next highly effective method to password protect folder on windows 10. You can easily secure folder windows 10 by setting up a password over it. Moreover, you can setup a Master Password that you can make use of when you forgot the password of a particular folder. The interface is so easy to use that even the first time users can encrypt folder on windows 10 as per their preference without any hassles. Though the tool is absolutely free download, the developers are no longer providing updates for this tool making it incompatible for newer version of windows.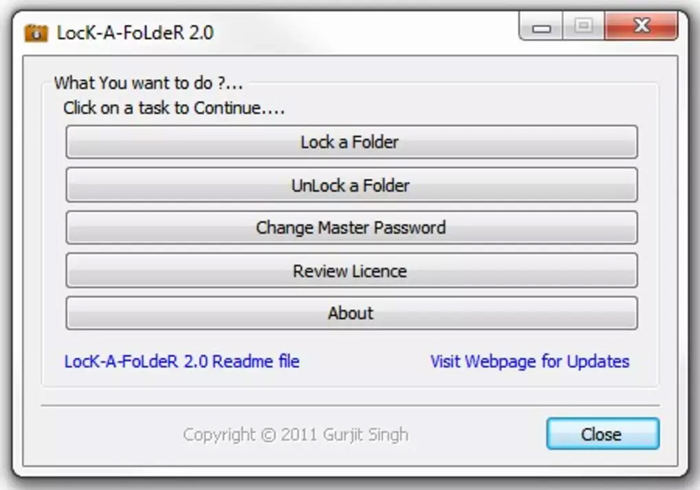 Extra Tips: Forgot Windows 10 Administrator Password How to Do?
So, you're all set to password protect folder windows 10 with the aforementioned tools, right? But remember, these tools work on Windows account that is enabled with Admin privileges as you need to install them over the system. Now, let's suppose you no longer remember the Admin account password. What are you going to do in such a mind baffling situation? You'll not only be locked out of your data but also will also be locked out of your computer and no longer be able to make use it any further. Fret not! We've specifically incorporated this bonus tip to help you get through this troublesome situation. You can always look up to a one stop solution, PassFab 4WinKey . This mighty tool not only enables you to reset or remove local/Admin password but also you can add or remove an Microsoft or Admin or Local account without the need of the old password.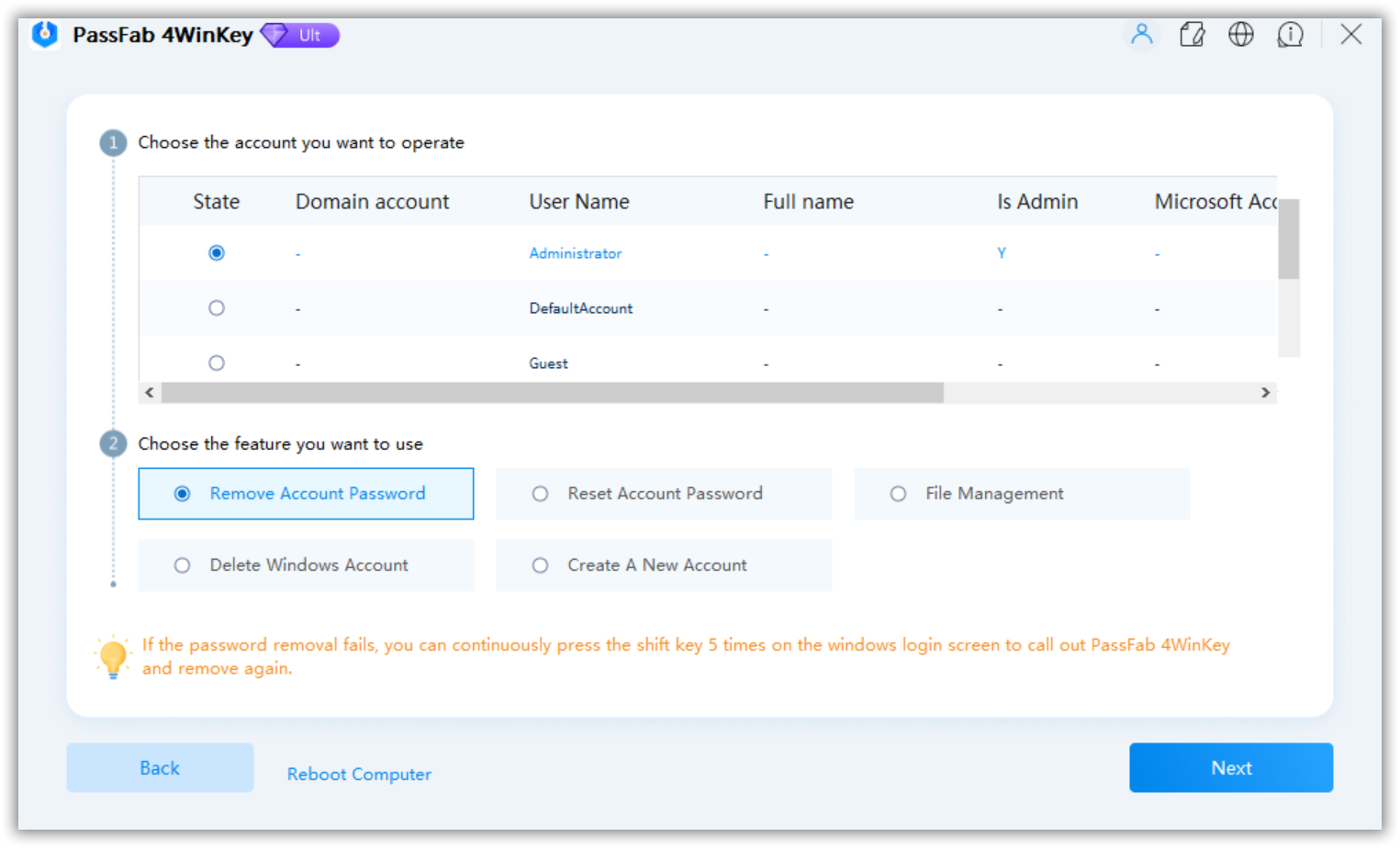 Final Words
With all this highly classified information, we've now reached towards the end of the discussion on password protect folder windows 10. We now firmly believe that all your requirements must have been discussed in the post. Whether you would like to encrypt your folders or password protect them, you've got the right information at your hand. If in case you have any queries or doubts, please feel free to comment below. Or, if any of your friend or family members is experiencing the same problem, please share this information with them. Happy Locking!