Windows 10 has a set of security features to ensure the safety of the PC. Microsoft's latest operating system, Windows 10, has some useful new features. Security is still the focus of Windows 10; it can not only choose standard passwords but also use PINs. No one without specific hardware can use a PIN. With the PIN code, you can prove that you are yourself so that no one else can access your data. But what if you need to delete the password or security key? This guide illustrates how to remove PIN from Windows 10.
Part 1: How to Remove PIN from Windows 10 with Password
If you're currently signing in with a PIN, but you rather use a password or another mechanism for authentication, you can remove the PIN using the following mechanism.
1. Remove PIN Windows 10 in Setting
To remove the PIN password on Windows 10, follow these steps:
Open settings, and click Account.

Click the sign-in option, Windows Hello PIN option and press remove button twice.

Confirm the current password and click ok.
2. Disable PIN in Local Group Policy Editor
You can remove PIN Windows 10 in Local Group Policy Editor
Press the "Windows" and "R" keys at the same time to launch the "Run" dialog box, and then type "gpedit.msc".

Then open the "Local Group Policy Editor" and move to "Computer Configuration". Go to "Administrative Templates" and then to "System" and select "Login". Find "Open Password Login" and "Close Password Login".

To disable PIN login, double-click "Turn on PIN login" and select "Disabled" and then "Apply".

Restart the computer to apply the changes. Next time open the "Settings" application and go to "Accounts" -> "Login Options". Now, you can see that the pin has been removed from the device.
Part 2: How to Remove PIN from Windows 10 without Password
What occurs if window 10 keeps asking for PIN? When it comes to Windows PIN removal, there are many tools on the market. However, choosing the best one is good for your goals. We choose PassFab 4WinKey as the most feasible software, which can delete, reset, change, or create local or domain account passwords on all Windows versions. You can also create a password reset disk for Windows computers. As reliable software, it can ensure that you recover and reset your password perfectly at a rate of 100%.
Remove PIN with PassFab 4WinKey
Below are various guides for removing Windows passwords, but before that, let's use PassFab 4WinKey to burn a Windows password recovery disk.
Step 1. First install the software on the computer, and then launch it. Now, choose "USB" or "CD" according to your preference. Insert the selected media into your computer and click "Burn".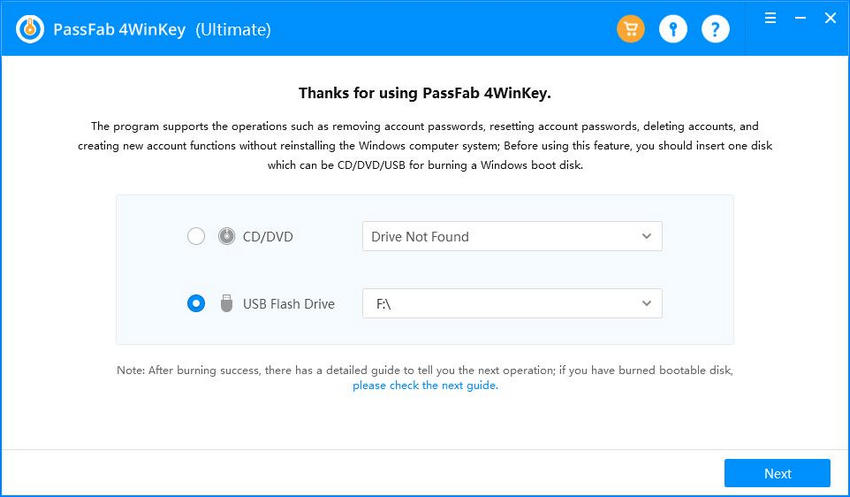 Step 2. Now, insert the recovery disc into the locked PC and start it. Click "F12" or "Esc" to enter the boot menu, and then select "USB/CD" to boot with the recovery disk.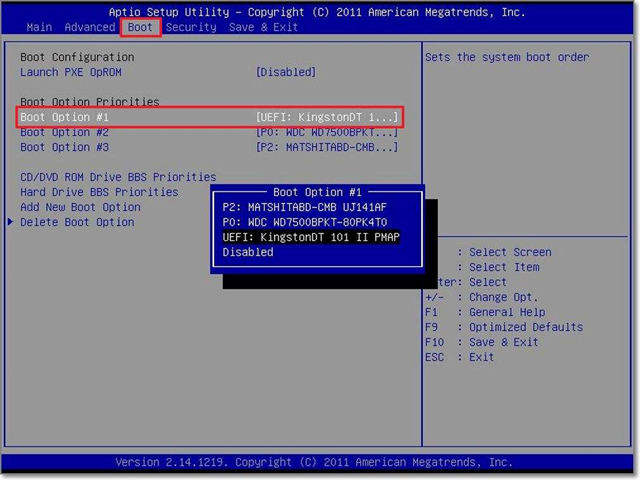 Step 3.Then select your operating system and click "Next".
Step 4.And choose your locked account, check Remove Account Password". Click Next.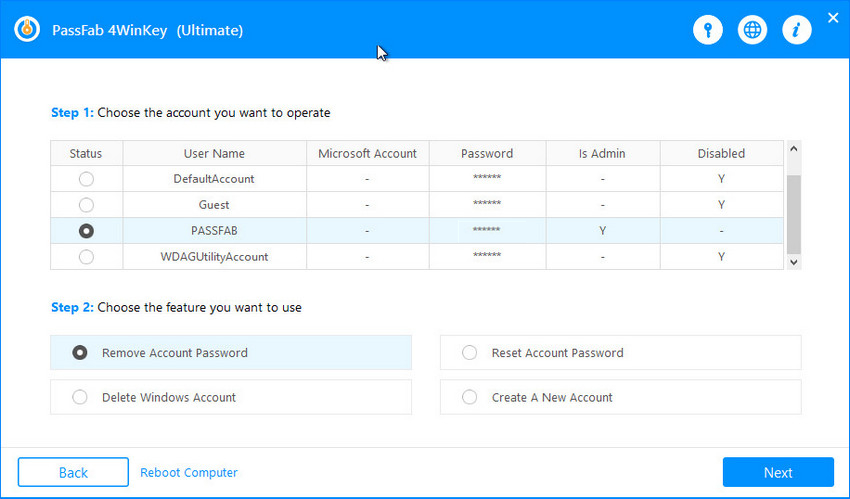 Step 5.Reboot the computer.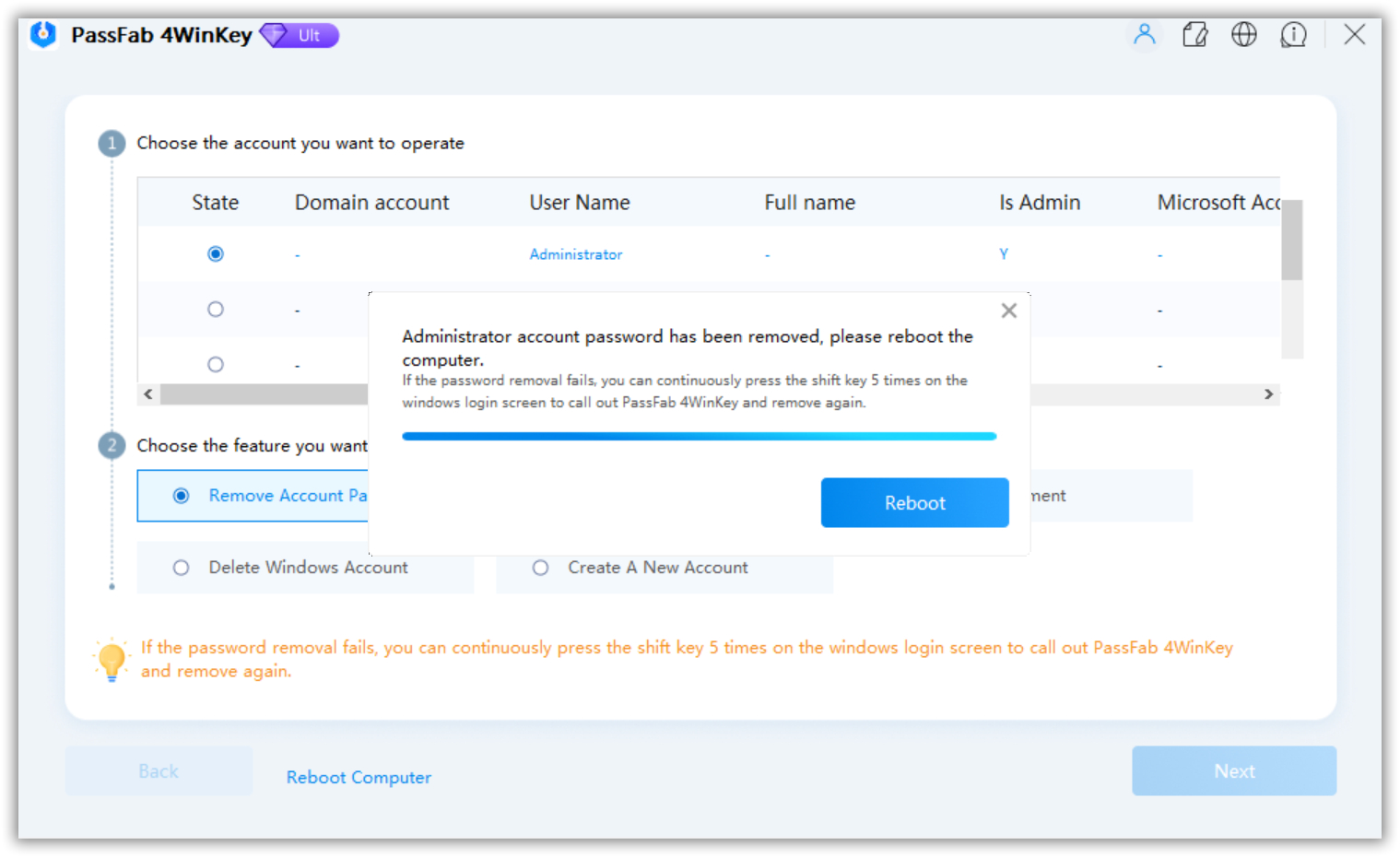 FAQs: You May Want to Know about Windows Hello PIN
Q1: What is the Windows 10 Hello PIN?
The Windows Hello PIN is a backup password used to unlock the computer only for Windows 10 computers. It is easy to remember the secret login code, but it cannot be used on other devices or logged in to other servers or services. The Windows Hello PIN can be supported by a Trusted Platform Module (TPM) chip, which is a secure encryption processor designed to perform encryption operations.
Q2: What is the difference between PIN and password Windows 10?
On the surface, the PIN looks a lot like a password. But the important difference between a password and a Hello PIN is that the PIN is bound to the specific device that sets the password. No one without the specific hardware can use the PIN. When the PIN is local to the device, the password will be transmitted to the server.
Q3: How to make Windows stop asking for PIN?
There are several ways to explain how window 10 remove PIN. You can turn off the settings in Windows Defender, or you can use "Use Group Policy Editor" to disable the pin. Or use PassFab 4WinKey.
Summary
Windows 10 has a set of security features to ensure the safety of your PC. If you use a corporate connection or work computer controlled by your employer or system administrator, these methods will not work. While there are tools to resolve the issue to remove PIN from Window 10. PassFab 4WinKey is the best choice for Windows password or PIN removing as well as for recovering. You can use this program to create a password reset or remove disk. If you have any quetions, contact us.