I know my standard user password in windows 10 password. But I forgot my admin password. How can I recover my admin password? I need help on this issue please!
Part 1. How Do People Forget Windows 10 Administrator Password?
In many cases, people cannot log on to Windows because they forget Windows 10 administrator password. The Windows password system only allows authorized users to log on to the computer. This feature of Windows 10 helps to protect the privacy of the user. We often forget the password due to negligence, and we are perplexed. No reason to worry about the problem, because technology is at our disposal.
Part 2. Reset Forgotten Admin Password on Windows 10
What can be done if I forgot Windows 10 administrator password? Is there a way to reset my password without knowing it? This may happen to the best of us, especially if you haven't used your computer for a long time, or you got into the habit of using fingerprint or PIN to log in. In this article, we'll show you the best ways to reset your password in case you forgot administrator password on Windows 10
Part 3. How to Reset Windows 10 Forgotten Administrator Password
Forgetting the admin password is a bad experience. Don't worry, here are 5 ways to recover windows 10 password in case you forgot Windows 10 admin password.
Method 1: If the administrator account is Microsoft account
If the administrator account is Microsoft account, then resetting Windows 10 forgot admin password is the same as resetting Microsoft password.
Microsoft account is the default account type in Windows 10. It is therefore very likely that you should use your Microsoft account to protect your computer with a password. In this case, if you only reset the Win10 password for your Microsoft account, the problem will be resolved. Here are the steps to take.
Step1. Go to https://account.live.com/password/reset from another PC or smartphone, select "I forgot my password" and click Next.
Step2. On the next page, enter your e-mail address or the phone number associated with your Microsoft account and click Next.
Step3. Notify Microsoft of how you want to receive the security code and click Next. (You can select your e-mail address or your phone number to receive the code)
Step4. Enter the security code and proceed to the next page.
Step5. Set a new password for your Microsoft account and complete the changes.
Step6. Restart your computer and log on to your system using the new password.
Note: If you have forgotten your email address or Microsoft phone number, this method will not work, but do not get discouraged. There are other ways to bypass the Windows 10 login password.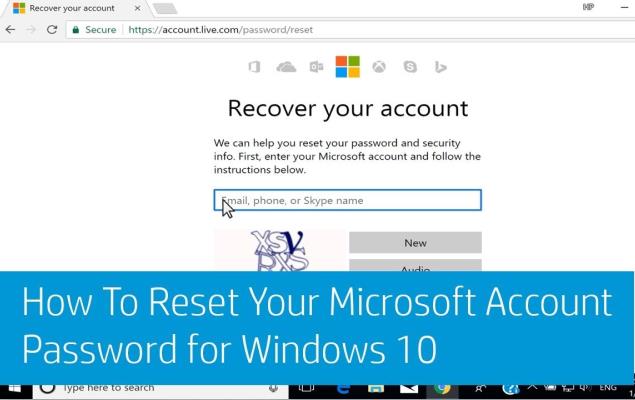 Method 2: If the administrator account is local account
If your administrator account is a local account, then you would not be able to reset the password by following the method explained earlier. Instead, you will need to use the following two methods:
2.1 Unlock forgotten Windows 10 admin password with password reset disk
Using a password reset disk is the official Microsoft method to reset a lost Windows password. The only drawback to this trick is that you have to create a Windows 10 password reset disk before your password is lost. Unfortunately, most of the users do not even bother to create a reset disk, but if you created a password reset disk, you could easily set a new password to log in to your Windows 10 computer.
If you have forgotten Windows 10 PC password and created a reset disk, follow the following simple steps to reset your password.
Step1: First access to your Windows 10 login screen. Just enter a wrong password and "Reset your password"message will appear.
Step2: Next, insert the password reset disk into your computer and click on the "Reset your password" link.
Step3:A new wizard will open that will helpyou to reset your password.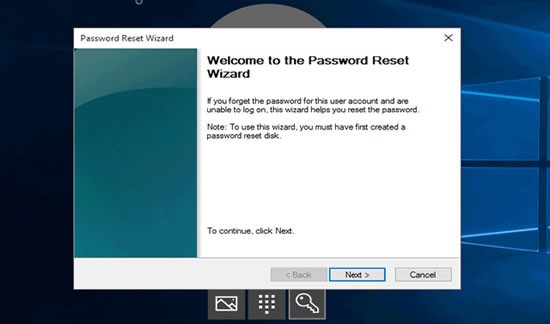 2.2 Change forgotten Windows 10 admin password with CMD
Press Win + X to open the Quick access menu and open Command Prompt using Administrator privileges.
Type the following command and press Enter

user account_name new_password

Replace account_name and new_password with your desired username and password respectively
Part 4. Remove Forgotten Windows 10/11 Admin Password with 4WinKey
If none of the methods stated above work, you must try this method which will surely work without any problem. The solution we are talking about is none other than PassFab 4WinKey. It is a straightforward application that is loaded and executed before Windows starts. We strongly recommend using PassFab 4WinKey for Windows Password Recovery, it finds the location where the password is stored by searching in Windows folders and root files. This program can reset any password and helpyou to access your computer quickly.
Step 1. Download, install the software on another work computer
The number one thing you need to do is download PassFab 4WinKey Ultimate on an accessible PC since your PC is locked. Once you are done with the download and installation, you will be prompted to create a bootable USB flash drive or burn a CD that will be used on the locked computer.
Step 2. Create a bootable password recovery disc USB or DVD / CD
For better understanding, we would only be using USB. Insert an empty USB flash drive into your PC and wait for the software to detect it automatically. Open the "USB device" and select the name of your USB drive and click on "Start burning" to start transferring all software files to the USB flash drive.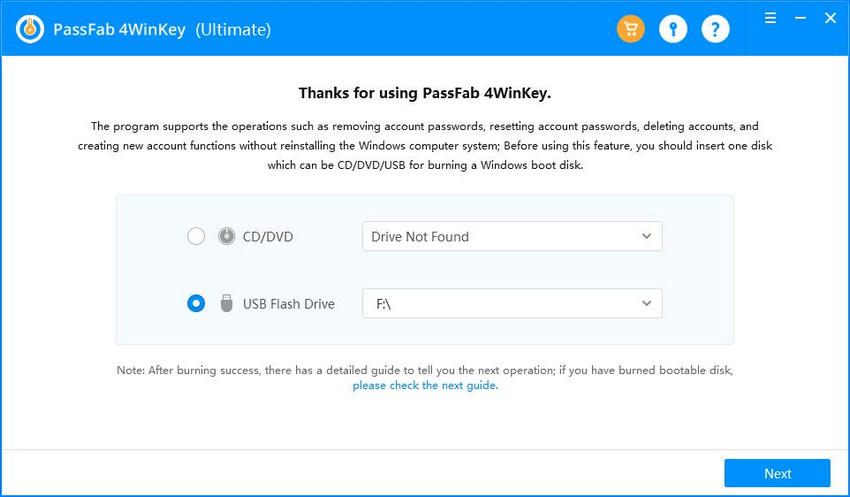 Step 3. Plug the USB into your locked PC and boot from USB
Eject the flash drive and insert it on the locked computer and boot the PC using the flash drive. To ensure that the PC loads the program, you must set the USB as the primary boot sequence in the BIOS.
You can change the boot order of "bootable" devices on your computer by pressing a certain key, usually Del or F2, and then open SETUP. The start order can be changed with the + and - keys. Locate the USB drive or DVD and move it to the topposition.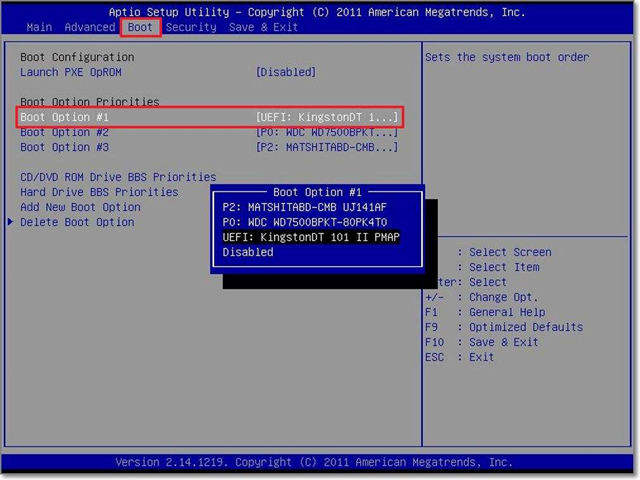 Step 4. Start by resetting the Windows 10 login password and then restart your computer
After you set the boot sequence, restart your computer. The Windows password recovery tool is automatically launched on the home screen, and it will detect all systems and accounts defined on your computer. Select the operating system and the username for which you want to reset the password. Click on "Reset password" followed by "Restart."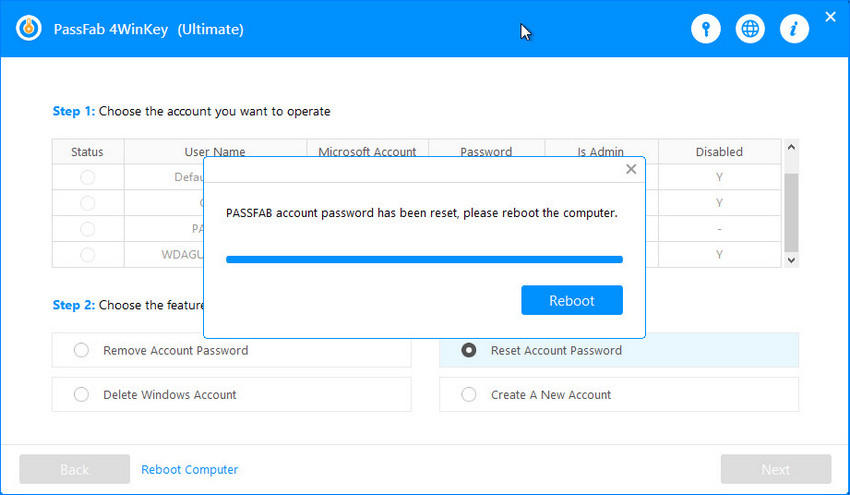 Once you have completed these steps, you must restart your computer. After rebooting, you will notice that you can log in to the computer again without a password.
Summary
Well, we have shown you the detailed steps to reset the Windows 10/11 forgot administrator password using the above methods. However, we highly recommend Passfab 4WinKey as it can be used to restore not only the Windows 10/11 password but also to reset the password for any version of Windows. Moreover, PassFab 4WinKey is the easiest and fastest way with the highest success rate.