Windows 10 can help you with its different features, and there is a lot more to it than you thought possible. For instance, it isn't just having features like screen recording that makes it different from the earlier Windows versions, you can also change and customize the appearance as you need. Such as Windows 10 icons and more.
When you create a folder on your Windows 10 computer, it is created with a default icon. You can change it to a custom icon that you created or to any of the ones that are already stored on the computer. Several websites also offer custom icon designs, in case you want to personalize further.
Part 1. Where Are Windows 10 Icons Located?
Earlier, all icon files Windows 1 were stored as a .ICO file. One .ICO file can only store one icon and that's because Windows 10 has several applications and each of them have different icons. However, it was very convenient, so Windows operating system switched to .DLL files, which is like a li/pary of icons. Whenever you want to change the icon of a particular folder, you have point out to the respective .DLL file and then to the icon you want.
Like mentioned earlier, .DLL files is a li/pary of icons. Icons are divided into categories depending on the type and its purpose. Let's take a look at some popular .DLL files and Windows 10 icons location:
1. %systemroot%\system32\imageres.dll - it consists of all icons used on a Windows 10 computer. It has the largest collection of folder icons.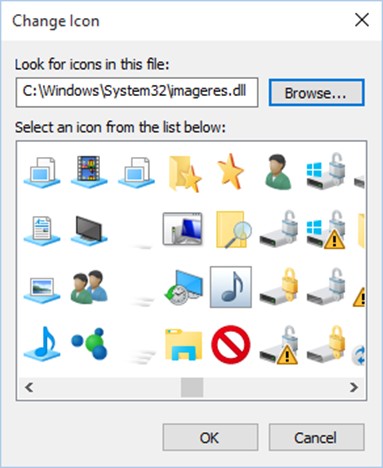 2. %systemroot%\system32\pifmgr.dll - this li/pary consists of old style icons from earlier Windows operating system versions.

3. %systemroot%\system32\mmcndmgr.dll - this file consists of computer management icons, so if you are a management lover, you'll fall in love with all the icons.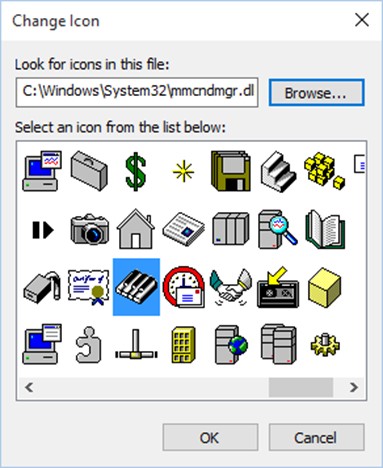 Part 2. How to Change Windows 10 Icons
Changing folder icons is a lot easier than you thought it is. The process is not time consuming at all and doesn't require any technical knowledge.
Here's how to change desktopicons Windows 10 with one simple method:
Using PC Settings
Step 1. Press Windows + I together. It will open Settings.
Step 2. Click on Personalization and a window will popupon your screen.
Step 3. In the left side column, click on Change DesktopIcons.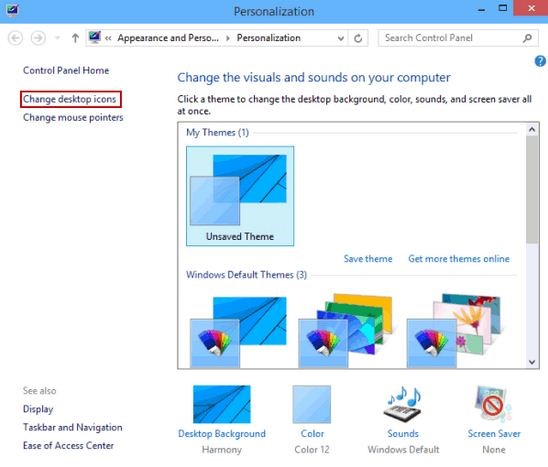 Step 4. "DesktopIcon Settings" windows will popupon the screen. In this windows, you'll be able to see all folders that are on your desktop. Select the folder, whose icon you want to change. Click on Change Icon.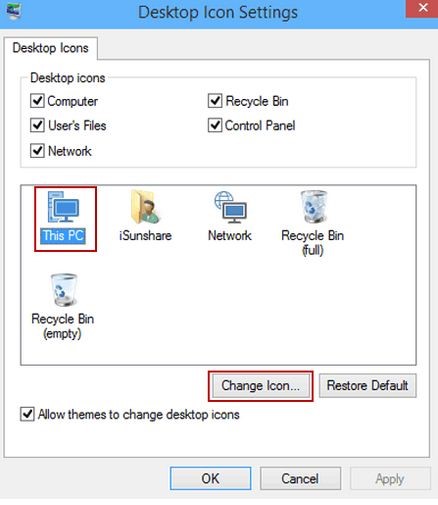 Step 5. "Change Icon" window will popupon the screen. Click on icon that you like and click OK. This directs you to "DesktopIcon Settings" windows. Click OK to confirm the change in icon.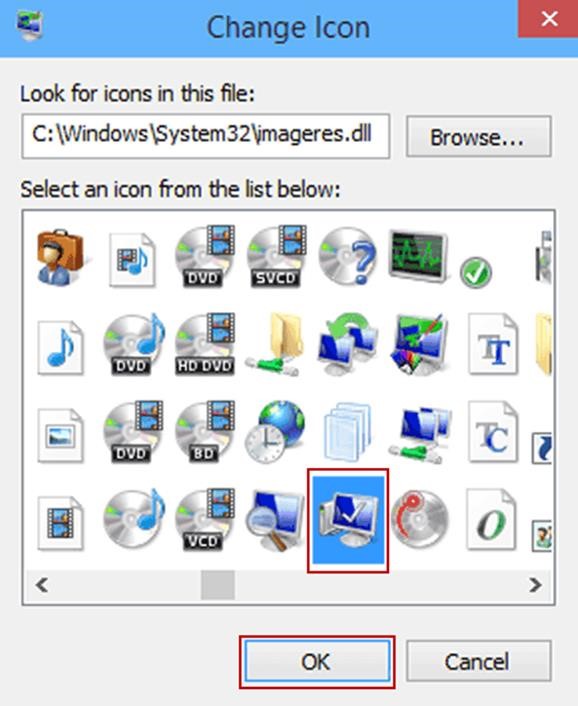 Go back to the Desktopand the icon will appear changed. You can only change icon of one folder at a time. By following the same method, you can restore desktopicons Windows 10 of the folder.
Part 3. More Windows Tips
Looking to do more with Windows 10? Here is a look at some of the other Windows tips that can helpyou.
1. Sync phone and computer
To sync your Windows 10 computer with your Android phone, you'll have to download Your Phone Companion app. When are done with the syncing, you'll be to open, view, and share photos directly from your computer using your mobile phone. You won't have to worry about storage space ever again.
2. Use the Near Share
If you are in office and want to send something to your colleague, simply do so using Near Share. When you open the appusing File Explorer or Microsoft Edge, you'll be able to see all nearby Windows 10 computer. Both computers need to be connected to a strong Wi-Fi connection and should switch on Bluetooth as well.
3. Controlled Folder Access
Ransomware is not new to Windows operating system. While we cannot prevent the virus from entering our computers, we can at least protect our files including documents, photos, videos, and more. Open Windows Security (earlier known as Windows Defender) and click on Virus & Threat Protection tab. Click on Manage Ransomware Protection at the very bottom and your files will become encrypted. It is what will helpyou keepthings in shape, even when you don't have an active antivirus from a third party installed.
Summary
In this article, we talked about where icons are located, how to change icons Windows 10, and different ways to make better use of your computer. In case you ever happen to forget your Windows 10 computer password, you don't need to reset factory setting. That is obviously the first thing that comes to our minds but there's an easier way out.
PassFab 4WinKey is a password recovery software, specifically created for Windows operating systems. You can use it on all systems from Windows XP to Windows 11. It is a paid software but you can first download a trial version to see whether you like it or not. Using the software, you can reset and recover passwords of your User account, Administrator account, and Domain Administrator account. Depending on your requirement, you can purchase any of the four PassFab 4WinKey editions -- Standard, Professional, Enterprise, and Ultimate.