According to our observations, one-third of Windows 10 devices have been automatically updated to Windows 11. Password forgetfulness is one of the challenges you may face. In the actual world, this is a common scenario. When you enter an incorrect login password, Windows displays the message "The password is incorrect." 'Try it again.' You are currently unable to access the Windows 11 desktop.
Fortunately, you've come to the right spot, since today we'll be talking about how to reset Windows 11 password methods for getting you out of a bind.
But there is one aspect that all of these approaches have in common: they all need a USB flash drive, so have one available. Also, don't neglect to back up the data on the USB device since if you use these ways, you'll lose it.
The steps below will show you how to reset your Windows 11 password. If you were signing in to Windows 11 with a Microsoft account, please see this page for instructions on how to reset forgotten passwords on windows 11.
Part 1: Reset Window 11 Password Via Password Reset Disk
Microsoft's Versions of windows have a secret option called 'Create a password reset disc.' This approach is straightforward, and it does not necessitate the installation of any software on a Windows 11 computer.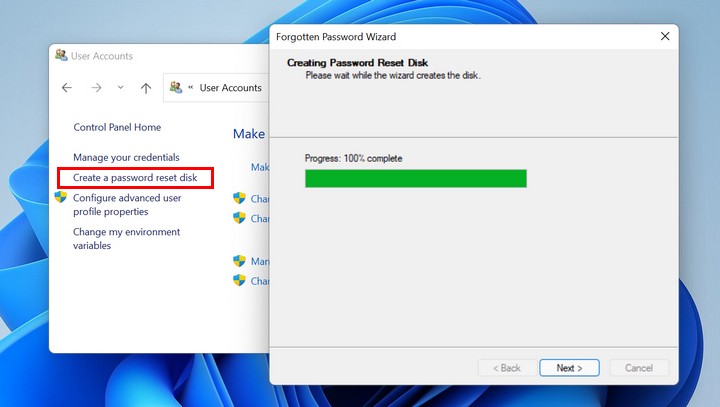 Restart your Windows 11 PC after inserting this Password Reset USB.

On the Windows 11 Welcome screen, press the Enter button, and a prompt will appear, stating that the password is wrong. After that, the screen will provide a password reset alternative. To use the password reset process, choose it and click on it.

Next, on the Reset Password Process page.

From the drop-down menu, pick the Memory stick.

For Windows 11 PC, please enter in a new password and verify it and a suggestion for that password, and then hit Next.

A confirmation message will appear, indicating that the password has been successfully reset for the forgotten password on windows 11.

Remove the USB flash drive, restart your Windows 11 PC, and log in using the passcode.
Part 2: Reset Password On Windows 11 Using Windows Password Reset Tool- PassFab 4 Winkey
If you do not have a password reset disk and do not want to get into the internal settings of your system,you can try PassFab 4WinKey which is a Windows password recovery tool that helps you resolve all the problems related to passwords in the Windows system.
Not your locked machine, but another available PC or Mac should be used to acquire, install, and execute PassFab 4WinKey. You'll be able to see the primary interface.
To create a bootable drive, click "Start" to download the iso file.

Choose a bootable medium (USB Flash Drive, CD/DVD). We'll use USB as an idea here. Go ahead and click the "Next" button.

4WinKey will create a bootable disc on your USB/CD/DVD drive. Please be patient for a few moments.

Once the device has indeed been successfully burned, insert the bootable disk to the locked computer. Also, restart the computer and continue pushing the Boot Key (which varies per PC) until the Boot menu makes it appear.
Set it to top priority to boot the systems from your bootable USB device. And select the windows system.

Select the user account whose password you wish to deactivate or reset.
To use the PassFab 4WinKey password recovery program, you could effectively and successfully reset the Windows 11 password.
Part 3: Reset Forgotten Windows 11 Password Online (Microsoft Account)
Using such a Microsoft Account is the simplest, safest, and quickest way to restore your data. When customers initially power up their PC, Windows 11 gives them the option of logging in to their Microsoft account. When they do, the forgot password windows 11 recovery procedure is straightforward. All you have to do now is follow the steps below to get back on your computer: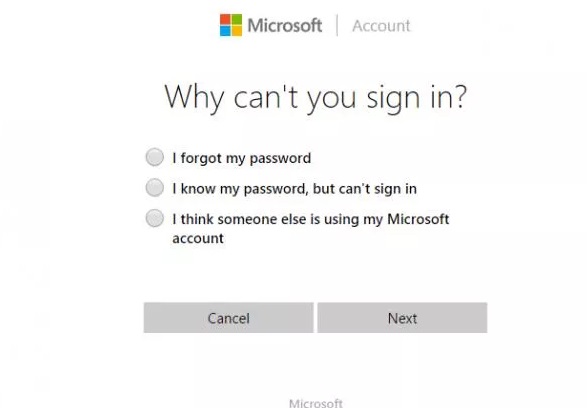 To begin, switch on your computer and go to the lock screen. Now, find and click the "I lost my PIN" or "I forgot my Password" option.
It will redirect you to a site where you must log in to your Microsoft account and request a recovery code.
The recovery code will send to your registered phone number or email address. You'll be able to retrieve your PIN or password after entering the recovery code.
Tips:
For this to operate correctly, you must have internet access on your PC. Also, check sure you're logged in to the same account you used before.
Part 4: Reset Windows 11 Password with Command Prompt
But what if you've already passed the point of no return, and you've forgotten your Windows 11 password and are barred out of your computer even before you could manufacture a Password reset disc? In that situation, this strategy might be precious. It's beneficial if you don't have another local administrator account on the same PC; alternatively, you'd have to go into that other administrator account and change the password for a local admin account.
However, for this approach to work, you'll need a Windows 11 installer USB that you can create by downloading the Windows 11 Installation Media from the Web version. The benefit of a bootable USB is that you may use it to fix problems on a Windows 11 PC, such as changing the local admin password.
Using Microsoft's Installation Media, create a Windows 11 usable USB.

Install Windows 11 on your computer using the installation DVD. It may accomplish with the assistance of the Boot Menu. Take, for example, my Lenovo laptop. Press the Enter key as soon as the computer starts up. To access the Boot Menu, press F12.

Then, from the Boot Menu, select the USB drive. It's a SanDisk USB drive in my case. For each manufacturer, the boot menu key is slightly different. Please start by looking for your own business.

A Windows Setup screen will be displayed after your Windows 11 PC has booted from the installation USB. After you've chosen your language and keyboard, click Proceed. Don't worry; we won't be reinstalling Windows 11, and you won't lose any of your private information if you use this technique.

Click the Shift and F10 keys on your keyboard simultaneously on the Windows Setup window. A Command Prompt window will open as a result of this. A Command Prompt is a fantastic tool to fix various problems on your Windows 11 computer by employing shortcut techniques like the ones we'll show you here.

Inside the Command Prompt window, write the lines below, remembering to hit Enter after every command line. It transforms the Windows 11 Utility Manager into the Command Prompt.
Now, remove the Windows 11 bootable USB and reboot your computer.

When the computer restarts and the login screen appears, hit the Ease of Entry button as seen below. It should generally open the Accessibility of Access menu. Nevertheless, it instead opens a Command Prompt window each time.

While Command Prompt is open, run the following command to reset the password for a local administrator account in Windows 11.
Final Note
We recommend resetting the password via the Password Reset using the Microsoft Account option if you ask us. It's the most basic of the bunch. However, you can only use this approach if you have already made the USB. These steps will help to let you know how to reset the windows 11 password.