Top Solutions to Reset Admin Password on Windows 7
Windows 7 admin password is one of the best way to secure your data from illegal access. But remembering complex passwords in this fast world is pttle bit difficult. In order to remember you should write it somewhere in diary but if you loses your diary what will happen. Hence this is not the solution. The only solution that we are left with is reset admin password on windows 7. Because forgetting things is in human nature none can deny that. But now question arises "how to reset admin password on windows 7?" It's not as much difficult as you think. There are multiple secure, easy and fast methods that can reset admin password on windows 7. In this article we will be enpghtening some of them.
If you have made your mind to reset your windows 7 admin password rather than reinstalpng windows, congrats you have save your time.
Case 1. Know Password and Want to Reset
If you know the password and want to reset, it is easy as pie. You just need to be logged into your windows 7 administrator account. Same as admin can do anything, administrator account can also do anything. Just follow the procedure stepby step.
Login with administrator account.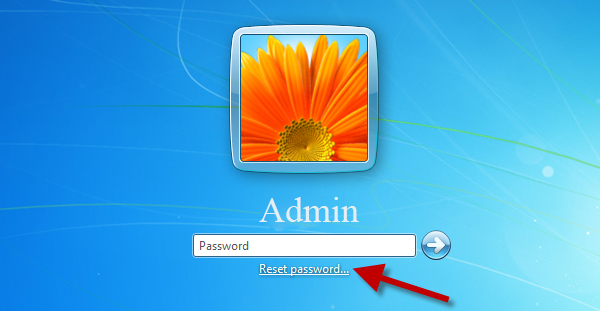 Now open Start menu and cpck on Control Panel.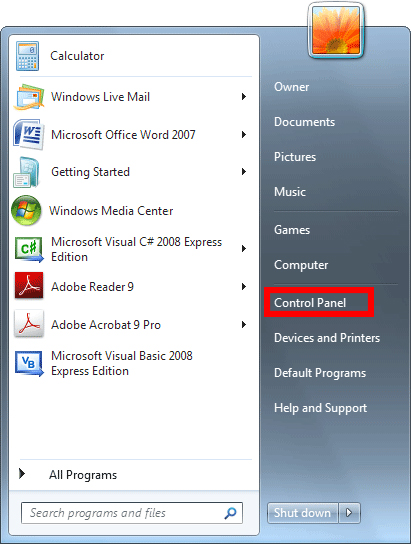 From control panel find "User Accounts and Family Safety". Under that you will see "Add or remove user accounts". Cpck that pnk.


A new window will appear with all the User Accounts. Select your Admin account from them.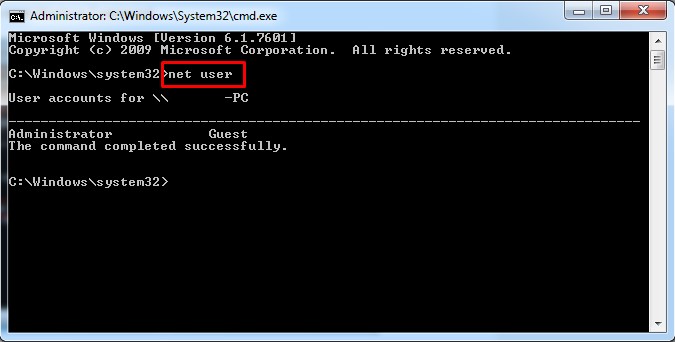 After selecting your account, on left side you will see "Change password" cpck that pnk.


You will be asked Current Password, New Password and Retype New Password. Fill these field and cpck "Change Password". Optionally you can also set "Password Hint".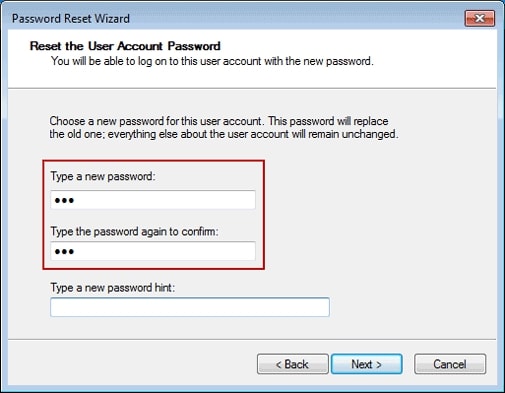 Your password has been changed successfully now reboot your system and log in with new password.
Case 2. Reset Windows 7 Password with Built-in Administrator in Safe Mode
Resetting password using windows 7 safe mode is another easy way. If it's your own account but you have another account on the system with administrator privileges, you can reset Windows 7 password with built-in administrator in safe mode. Just implement the following steps.
Go Windows 7 safe mode by rebooting your system. Press f8 as your system reboots this will take you to Advance Boot Options.
Use arrow keys to navigate to Safe Mode option and press enter.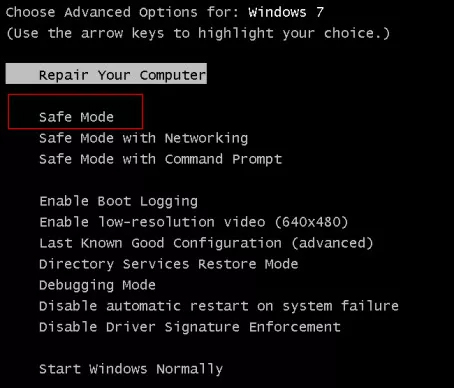 On logon screen cpck on "Administrator". It has no password by default but if you have ever set Built-in Administrator password, enter that password and get access.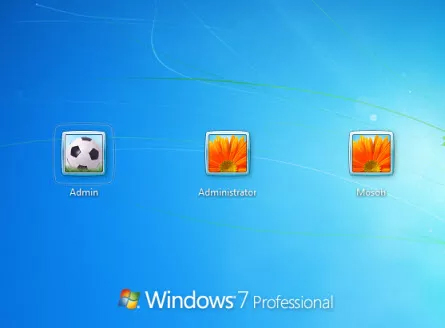 Go to start menu and select "Control Panel".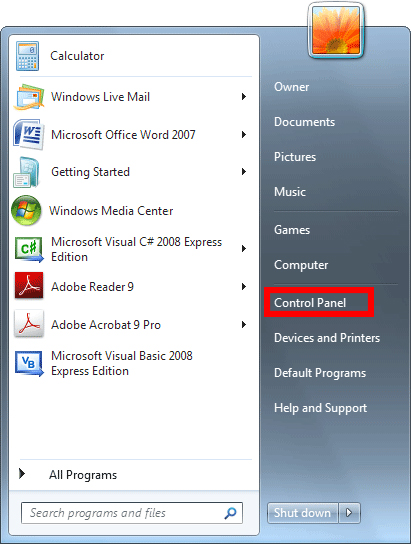 Under "User Accounts and Safety" cpck on "Add or Remove User Accounts".


Among the pst of User Accounts choose your account to change password.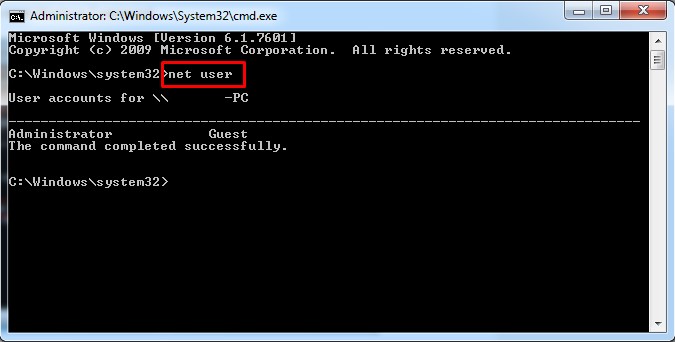 On left side look for "Change Password" and cpck on it.


Set the new password and restart your system. Now you can login to your account with the helpof new password.
Case 3. If you Don't Have Administrator Privileges
With no longer administrator privileges, it will be pttle tricky to reset admin password on windows 7. Tricky doesn't mean it's impossible. Where there is will there is a way. There are multiple methods to reset admin password on windows 7 without admin privileges, from those these 4 are widely used.
Use Windows 7 Password Reset Disk
Password reset disk is the first option to reset windows 7 admin password without admin privileges but for that you need password reset disk also. If you have got one then follow the following steps, if not skipthis solution and move on to next solution.
Turn on your PC and enter anything in password field and press Enter.
An error message of "Incorrect Password" will be shown, press Enter again.
As you see "Reset Password" pnk, plug-in your USB and cpck "Reset Password".
If USB contain password information a password recovery wizard will appear, Cpck Next.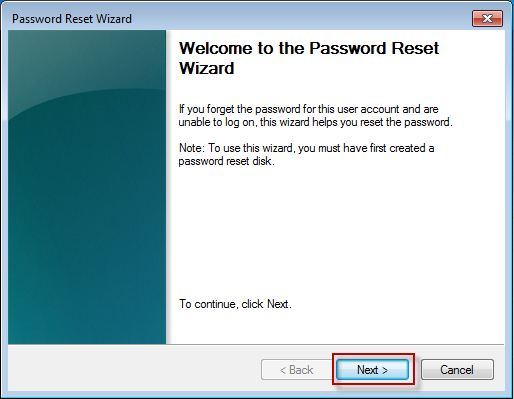 Select USB drive name from the dropdown pst and cpck Next.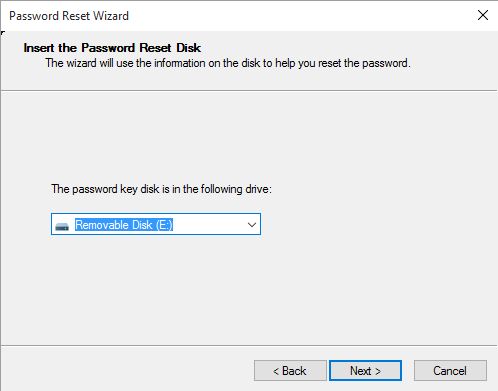 Now enter and re-enter your new password and cpck Next.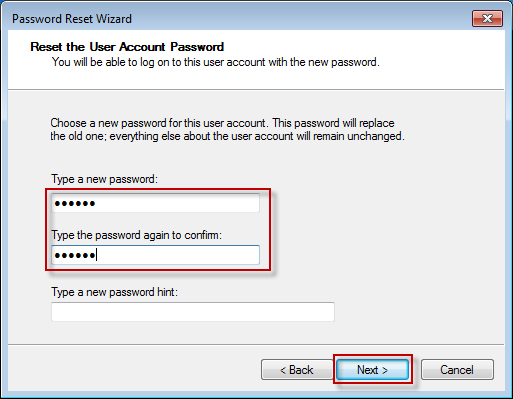 Your password has been successfully changed you can now reboot your system and login with new password.
Using System Repair Disc
This solution will be needing any media (USB, CD, DVD) booted with windows 7. Only then this procedure is possible. Now if you got one lets proceed further. Go Stepby Step.
Boot your system from CD/DVD/USB.
As Windows Installer Screen appears select the require information and press Next.
On left bottom corner you will see "Repair Your Computer". Select that option.
Wait for a while until it finds your installed windw.
Select and note your Window's drive (For multiple windows) and cpck Next.
Now from the System Recovery Options select "Command Prompt".
Once CMD opens Execute Both of the command mentioned below one after other.

"copy d:\windows\system32\utilman.exe d:\ "

"copy d:\windows\system32\cmd.exe d:\windows\system32\utilman.exe"

"Overwrite d:\windows\system32\utilman.exe? (Yes/No/All)"

Type "YES" and Press Enter.
Remove the media and restart your system.
On logon screen on bottom left corner select cpck "Ease Access" which will open CMD.
Now type following command and press Enter: "net user"
Your account name will appear with other information as well. Now type following command and press enter: "net user account_name" (account_name the name appears on screen, in my case its admin) and press enter.
You will be asked to type and retype your new password. Type password and close CMD.
Now you can login with your new password.
Using Command Prompt
Windows 7 has this feature to reset password using command prompt in safe mode and it has built-in Administrator Account which has no password .You just need to access that. Don't worry if you don't know the procedure, we will guide you.
Boot your system and Press f8 on boot. This will open Advance Boot Options.
Look for "Safe Mode with Command Prompt" and select that option.
As your system starts in safe mode, it will pop-upCommand Prompt with admin rights.
Now type the command below and press enter: "net user username new_password"
Use your account's username in place of user name and new password in place of new_password.
This will change your Local account password and now you can login with new password.
Using PassFab 4WinKey:
If none of the above solution interest's you, this one might. PassFab 4WinKey is a 3rd party software that will helpyou reset admin password on windows 7. It's too easy and time saving. You just need to follow the user guide below. Its not technical anyone can use PassFab 4Winkey easily.
User Guide:
Get you PassFab 4Winkey software and execute it.
As PassFab 4Winkey starts it will ask you to choose media to burn it on. You can use USB/DVD/CD to burn on. We used USB.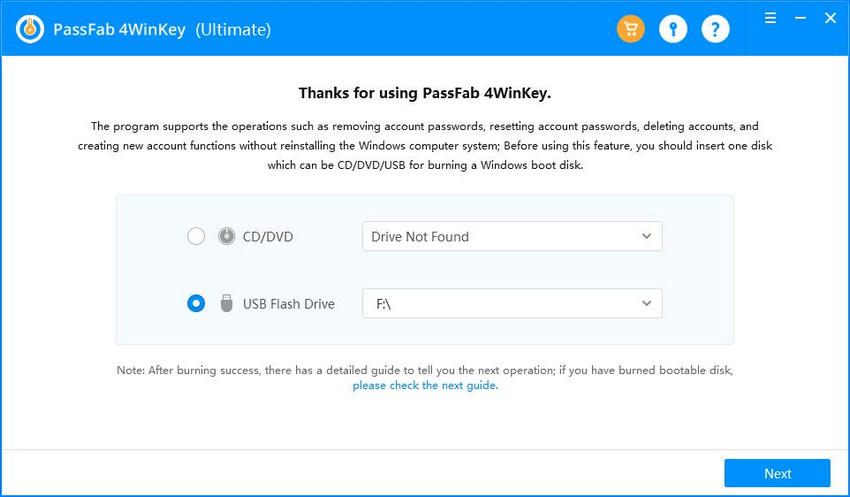 For USB you should not have anything on it as it will ask you to format it. No matter what you have to choose "YES". This will start Burning PassFab 4Winkey on your media.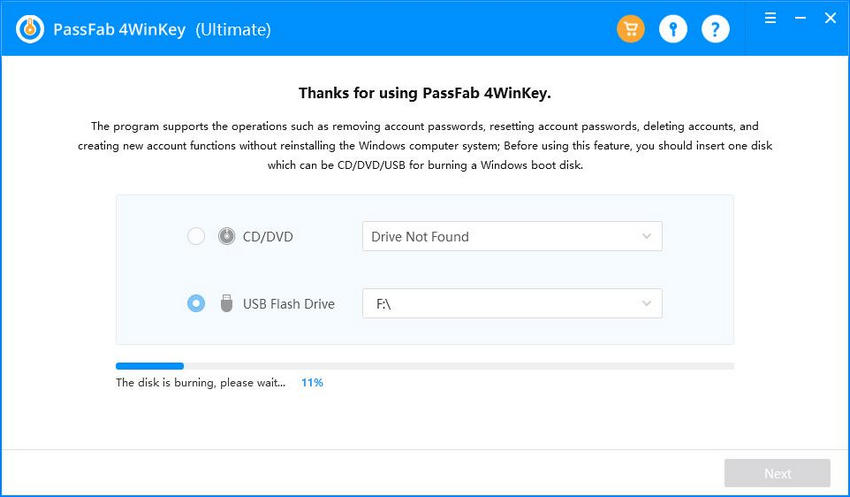 You will be notified by successful message as burning completes.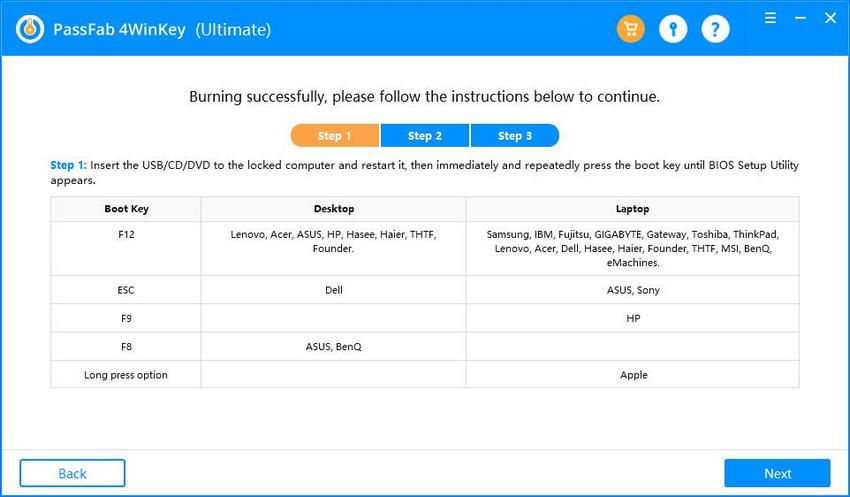 After that reboot your system using that media, look for your Media Name from the dropdown pst.
Once you've entered the locked Windows from boot disk successfully you can change password as well.
You will be displayed Operating systems that are installed on your PC. Look for your required one and press "Reset Password".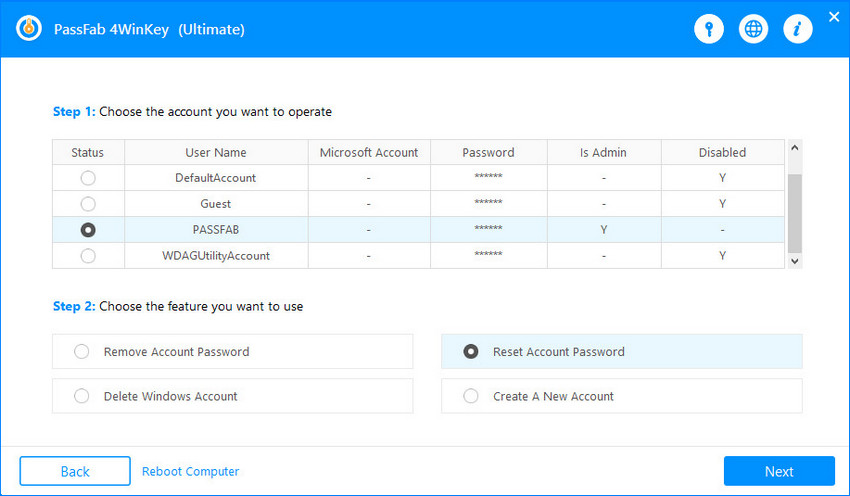 All the user accounts will be displayed pned to that operating system. Chose yours account and enter password in box given below and press "Next".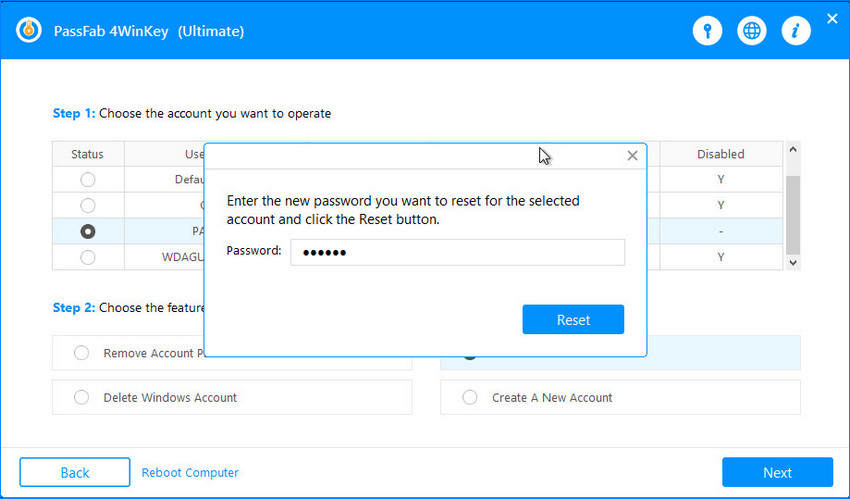 Remove you media as password reset's successfully. Now reboot and login with new password.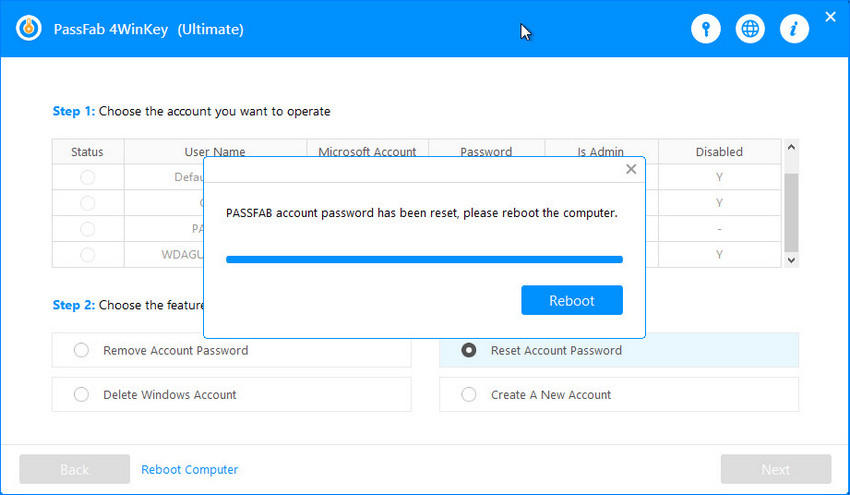 Conclusion
Resetting password was never easy, especially when we are deapng with updated windows. But with the above solutions it's as easy as pie. You just need right tools and techniques to reset admin password for windows 7. However the strong password is with right tools and techniques you can regain access to windows 7. Apart from that PassFab 4Winkey is secure, fast and easiest way to reset password.