How to Bypass Windows 7 Admin Password
"Forgotten administrator password for Windows 7....please help me bypass it. I don`t have access to adminstrator account."
Have you ever found yourself in a situation that your Windows 7 computer is locked out as you've forgotten the admin password? With no way to get into the system, you couldn't even perform basic maintenance. Luckily enough, in this post, we'll show you 3 workable ways on how to bypass administrator password on Windows 7 which will allow you to login to Windows once again.
Option 1: Recover Windows 7 Admin Password in Safe Mode
Generally speaking, when Windows 7 was first installed on your computer, a built-in administrator would be created at the same time by default with no password unless you create one for it. If you can access your computer, then that makes it possible to remove admin password on Windows 7 in Safe Mode, here we will show you how to bypass Windows 7 with the built-in administrator and reset forgotten administrator password.
Step 1: First of all, boot or reboot your Windows 7 PC or laptop.
Step 2: Then hold and Press F8 until the Windows Advanced Options Menu screen shows up.
Step 3: After that, select Safe Mode option using the arrow key, and then hit Enter button to proceed.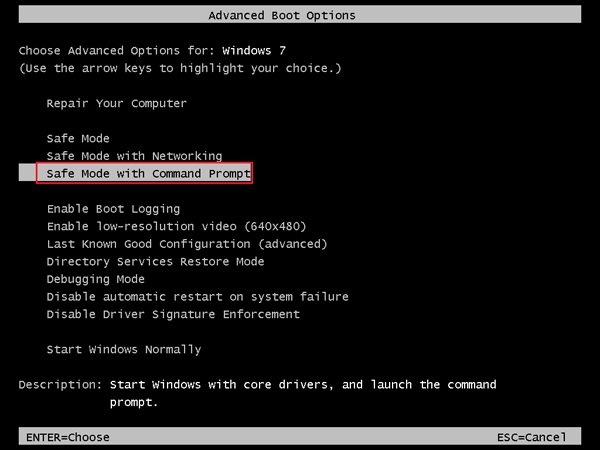 Step 4: Log in Windows 7 with Administrator account when you see login screen.
Step 5: Go to Start >> open the Control Panel >> Users Accounts, and select locked administrator to reset or remove its password.
Note: You can also run command prompt as administrator to reset Windows 7 password as blank with net user command.
Option 2: Bypass Aministrator Password in Windows 7 Using CMD
Another way to find admin password in Windows 7 without software is using command prompt when you can log on to Windows 7 as an administrator account. Here are the detailed steps:
Step 1: Log into Windows 7 and launch a Command Prompt window as administrator.
Step 2: Then enter cmd in the Search box of the Start menu and right click on it, after that select Run as administrator.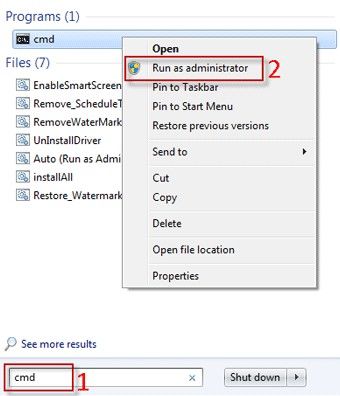 Step 3: Type in net user (Username)(New Password), and hit Enter. After you hit Enter, if it displays "The command completed successfully" prompt. Now you've successfully reset Windows 7 password without knowing his old password.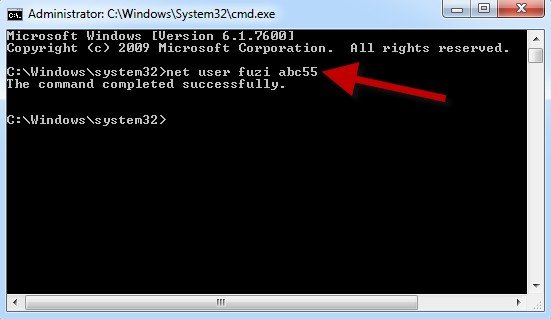 Option 3: Reset Windows 7 Admin Password with Windows Password Recovery
The methods above work on condition that you can access to your computer. But if you are denied to login into computer as cannot remember the password, then this methods don't work for you. But no worries, PassFab 4WinKey can help you out even you cannot login your computer. It is a professional Windows password recovery and reset tool which can help you easily crack and reset login password for Admin/guest/Microsoft account on Windows 10/8.1/8/7/XP so that get into computer freely. Below is how it works:
To get started, please download and install PassFab 4WinKey to a Windows computer that you can access to.
Step 1: On the main interface, choose CD/DVD or USB Flash Drive and click Burn to start burning a boot disk. Once burning completed, simply eject the burned boot disk.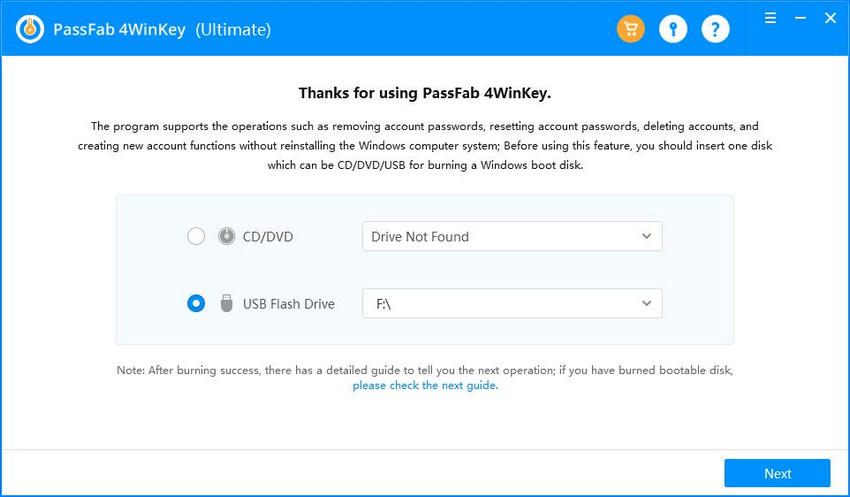 Step 2: Insert the bootable USB or CD/DVD to the password locked computer. Then restart the computer and press "F12" or "ESC" on the keyboard to enter BIOS Menu interface. Enable your locked computer to boot from your CD, DVD or USB.
Step 3: Select Windows installation that you would like to reset the password and choose "Reset your password" task. Click Next button and go ahead.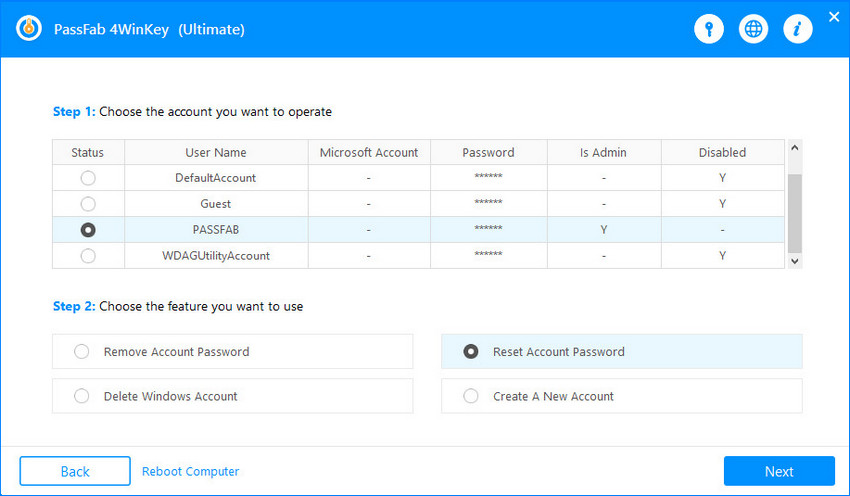 Step 4: Choose the account that you want to reset password from and then type the new password. Click Next button to proceed.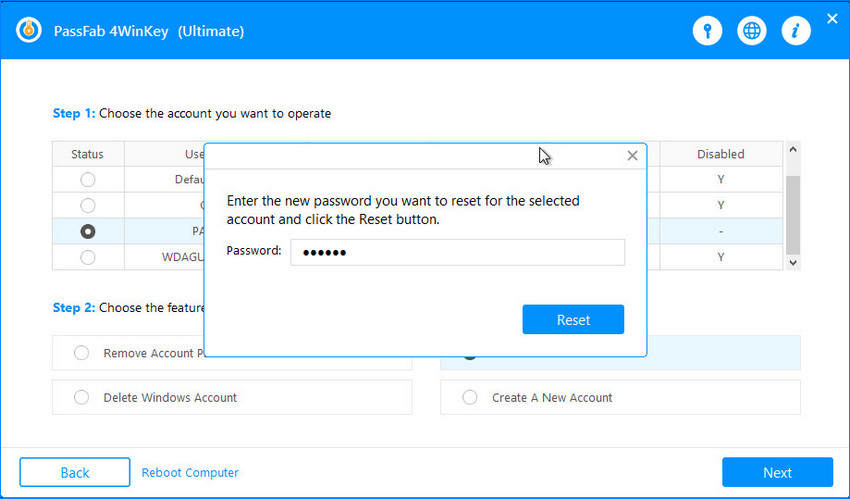 Step 5: Once the password has been changed successfully by this Windows password recovery tool, you should click Reboot to restart your computer. Now once it requests you to type password to enter Windows, you can type the new password.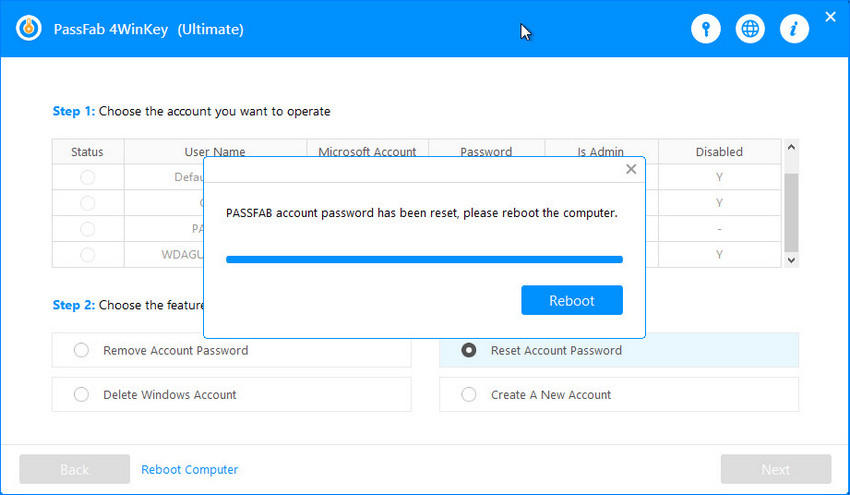 Here is a video tutorial on how to bypass or reset Windows 7 admin password:
This tutorial is fairly simple to follow even if you are not very techie person. With this trick you can reset Windows administrator password on Windows 7 without reset disk. If you have any other solutions, please feel free to share with us.