It is quite common that password protection is used as it adds a security feature to your computer. There is a chance that there can be many people using the same computer so you need to have your own login in such case. You can frequently change the password of your computer as long as you remember the old password. Password protection becomes a serious concern when you forget it and also not have created a reset disk in advance. There are many other ways to get your password recovered but password cracking is also important method which can be done by an efficient Windows password key professional crack.
Solutions on How to Crack Window Password Key Professional
Following are some of the best solutions and tools to crack Windows Password Key:
1 - Break Windows Password with PassFab 4WinKey
PassFab 4WinKey is a very significant tool which helps in Windows password key professional crack. Simply you have to download it on a CD/DVD and burn ISO file in a drive and plug in locked computer and you will have to follow some steps which will ultimately lead to safe crack without loss of any kind of data. PassFab 4WinKey Professional is very effective tool requiring not much of computer skills.
There are following steps to use this method:
Step 1: First download this Windows password recovery tool and select CD/DVD as your boot media.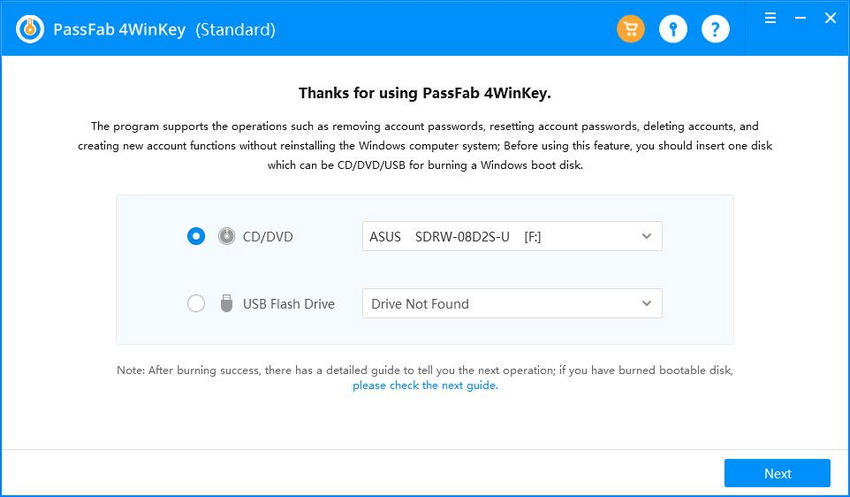 Step 2: Now create a bootable drive by inserting a CD/DVD or USB drive into the computer and now click "Burn CD/DVD "to burn the file.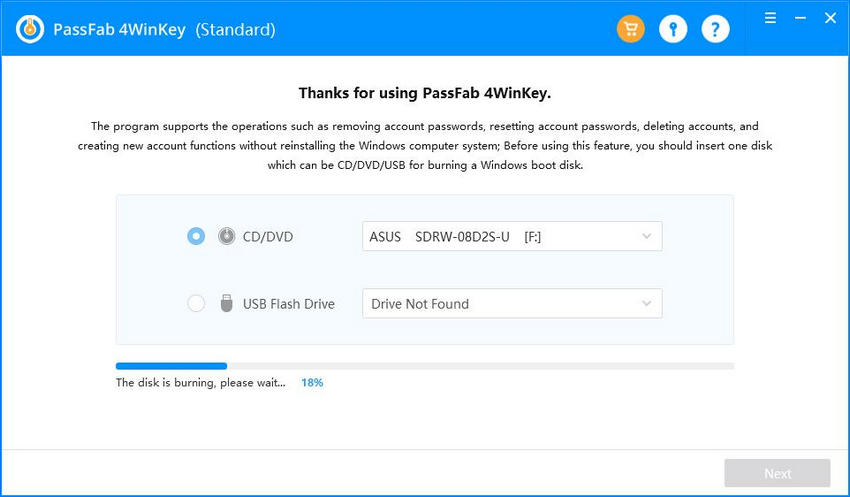 Step 3: To start the process of burning click "yes" 4Winkey will be burned.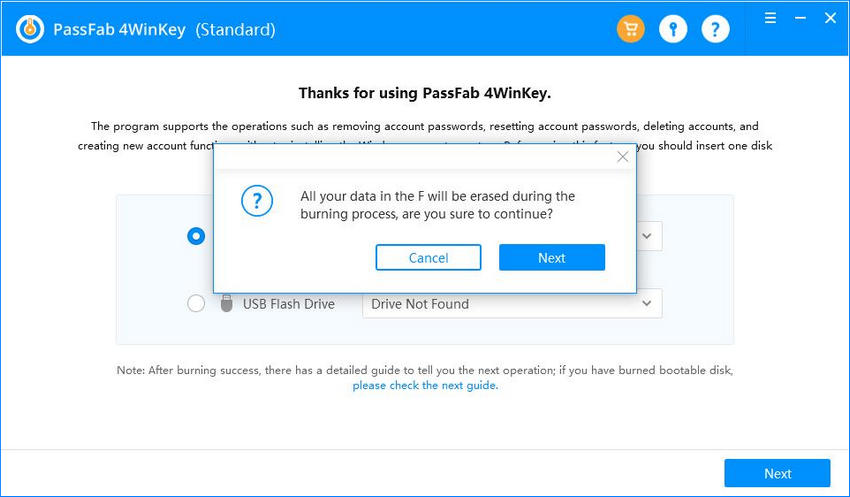 Step 4: After some time you receive a message about the completion of successful burning of the file. Now you can use it to reset forgotten Windows password.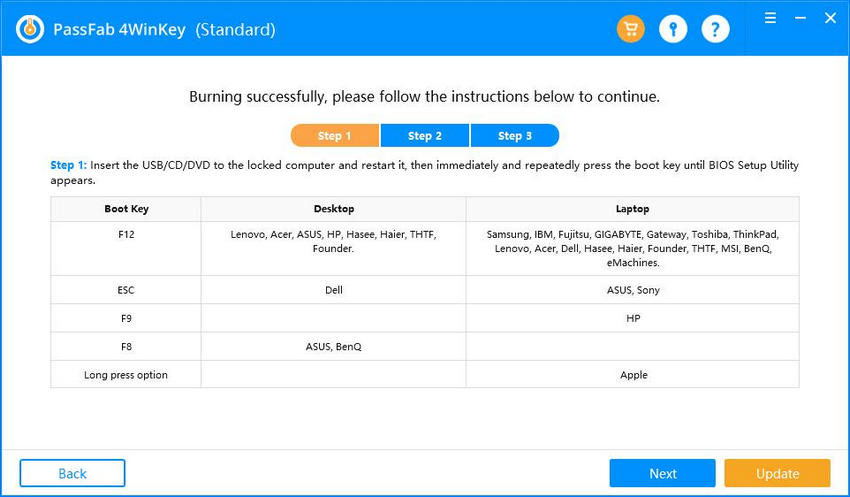 Step 5: Now insert that CD/DVD to locked computer and restart then press Esc or F12 to enter boot menu.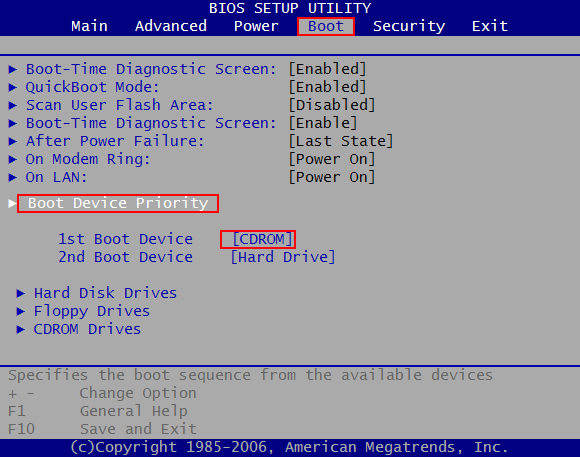 Step 6: After entering the boot menu, you have to select the disk which you have inserted from the menu.
Step 7: Press "Next" button after choosing the Windows operating system.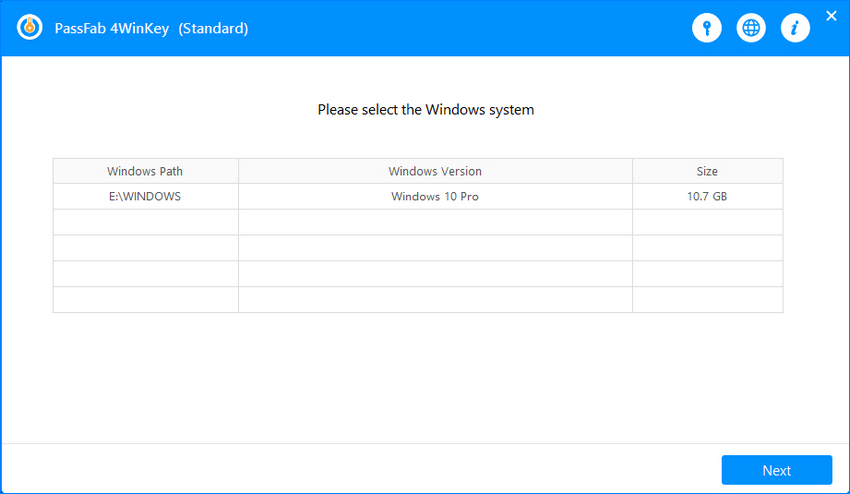 Step 8: Select the user account from the list shown.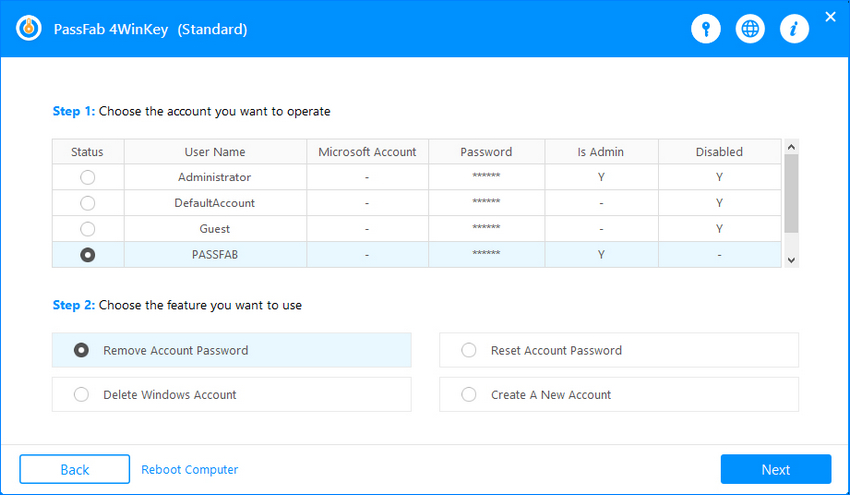 Step 9: After clicking "Next" your account password will be reset.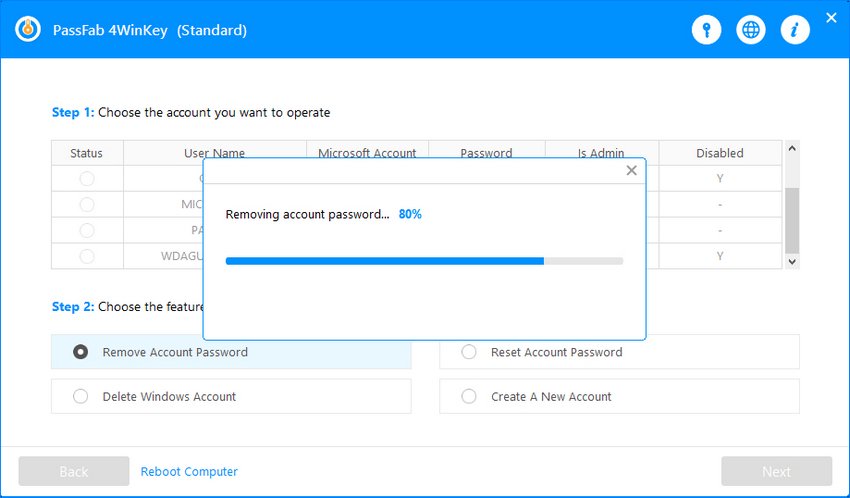 Step 10: To restart your computer, click "Reboot". Now you can login with your new password.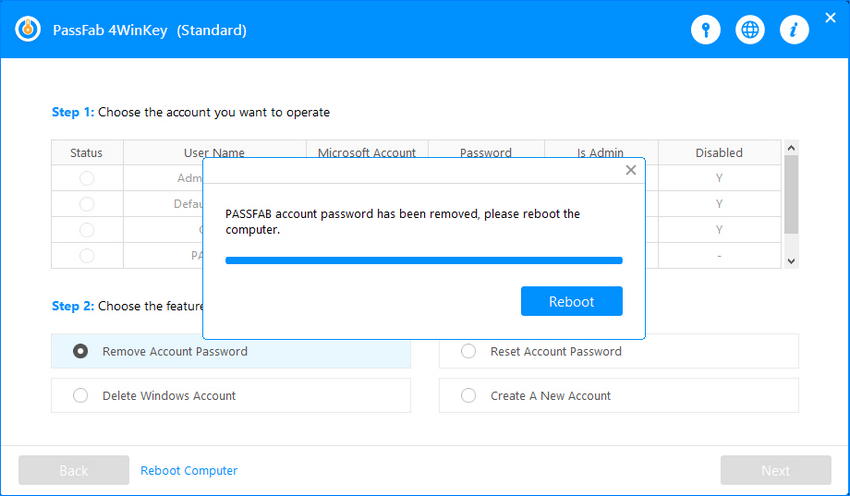 You can also easily solve the problem by using other methods. All the methods that are discussed require a very basic knowledge of computer.
2 - Crack Windows Password with Kon Boot
Kon Boot in fact hooks to BIOS and changes the contents of kernel at time of booting It allows to leave blank password during login. When again PC starts without Kon Boot password appears. PC will act now as nothing happened. This tool is widely used all across the world as it is very easy to use
There are following steps to use this method if you want to learn Windows password key professional crack:
Step 1: First of all, take a CD/DVD or USB drive. Now download the Kon Boot on a computer that is in working condition, burn the ISO file in a CD/DVD or USB drive as you downloaded Kon Boot on a working computer.
which you burned the ISO file, into the locked computer and boot.
Step 3: A blank white screen appears in front of you as you set boot device to CD/DVD or USB containing the burned file drive in BIOS. The system boots automatically as you press any key and tweaking BIOS functions start.

3 - Crack Windows Password with OphCrack
OphCrack is a quite old and easy tool for Windows password key professional 8.1 crack of length up to 4 characters. You cannot use this tool for lengthy and complicated passwords as it uses rainbow tables. For lengthy and complicated passwords recovery you have to buy complete rainbow table.
There are following steps to use this method:
Step 1: Create bootable drive by burning ISO image file which was downloaded on some other operational computer.
Step 2: Boot the locked computer by plugging in bootable drive either DVD/CD or USB drive whatever you used.
Step 3: Choose "Ophcrack Graphic Mode Automatic" to recover password after loading the ISO files on screen.
Step 4: Write the username of locked computer after writing partition name where the OS file was installed.
Step 5: Wait until recovery of the password and you should note the password so as to login to the computer.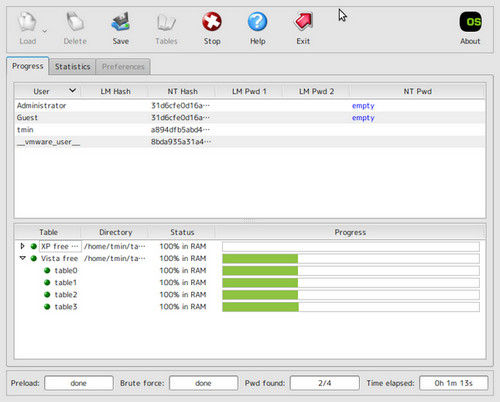 4 - Take Your Computer to Repair Shop
It is possible that you try all of the above methods and still not succeed or if you are busy in your routine works and have not enough time to sit and research on internet to find a way to get your problem fixed, you can get your issue resolved by a good technician. There are many people in the market so you must go the reliable person in order to avoid any kind of scam. It would be much better if you go to the authorized person by the company of your computer.
Summary
Very often certain reasons lead you to the answer Windows password key professional crack. It is possible that you might forget the password or any other incident takes place. Generally you try to find the best and simple ways to solve your problem. So, by using the ways discussed in the article you can solve your problem. Crack Windows password with KonBoot, recover Windows password with PassFab 4WinKey Professional and crack password with OphCrack are the methods that have been discussed.