Regularly updating the password of your Microsoft account keeps your computer more secure because, over time, someone around you can learn it and probably misuse your personal details. If the person attacks the computer or uses it to do illegal stuff, you'll be the one who gets caught because everything happened from your Microsoft account and IP address. When you are changing your password, remember not to change Microsoft password to old password because guessing it becomes very easy. In this article, you will learn how to change Microsoft pasword on your own.
Part 1. Change Microsoft Password for Free
Forgetting your Microsoft password is as scary as forgetting your debit card pin. Since we store everything important on our computer, it is a signal of a huge disaster coming your way. The first thing that comes to anyone's mind is that they are going to need to restore factory settings, which means all stored photos, videos, and documents will be lost. How would you feel when we tell you that you won't have to do any of it? Microsoft Windows change password is super easy. Let's take a look at how to change Microsoft password for free:
Method 1. Change Outlook Connected Microsoft Account Password
Step 1. Open Microsoft Outlook account. Click on File, select Account Settings, and again select Account Settings.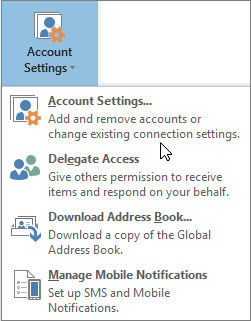 Step 2. Click on the E-mail Accounts tab and select the e-mail id of which you want to change the password.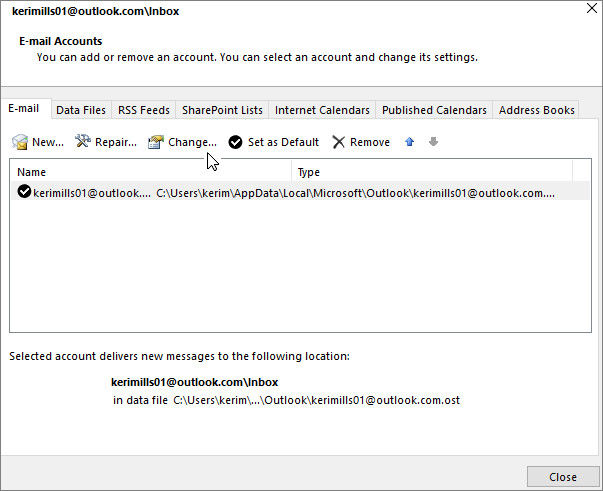 Step 3. A Change Account window will pop-up on your screen. Change the password and click Next.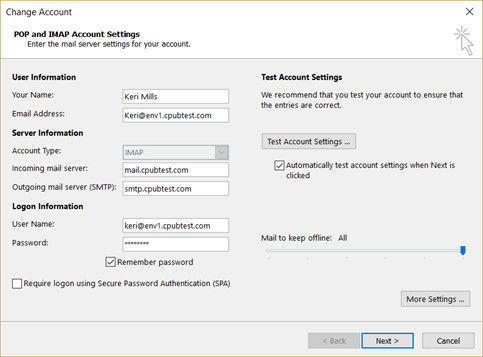 Step 4. Once the password is set and the software tests your account settings, you can click on Finish and close it. Your password is reset.
Method 2. Change Online Microsoft Account Password
Step 1. Sign in into your Microsoft account on your browser. Go to Security.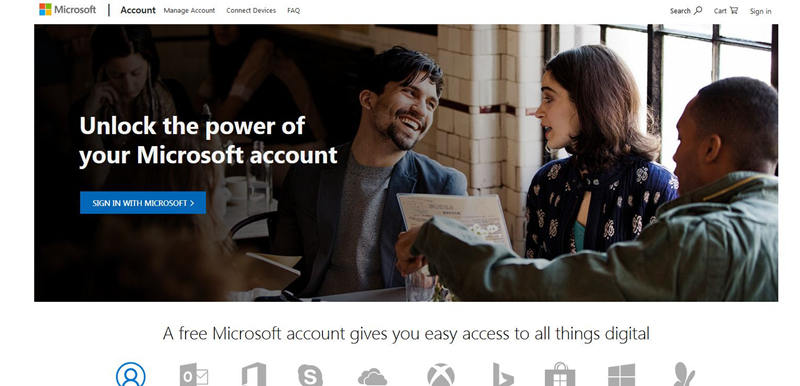 Step 2. Select Change Password.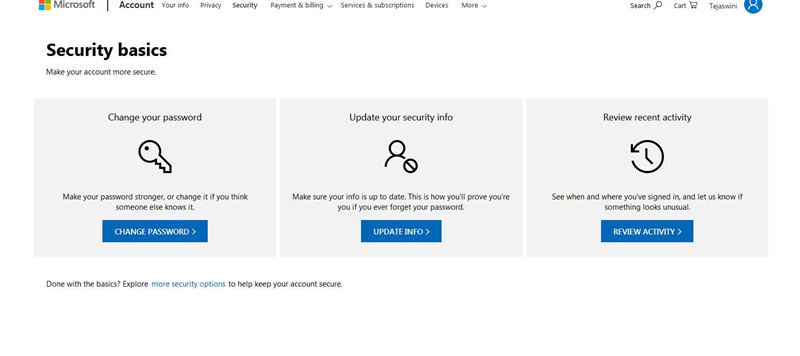 Step 3. Enter your current password followed by the new one. You will have to enter the new password twice. In case, you have some highly confidential information on your Microsoft account; you can tick the box next to Make me change my password every 72 days.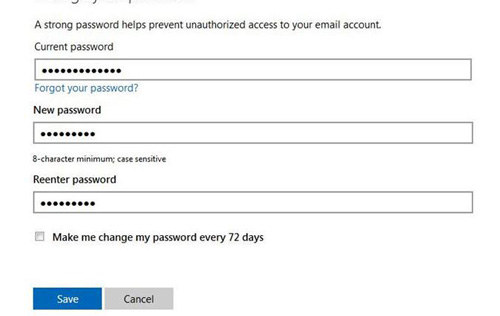 Step 4. Click on Save, and the password will be reset. And that how you change Microsoft password online.
Method 3. Microsoft Password Change on Windows 10
Step 1. Click on the Start button and select Settings.

Step 2. Click on Accounts and go to Sign-in Options.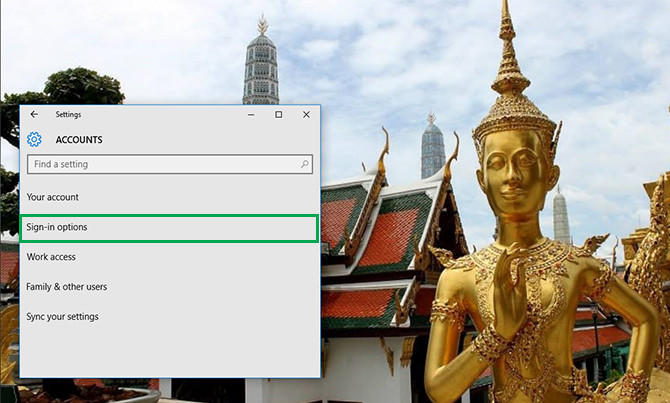 Step 3. Click on Change Password. You will have to enter your existing password twice.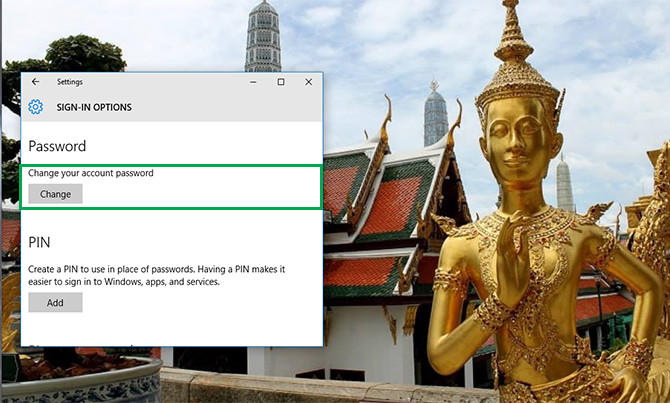 Step 4. To make sure it is you who is changing the password, Windows 10 will ask you to enter a verification code that is sent on your registered mobile number.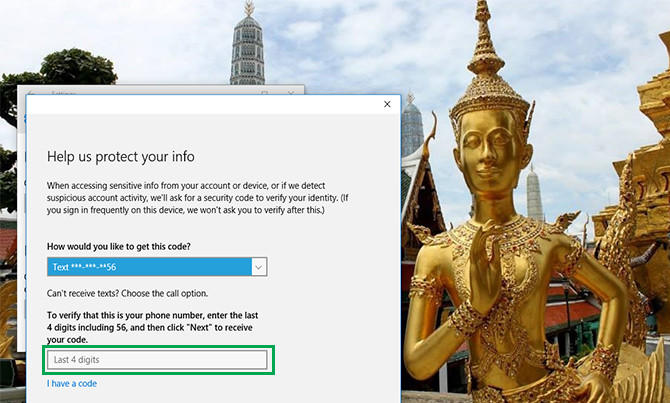 Step 5. Once verified, you'll be redirected to a page where you can change your password. Click Enter and you are done.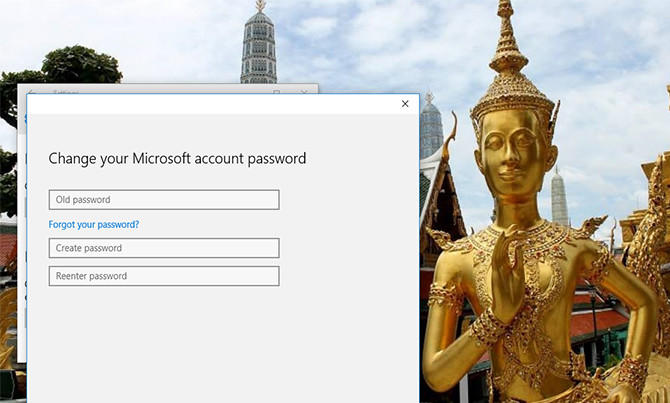 Part 2. What to Do If Forgot Microsoft Password
Don't panic if you forgot the password. When it comes to retrieving a forgotten Microsoft password, people directly think about resetting the Windows computer, which makes you lose all the information. On the other hand, you have no option to the reset Microsoft password if you forget it. There's no better software than PassFab 4WinKey. It is super easy to use and doesn't let even a single document or photo to be lost in the process. Also, it is completely safe to use. Let's take a look at how you can retrieve the password of your Microsoft account using the software.
Step 1. Download PassFab 4WinKey on a computer you have access to. After installing it, insert a USB Flash Drive and select it on the software. Click on Burn.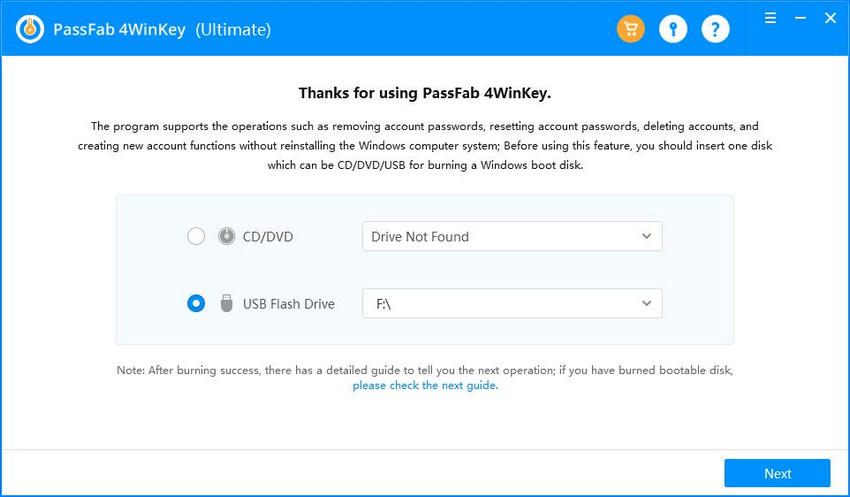 Step 2. A dialogue box will pop-up on your screen, informing you that all data from your USB drive will be lost after you burn it. Click OK and proceed. Once the burning is successful, another pop-up will appear on your screen informing you the same. Click OK and eject the USB drive.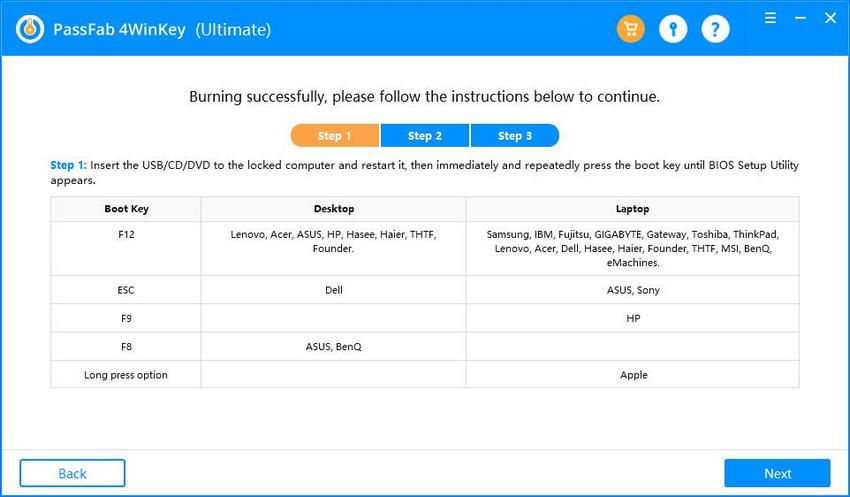 Step 3. Insert the USB Drive into your computer. The software will open on its own.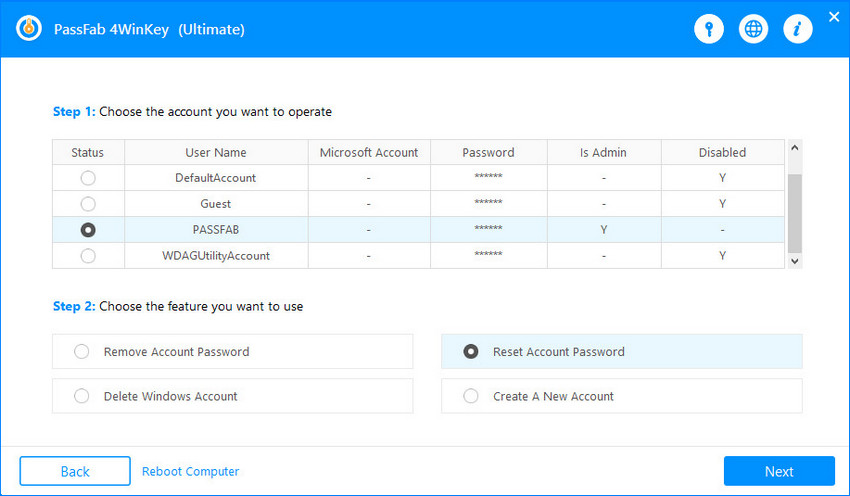 Step 4. Choose your Windows version and select Reset Your Password in the bottom half of the window. Click Next.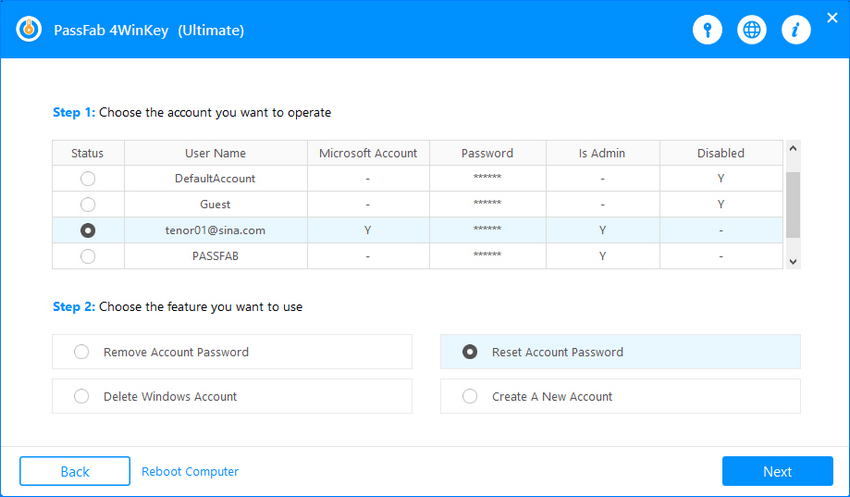 Step 5. Select the account of which password you forgot and enter a new password. Click Next.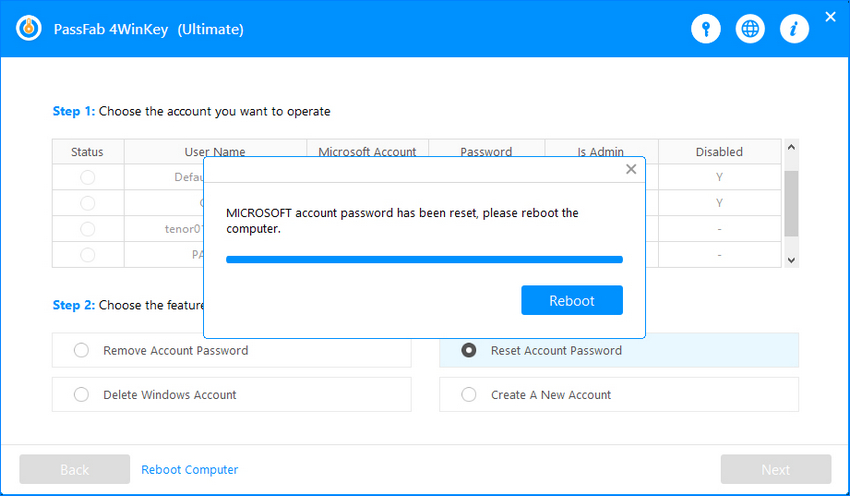 Step 6. After the password is changed, PassFab 4WinKey will notify you. Click on Reboot to restart the computer. You either choose to restart it right away or later. Make sure you eject the USB Drive before restarting your computer.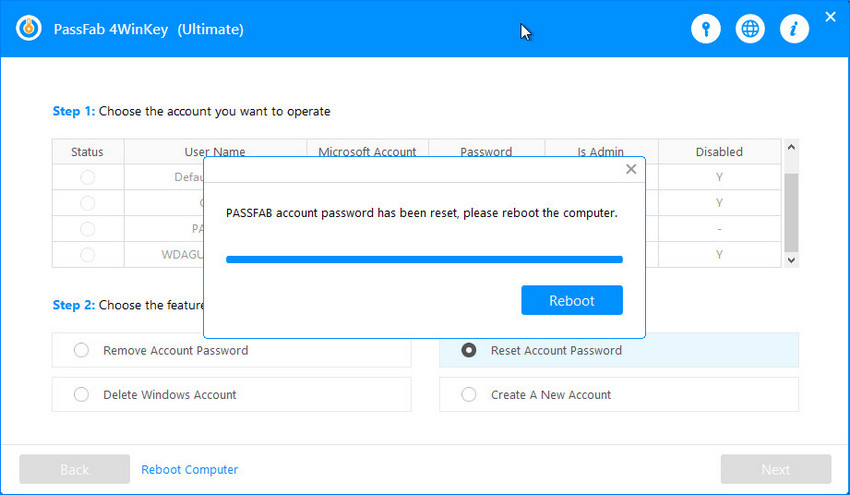 Here is a video tutorial that you can watch to understand how to reset Microsoft account password:
Part 3: FAQs about Microsoft Password
Q1: Why did I get a password reset code from Microsoft?
Microsoft sends you a security code for you to reset your Microsoft password. If that's what you're doing right now, you can use this code to continue; if not, that means it is a phishing email. Just ignore it.
Q2: What email and password can I use as default when forgot password?
There isn't any default email or password for password recovery. So if you forgot your Microsoft password, just reset it using your email address or phone number.
Q3: How to save your Microsoft password?
If you want to save all your passwords, you can write them down in a encrypted document, or you may try third-party password manager to remember passwords for you.
Summary
That's all about the topic. Now you don't have to worry about how to change Microsoft account password when you remmember it or how to reset Microsoft password when you forget it any more, because you can bypass the password with the above solutions, especially using one wonderful software - PassFab 4WinKey, the best Microsoft password reset tool, and resume work like nothing happened.