So far and so forth, we lookout for opportunities to keep our security intact and guarded.  Especially in laptops, where the primary way of protecting data from any unauthorized access is shielded by power on password.  But, as we are too entangled in our situation, we often forget things, password of our laptop and regret them later. This way, the Power on password that we use as our shield can become a double-trouble to us. Now you may wonder, "I forgot my power on password and how shall I get back to PC!" Well, you might be aware that factory resetting could be counted as the possible means of getting back to your PC.
But, that's the least we could do, there are some tech-savvy techniques that you should employ in order to fetch the power on password. The prime one being bypassing the power on password. Sounds hard? It's definitely not! You can opt for the below-mentioned tricks to get on your PC/HP/Dell/Lenovo laptops in a blink of an eye. You needn't fret with this idea, as we will be unveiling the detailed methodology to make things possible. Just be connected till the last!
Part 1: How to Bypass Power on Password
First figure out whether you've to bypass Windows Power on password or the BIOS password. As, the Windows password is the one that appears to boot up the Windows OS. But the BIOS password is simply the one that appears right after your PC boots up. Now, if it is the Windows Power on password, follow the steps below in the said order.
Step 1: Windows 10 installation disc or installation USB
First of all, keep the Windows 10 installation disk with you. Next up, is to insert the installation disk to your Windows computer.
Step 2: Boot with installation disk
Reboot your PC afterwards and then hit the "Esc/F12" key on the first boot screen to launch the Boot Menu. From here, you can select the preferred boot media as the disk drive in which you inserted the said installation disk.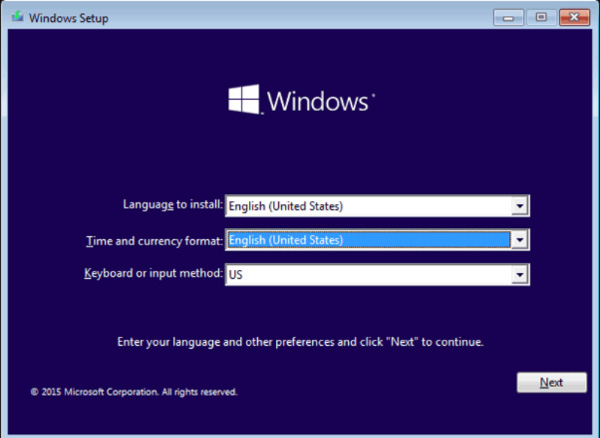 Step 3: Make use of Command Prompt
Launch Command Prompt by using "Shift + F10" right after the computer has successfully booted from installation disk. Then, key in the following command by replacing the utility manager to command prompt.
move d:\windows\system32\utilman.exe d:\
copy d:\windows\system32\cmd.exe d:\windows\system32\utilman.exe
De-plug disk and restart your Windows PC with command "wpeutil reboot".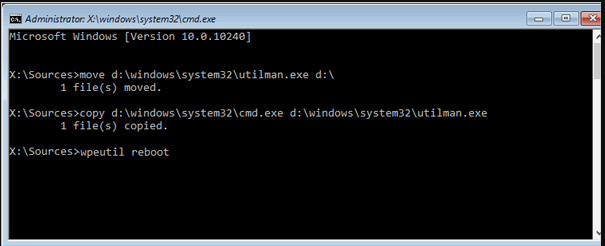 Step 4: Reset Windows 10 local admin password with command prompt
After the Windows 10, use the sign-in screen, click on the "Utility Manager" option and "Command Prompt" pop up on your screen. Then, take the "net user" command to bypass Windows 10 power on password.
net user space username abc and hit enter.
Where, username is the name of the account you wish to reset password of and abc is the new password. That's it you've successfully bypassed Windows power on password.


Step 5: Utility Manager should be restored
Switch the Command prompt and add in the installation disk into your PC again.
Click the "Power" icon and opt for "Restart" at the bottom-right side of the login screen.
While Windows 10 successfully boots from installation disk, the Windows Setup prompts. Simply, use Shift+ F10 key to re-launch Command prompt.
Key-in command "copy d:\utilman.exe d:\windows\system32\utilman.exe". Then, click on Enter followed by typing a "Yes". This will restore the Utility Manager.
Part 2: How to Turn off Power on password
Now that you've bypassed the Power on password, you can then easily put it off so that it may not trouble you anymore. Especially, if you know you are hard with passwords. Curious to know how? Check out this easiest method to turn off the power on password
Step 1: First of all, click on the Windows 10 Start Menu and key-in "netplwiz" command. Just, opt for the program that appears with the same name.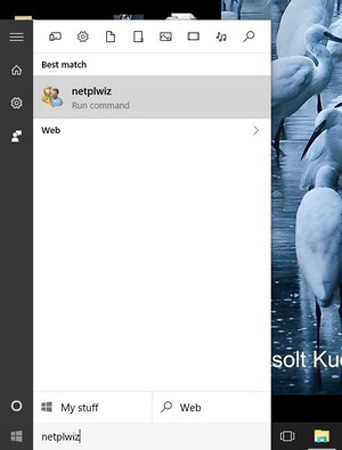 Step 2: By getting onto this Window, you will gain access to the Windows user accounts and many password controls. Surf under the "Users" tab and check if "Users must enter a username and password to use this computer" is unchecked or not. Uncheck it, if it is not.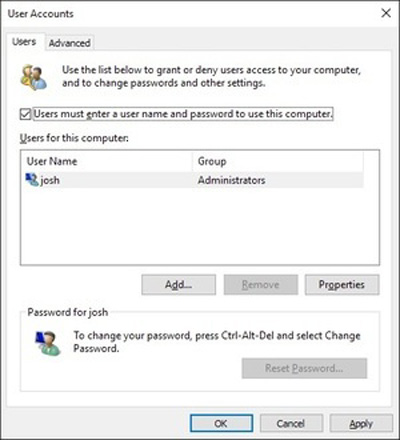 Step 3: Hit the "Apply" button and it will then seek for the confirmation. You need to punch in the current password over the prompt twice. The next time, you reboot PC, you would not be required to key in the power on password.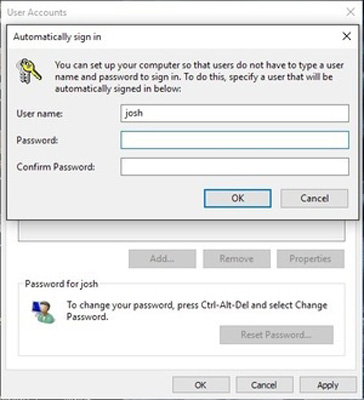 Conclusion
By now, we witnessed some of the easiest and effective ways of bypassing power on password on hp laptop, PC or desktop. They are quite equipped with manual methodology and may require special attention. However, to effectively bypass power-on password without the need of getting in troubles, you can look up to PassFab 4WinKey – an impeccable solution that allows users to surpass admin passwords, local accounts passwords and recover Windows passwords with much ease. You can also be ensured of being stress-free as in ultra-lightning speed, you can bypass the power on password!