Forgetting your Windows computer password is something all of us have go through. One way out of it is by remembering your last password. Even if you don't remember it, you have to go reluctantly go for a factory reset. If you do that, you will lose all your documents, photos, and videos. Instead, you can opt for a password recovery tool, using which you can change administrator password.
Part 1. Change Administrator Password by Using PassFab 4WinKey
When it comes to picking out a Windows password reset tool, PassFab 4WinKey is absolutely the best one. It is specifically designed for Windows operating system. It works on all types of Windows versions including Windows 10, 8.1, 8, 7 and XP. The special thing about the software is that it doesn't delete any photos, videos, or documents and helps you to change administrator password, so that you can recover your computer password.
When you use the free software, you will only be able to recover certain type of files, while you recover all files on your computer when you use the premium versions. PassFab 4WinKey is also one of the most affordable software among recovery tools for Windows XP change administrator password. Also, it is easy to install and use.
Like we said earlier, it is very easy to use. You won't need any professional or technical help for installing it either. Let's take a look at how to install PassFab 4WinKey and how to change administrator password on Windows.
Step 1. Download PassFab 4WinKey on another computer. Install it and open the tool. Insert a removable disk, which can either be a USB Drive or CD/DVD. Whatever you choose, select it on the tool. We recommend you to use a USB Drive because the CD/DVD might give you trouble if your computer doesn't support it.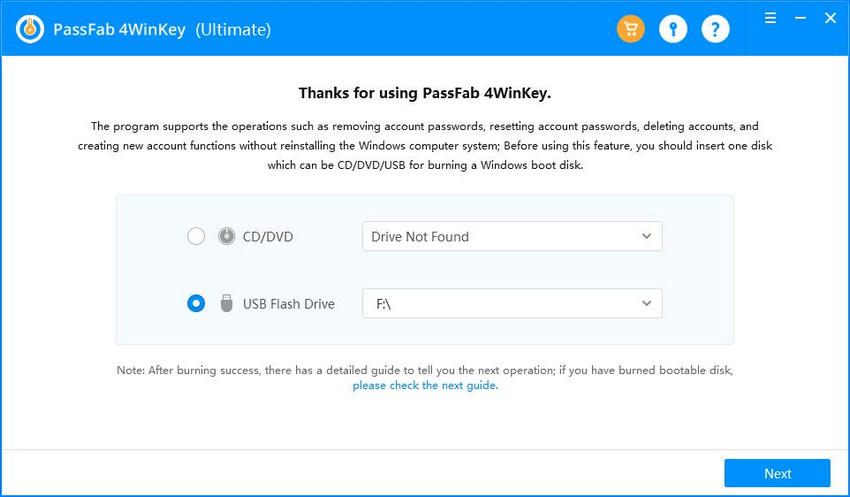 Step 2. Tap Burn. A message will pop-up on your screen alerting you that all data saved on the removable disk will be lost. Save all the information before burning. Click OK.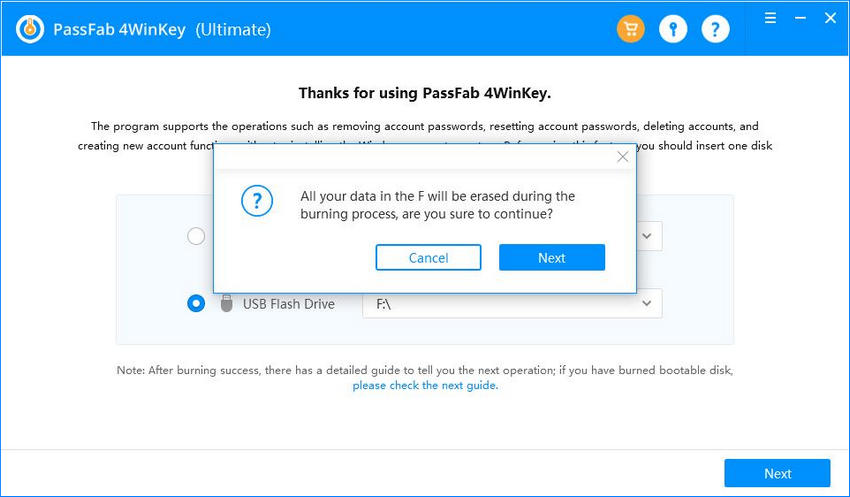 Step 3. The process takes a few minutes, so take a back seat and sip some coffee. Once successful, a message will pop-up on your screen. Hit OK and eject the removable disk and insert it in your computer, which is locked.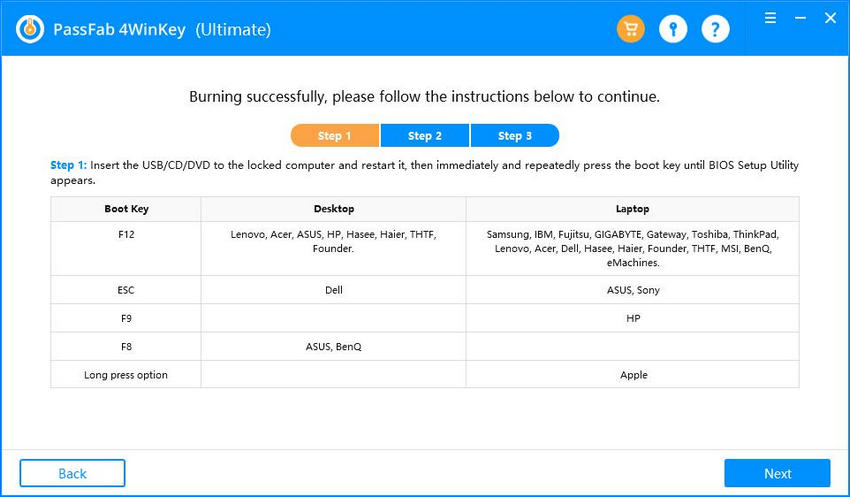 Step 4. The tool will pop-up on your computer screen. If you have a Windows XP, choose "Microsoft Windows XP" from the "Select Windows" section and select "Reset your password". Click Next.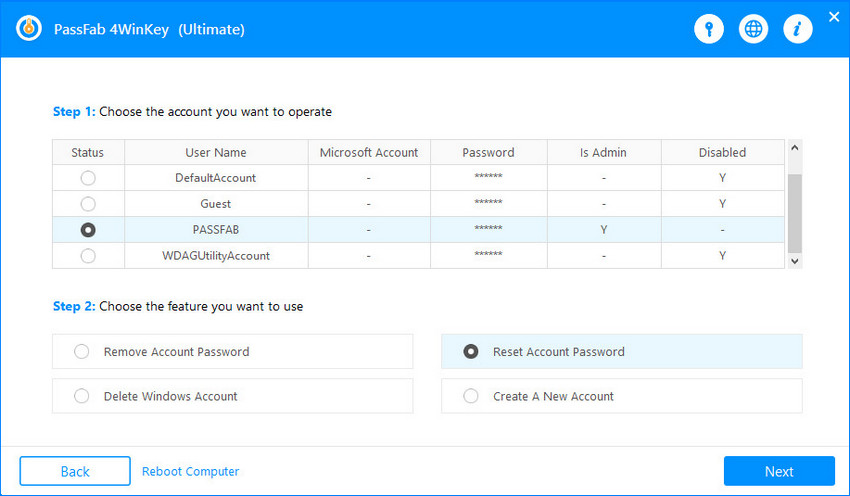 Step 5. In Manage Accounts section, select the administrator account you want to change password. Click Next.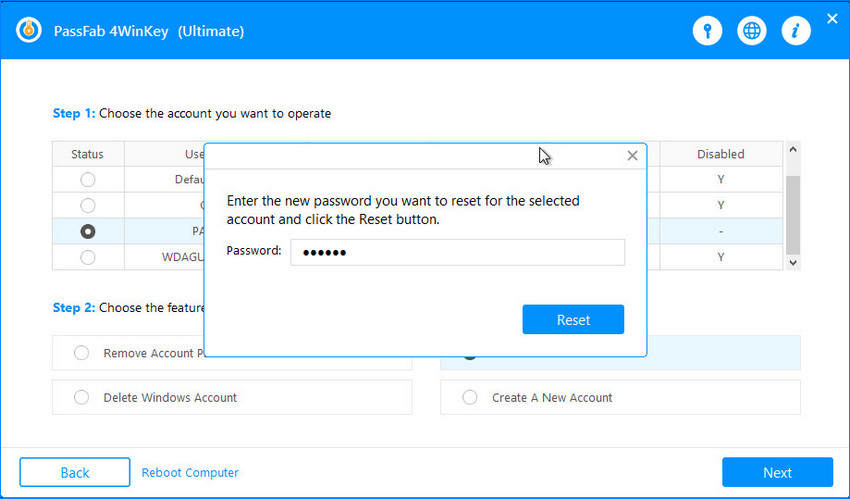 Step 6. The process will begin automatically in the Process section. Once successful, the tool will inform. Reboot the computer. Make sure you eject the USB Drive before rebooting your computer. After the computer restarts, you will be able to login with new password.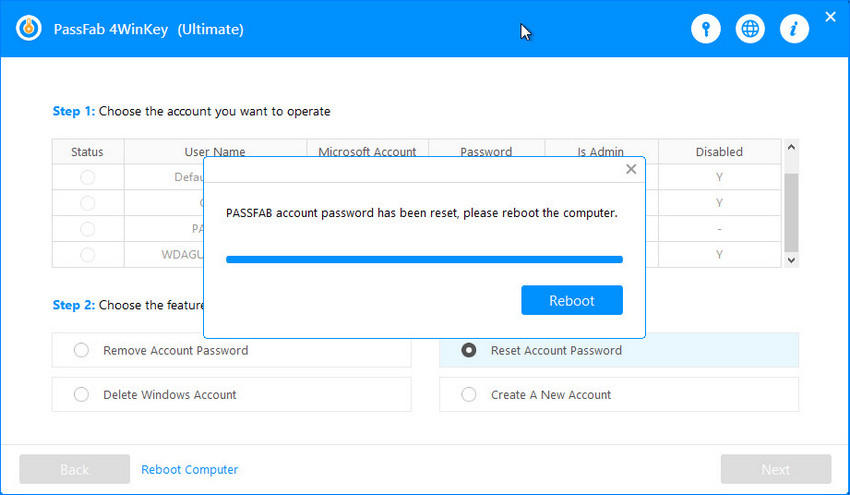 And that's how to change administrator password. Make sure you follow the steps closely.
Part 2. The Difference About Administrator Password on Windows 7/8/10
Every operating system has a key account that runs without any restrictions. In Windows computers, it is called the Administrator. This master account is designed to protect the computer from possible software damage, which might render it useless. Don't confuse it for the standard admin-level user account, which is merely a more sophisticated account than a user account.
After you activate Administrator, it gets its own desktop and user files, which means you can change the theme and customize the way you want. Usually, you don't need to access the Admin account unless you want to solve a system issue, like forgetting your login password.
Since it is the highest account on your computer, you don't have anything protecting you. This means a wrong step and your computer will turn into a literal piece of junk.
There isn't any difference between Administrator password on Windows 7, 8, and 10. All three are relatively newer models. The real difference is between these three versions and Windows XP when it comes to resetting the administrator password.
In the newer versions, Admin account is linked to your user account, so your user password will be the password to your Admin account even though it doesn't appear on the lock screen. On Windows XP, you can view the Admin account only when you access the Windows XP Recovery Console or boot your computer into the Windows XP Safe Mode. Also, the Admin account isn't pre-configured to the user account on Windows XP OS.
If you want log into the Admin account through the older version, you simply have to click on the account and hit Enter without entering the password. This doesn't work on the newer versions because of the pre-configuration. If you have multiple accounts on one computer, either of them is the password to the Admin account in the newer versions.
Conclusion
Another way to break into your computer's Admin account when you forget the password is by using the Windows password reset disk. However, it doesn't guarantee full recovery of your saved photos, videos, and documents. The process is a little technical, so if you don't know how to carry it on, you might destroy your entire computer.
Don't worry about the complexities and simply download the PassFab 4Winkey tool. Your computer will be up and running within a few minutes and you won't lose those memorable photos either. That is all that you need to do to get started.