Best Way to Remove Windows Password - PassFab 4WinKey
"Hello, This pc is accessed by several people, all under admin user as she did not make different users! Admin has no clue of the password! this is on a Windows 7. There is so much important stuff and programs on this pc...I cannot reset it! can anything be done?? thanks!"
Windows accounts are of various types, users are allowed to access them depending upon their authority. User, administrator and Microsoft accounts have their own set of passwords to unlock the respective accounts. The ways to remove them are different and diffcult. But in this article, we will give you the best solution for removing Windows password easily.
Part 1. Remove Windows Password with PassFab 4WinKey
When it comes to Windows removal of password there are a lot of tools in the market. But choosing the best one serves good to your purpose. We have chosen PassFab 4WinKey as the most viable software that can remove, reset, change or create a local or domain account password on all Windows version. You can create password reset disks for Windows computers as well. Being a reliable software, it ensures that you flawlessly recover and reset password with 100% rate.
Here are the various guides to remove Windows password but before that let's burn a Windows password recovery disc using Passfab 4WinKey.
Note: Ultimate version supports all kinds of Windows password, if you only want to remove Login/User password just choose Standard version.
Step 1. First install the software on your computer and then launch it. Now, either select "USB" or "CD" depending upon your preference. Plug the selected media into the computer and then hit "Burn".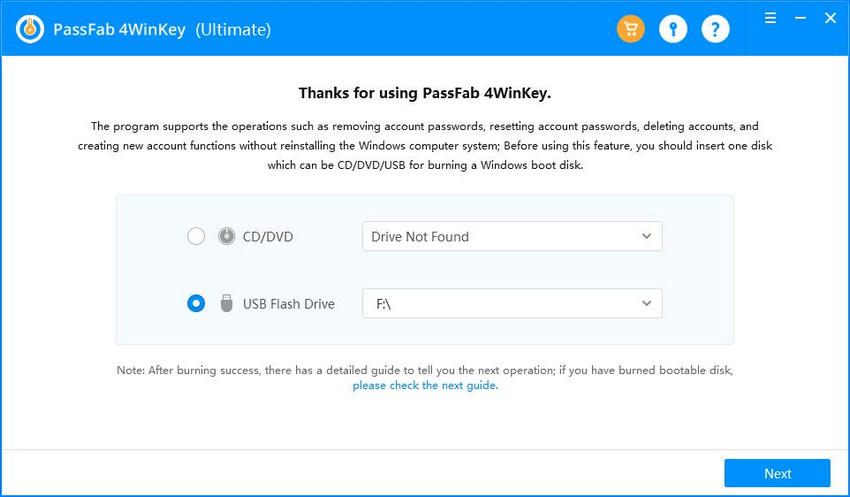 Step 2. Now, plug in the recovery disc into the locked PC and then boot it up. Hit "F12" or "Esc" for boot menu and then select the "USB/CD" to boot with recovery disc.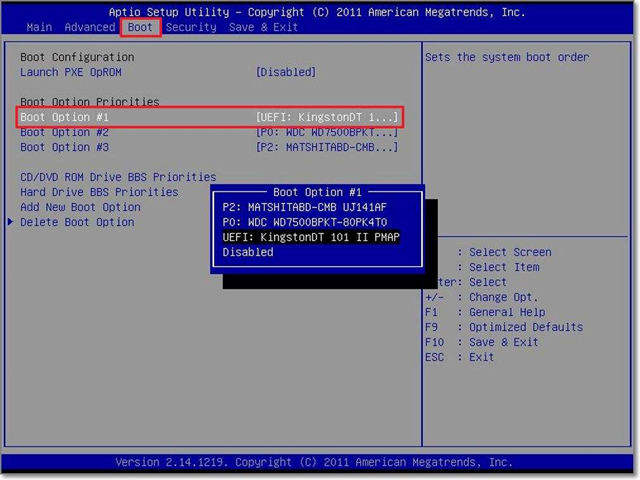 Section 1. Remove Windows User Password
Here is a quick guide for removing Windows password of your User account from your computer.
Step 1. Upon booting up, you need to choose preferred "Windows Operating System" here, i.e. Windows 7/8/8.1/10. Click "Reset your password" and then "Next".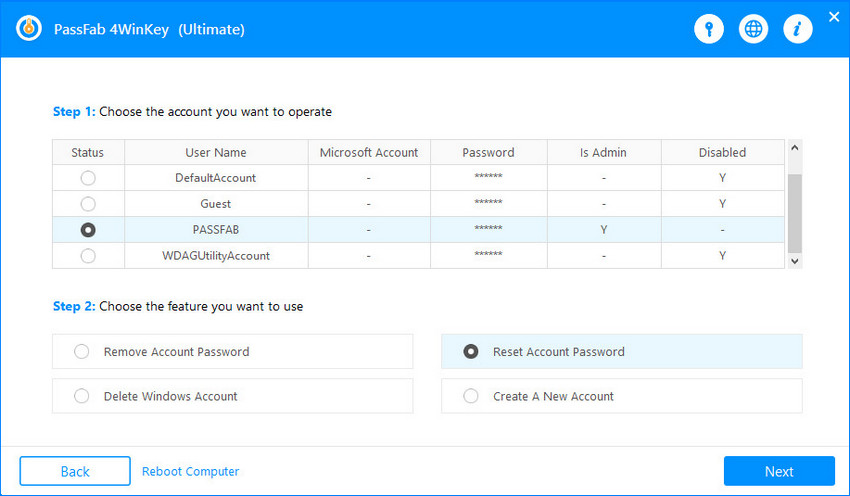 Step 2. Next, click "Remove your password" and then "Next".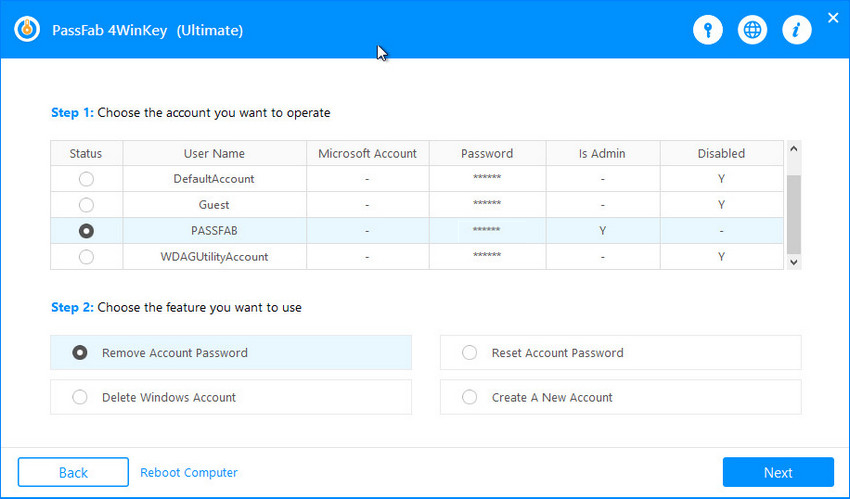 Step 3. Now, you need to pick the desired "User" account and then tap "Next" followed by pressing the "Reboot" button. Lastly, remove the USB/CD at the end.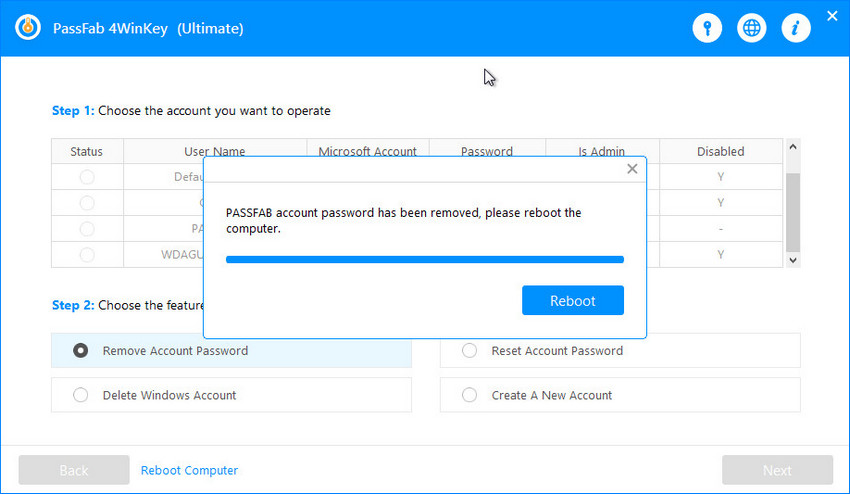 Section 2. Remove Administrator Account
In this part of the article, we have mentioned how to remove the Administration account easily. Keep reading and learn.
Step 1. Once PassFab 4WinKey boots up on your computer, then under "Windows Operating System" the right OS needs to be picked. Click the "Remove an admin account" option and hit on the "Next" button.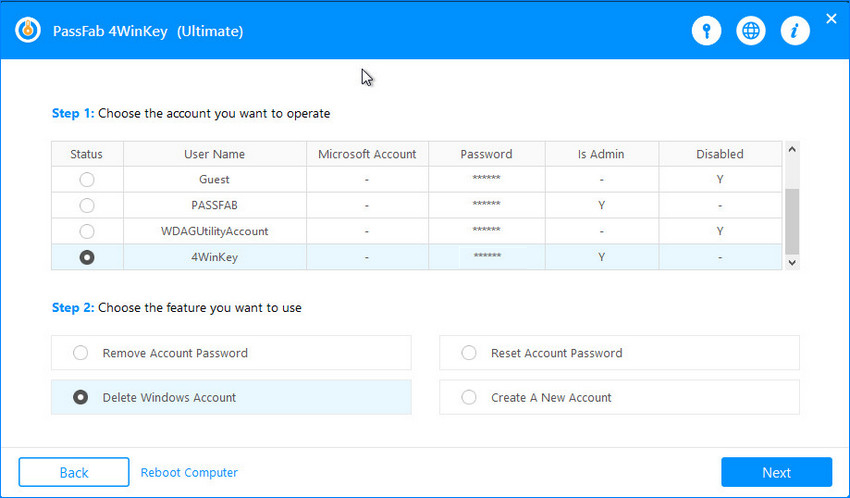 Step 2. You are then required to pick the desired "Admin" account and click on "Next" button.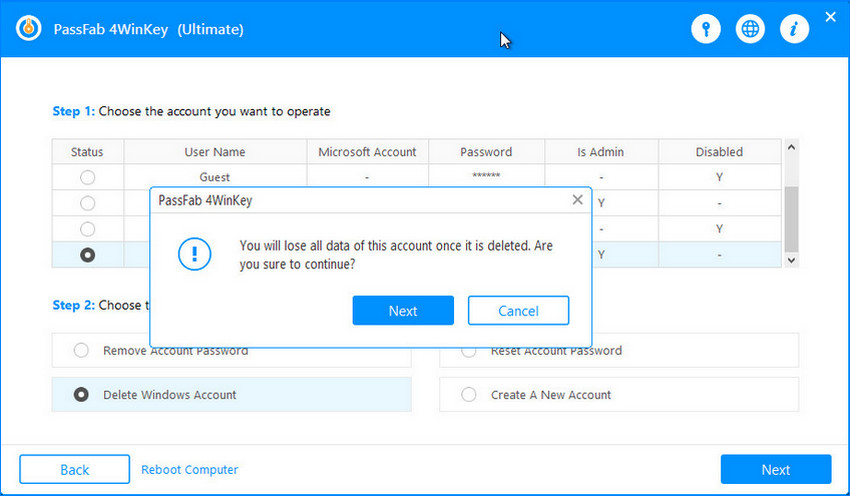 Step 3. Hit "Next" and let the process to complete. Press "Reboot" and then remove USB/CD at the end.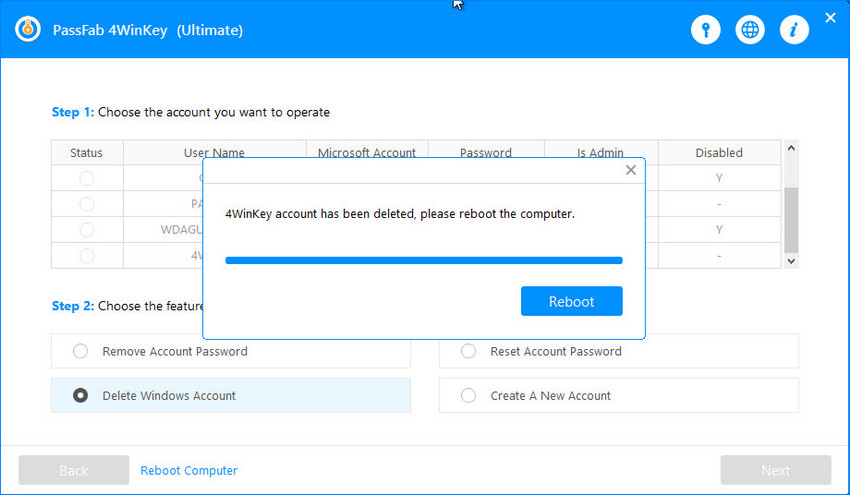 Section 3. Reset Microsoft Password
Let's learn how to remove Microsoft Account password using PassFab 4WinKey.
Step 1. Let the Passfab 4WinKey to boot up. Then, from "Windows Operating System", choose the right OS and tap on "Reset your password" option. Hit "Next" afterwards.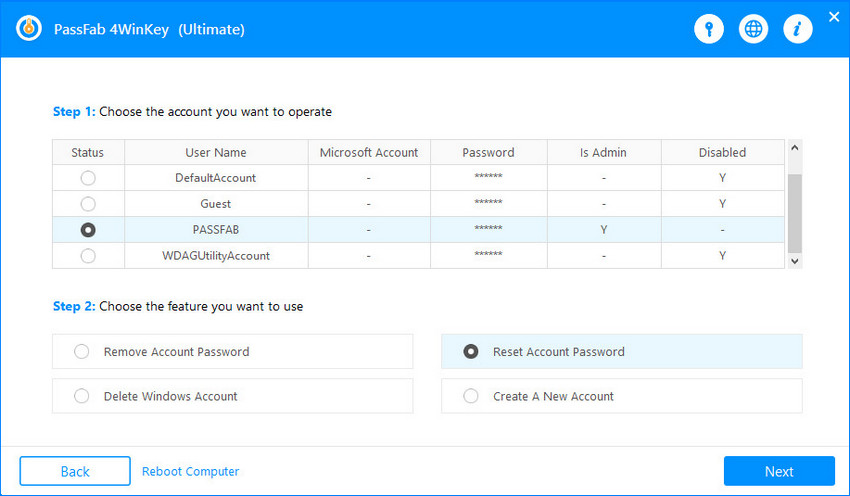 Step 2. Next, you need to pick the "Microsoft" account you wish to reset password of and then the "Username and New Password" will appear on your screen.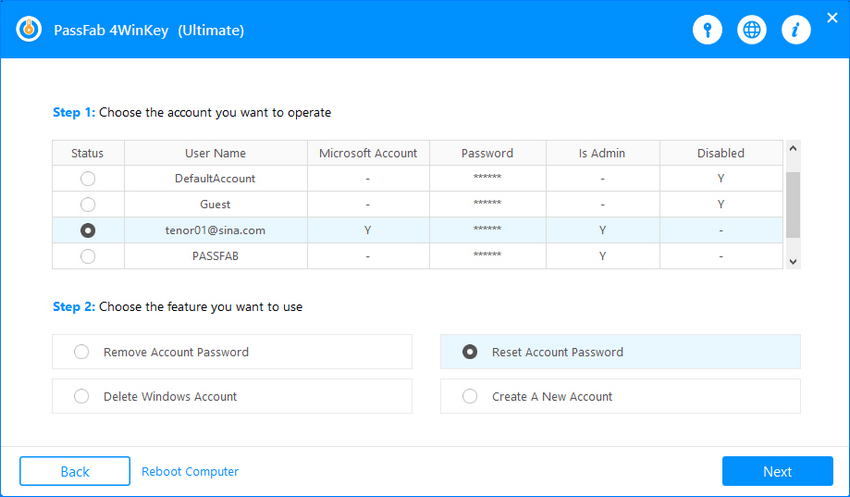 Step 3. Hit on "Next" and allow the process to complete. Choose "Reboot" and finally remove the USB/CD.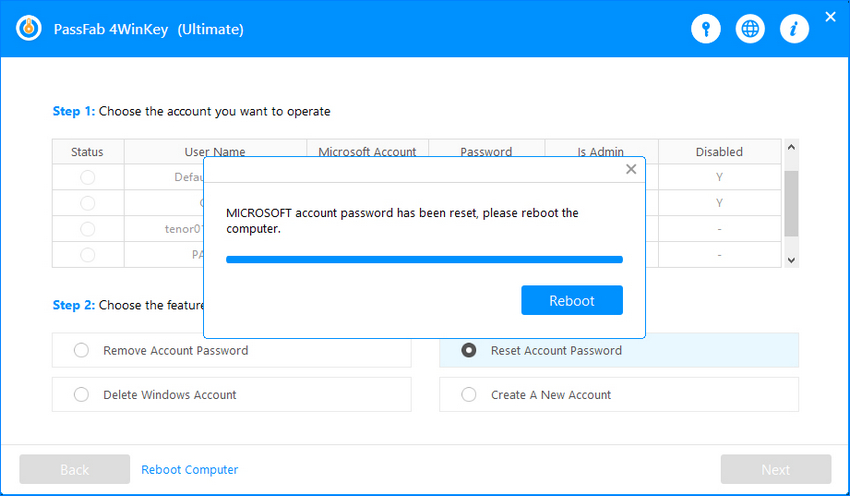 Part 2. What Else Can PassFab 4WinKey Do?
Now that you have a pief idea about PassFab 4WinKey and their different guides that remove various passwords from accounts. Besides, remove Windows 7 password or other version's password can also be done by it. So, We would like delve deeper and see what else this amazing tool can offer as a Windows password remover ISO.
Apart from Windows password remover through USB, PassFab 4WinKey has a lot more offer. Here are the prominent points regarding those aspects.
Operational
It is intuitive and easy to operate when it comes to usability.
High performance rate among other top functionalities of this application.
Fast recovery and reset rate has pushed the program to the top spot as a prominent contender for the best Windows password remover.
Features of PassFab 4WinKey
No limit to recover or reset passwords for all User and Administrator.
It can recover and create Domain passwords.
It supports creation of password creation disk over DVD/CD/USB drive.
It has 100% recovery rate.
It is compatible with Windows XP/Vista/8/8.1/10 systems.
You can clone your hard disk and partition.
You can restore unbootable or functional hard disk data using this software.
FAT32, FAT16, NTFS5, NTFS etc. formats of file systems are compatible with PassFab 4WinKey.
Conclusion
From the above article, we have found out that PassFab 4WinKey is not only a tool to remove Windows password but also an effective solution for recovering password on Windows 10/8/7. Moreover, you can use this program for cloning or backing up your hard disk. You would be glad to know that the excellent features of this application is backed up with high performance rate as well.