How to Reset Toshiba Laptop Password
While surfing the Internet recently, we came across a number of users crowding on different forums with questions such as "I forgot my Toshiba laptoplogin password, how do I reset it? Please help!" and "I want to change my windows settings but I can't remember the Administrator password, please let me know how to reset it!" When looked deepinto the matter, it was found that these users have forgotten the password and were looking to know how to reset Toshiba laptoppassword. Well, in order to get these users out of the dilemma that they are facing, there is only one ultimate weapon. Let us have a look.
Part 1: How to Reset Toshiba LaptopPassword with PassFab 4WinKey?
Resetting windows admin password might vary for different version of windows operating system. This is because different OS versions function differently and hence follow a different model. Hence, if you are looking to reset the password on your own from within the laptop, then it might be hard to distinguish from the different methods used for different OS versions. Hence it is better to use a third party tool to solve the issue. And hence, this is when PassFab 4WinKey comes into picture.
The tool is suitable for all versions of windows OS and has the same effect on every version. It cracks/resets the password easily without any /painstorming. If you wish to use the tool to reset admin password of your Toshiba laptop, all you need to do is follow the given below steps.
Create Windows Password Reset CD/DVD
Step1: Begin by running the software in a different PC. Now, select a boot media option on the main interface to reset Toshiba laptopbios password.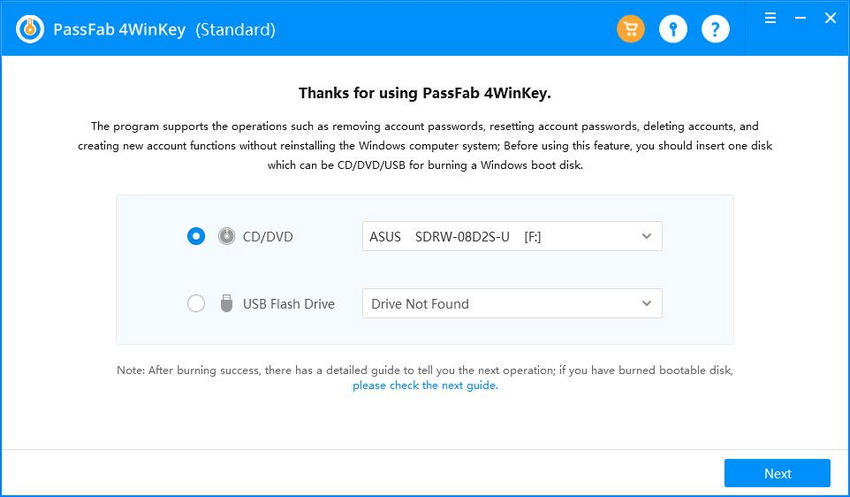 Step2: Select "Burn" option in order to create a booting disk. This disk will be used to reset password. Note that all the data on the CD that you use will be erased. The tool will also notify you about this.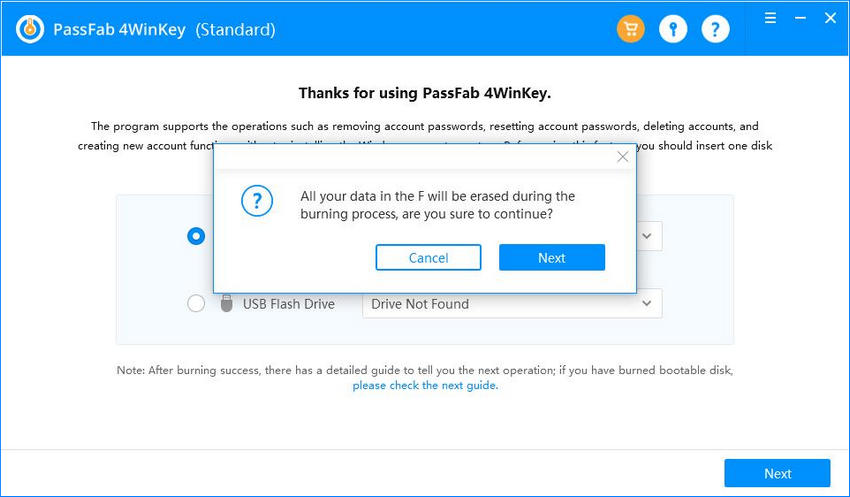 Step3: Follow the onscreen instruction till the process ends. Your booting disk will be ready.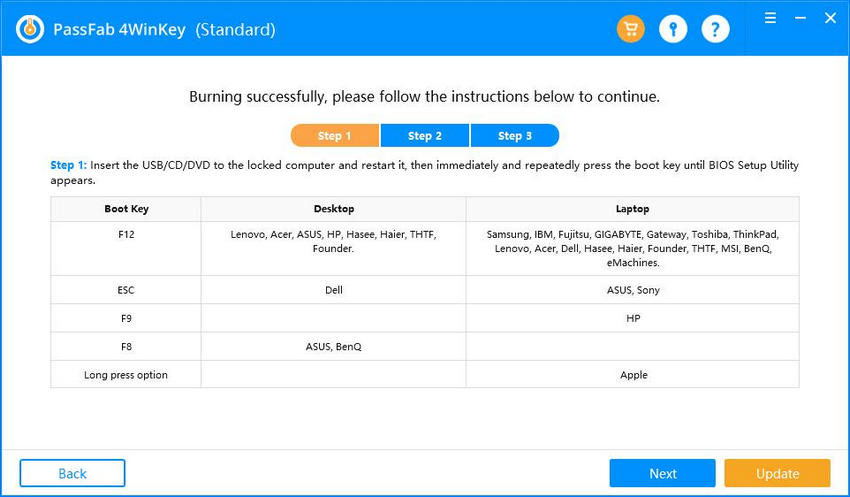 Boot Windows from CD/DVD
Step1: After the booting disk is created, insert it in the laptop, whose password needs to be reset.
Step2: Restart the laptopand press "ESC" or "F12" in order to enter Boot Menu Interface.
Step3: From the list of booting option, select the CD that you have inserted.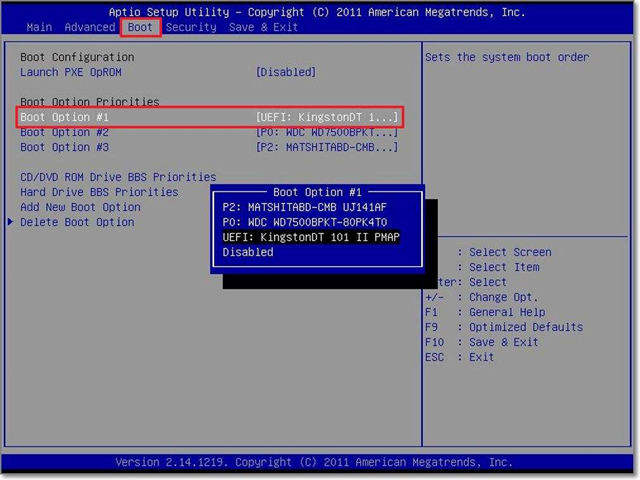 Reset Login Password
Step1: After booting from the disk, select your operating system and click "Next".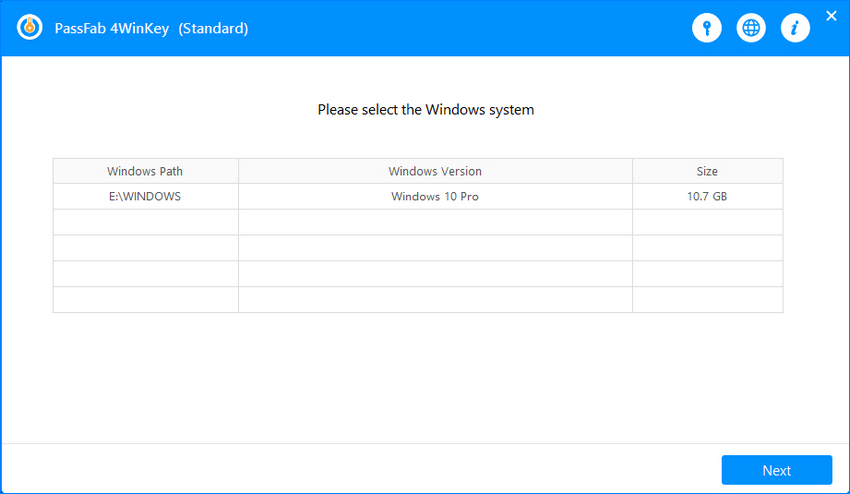 Step2: Choose the type of password that you need to reset on the next screen.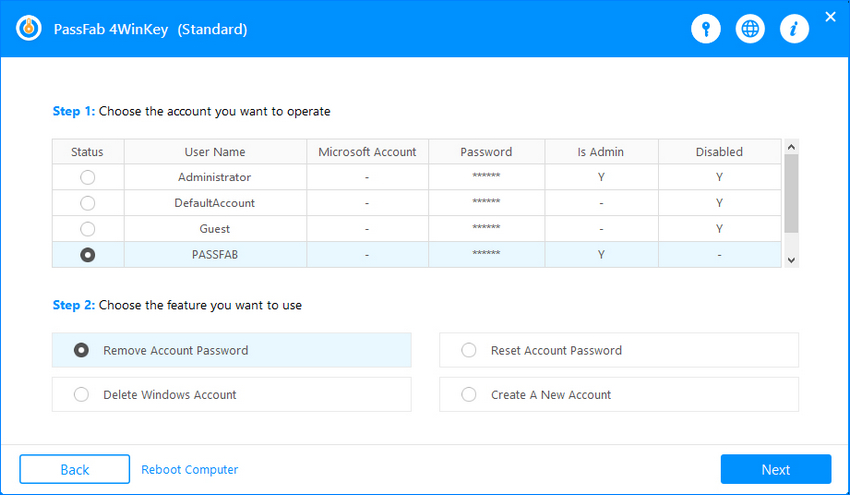 Step3: Tap"Next" and you are done for the day. Restart the device and log in with new password.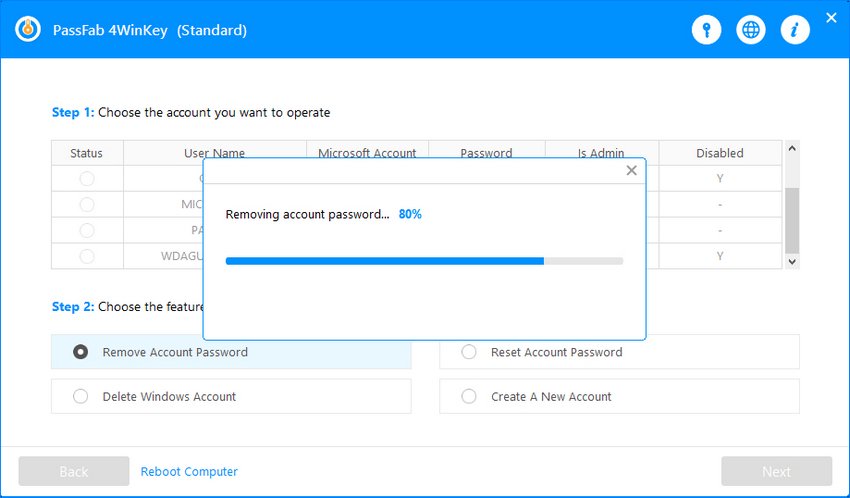 Part 2: Why Choose PassFab 4WinKey?
Since there is competition in every field, the rivalry is present here as well. You must be thinking that there are many other similar tools with less price tag in the market. Well, to clear your doubts, see the difference for yourself. Rest we leave to your fine sense of judgment.
LCP
LCP is a free tool used to crack password on your windows devices. The tool can be a little confusing for those who are new to password recovery tools. Hence, people need to do some homework to use it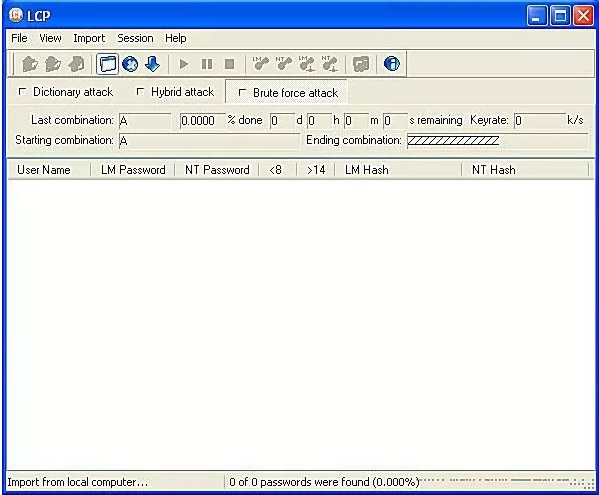 Pros:
Free of cost
runs on different platforms
Cons:
Confusing
Consumes lot of time
Does not support Windows 10
Windows Password Key
Windows Password Key is another tool with same functionality and is used to reset password on Windows laptopand PCs. It works similar to PassFab 4WinKey. The tool has a price label ranging from .95 to .95 with different functions.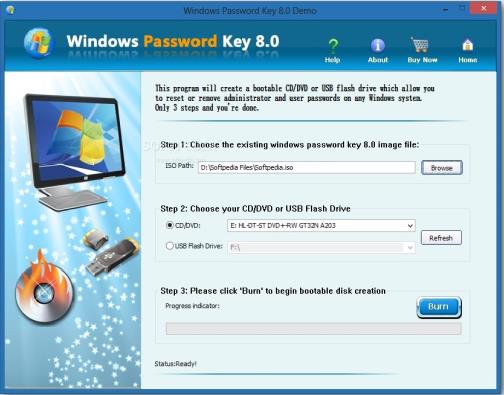 Pros:
Consumes less time
Different techniques to crack password
Cons:
Trial version has glitches
Comparatively costly
Summary
All in a nut shell, we had a look on how to reset Toshiba Qosmio laptoppassword using PassFab 4WinKey. The tool is better in comparison with different software seen above. Hence, it is obvious that PassFab 4WinKey is the best tool to use in order to reset password. Let us know if the article was helpful or not by commenting below.