How to Reset Samsung Account Password on Windows 8/8.1/10?
Samsung laptops are one of the most used laptops. However, if you forget user password, you are going to have a difficult time resetting or recovering it. To Samsung account password reset, there are multiple free and paid ways. These free methods can only be used to retrieve the password of only certain accounts including Microsoft account and local user account. You cannot recover the Administrator account password using them.
Part 1. The Top Free Ways to Reset Samsung Account Password
We have two free ways for you to reset Samsung account forgot the password. You can choose the way that works best for you. Let's take a look:
1. Visiting Microsoft Official Website
You can use this method only if you are logged into your computer using your Microsoft account.
Step 1. Open your mobile phone or another computer /powser to reset the Microsoft account password. Type https://account.live.com/password/reset.
Step 2. Select I Forgot My Password. Hit Next.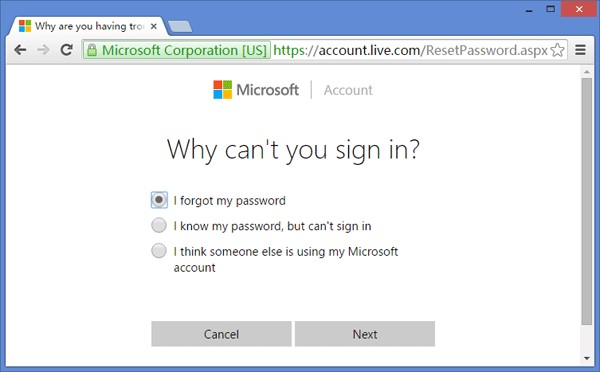 Step 3. Enter your email id or registered phone number and hit Next.

Step 4. You will receive a One Time Password either on your mobile number of email. Hit Enter.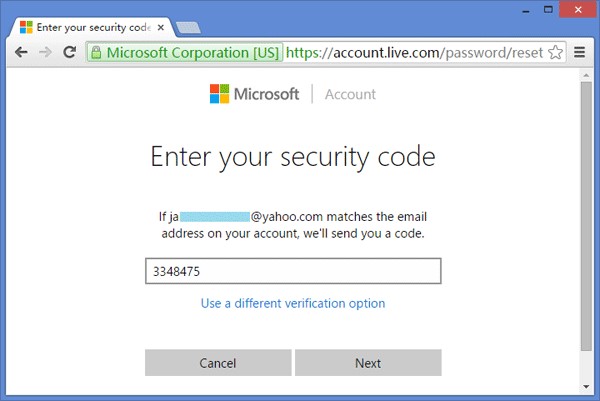 Step 4. Type the new password and confirm the changes.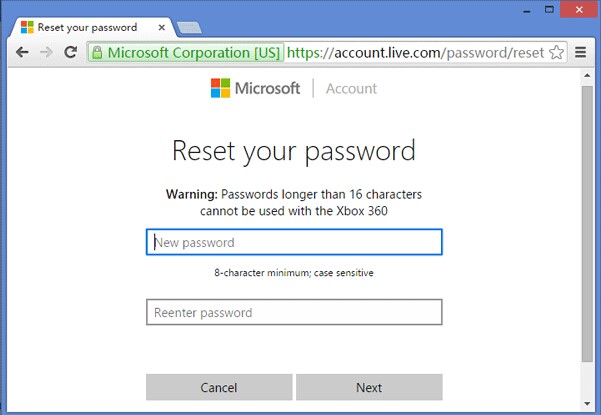 Step 5. Switch on your computer and add the new login details.
2. Using Another Admin Account
You can use this method only if there is an user account with Administrator privilege on your Samsung computer.
Step 1. Login into your computer using the user account with Administrator privilege.
Step 2. Run Computer Management.
Step 3. Select Local Users and Groups > Users.
Step 4. Right click on the account you want to the reset the password of. Select Set Password.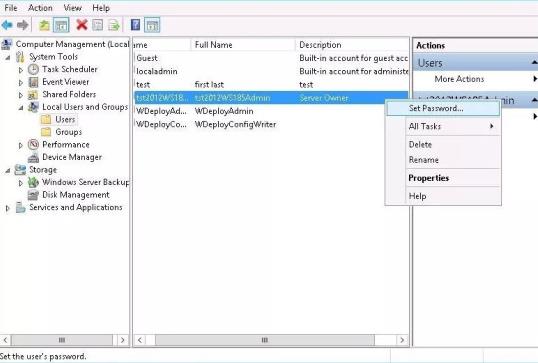 Step 5. Enter the new password details and you are all done. Now logout of the account and login into your own user account.
Part 2. How to Reset All Samsung Account Password Easily
You are left with no choice but use a third-party tool if you don't use your Microsoft account to sign-in into your computer or have a user account with Administrator privilege on it. Any reset Samsung account password request you will make won't be successful. You can always reset to factory settings but you will end up losing all the saved data including photos, videos, and documents.
We have a wonderful password recovery tool-PassFab 4WinKey to help you reset password of any type of Samsung laptop account without losing any data. You can download the free trial version to check if it works on your Samsung computer or not. The software can either remove the password, reset it to blank, or help you set a new password.
Here's how to use PassFab 4WinKey:
Step 1. Download, install, and launch PassFab 4WinKey on another computer. Insert a USB or CD/DVD drive to burn the software. Make sure to copy paste data from the removable disk on to the computer as it will be lost during the burning process.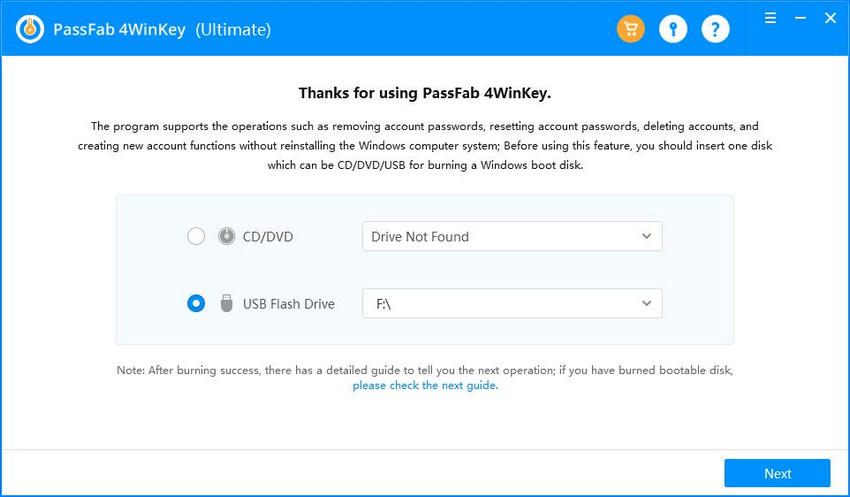 Step 2. Eject the removable disk once the burning process is complete and insert it into your locked computer.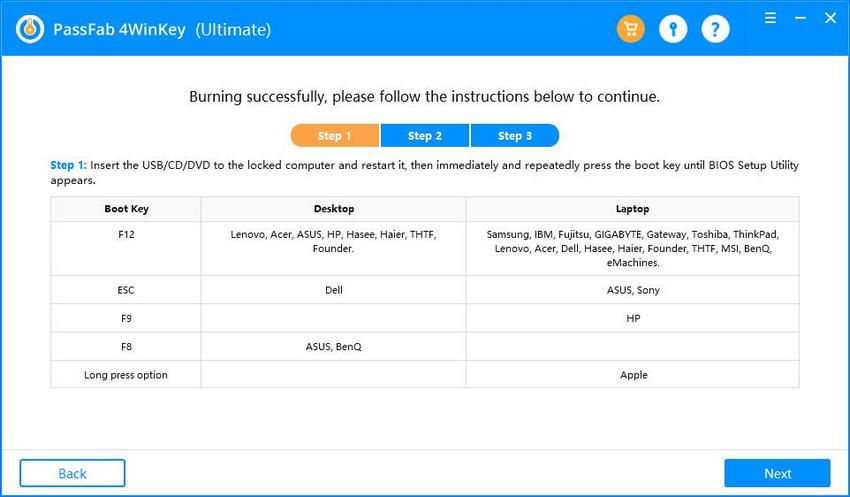 Step 3. A window, Select Windows, will pop on your Samsung laptop screen. Select the operating system and hit Next. Select your end goal in the second half of the window. Let's say you want to reset the password.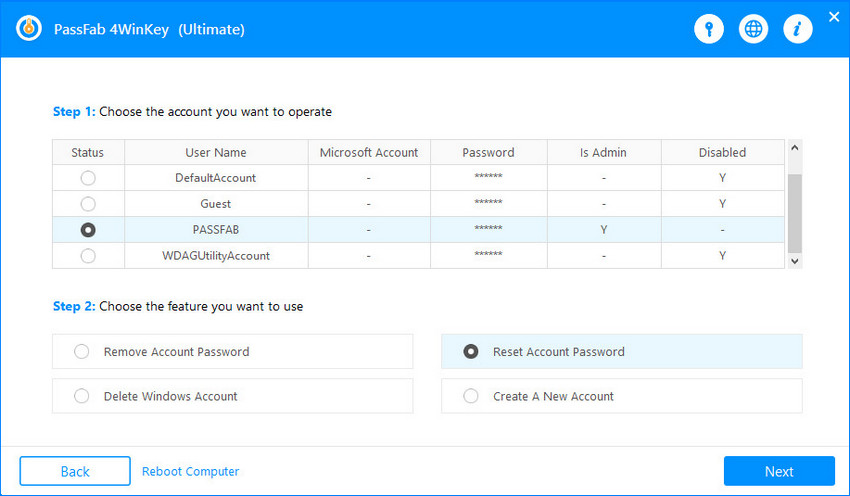 Step 4. Select your user account in the next screen, Manage Accounts. Enter the new password and click Next. Remember to build a strong password. It's a good idea to keep letters in your password, as well as some capital letters.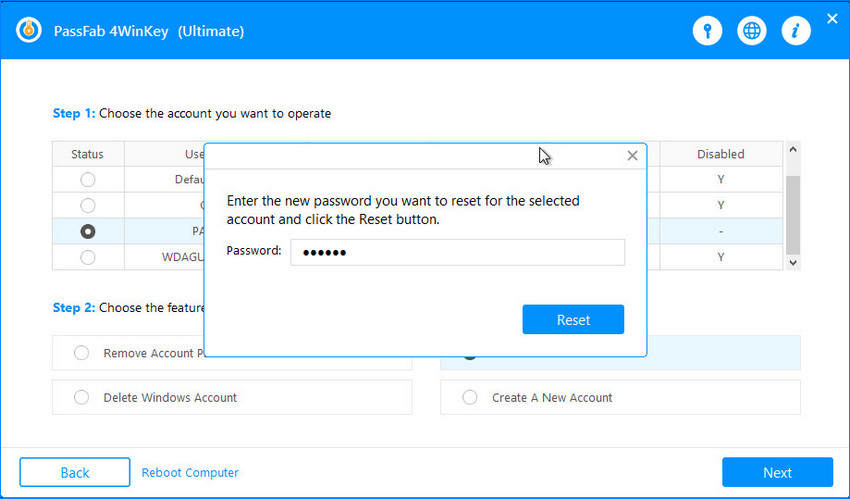 Step 5. The resetting process will begin automatically in the next section, Process. Once complete, hit Reboot to save the changes.
Step 6. When the computer restarts, use the new login password to get access to your Samsung user account. Eject the removable disk.
The process barely takes 10 - 20 minutes. It is a simple process with an easy-to-follow guide, so you won't need any professional or technical help.
Conclusion
In this article, we've introduced to you two free methods and one paid method to recover Samsung laptop password. Out of all the methods, PassFab 4WinKey is the easiest and safest method because it helps to recover password in few steps and protects your data from getting deleted. The easy and intuitive user interface just adds in to the charm, making it something that you will fall in love with. The free methods are conditional, so if you don't fulfill the criteria, they are of no use to you. Forgetting password causes panic, so make sure to write it down on your phone after you reset it.