"Hi There! I was wondering what windows 7 default admin password is? Actually, I've been trying to access network drives to get some important data stored over it but all my efforts are in vain as it asks for default admin password Windows 7. We're a small office and my boss didn't remember setting up any administrator password."
- A user from Microsoft Community
Hello User, we appreciate your decision to seek help of an expert. And hence, we thoroughly read through your query and are more than happy to help you with the same. Basically, there is always an in-built Admin account over your windows PC which is disabled by default. However, this built-in Admin account may get enabled, if and when there are no other Admin accounts over the system. Let's get to know about how to check if it got enabled and how to get through the Windows 7 default admin password problem. Moreover, we'll also unveil how to switch default admin account to user account in the latter part of the article.
Part 1: How to Check If Your Default Admin Account Enabled
In order check if the default admin account is enabled over your PC or not, you need to carefully follow the streak of steps mentioned right below. Please remember these steps involve typing and executing commands, so be extra careful while doing so.
First, boot your PC into the safe mode and then wait for the welcome screen to appear. Now, see if Administrator account is asked to sign in or your local user account. If the Administrator account has appeared on the screen, log in to it and turn your local user account into an admin account.
In case, the Administrator account doesn't appear over the Welcome Screen, you may need to enable it with the following steps:
Insert the Windows installation disc into your PC and then boot your PC with it. Now, you need to opt for "Repair your computer" option.
Next, select the "Command Prompt" option followed by typing and executing the command below:
net user administrator /active:yes
Then, reboot your PC and eject the disc. Further, sign in to the default Administrator account to switch your local user account into an admin account.
Part 2: How to Reset Windows 7 Default Admin Password
In order to reset default Windows 7 admin password with a free way, the following mentioned method can do the trick. Here are the steps that are involved in this process. Please follow them carefully and get your problem solved.
Step 1: To begin with, sign out of your computer and get on to the login screen. Hit the "Power" button followed by long pressing the "Shift" key. Choose the "Restart" option and keep the "Shift" key pressed until you witness the Windows Recovery boot screen.
Step 2: Go for the "Troubleshoot" and click on "Advanced" Options". Choose "Command Prompt" right after that.

Step 3: After you have opened command prompt on the screen, simply carry out the commands given below (make sure not to use the quotes). Once you enter each command, press "Enter" key.
 "

D:

"
"

cd Windows

"
"

cd System32

"
"

ren Utilman.exe Utilman.exe.old

"
"

copy cmd.exe Utilman.exe

"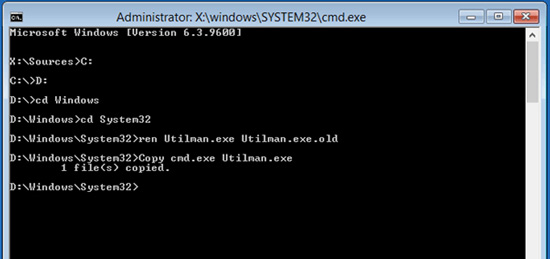 Step 4: Now, it's time to reboot your computer. Click on the "Utility Manager" icon once you are on the login screen. This will launch command prompt. Then, go along the commands given below and press "Enter".
 "

net user Administrator Welcome@123

"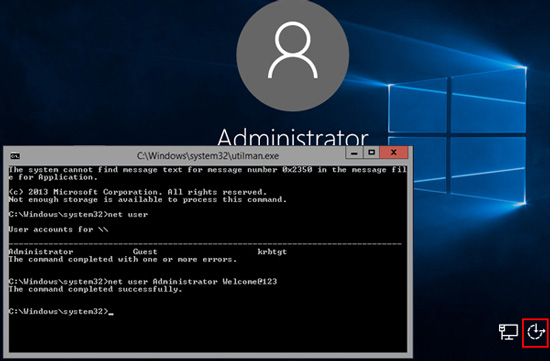 Bonus: PassFab 4WinKey
We have mentioned the elevated command prompt steps just above. However, you may feel such methods complicated to work with. As an alternative and a professional yet easy way to reset Windows 7 default admin password is PassFab 4WinKey. This tool is highly recommended when you wish to recover or reset Microsoft password. Any of the password issue can be easily resolved in a click with this tool. Compatibility is a no problem for PassFab so you don't have to worry about the Windows version you use. What's more! It is reliable and safe tool to reset Windows password.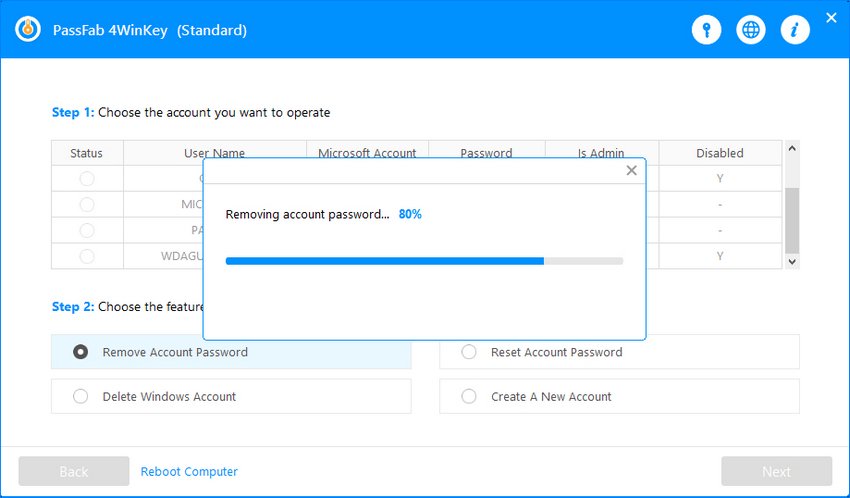 Part 3. How to Switch Default Admin Account to User Account
Now, if you no longer require the Windows 7 default admin password and account, you can simply create your own Local Admin account that will replace the default one. Eventually, you no longer have to remember the Windows 7 default admin password. Here's how to get it done.
Step 1: Hit the "Windows" and "I" key combination over your keyboard followed by selecting the "Accounts" option from the Settings window.
Step 2: Get under the "Family and other users" section in the upcoming box and then opt for "Add someone else to this PC".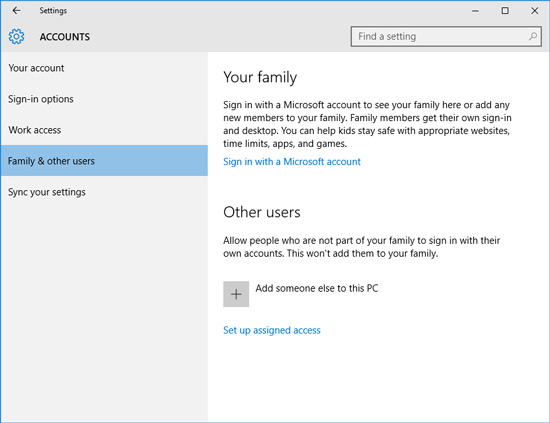 Step 3: Then, you are required to select "I don't have this person's sign in information" followed by "Add a user without Microsoft account".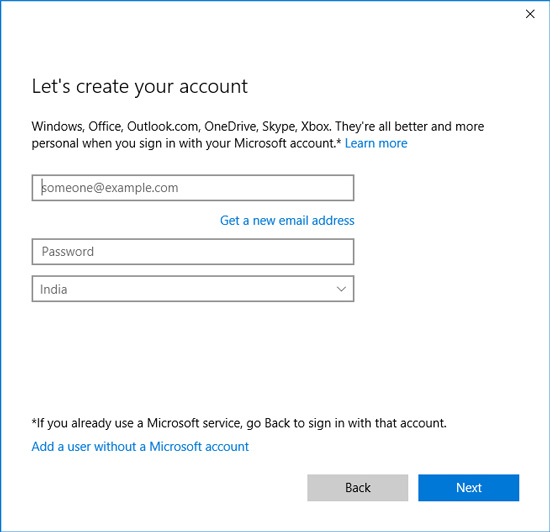 Step 4: Now, you'll be asked to key in the username and password of the new user account. Do it as per your preference. Hit "Next" once you're done.
Step 5: Next, hit on the newly created user account and then opt for the "Change account type" option to set it with admin privileges.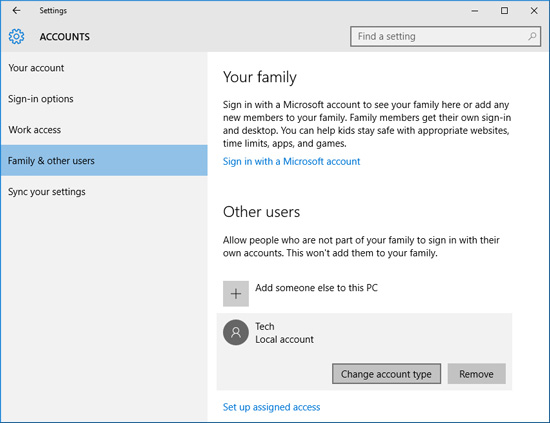 Lastly, opt for the Administrator option and hit "OK".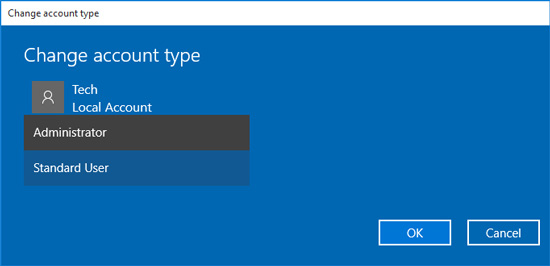 Final Words
With all that classified information we now believe that you have resolved your dilemma of Windows 7 default admin password effectively. Moreover, once you are through with your problem, you can create your own admin account with the aforementioned steps to not to experience this issue ever again.