Windows Password Recovery Tool 3.0 Full Version Free Download
What's Windows password recovery tool 3.0? Most people are confused about this issue, well its the perfect version of windows password recovery tool. Many of products have this verison. Today, I will tell you guys how to download the full version for free. Please follow the tutorial below to check more.
Part 1. Windows Password Recovery Tool- PassFab 4WinKey
PassFab 4WinKey
is unarguably one of the best tools for removing or resetting Windows password. This amazing tool can download tool 3.0 for free. Besides, i will teach you how to use it.
Removing Windows Password
Step1. Download and install PassFab 4Winkey on a computer that is available and not locked, then select CD/ DVD or USB Flash drive, whichever you are comfortable with, to burn the software.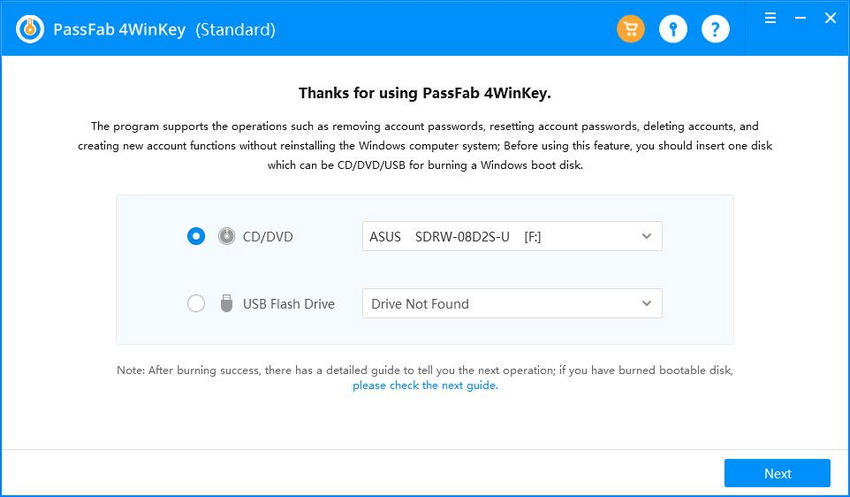 Step2. Eject the removable drive once burning is complete. Insert in your locked computer.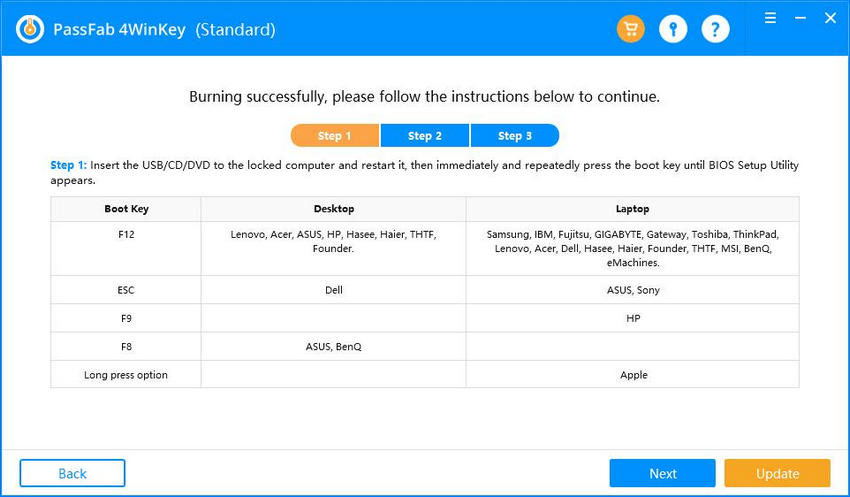 Step3. Select version of your Windows computer from the list and click Next.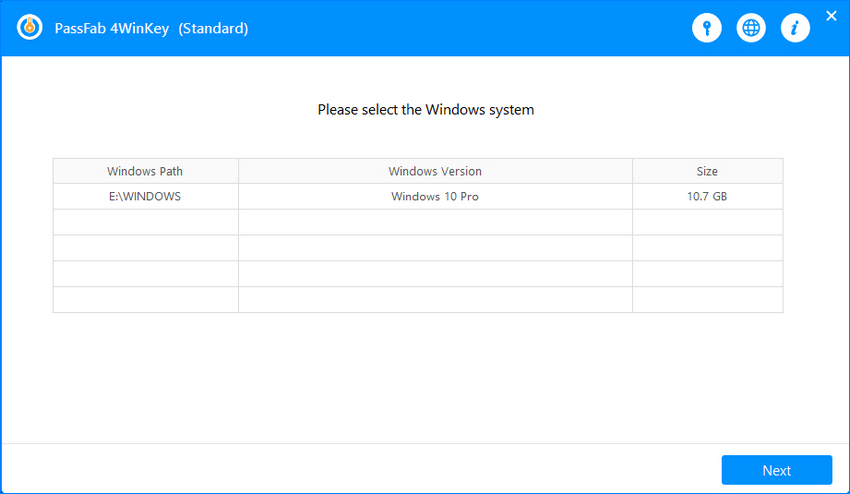 Step4. If multiple people use the computer, select your username. Hit Next.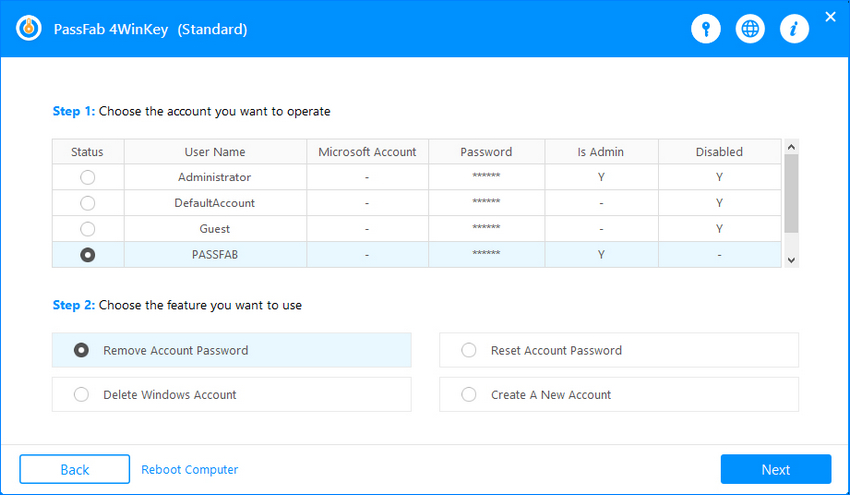 Step5. In the Process section, password removal process will automatically begin. It will take around five minutes for the entire process to complete.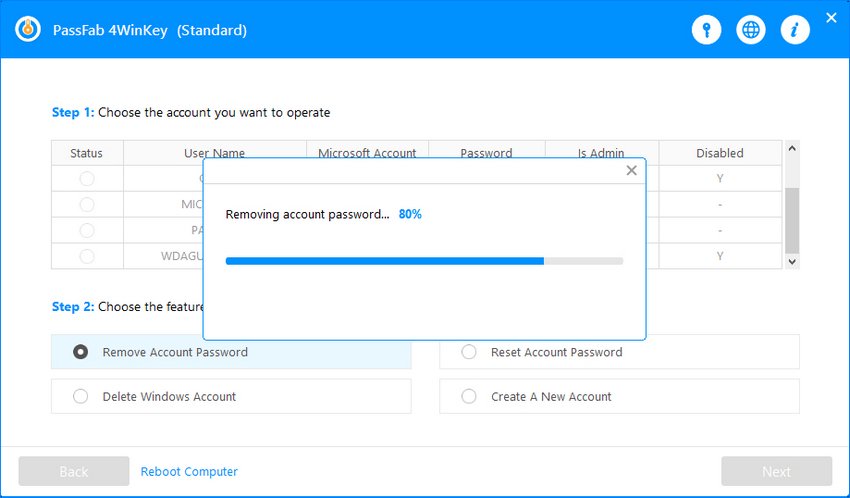 Once over, you'll receive a notification. To access your account directly, you will have to reboot the computer. After restarting, you can choose to not create a new password for your user id. The id will still be visible in the list.
Resetting Windows Password
The process of resetting Windows password is very similar. Let's take a look at how to do it.
Step 1. Download PassFab 4WinKey from the website on a computer. Install the software and run it. Open the Windows 7 recovery tool. Choose between CD/ DVD or USB. Click burn.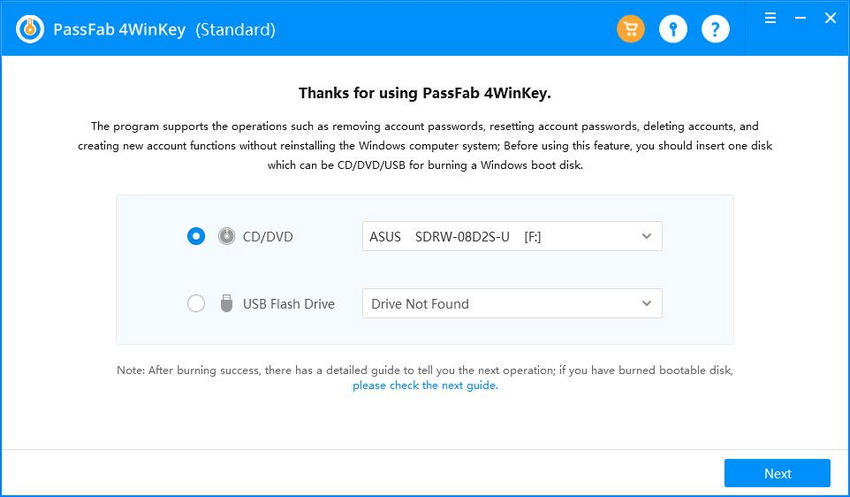 Step 2. Remove the USB drive or CD/ DVD after burning process is complete. Insert the removable disk of your choice in your target computer.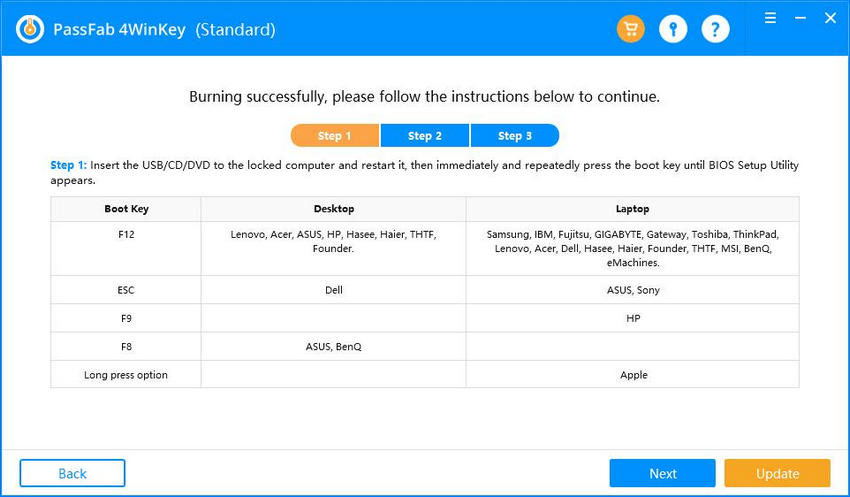 Step 3. Choose correct version of your Windows computer from the list. Hit Next.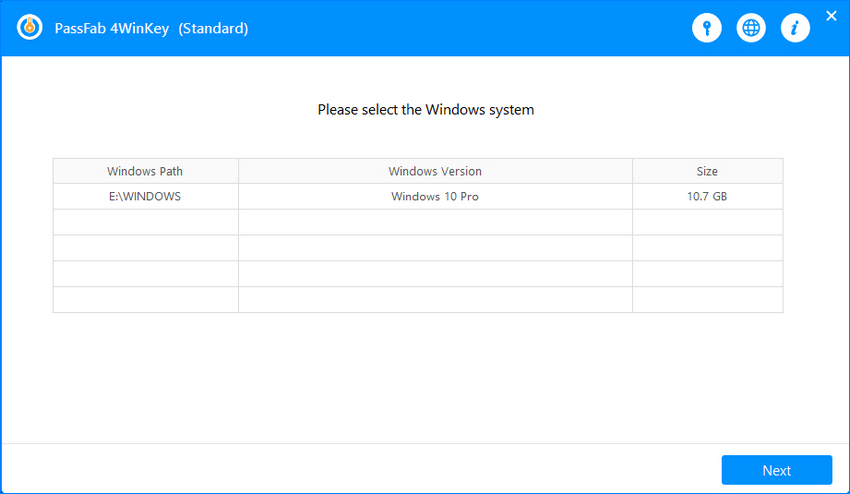 Step 4. From the list of users and local admin, choose your user id. Click Next and proceed.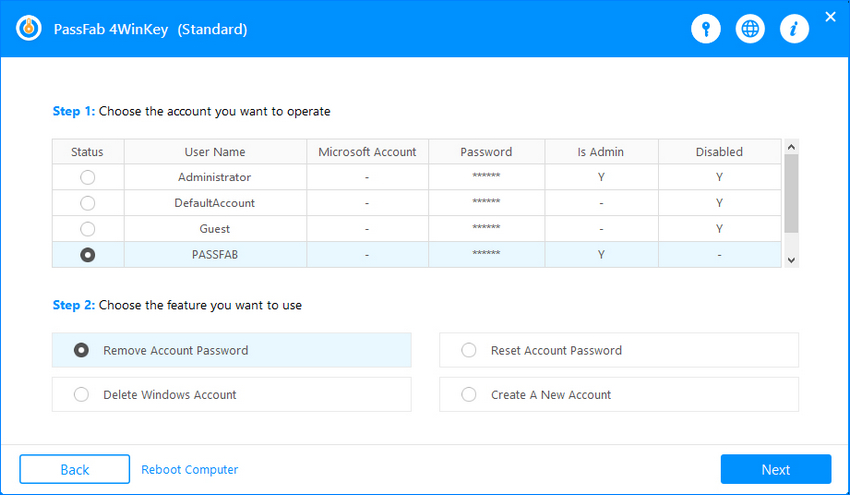 Step 5. Password resetting process starts automatically in the third section. Your password will be set to blank, so when you restart your computer, you can enter your account without a password.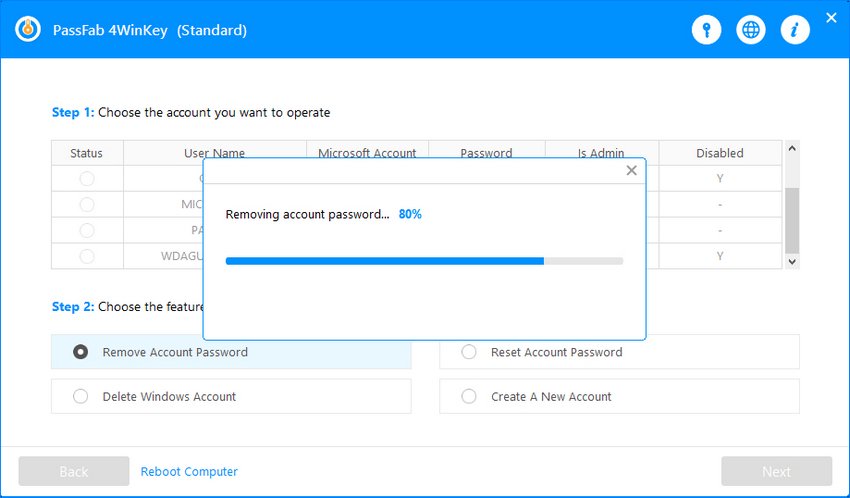 Step 6. Go to Control Panel and click on User Accounts and Family Safety. Click on your user id and add the new password.
Part 2. The Difference Between Free Tools And Paid Tools
You know, the windows password recovery tool 3.0 full version is not the only way to reset your password. Although, I've told you in the last part how to download it for free. But you should know there is no free tool enables you recover Administrator password etc. So, if necessary you have to purchase the product to unlock more features. This is inevitable.
It is human nature to save money wherever possible and password recovery tools are not immune to it. This nature might not always come handy because if you have no technical knowledge, the free complete software won't work.
I'll list the differences between paid and free password recovery tools.
Convenience
Paid tools are convenient to use. The steps are limited to six or less. On the other hand, free tools operate in command line, so the number of steps differ but they aren't as less than only six.
Speed
In terms of speed, paid tools are a clear winner. It takes two to three minutes to download because the file size is small. Installation takes another two minutes and the burn process takes less than a minute. After that you have to insert the removable disk in the target computer. The password removal or reset process should take five to 10 minutes. Over all, you'll get access to your account in less than 20 minutes.
While using a free tool, you'll spend 30 minutes to figure out how it works exactly.
Technical assistance
You need no technical assistance while using a paid software. A free tool needs you to know command line.
Virus threats
Downloading free tools makes your computer vulnerable to virus. Paid tools are completely secure.
Installation process
Many free tools don't need installation and you can directly burn them on the USB drive or a CD/ DVD. Paid tools have a installation stepbut it only takes a couple minutes, so it won't be more of a problem.
In conclusion
In this article, you saw how to download the windows password recovery tool 3.0 free verison and reset password of all types of Windows operating system.Choose a right product will save your time and solve the problem at same time. In many situations,time is more important than money.