The Blue Screen of Death (BSoD) occurs with different error codes in Windows 10 and other versions. The error code 0xc00000034 is one of those codes that BSoD shows. The BSoD appears due to some problem with the system files or hardware and is quite difficult to resolve. Most of the time, you need a technical expert to tackle such an issue. In this article, you will learn how to fix error code 0xc00000034, the reasons behind it and how to avoid the issue in the future. So stay tuned and try out our proposed methods.
Part 1: What is Error code 0xc00000034?
The BSoD error code 0xc00000034 indicates that something is wrong with your PC and needs to be repaired. This error looks as follows: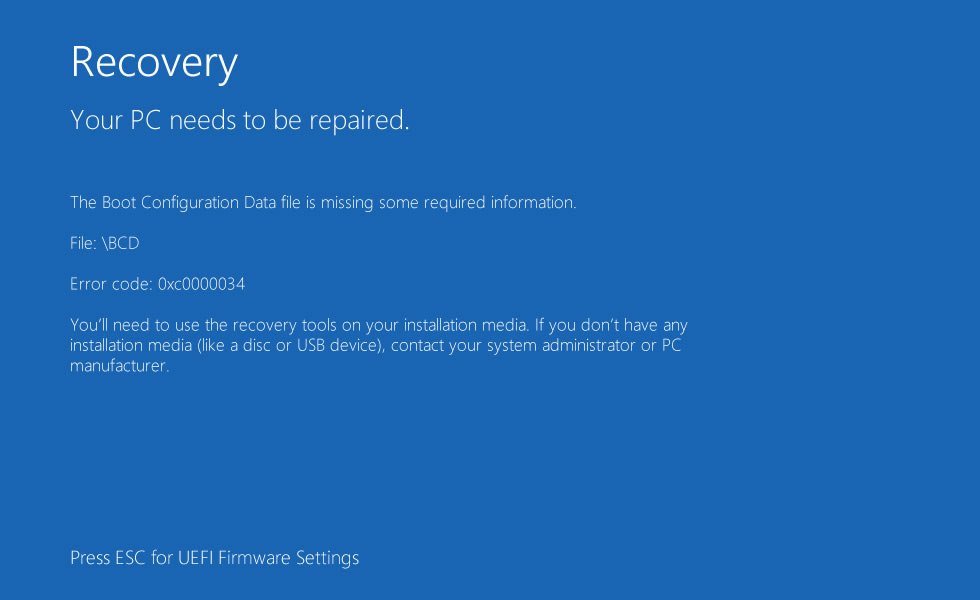 Some key indicators of error code 0xc00000034 are:
Recovery
Your PC needs to be repaired
BCD is unconfigured or missing
Error code itself displayed on the BSoD
Part 2: Why Error code 0xc00000034 occur?
The BSoD with Windows error code 0xc00000034 can appear due to various reasons, the main of which are as follows:
Missing, damaged, or corrupt boot files. A damaged Boot Configuration Data (BCD) file is the most common reason behind it.
A bad sector in the hard drive that is no longer readable.
Some new hardware or software.
The Windows copy that you are using is damaged or corrupt.
Now that you know the possible reasons behind error code 0xc00000034, let's finally move to its solutions:
Part 3: How to fix error code 0xc00000034?
Fix 1: Use PassFab Computer Management
Recommended
PassFab Computer Management is a software suite that lets you resolve almost all the problems you face with your Windows system. You can do anything with the help of this amazing tool, such as managing the user account, resetting or removing passwords, managing system disks, creating a backup, and much more. This incredible tool also helps you in situations where you get stuck with the error code 0xc00000034 since it have feature of dealing with blue/black screen and other crashing issues!
Create a Bootable Media

Install and launch the PassFab Computer Management tool and plug in a USB device. Click Create boot disk now.
Choose your device from the list and click Next.
Let the instructions burn on the device. Once complete, switch to the problematic PC.

Boot from Bootable Media

Plug the bootable USB into the faulty PC and reboot it.
Press the boot key to enter the boot menu and set your USB on priority.

| Boot Key | Desktop | Laptop | Motherboard |
| --- | --- | --- | --- |
| F12 | ASUS, Acer, Founder, HP, Hasee, Haier, Lenovo, THTF | Acer, BenQ, Dell, Emachines, eMachines, Fujitsu, Founder, GIGABYTE, Gateway, IBM, Lenovo, SAMSUNG, ThinkPad, Hasee, TOSHIBA, THTF, MSI | Great Wall, Dell, TOSHIBA, Foxconn, GIGABYTE, Fujitsu, Gamen, Haier, IBM, Lenovo, Topstar, SONY, THTF, SAMSUNG, ThinkPad, Acer, HP, Hasee, Founder |
| Esc | Dell | ASUS, Sony | Great Wall, Foxconn, ESC, SOYO, MAXSUN, Colorful, SONY, SAMSUNG, Spark, UNIKA |
| F9 | | BenQ, HP | BISOTAR, HP |

And you will see the software interface.

Windows Rescue

When you see the PassFab's interface, click Automated repair.
Choose the disk partition in which you installed Windows 10 and click Start repair.
Click Restart after the repair completes successfully.
The PassFab Computer Management Tool will repair your computer and resolve any issues your PC may have, including Window error code 0xc00000034.
Fix 2: Rebuild BCD
The BCD is a file containing important instructions and settings required to boot up a system. The system fails to load without this file and shows the BSoD errors. The simplest way to resolve the said issue is to rebuild the BCD as follows.
Plugin the Windows Installation Media and boot your PC through it.

After choosing all the settings, click Next and Repair your computer.

Go to Troubleshoot -> Advanced options and go to Command Prompt.

Type the following commands respectively while pressing Enter after each.

bootrec /rebuildbcd
bootrec /fixMbr
bootrec /fixboot
bootsect /nt60 SYS
bootsect /nt60 ALL
exit

Restart your PC after removing the installation media.
If the BCD file is corrupted or missing, following the above steps will resolve your problem, and you will no longer see the Windows error code 0xc00000034.
Fix 3: Refresh your PC
You can also refresh your PC to get rid of error code 0xc00000034. The easiest way to refresh it is as follows:
Restart your computer and enter the boot menu.

Go to Troubleshoot and choose the Refresh your PC option.

Follow the on-screen instructions to refresh your computer successfully.
Fix 4: Run Automatic Repair
The Automatic repair is another option awaiting your attention. Using this option, Windows will try to fix whatever the problem is itself. To run the automatic repair, you will need a Windows Installation Media. Once you get it, follow the following steps:
Reboot the system after plugging in the installation media.

Click Next on the first screen and Repair your computer on the second.

Select Troubleshoot and click on Automatic repair, respectively.

Choose your operating system.
Now let the system repair itself. Once completed, the PC will restart, and you will see a successful boot.
Part 4: How can I avoid the error in the future?
If you want to avoid such issues in the future, you will have to take extra care of your computer and operating system. Here are some tips to follow:
Do not download, install or open any suspicious files on your PC.
Perform the virus scan regularly.
Update your PC as soon as an update arrives.
Scan the disk for any corrupted files or software.
Final Words
The situation becomes quite panicky when you start your PC, and it refuses to start with a blue screen showing strange numbers and messages. In this article, we have mentioned the best ways to fix Windows 10 error code 0xc00000034. Out of all the ways mentioned, the best is the PassFab Computer Management which gives you access to all the settings of your Windows PC. We hope the article will resolve your issue.