iTunes is the Apple's proprietary music and device management application. It allows users to download music from the iTunes store as well as organize them. It not only allows you to play audio music files but video as well. Aside from that, it is also used for managing your iOS devices like iPhone, iPod and iPad for making a backup or synchronizing music between multiple devices.
Earlier iTunes supported all the versions of Windows from Windows XP, Vista, 7,8, and 10, but the latest version has dropped support for Windows XP and Vista. Now, it only supports Windows 7, 8, 8.1, and 10 aside from MacOS.
Part1: What Should Do Before Downloading iTunes on Windows 10?
To make sure that you don't face any problems while downloading iTunes for Windows 10, make sure that you download the iTunes installer as per your Windows requirements. 64-bit Windows will need 64-bit installer otherwise, you may face installation errors. Other requirements to download iTunes for Windows 10 are written below.
Processor - Minimum 1 GHz Intel or AMD with SSE2 support.
RAM - 512MB RAM or greater.
Screen resolution - Minimum 1024 x 768.
Hard disk space - 400 MB
Part 2: How to Download And Install iTunes on Windows 10?
Note: Before you download iTunes for Windows 10, make sure that you download the right version for your system architecture.
If your system is 64-bit, then download iTunes for windows 10 64 bit otherwise download the 32-bit. If you don't pay attention to the Windows architecture before you download iTunes, you may face compatibility issues when running iTunes. Moreover, it can help you with these issues.
Fix iPad syncing errors with iTunes.
Improving stability and performance of the program.
Increasing photos syncing speed to iDevices like iPhone, iPad, and iPod.
You can check your Windows 10 version by going to Start > Settings > System > About > System Type. Once you have ascertained the architecture of your system, follow the below steps to download and install iTunes Windows 10.
Step 1: First, open a web /powser and go to https://www.apple.com/itunes/download/ to download iTunes for Windows 10.
Step 2: Download a suitable version of iTunes for Windows (32-bit or 64-bit) from the download page. Click on Download Now (64-bit) or "Download here" link for 32 bit.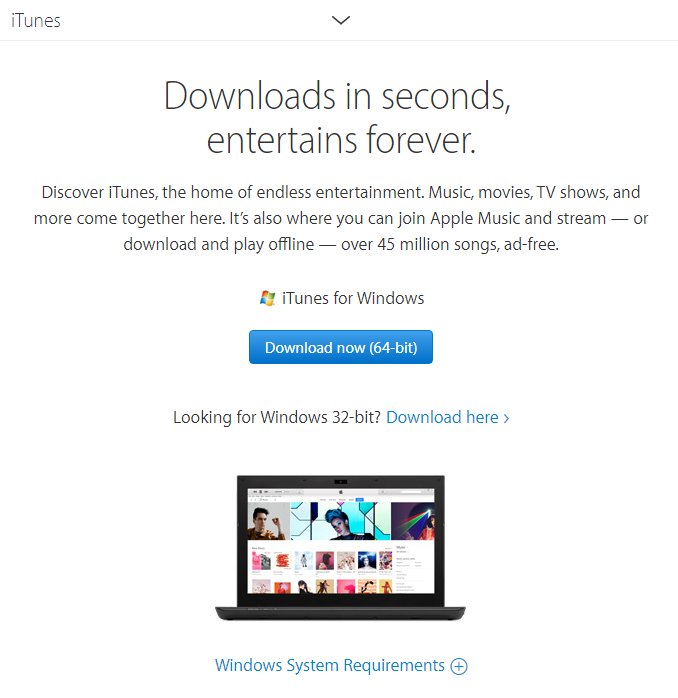 Step 3: When the download is complete, double-click on the iTunes setup and iTunes installer will open. Click Next.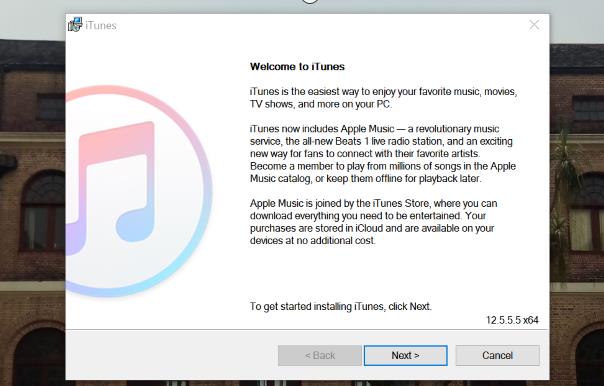 Step 4: Now, change the installation settings as per your preference like installation location, language, updating iTunes and other. Click Install when you are finished.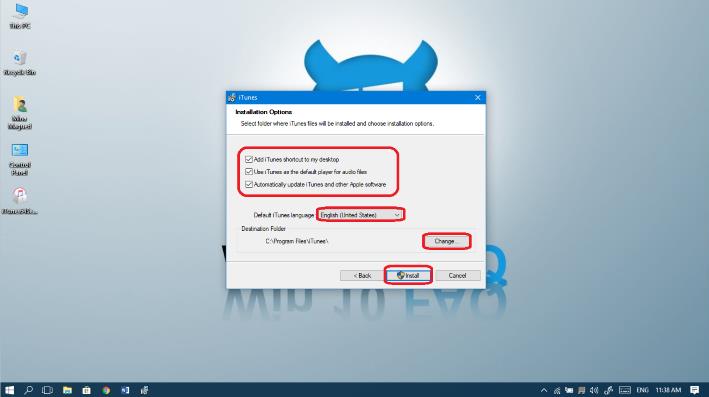 Step 5: Click Yes when a prompt asks you permission and finally click Finish when the installation is complete.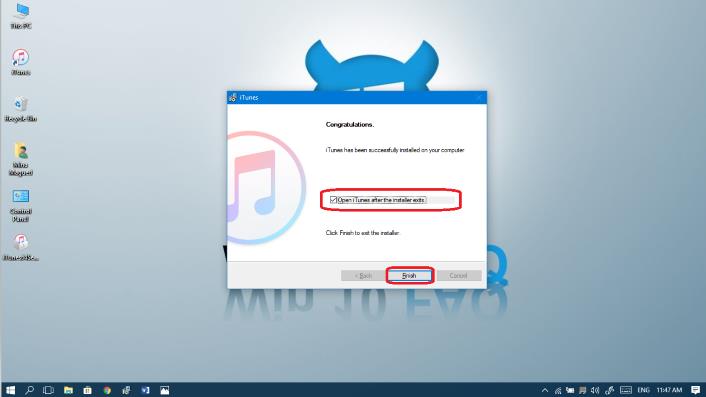 Step 6: Now, launch iTunes by double-clicking on the desktop shortcut or from the start menu and click Agree to license agreement.
Step 7: Next, you will be asked to share details about your iTunes li/pary. You can agree or disagree with it as it doesn't affect you in using iTunes.
Part 3: How to Activate iTunes And Use iTunes?
To use iTunes, you need to sign in with your Apple ID in it. If you don't have an Apple ID, you can sign up for a new one from the iTunes. Then you will need to authorize the iTunes to allow it to access content on your computer. Follow the below steps to know how to activate and use iTunes.
Step 1: Open iTunes Windows 10 application and then click on Account from the menu bar at the top.
Step 2: Now, click on Sign in and then you will be required to enter your Apple ID credentials. If you don't have an Apple ID, click on Create New Apple ID to create one.


Step 3: Follow the instructions to create a new Apple ID and sign in with it in iTunes.
Step 4: Now, again click on Account and click on Authorizations.
Step 5: Then, click on "Authorize This computer" and enter your Apple ID and password.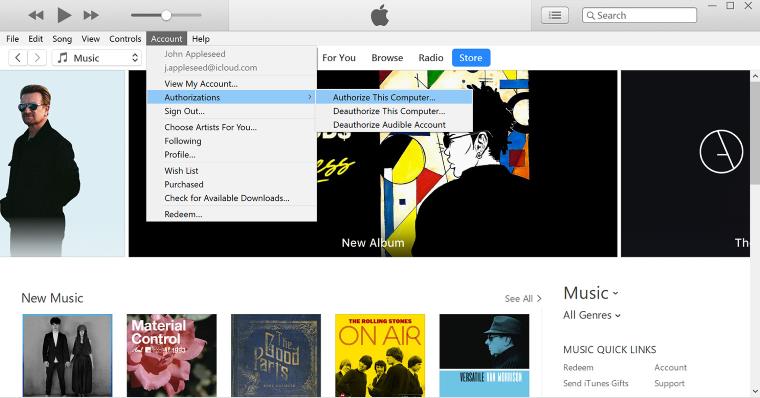 Step 6: Finally, click on the Authorize button.
Step 7: Now, you can enjoy various features of iTunes like downloading and purchasing music as well as syncing iPhone or other iDevices with the computer.
You can authorize up to 5 devices at a time with your Apple ID. If you reach your authorization limit, you won't be able to use iTunes if you buy a new device. So, when you don't use a device anymore, deauthorize the device following the same steps but clicking Deauthorize this computer option.
Part 4: What If You Forgot Admin Account Password on Windows 10?
iTunes is a state of the art tool to manage your music li/paries and manage iOS devices. If you have multiple user accounts on your computer, you must know the admin account password to install iTunes Windows. But what if you forgot Admin account password? Then, you won't be able to install iTunes. But you need not worry, as PassFab 4WinKey will help you reset the admin password and you will be able to download iTunes for Windows 10. Furthermore, you will be able to remove the admin or user account password, create a new user and Microsoft account as well as unlock a locked computer.
Conclusion
iTunes is a very helpful tool for iOS users to manage music and videos on their devices. It also helps in syncing music li/paries across various devices and backing up devices. In this post, we have given a detailed guide on how to download iTunes for Windows 10 and how to activate it. If you aren't able to install iTunes Windows 10 because you don't know the admin password, then PassFab 4WinKey will help you recover the Windows password so that you are able to install iTunes on Windows 10 computer.