Did your computer freeze when you updated it recently? Windows 10 updates are so frequent that it becomes almost annoying but there's nothing we can do about it. If we delay updates, the computer will start lagging and might even crash, making you lose all your unsaved data. So, I gathered some efficient ways to fix windows 10 update stuck problems.
Part 1. How to Fix and Update Windows 10?
Here are three ways how you can fix and update Windows 10.
1. Windows Update troubleshooter
Windows 10 update software are quite large, so you need a lot of time to download them. If your computer is stuck at a percentage for one or two hours, don't panic. Check it again after three hours. However, if downloading Windows 10 stuck at 0 then you need to follow the following process.
Step 1. Download Windows Update Troubleshooter.
Step 2. Open it. A dialogue box will appear. Click on Advanced Settings and tick the box next to Apply repairs Automatically.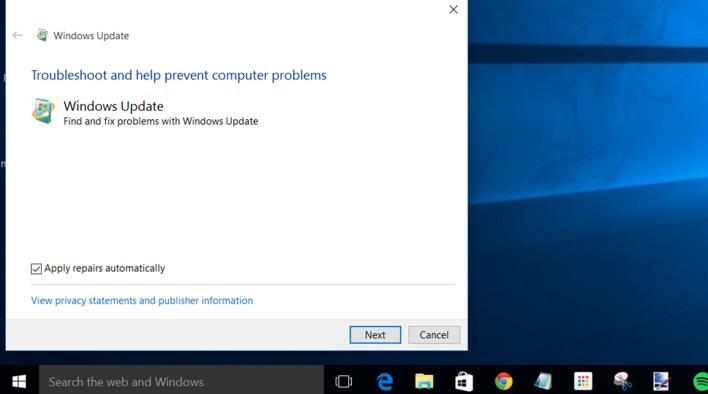 Step 4. Click on Next. The software will clear up every problem that's freezing your Windows 10 update. The entire process runs for a while, so don't worry and be patient.
2. System Restore
Note: This process is a little complicated, so follow the steps carefully.
Step 1. Search to create a restore point in the search bar. System Properties dialogue will appear on your screen. Go to System Protection and click on System Restore.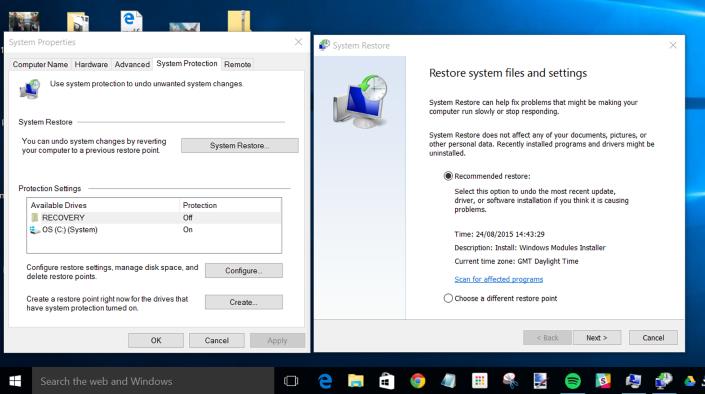 Step 2. Type "win"+"x" in the search bar. WinX menu will pop up.
Step 3. Select Command Prompt from admin.
Copy paste - net stop wuauservthen hit Enter.
Copy paste - net stop bit then hit Enter.
Doing this will stop Windows Update Service and Background Intelligent Transfer Service in the background.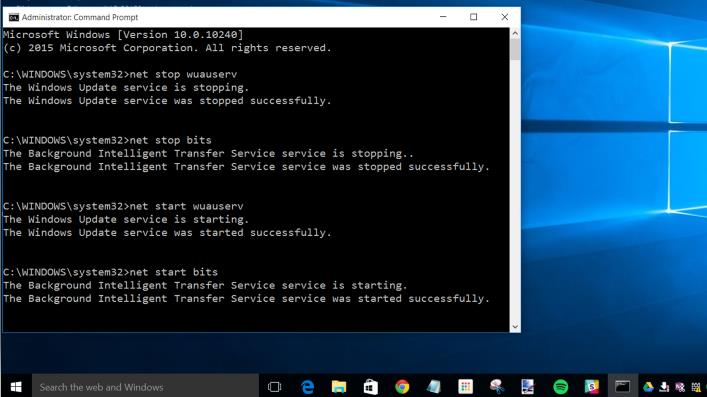 Step 4. Go to C:\Windows\SoftwareDistribution. Delete all files in the folder. In case the files aren't getting deleted, restart your computer and then do the previous instructions.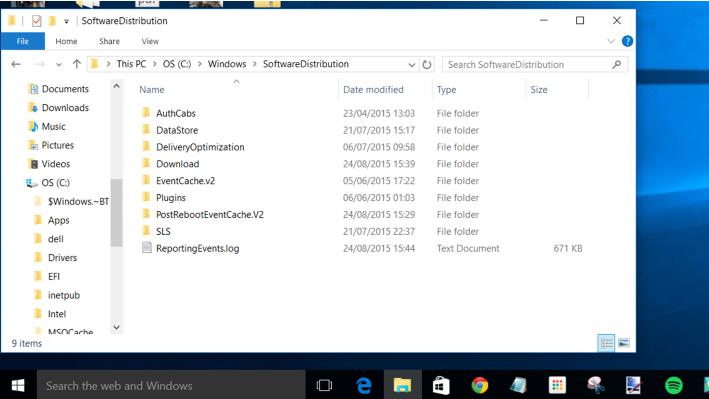 Step 5. Restart your computer and run Windows Update. Make sure your computer is connected to a strong internet connection so that the update process is fast.
3. Quick-fix Batch File
This is the easiest way to unfreeze your computer if it experienced the common downloading windows 10 stuck problem.
Step 1. Open Notepad and copy paste the text from below.
Make sure it gets pasted in italics.
@ECHO OFF echo This script is intended to stop Windows Update being COMPLETELY and UTTERLY rubbish echo. PAUSE echo. attrib -h -r -s %windir%\system32\catroot2 attrib -h -r -s %windir%\system32\catroot2\*.* net stop wuauserv net stop CryptSvc net stop BITS ren %windir%\system32\catroot2 catroot2.old ren %windir%\SoftwareDistributionsold.oldren "%ALLUSERSPROFILE%\application data\Microsoft\Network\downloader" downloader.old net Start BITS net start CryptSvc net start wuauserv echo. echo Windows Update should now work properly. Thanks Microsoft. echo. PAUSE
Step 2. Save it as Fix.bat (yes, the exact name) and close it.
Step 3. Right click on the file and click on Run as Administrator.
Step 4. The file will clear up the Windows 10 update stuck.
Step 5. Restart your computer and run Windows Update.
Part 2. Why Should You Take A Backup?
Your Windows 10 computer getting stuck while you update it is inevitable. If it leads to a serious issue, you might end up losing all your saved data. You can definitely retrieve a part of it, but that comes at a huge cost. This data can be related to your business, your bank details, or some memorable photos, which you can't afford losing.
Hackers are constantly sending advanced viruses through the internet, and your computer isn't completely immune to it, despite having a good antivirus software in place.
Instead, you can be precautious and take a backup, so that whatever happens, your data is safe with you.
Let's take a look at some of the ways you can lose your data:
1. Software crash because of a sudden power outage
2. Water damage
3. Overheating
4. Software corruption
5. Accidental deletion
6. Virus attack
Part 3: The Top Tips to Help Protect Your Data
Here is a list of tips that'll help you to backup your data and protect it from getting lost:
1. Always protect all your important files with a password. Change the passwords every three months to protect your computer from hackers.
2. Never have more than one antivirus installed on your computer. It is riskier compared to not having an antivirus at all because security is reduced.
3. Use the internet in incognito mode.
4. Put your computer on automatic backup. Ideally, go for every one hour backup option.
5. Protect your important documents including business documents, agreements, and work documents with Windows Rights Management Services. When you do so, the documents you send or those who someone steals, will not be editable. They can neither save nor copy it.
6. If you are travelling, only connect your laptops with a secure WiFi connection.
7. Check twice before deleting documents and other files.
If you were downloading updates stuck at 0 Windows 10 and you forgot to backup your recently saved data or if you can't remember your password and are unable to restart after unfreezing, simply download PassFab 4WinKey on another computer. The software lets you recover your password without having to factory reset the computer.
In conclusion
Windows 10 update freezes are frequent. If it is happening every time you update, you should get your computer serviced. For immediately freeing up, follow any of the three methods we showed you in the article. They are super simple, and anybody can do it without requiring any technical knowledge.