Do you know what exactly is a sticky note stands for? Sticky Notes is an application majorly for utility purpose available with Microsoft Windows 7 and older versions. It is used to create a variety of notes that stay glued to your desktop screen. It's an electronic version of age old paper sticky notes. Both Windows tablets and computers have them to format text, resize, paint (with different colors) Windows 10 Sticky Notes. For touch sensitive computers they even support pen and touch input. Sticky Notes on Windows 10 are basically used as onscreen reminders which can be color coded. It also adds a reminder to your calendar when it recognizes the date or time on the note.
In this article, we are going to explain the detailed use of Sticky Notes.
Part 1. How to Download Sticky Notes
Prior to using the sticky notes service, you must get the software on your computer. Though, nowadays they come bundled up with Windows software, you need to download them in case you can't find them. You can check out the Sticky Notes location on Windows 10 post downloading. It will help you in smoothly managing your reminders.
This guide is to download Sticky Notes for Windows 8/10/11.
For Sticky Notes Windows 10 download, go to Microsoft Store and find the app.
Once you have tracked the app, click on the "Get" button.
Being a free app, you don't have to pay anything. So wait a while as the software gets downloaded on your Windows 8 and above system.
As soon as the app gets downloaded, install it and use it as you desire.
The process remains the same for Windows 8/8.1/10/11.
Part 2. How to Use Sticky Notes
As you have already learnt, how to download desktop Sticky Notes for Windows 10. Here we are going to introduce how to use them for various purposes.
The first method for using desktop Sticky Notes for Windows 10 on Windows 7.
Go to the "Start" button and enable sticky notes. Move to "All Programs" then "Accessories" and then "Sticky Notes".
To create a new note tap on the "+" icon. It denotes the "New Note" button.
As the new note gets opened, you can type the note you want to. It will be auto-saved.
You can also delete the note by clicking the "X" sign on the top right corner of the Sticky Note.
If you want to change the color of the Sticky Note, then right click over it and select a color from the drop down list. You can also make use of various keyboard shortcuts to format the Sticky Notes.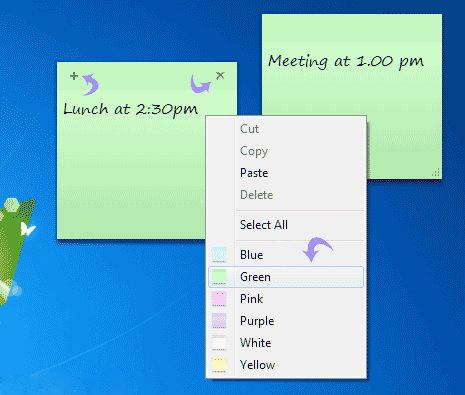 Here is the guide to track Sticky Notes location on Windows 10 and how to use it.
You can locate your Sticky Notes on Windows 10 by clicking the "Start Menu" and then "Sticky Notes". You can also hit the "Windows Ink Workspace" button from the bottom-right corner and click "Sticky Notes".
Write a note and add a time and date to it. The ink color will turn blue in case Windows 10 recognizes the date.
Click over the blue ink and then press "Add Reminder".
Now, add or edit the date or time. Click on the "Remind" button afterwards. The reminder will attach your Sticky Note"s image. It also tries to transcribe your note for a meaningful description.
The image of your "Sticky Notes" pops up on screen, when the time for the reminder arrives. You can find it on the bottom-right corner of the screen together with a mark as completed or snooze option.
Part 3. What Sticky Notes can"t do?
Like every other app in the Microsoft Store or anywhere else, Sticky Notes on Windows 10 too comes with limitations. They can do a lot for you like mark your dates and events, put reminders and alert you etc. but there are things that they fail to do for you.
Here is a list:
Sticky Notes can"t be synced by Windows.
They can't always pick the date you enter for the reminder.
The Sticky Note on your Windows 10 might behave weird if anything goes wrong with your Windows 10.
As you need Windows account password to access your system, without that you might not be able to use Sticky Notes.
Bonus Tips
Now that you have learnt so much about Windows 10 Sticky Notes, what about the situations like lost or forgotten Windows 10 password scenarios? To combat such critical situations, you can always turn to PassFab 4WinKey and reset the password. You won't be needing to factory reset your Windows 10 system to recover the passcode. This software can do that without much hassle.
Final Comments
Well, that was all for today's post. We appreciate that you managed time to read the entire post. We hope that you now have full understanding about the Sticky Notes and on how to use them too. Moreover, just in case, if you're stuck in a situation where you're locked out of your PC and need to bypass the login screen, you know you got a reliable solution named as PassFab 4WinKey for your rescue.