"I've been looking everywhere for my saved passwords on my windows 10 PC. My PC seem to have a problem accepting my new passwords after I changed them. When I do manage to find my way to credential manager and manage passwords, it demands ID verification with a username and password, which I can't even remember having set up in the first place. I could really use some help with this issue, before I end up in the nut house!" From Microsoft Community
There are some users have this problem. For this reason, we collated some of the most useful information and hence, have tailored this post specifically to make users understand where are passwords stored in windows 10/11 and how to find passwords on windows 10/11! So stay glued to the article and you'll get the answers yourself.
Part 1: Where Are Windows Passwords Stored
Basically, all your password or credentials are stored in Credentials Manager application of Windows 10. They are generally store in an encrypted form. Now, if in case, you require to view the saved passwords of websites, you surely can do that but it will require your identity verification. You'll be asked to put in the Administrator password to achieve this. Please remember, you cannot change passwords of the existing user accounts from here except the guest account's password (if any).
Now, since you've got your answer to where are passwords stored in windows 10, it's now time to understand how to find passwords on windows 10. Here is the detailed step by step procedure to know where your Windows passwords are stored:
Method 1: Find Windows 10/11 Password with Control Panel
Step 1: Hit the "Windows" key on your keyboard to launch the Start Menu and then punch in the "Credential Manager". On the results, select Credential Manager or simply hit "Enter" button.
Step 2: Credential Manager will now crop up over your screen. Now, under the Manage your Credentials section, you'll have to choices "Web Credentials" and "Windows Credentials".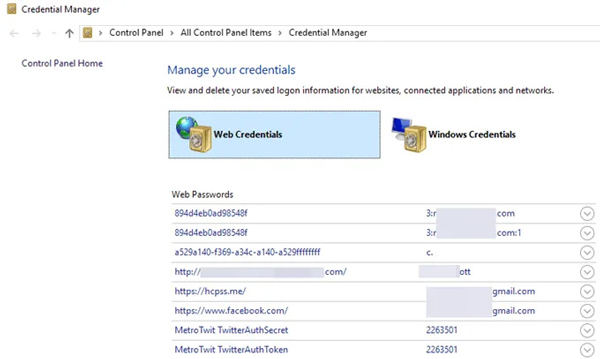 Step 3: Then, opt for the one as per your preference, let's opt for "Web Credentials" first. You'll now be able to see all stored passwords of websites right here. Hit on "downward arrow" besides any one of them, followed by "Show". You'll be asked to punch in the Administrator password and voila! The encrypted password is now decrypted and displayed as plain text!


Step 4: Now, if you opt for "Windows Credentials", you'll be surprised to see very few credentials here.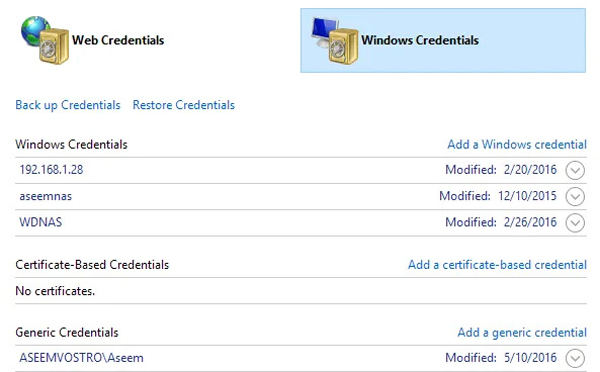 Method 2: Find Windows 10/11 Password with Command Prompt
Step 1: Hit the "Windows + R" key combination over your keyboard to launch the Run box. Now, punch in the "cmd" command to launch Command Prompt.
Step 2: Over the Command Prompt window, you need to punch in the following command line and execute it.
rundll32.exe keymgr.dll,KRShowKeyMgr
Step 3: Stored User Names and Passwords window will now pop up over your screen. You can now add, remove or edit the passwords stored as per your preference. But remember, you do need an Admin password to perform the desired activity here.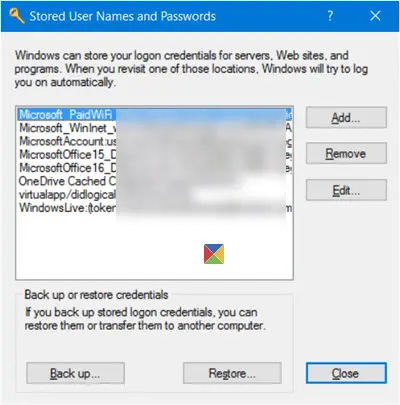 Note: The View and Edit rule mentioned in the former part of this section, applies in this method too!
Method 3: Find Windows 10/11 Password in Registry
The Windows registry stores your administrator passwords, Where you can find your stored password on Windows 10/11.
Step 1:Open Windows Command Prompt and type regedit. Press Enter.
Step 2:When the Registry Editor window appears, navigate to the following:
HKEY_LOCAL_MACHINE\SOFTWARE\Microsoft\Windows NT\CurrentVersion\Winlogon.
Step 3:Scroll down to DefaultPassword and double-click it.
Step 4:The default password will be displayed.
Note: There are some risks associated with this method. Tampering with the Windows registry can damage your operating system. If you are not familiar with this process, please choose a professional password manager.
Now that you know well about how to find passwords on windows 10, you must be wondering how you can edit the Windows User account password when you don't remember the Admin password. Well hop on to the next step and you'll have your solution!
Part 2: How to Reset Windows 10/11 Administrator Password
Since, you no longer remember the Administrator password, you're simply locked out of performing any sort of activities that requires it. In such a case, you're only left with resetting the Admin account password. For this purpose we would like to introduce, PassFab 4WinKey. This powerful tool is highly recommended for its success rate and the ability reset not only the Admin account password, but it also can reset or remove or change the Microsoft account or local account password. And that too, without the need of an old password, interesting, isn't it? Let's understand how to use this tool.
Step 1: Downloaded and install on your computer. Launch PassFab 4WinKey, plug in an empty CD/DVD or USB drive and click "Burn".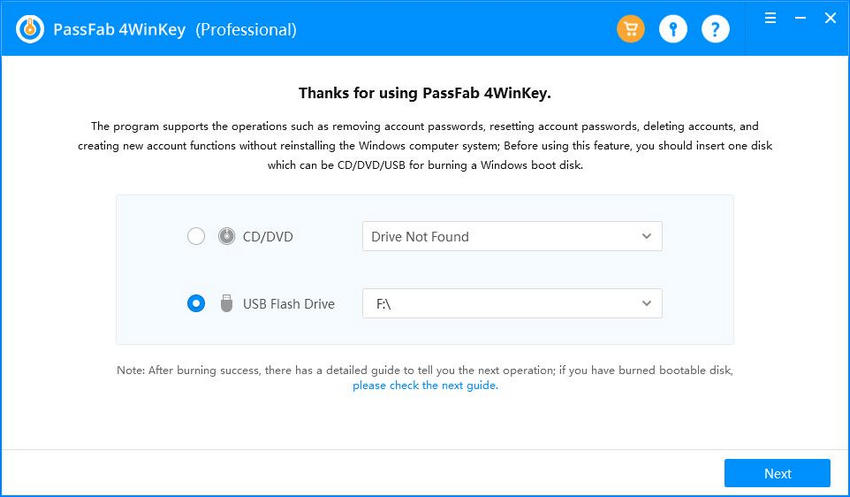 Step 2: Once process completes, reboot your PC. On the first boot screen, hit "F12/Esc" button to launch Boot Menu followed by selecting boot media as the USB drive.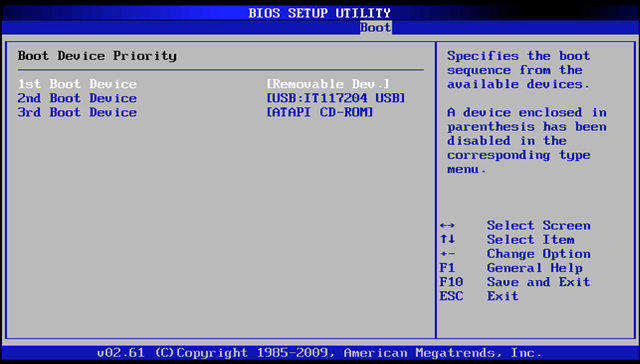 Step 3: PassFab 4Winkey will now crop up on your screen. Now, select the OS that has your Admin account and hit "Next".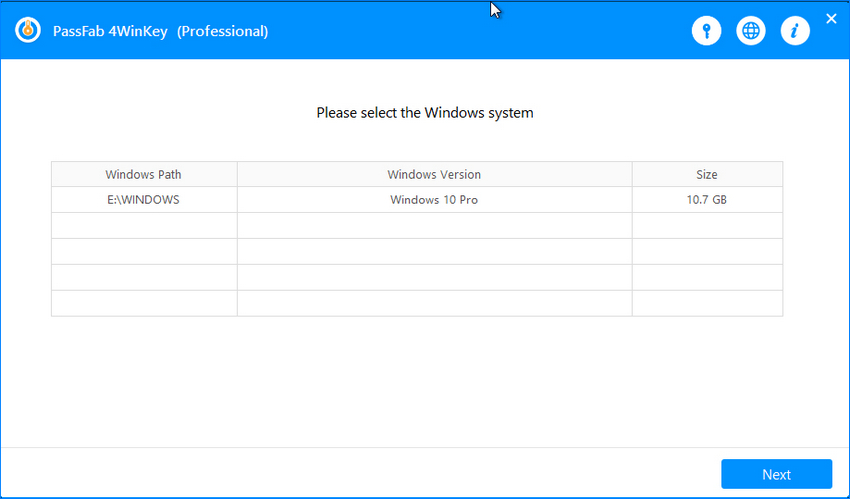 Step 4: Finally, select the required "Admin account" and hit on "Next" button. Upon completion, the password will be removed from your Admin account. Get your PC rebooted and you're done.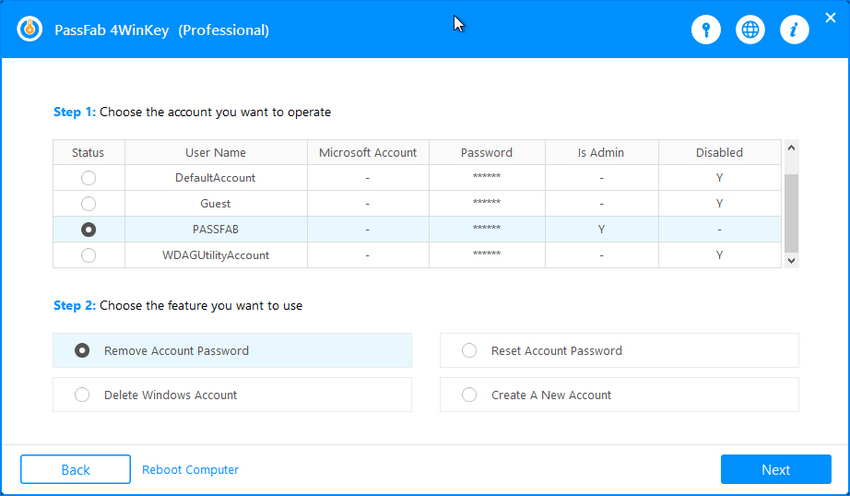 Bottom Line
While moving towards the end of the topic where are passwords stored in windows 10/11 registry, we can conclude that with the aforementioned tutorials, you sure no longer have to look for how to find stored passwords on windows 10/11. Moreover, you also have a powerful solution at hand in case you require resetting, removing or changing Admin account password.