"Did anyone get the errors like Windows Hello compatible camera can't be found anymore in the Sign-in options settings? I just encountered it on my Windows lock screen when it said me to login with the PIN. And when I tried to do so, I faced "We couldn't find a camera compatible with Windows Hello". Can anyone tell me how can I solve the issues?"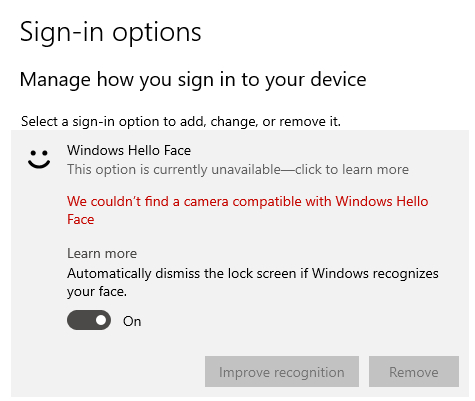 If such issue is bothering you too, you should know that your Windows Hello compatible webcam is not recognized anymore. This can be a serious problem. And if you have no clue what to do next, we are here to help you. We are going to state 4 ways, taking help of which you can solve the issue. So, let us explore what to do when Windows Hello compatible camera can't be found anymore.
Top 4 Ways to Fix Windows Hello Compatible Camera Can't be Found
Way 1: Resetting the Windows Hello Biometric Database
First of all, you can attempt to reset the Windows Hello Biometric Database. This is how you can fix the Windows Hello supported cameras issue with this method.
Step 1:

Launch the Run dialog box in the first place. For this, press "Windows + R" together.

Step 2:

Now, input "services.msc" and hit on "OK" or press the "Enter" key.

Step 3:

You now need to search for "Windows Biometric Service".

Step 4:

Double click on it and hit the "Stop" button and confirm it.

Step 5:

Once this is done, navigate to "C:\Windows\System32\WinBioDatabase" path. After this, you are supposed to get the backup of the entire files in the WinBioDatabase folder.

Step 6:

Then, delete all the files. Again, open the Windows Biometric Service following the above steps and restart it.

Step 7:

Subsequently, click the Start button and head to "Settings". Go to "Accounts" followed by "Sign-in options". You can now register the face data again. Check if the problem is gone.
Way 2: Create a New Windows Account to Login (When Locked out of Computer)
If your PC is locked and is not able to let you proceed from the login screen due to Windows Hello compatible camera issue, we suggest you creating a fresh Windows account. And for this, one thing that can help you is PassFab 4WinKey. This tool is planned and made for the users who get stuck with the lock screen on their PC. It can help bypassing local and admin password in Windows with ease. On a plus, you can easily create or delete Windows account. Now, we are sharing the steps through which you can make a new Windows account through this tool.
Step 1:

You will need a CD/DVD/USB to create a reset disk firstly. Get it with you and put it inside the PC which is working for now. Download and run the tool now. When you are in the first page, select the boot media you are using to proceed.

Step 2:

Press the "Next" button and it will burn the USB drive. You can now remove it and insert it in the locked PC. Restart your PC and tap the "F12" key or "Esc" key. The boot menu will appear where you need to choose the boot device.

Step 3:

On the next screen, you need to select the operating system you are using and hit "Next". Select "Create A New Account". Type in the fresh user name and password. Hit on "Create" and you're done.
Way 3: Install the old SSD
If things are still the same, try installing your old SSD to your PC or laptop. Note that an SSD (Solid state drive) and HDD (Hard disk drive) varies just in terms of storing data. Their physical specifications are same though. An SSD is new to technology and has been successfully used as storage device. You need to install it and check if Windows Hello compatible camera persists.
Way 4: Factory Windows
If still your Windows Hello compatible camera can't be found, the last resort is to factory reset your Windows. Please note that this will wipe everything from your PC. If you are comfortable, only then proceed with this. Here are the steps.
Step 1:

Open Settings by "Windows + I" and head to "Updates & Security".

Step 2:

Choose "Recovery" on left panel and select "Get started" under "Reset this PC".

Step 3:

Choose one from "Keep my files" and "Remove everything" as per your choice.

Step 4:

On the next screen, again choose one of the option according to your needs.

Step 5:

Hit on "Next" if a warning comes.

Step 6:

Hit on "Reset" and follow the prompts if any.
Summary
We shared a whole lot about Windows Hello comp atible camera issue. We hope that by following of the aforementioned methods, you could achieve the desired results even if you locked out of Windows 10/8/7 computer. If we could help you in getting rid of the problem, share your experience with us by simply dropping a comment below. Also, you can share this post the ones who are in need. Lastly, for more such interesting topics, be with us and help us grow!