How frustrating it is when you took an hour or two to brainstorm innovative ideas for your new project, but even after jotting them down in a word file, the text gets accidentally deleted. So, you just sit there and see all your efforts going in vain. Don't worry! We are here to help you out So, these easy-to-use methods on how to recover deleted text in the Microsoft word document will help you quickly recover your deleted text. So, let's begin!
Part 1: Can I Recover Deleted Text from A Word Document
There are several methods to recover your lost text from word file. Some of them are as simple as undoing your instruction. You can also locate the Word backup to get your data back. Other than that, you may want to try file history in windows to recover the deleted text. Furthermore, you can use Word auto recover tool. We will show you a fantastic tool to get your data back in minutes. So stay with us!
Part 2: How to Recover Deleted Text in Word
With these methods, you won't ever have to worry about losing your crucial word information anymore. We provide you with five useful ways on how to recover deleted text from Microsoft Word document. So, check all the methods below. Also, execute each one of them to see what works best for you. So, without further ado, let's get started.
Way 1: Try Ctrl + Z to Recover Deleted Text
The easiest method of all is to use the undo feature of the word document. So, let's say you wrote the long text, but then you deleted it. However, you suddenly realize that you want it back. You can do it by holding the "CTRL" key and pressing Z. It is a shortcut to undo the previous command, and you will recover your deleted text.
Also, you can access the undo icon or arrow in the quick access toolbar at the top left corner of your word file. Click it and get your text back.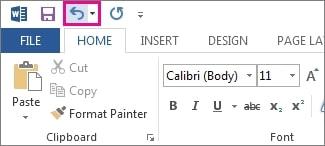 Way 2: Try File History in Windows to Recover
Windows 10 comes with the File History backup program in File Explorer. If turned on, it makes a copy of every document every hour. Let's see how to recover deleted text in word document using File History in steps below:
01

Click the File Explorer taskbar and open folder that contains the document you want to retrieve.

02

Next, click the Home Tab on the top ribbon and select History Button. It will fetch all the backed up files, including images and documents.

03

Browse through the versions of the document and click the restore button on version you want to restore.

04Then, you will be asked either to "Replace the file in the destination" or "Compare info of both files". Choose as per your requirement, and it will display your deleted word document that contained deleted text.
Way 3: Recover Deleted Word Text Using Stellar Repair for Word
One of the ways on how to recover deleted text from the Microsoft word document 2016 version is by downloading third-party recovery software. Stellar Repair for Word is a free word recovery software that can repair corrupt MS word files. It can help recover your lost or removed file in minutes. It works best on all the version of Word. See the steps below to recover deleted text using this software:
01Download Stellar Repair for Word software. Install and open it.

02Click 'Search' to locate Word file if you don't know the file path on your system.

03Click 'Repair' to start the repairing process.

04You can click the repaired file on the left to preview, and click 'Save file' to start.
Way 4: Recover Word from Recover Unsaved Documents
Auto recover files are the one that ends with .asd extension. It is one of the default features of the Word to search for auto-recovery files each time you open the application. To automatically let the Word search for recovery files, follow the steps below:
01

Close the Word completely from the task manager and then relaunch it.

02

If the Word finds the auto-recovered file, it will show up in the Document Recovery pane at the left side of the screen, Double-click to open it and then save it with a new name and .docs extension.

03In case of manually recovering the file, search for the file with .asd extension. Select File>Info> Manage Documents >Recover Unsaved Documents.

04

It will show up the recovered file in the pane at the left side.
Way 5: Recover Deleted Text from Word via AutoRecover Tool
You can recover deleted text from your Word document by following these steps:
01

Go to File > Options in Word document.

02Click Save, then find AutoRecover file location under the Saved documents section, then copy the path in the box.

03

Open File Explorer, and paste the path to open it.

04

You should see the unsaved or deleted text for your Word document here.
Summary
It is very annoying when you accidentally delete the crucial text from the Word file. Here, we have discussed five ways to answer your famous internet queries like "can I recover deleted text from a word document" and "how do I recover deleted text in Microsoft word". So, we have presented you some secure methods on how to recover deleted text in the Microsoft word 2016. Lastly, we introduced you to a fantastic software Stellar Repair for Word to recover your permanently deleted word files. Try each method and let us know what worked best for you.
By the way, if you forgot your Word document password, you can try PassFab for Word to recover your Word password from protected Word document.
Part 3: FAQs About Recovering Deleted Text in Word
Q1: Is there a way to recover deleted text from Word?
Yes, there are several ways. You can undo the action by pressing Ctrl+Z, use file history in windows 10, or download Stellar repair for Word program to recover deleted text.
Q2: How do I retrieve a deleted text in Word?
You can try undo or Ctrl + Z to return before your text get deleted. Or try "AutoRecover", "Recover Unsaved Documents", or Stellar Repair for Word to recover it.
Q3: How do I recover permanently deleted Word document?
To recover permanently deleted files, you can use auto recover word tool or use stellar repair for word software to efficiently recover the deleted word documents.