If you are here that means you are looking for how to recover zip file password? If this is the case, you are at right place. In most scenarios whenever we protect a zip file with password and don't open it for some time tendency to forget password becomes higher. Well forgetting is a common human action that happens unintentionally so in this article I will be guiding through process of advance ZIP password recovery.
Part 1. Advanced ZIP Password Recovery – PassFab for ZIP
PassFab for ZIP is the third-party software that offers 100% success rate. It recovers your ZIP password without damaging your data. Its decryption technique is so vast that it can decrypt AES algorithm protected file as well. PassFab for ZIP uses three major techniques that offers 100% result. These techniques are:
Brute-force Attack: Try all possible combinations, which takes more time.
Brute-force with Mask Attack: Customize numbers, symbols, characters, etc.
Dictionary Attack: Quickly find the password from inbuilt or customized dictionary.
If you are unaware of its usage, here is a detailed guide that will help you recover your password in no time:
Step 1. Download and install PassFab for ZIP from its official site.
Step 2. Execute the PassFab for ZIP and Interface with all available options will appear.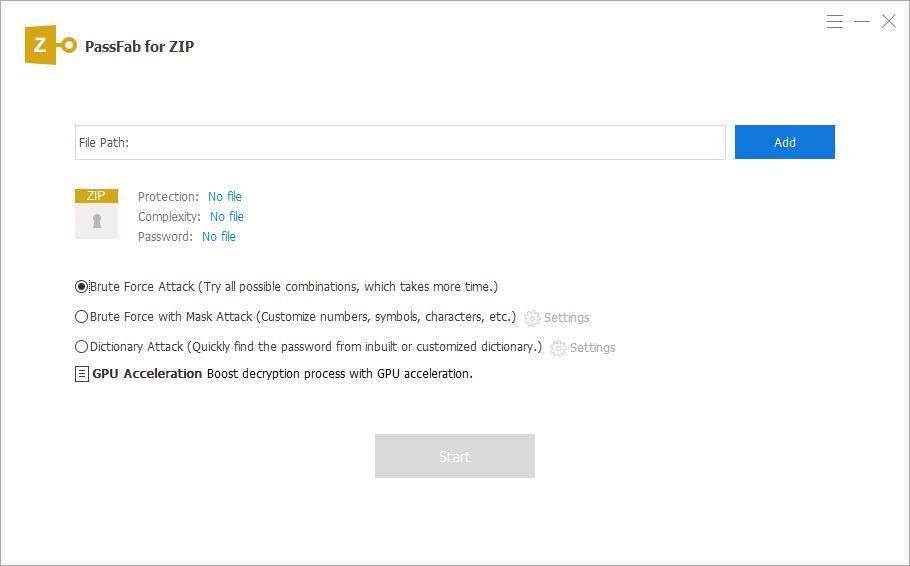 Step 3. Import your password protected ZIP file by clicking Add button.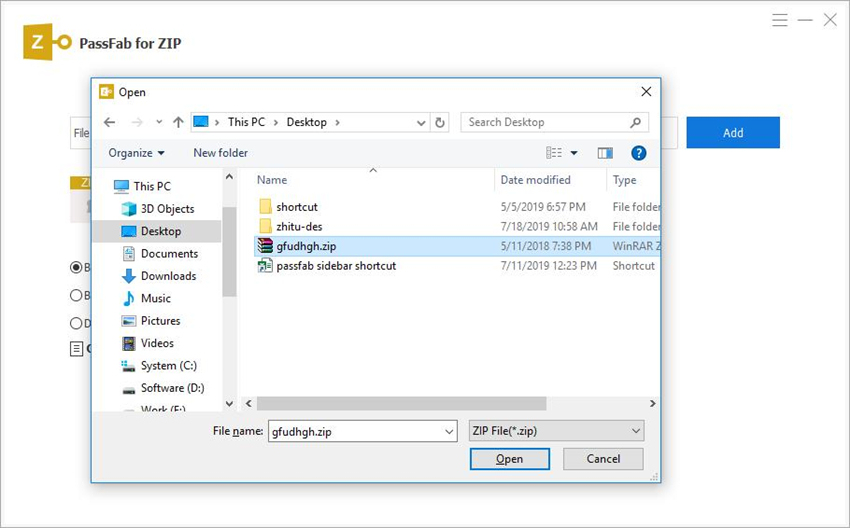 Step 4. Select the appropriate attack option:
Choose "Brute Force Attack' if you can't remember a single word of your password. It will try all possible combination of password.
Choose "Brute Force with Mass Attack' if you have some clue about your password. It will pop multiple options. Select that are relevant to your lost password and click "OK'.
Choose "Dictionary Attack' if you have password dictionary with you. This will frequently recover your lost password. Add the dictionary and click "OK'.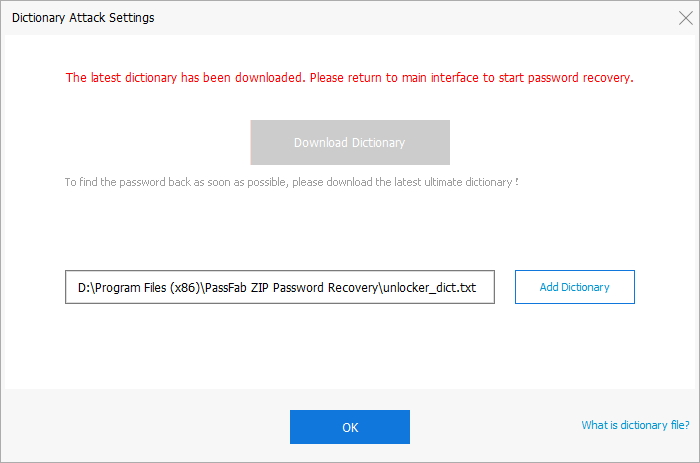 Note: While using dictionary attack there might be a message 'Upgrading the Dictionary Library'. Don't worry it will take some time to complete.
Step 5. After configuring the PassFab for ZIP, click "Start" button and let the program recover password for you.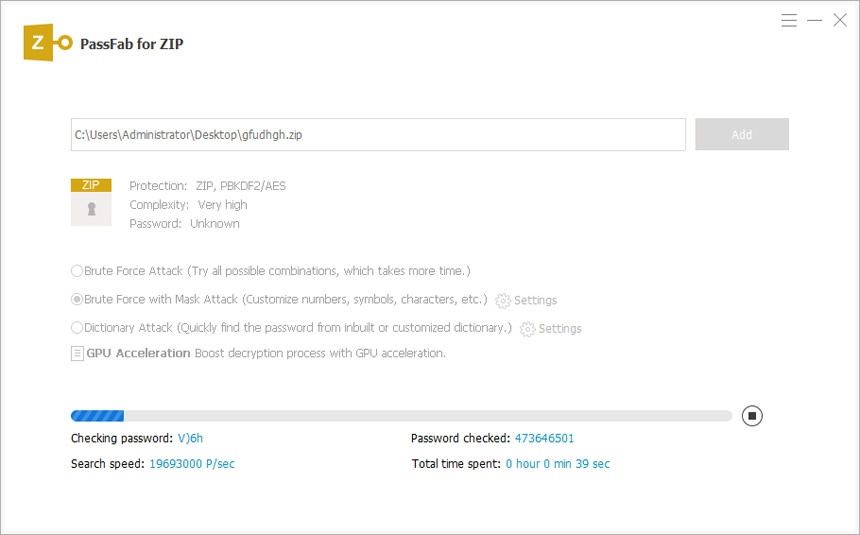 Step 6. Once the program exits successfully, a success diagonal along with the password will appear.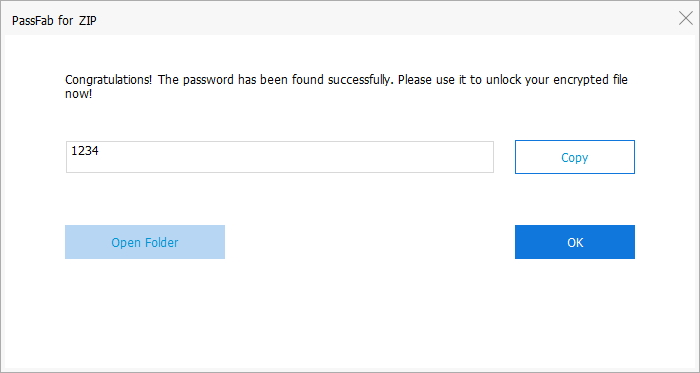 Here is a related video tutorial that you can watch:
Part 2. Other ZIP Password Recovery Methods
With the emergence of cloud computing many local computing tasks has been migrated to cloud computing. You can find multiple sites that provides the facility of password cracking, document converting, image resizing etc. In our case with ZIP password recovery there are multiple sites available that offers online password recovery of zip file. The steps are pretty simple, visit online site that offers zip password recovery and upload your file. It might ask your email for sending cracked password. Enter email and relax. You will receive password once your file is decrypted.
These online tools are easy to use but most of them fail when your file is encrypted with complex password. Apart from that this solution is not recommended because of privacy and security issue. Your ZIP file might contain confidential data that you don't want anyone else to get hands on it.
Method 1. Guess Your Correct ZIP Password
It sounds very basic but once you forget your password this should be your first priority before moving towards any other solution. You might have recorded your password on notebook or in a password manager application. If not, then these hints might help you recalling your password:
Most common password used for protecting ZIP file are 111111, 123456, a1b2c3d4, welcome and so on. Try the most common you can use to protect your file.
Often nickname of your child, spouse, mother, father or your childhood name can be used as password.
Try to use the pet or your first car name or you high school best friend name.
Try to enter the name of your favorite things like food, book, movie, song, singer, actor etc.
If you want to unlock a file, then this is not your option. For those recovering zip file this option might help you.
Method 2. Unlock Password Protected ZIP File with Notepad
This solution is slightly technical but easy as well. As notepad comes with every windows computer so this should be your first priority to try if guessing doesn't work. This method works by using a batch file system. Still you don't need to install any program on your system. In order to recover ZIP file password you have to follow a certain path, it is detailed below:
Step 1. Right click your password protected zip file and from dropdown menu select open with then notepad.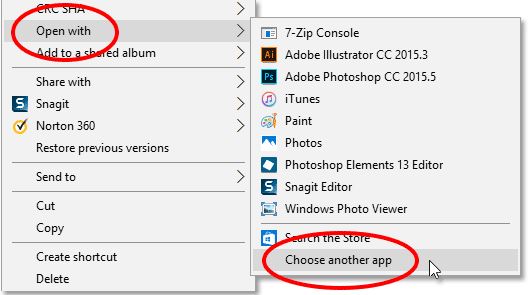 Step 2. Once file is executed a complex code will appear in front of you. Now find "Ûtà" and replace it with "5³tà".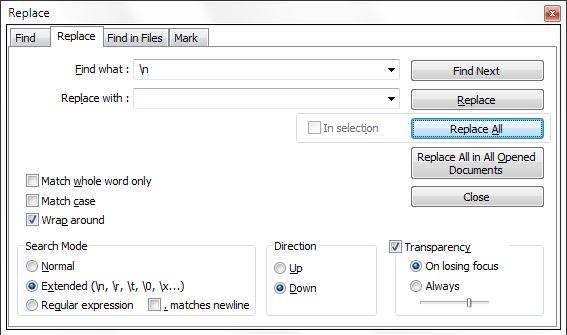 Step 3. Now save the file and open your password protected zip file.
You will notice that after completing the above procedure the password protected zip file will not ask for password and will open as a regular zip file.
Final Words
If you have gone through all of the methods of zip file password recovery you might have noticed that none of the solutions offers 100% success along with efficiency and privacy except PassFab for ZIP. If the file is not important and you have the enough time waiting for the final result, then cloud service is still a valid option. Another advantage of PassFab for ZIP is that this advanced zip password recovery tool doesn't break your password or forces you to recreate it, but simple it shows you your original password. We have enlisted all the options now the ball is in your court and final decision is up to you.