PCunlocker is a popular tool that can help you bypass Windows passwords. There are so many tools like PCunlocker in the market which can help you get rid of passwords problem. If you don't know about it, this article is going to help you. In this article, we will share PCunlocker alternative to you guys so that if anywhere you get stuck with the tool. Also, we will be doing PCunlocker review so that you get to know more about it. You will be able to make yourself free from the problem with another best tool.
Part 1. PCUnlocker Alternative - PassFab 4WinKey
Without much ado let's unveil the highly recommended and the most successful PCUnlocker alternative – PassFab 4WinKey. You not only can perform PC unlocking operations (be it a Microsoft or Admin or Local account) without the need of the old password, but also can create a new Windows account in just a few simple clicks by using this tool.
Here's the detailed streak of steps that you need to perform in order to effectively use this PCUnlocker alternative.
Step 1: Download and insatll the tool over the working computer. Meanwhile, insert USB and hit "Next" button.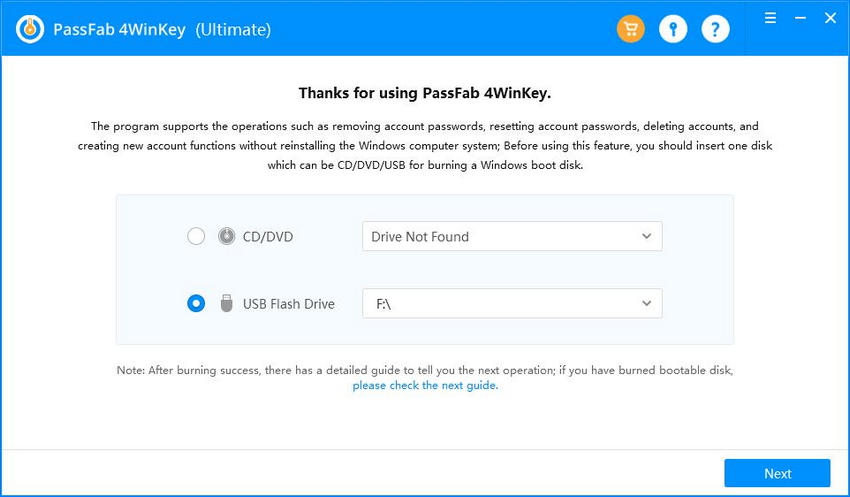 Step 2: Once, the process to create a bootable USB drive finishes, plug out the USB drive and insert it over the locked PC.
Step 3: Now, reboot the locked PC and hit the "F12/Esc" button to enter moot menu. Then select your USB name by arrow keys. Next, exit and save.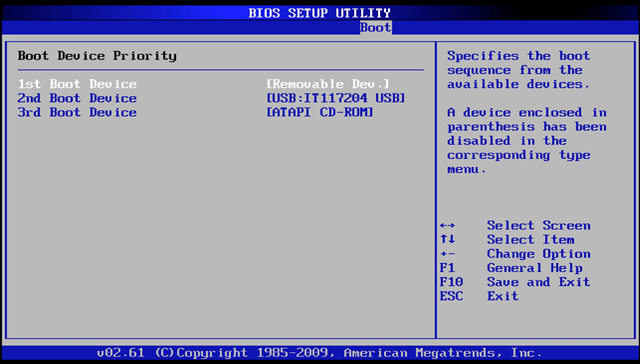 Step 4: As soon as it boots up again, you'll have the PassFab 4Winkey over your screen. Select the systen and hit "Next" button afterwards.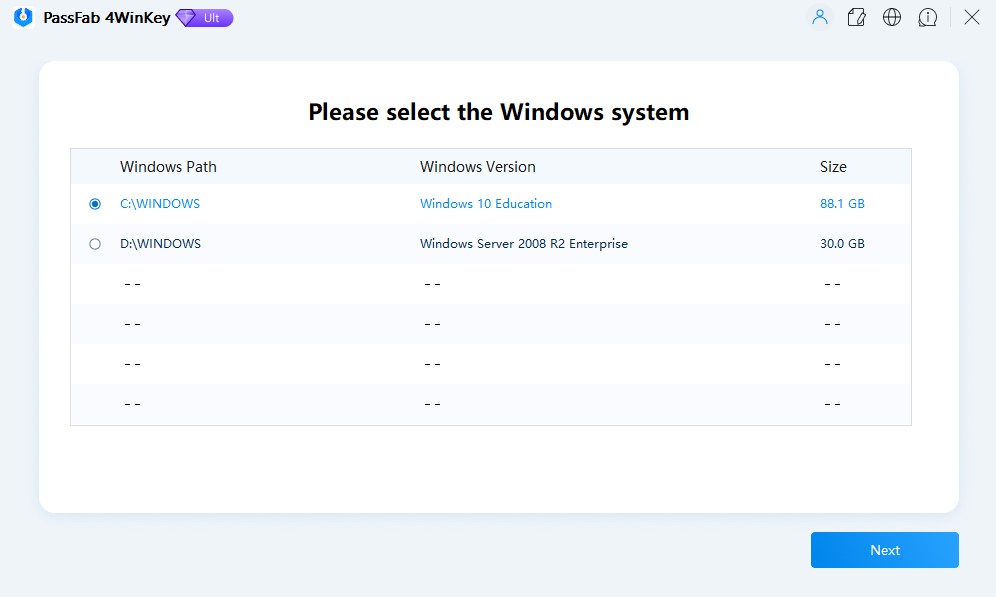 Step 5: Over the next screen, you'll have the entire list of Windows accounts available. Opt for the one your require and right below the list, you'll have another 4 options out of which you need to opt in for "Remove Account Password" followed by "Next" button.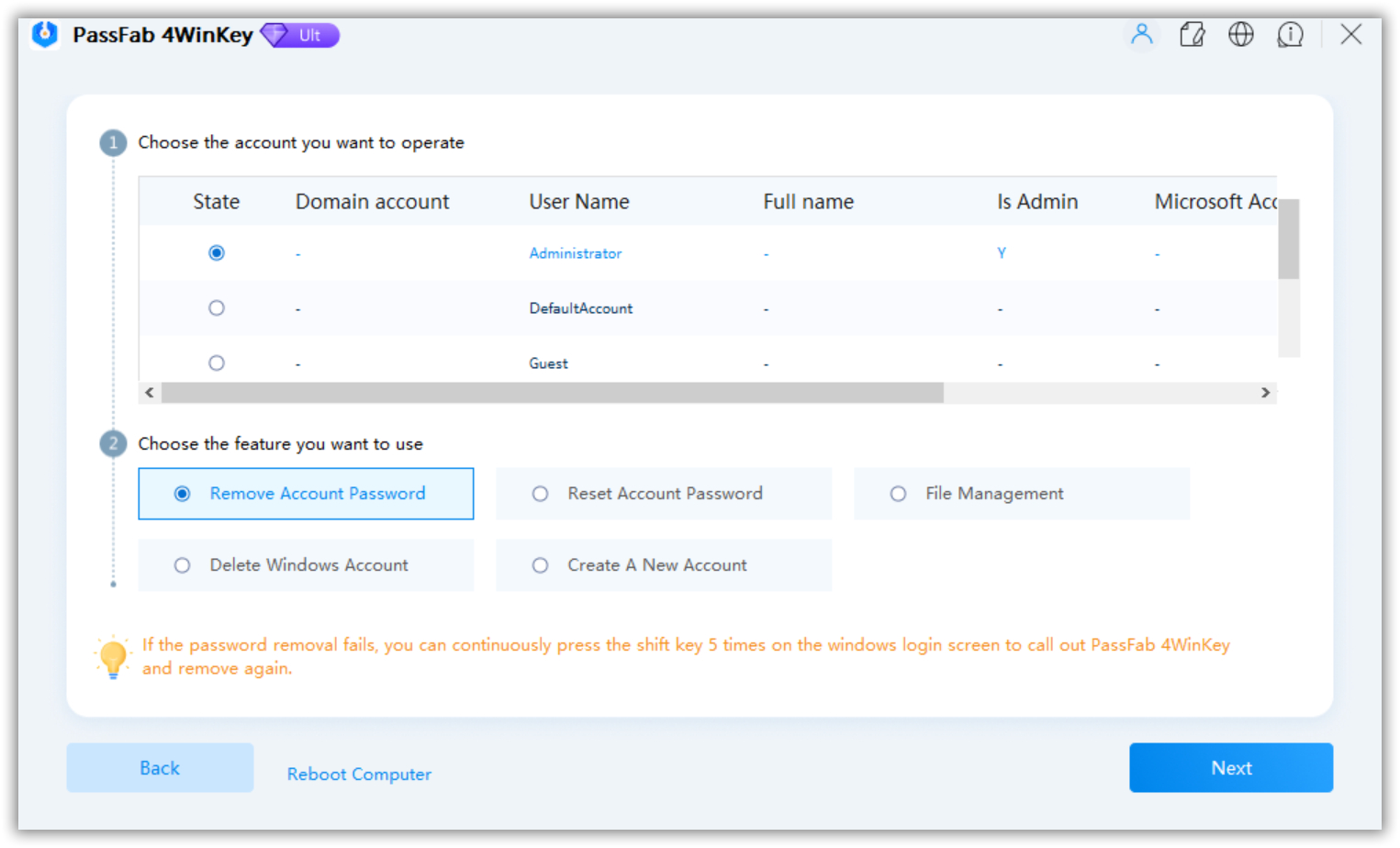 Step 5: Within a short while the password will be removed from your select Windows account. Lastly, hit on "Reboot" button and you're done.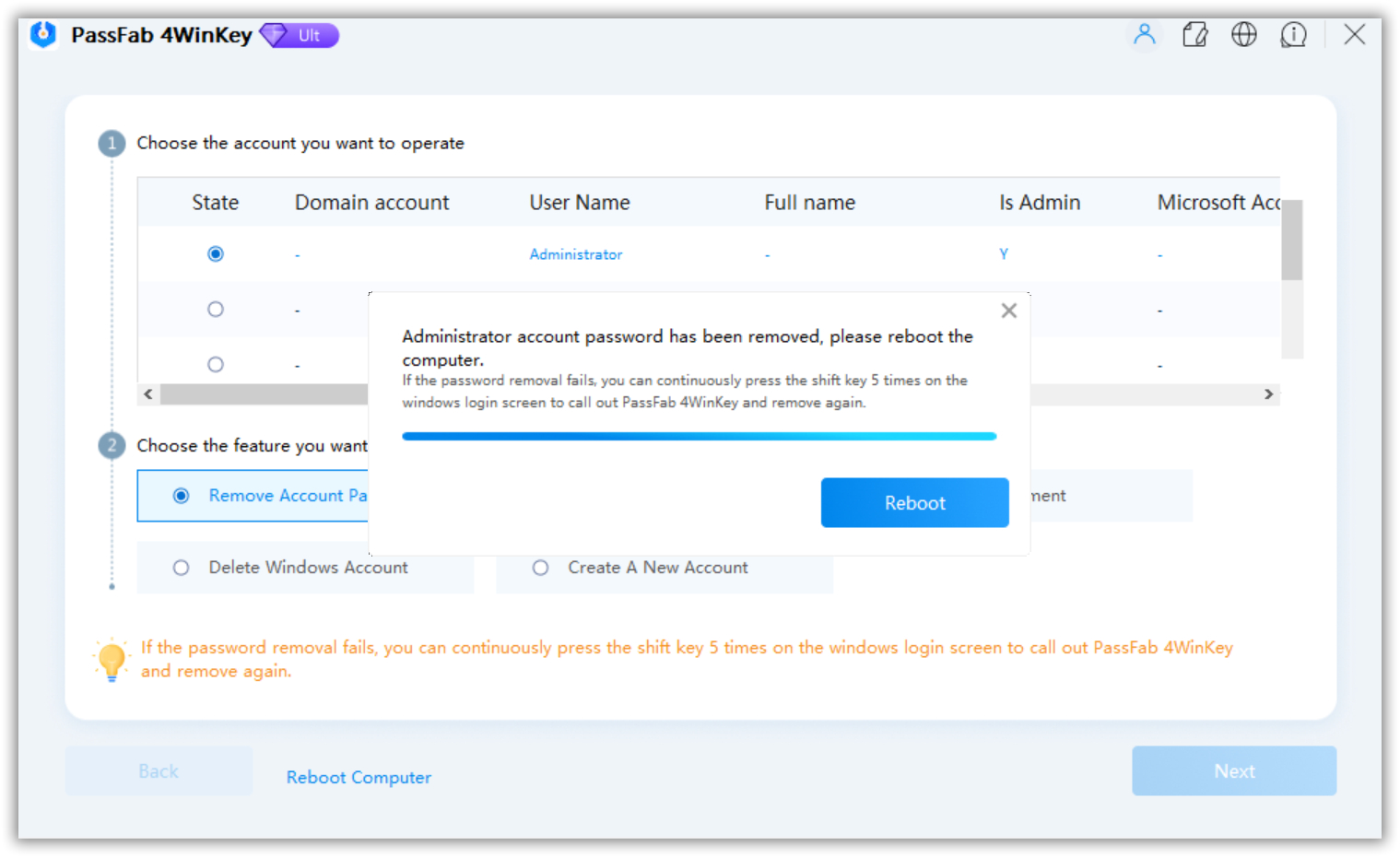 Part 2. PassFab 4WinKey Review VS PCUnlocker Reviews
1. PCUnlocker Reviews
Extremely effective and helpful as was provided with video tutorials.
Despite all the trouble to understand the process, I finally got into my computer with PCUnlocker. Thnx!
One Last Thought
Surely the PCUnlocker tool is capable of doing what it claims to do. However, the only problem with PC unlocker Windows 10 is the complex procedure making it extremely tough or intimidating for novice or non tech savvy people. In short, you can still rely on the PCUnlocker for being able to perform unlocking functions effectively.
It was 5 yrs ago when I last used my computer and couldn't get in now! But with PassFab 4winkey I literally just did it! Thank you so much. Great job!
It actually worked!! Nice software! I simply can't believe my little brother so easily solved my login issue with this tool.
One Last Thought
PassFab 4WinKey, unlike PCUnlocker, is pretty straight forward and extremely easy tool available in the market. With an easy to use interface, not only pros can perform pc unlocking functions but also the novice or complete beginners can effectively make use of this tool. All in all, it is the must have application. No clunky looks, hassle free steps and a perfect solution for Windows password recovery.
Conclusion
No doubt that free PC unlocker comes with an array of features to help you guys resetting the password. However, any software can have their negatives if there are positives. That was what our effort in this article. In any case, the tool doesn't work, you can use this PCunlocker alternative described in the article. As you can see yourself that PassFab 4WinKey can compete in all forms with it and can be used as the best free PCunlocker alternative. We hope that you could get what you came here for. Stay tunes for more such updates and we will be glad to help you in future.