Everyone iPhone users mostly keep their data stored in their devices. The data remains secured and stored until they want. However, if sometimes that data gets lost, it causes a big deal of worry for them. Not to mention that most of the time backups are there but backups are not always effective or functional. Evidently, without a backup; it seems impossible to get that data recovered. But to every problem, there is a solution and to this case, users can make use of Tenorshare UltData to make sure the recovery of the lost contents.
What is Tenorshare UltData?
Tenorshare UltData aims to recover the lost data, even in the absence of a backup. Several files, including call history, messages, notes, contacts, and also different applications can be recovered by it. Even if in case of deleted/lost backups, the lost data from iPhone can be recovered by formerly created iTunes backup. It surely is remarkable software to restore the lost data for iPhone users as it also makes possible the recovery of data even from the iCloud backup. Thus by UltData iPhone data recovery is possible, no matter what type of data that is.
Is Tenorshare UltData Safe?
User may access Tenorshare UltData in different versions and they all are safe to use for the users but among them, the crack version of Tenorshare UltData is not much safe to use by the users and it's because of disturbing ads and also the plug-ins and also the crack version of this software may lead to the virus in the user's device and also keeps on crashing along with no updates in the crack version. To the users who want to know that is Tenorshare UltData safe or not, the full version of Tenorshare software is secured and safe to use and is highly recommended.
Is UltData Trustworthy?
UltData has been developed by a well-known and trustworthy company and this software is trustworthy too, as by the reviews of many users their comments are understandable that it's fantastic software and it safely yet securely helps in recovering or restoring all the lost data. The trust of the costumers and users on the app is surely great evidence of its success and answers the confusing question like is UltData trustworthy or not.
Key Features of Tenorshare UltData
Because of the key features and many other reasons Tenorshare UltData is being a trustworthy, recommended and safe software for the recovery of the lost data and its main features include:
1. Recover Data without Backups
Even if there is no set backups the lost data can be restored by Tenorshare UltData.
2. Multiplex Data Recovery Modes
For the recovery of data even from iCloud or iTunes backups and from iOS devices Tenorshare UltData can be used. As to get data recovered completely, it's one of the ideal features that instead of local data, files which have been stored as iCloud or iTunes backups; everything can be recovered. But for such recovery of data, it's needed to use the same device as used at the time of creating backups.
3. Support Data Recovery Even in Advanced Devices
It is a real technological revolution and redefines data recovery in its own way as it is for the most advanced devices including the latest iOS and the SE second-generation devices. The devices like iPad, iPod and all the latest versions of iPhones with running all the iOS versions are capable of running Tenorshare UltData. Users can also have UltData free trial for a limited period so that they might have some access to it and can have an understanding or look at it.
4. Recover Social Media for Mac Users
The recovery of the social media file, apps, and data can also be possible for Mac users. These user's media apps include WhatsApp and other apps.
5. Recover All Crucial & Vital Files
This software ensures the recovery of a huge number of files and can almost restore 35 types of files; no matter these are contacts, media files, or even social media apps and thus giving the highest or maximum recovery rate. It not only supports the recovery of the basic sort of files including music or photos only but also makes sure the recovery of other data and files as iMessage, SMS messages, voicemails, voice notes, reminders, and even the attachments too. Thus, this is flexible and versatile software.
6. Recover Data No Matter How it Lost
Lost data can be recovered in all the possible frameworks, and it can't be influenced by the fact that how the data has been lost. The data either lost by the attack of any virus or during the up-gradation of the system or even deleted by mistake, it can be restored and recovered using this feature of Tenorshare UltData. It is now one of the most widely used and popular software around the world. Moreover, the files can also be previewed before recovery.
7. Hold Up Several Platforms
UltData being versatile software is very preferable and convenient to operate and an amazing feature of it is that it can be operated and is operational for all the popular platforms, as UltData for Mac/Android/iOS/Windows. It mainly aims and promises the recovery of data on iPhone using Mac or PC on operating their Windows.
How to Use UltData on iPhone?
The users may have sometimes lost their data because of multiple reasons, instead of being panic or worried they should try to have it back. For this Tenorshare UltData is a versatile, all-rounder, and ideal software as it is easy to use and trustworthy. The lost data needs to be recovered, and all that data is recovered by Tenorshare UltData. For iPhone, the lost data is restored too by this software, no matter how the data got lost; it can still be recovered while the users follow the following steps.
Step 1: Connecting iOS to Computer
Initially, ensure that the Apple device such as iPod or iPhone is switched on then by USB cable have it connected to the Mac or computer. Next launch UltData-iOS on the computer. "Recover Data from iOS Devices" is the default mode. In the case of a trusted and connected iOS, it will be automatically detected by the program.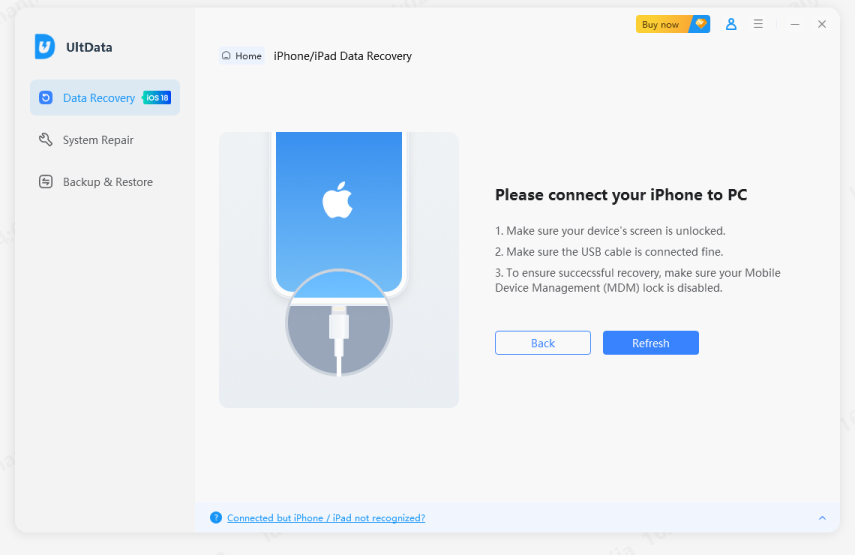 Step 2: For Lost Data Start Scanning iOS Device
Once the software detects the device, an interface will be shown, in which the user can tick at that which he wants to restore or get back and scan. Or user can select all to have an entire complete scan, then for further processing, need to select "Scan".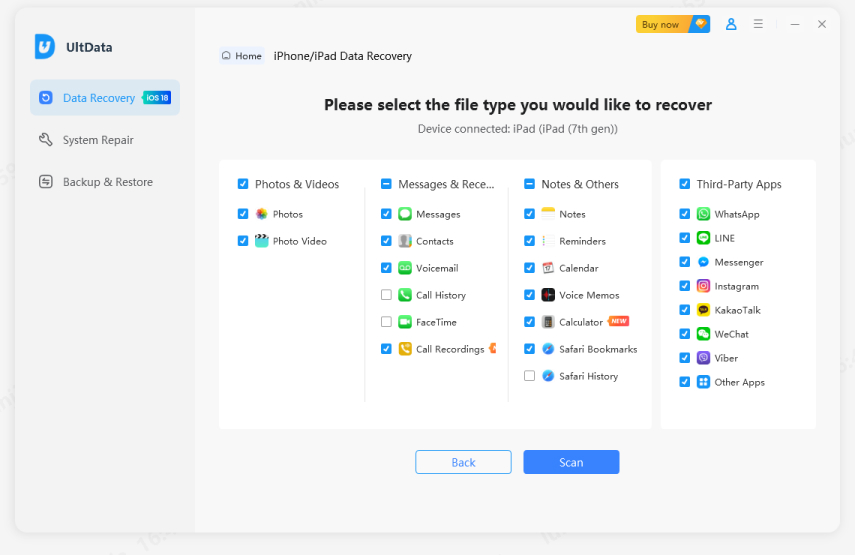 Step 3: Preview Data Before Recovery
After scanning, all the programs and files will be displayed correspondingly, then selecting either " only display the deleted items" or " Show all" the files can be recovered.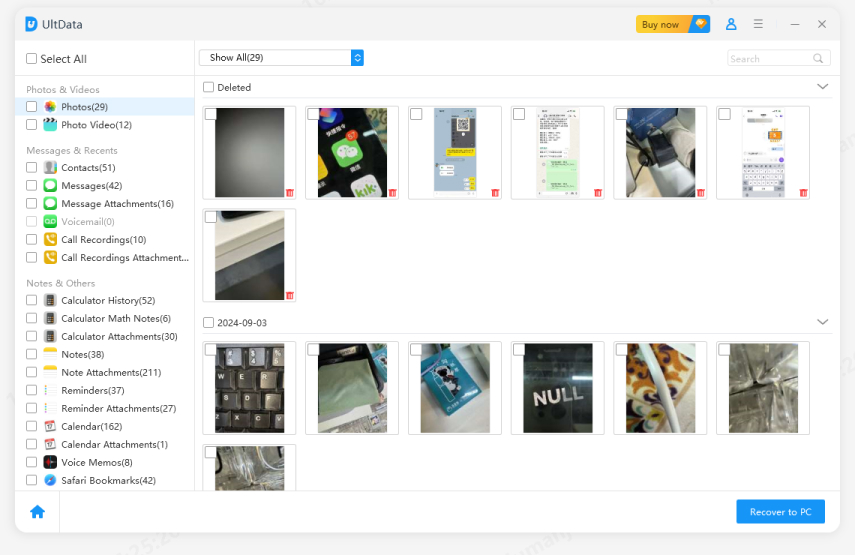 Step 4: Recover Data from iOS Device
After having a preview of the files needed to be recovered select "Recover", it's up to the user to either have the selected files recovered directly on the device or in the computer, but for different files, there are varying limitations also.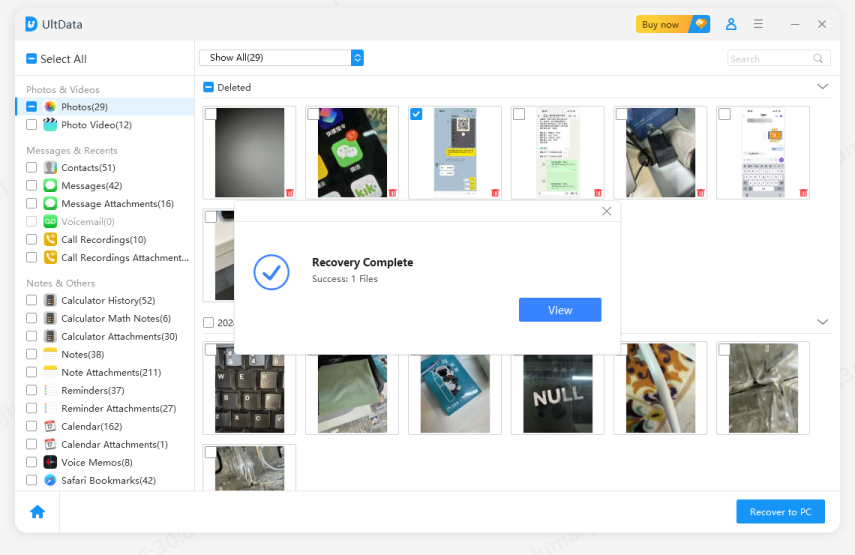 Note that before recovery output settings are needed to have a destination folder for the storage of the recovered files and users can also select file format they want to keep.
Final Words
With multiple features of Tenorshare UltData, it promises the maximum recovery of lost data, no matter how the data has been lost and what sort of data is it. Following the described steps, the lost data can be recovered and restored. And if the users need to remove the lock screen password on the iPhone, PassFab iPhone Unlocker is the best one and by following easy steps, the password on the lock screen of the iPhone can be removed.