Nowadays, you'll see many people using a complex screen lock for their phones to protect the data in it. It is fine to some extent if you take security into account.but you may forget the password at times .If you are using Motorola, the only thing that'll be roaming in your mind is "What to do when moto g stylus locked out ?" or "How to bypass pin lock on Motorola?".
If you use factory reset option at that moment, you'll lose all your data which isn't what you actually want. This guide will let you know How to bypass pin lock on Motorola without data reset.
Here are some of the methods to do it.
Part 1:Motorola Pin Code Bypass via Android Device Manager
Moto g Stylus Locked out?Android Device Manager is one of the methods you can use to unlock Motorola phone pattern. It is quite easy to use and the procedure is simple. However, you must be connected to a Google account to use Android Device Manager. You must also allow the permission for locking the phone remotely. The method is more useful for Moto g stylus locked out.
Here is how you can do it when you are looking for Motorola pin code bypass .
First of all, open the site and visit it for logging into your Google account. Don't forget to log into the same account on your Motorola phone also.

Lock your phone for resetting the new lock screen. Locate the phone from browser and press "Lock" on it. A pop-up will appear to ask you to reset it and then ask for confirmation.
Synchronization of the setting with your Moto phone won't take much time. Wait for a few minutes for motorola pin code bypass with new lock screen. You may not be able to trace the phone in offline mode, and the process may ask for more than one attempt. But you'll be able to get into a locked moto phone with ease without much effort.
Part 2: Motorola Pin Code Bypass with Google (for Android 4.4 & above)
For Android 4.4 and above, if you want to know how to open motorola phone, you must set up a new screen lock again. Following steps will give you an idea of how to bypass pin lock on Motorola with ease.
First of all, enter your phone number or email there and click on "Next".

Enter your first and last name, verify the relevant information and click on "send". You'll receive an activation code. Enter this code and press "Next".

Choose the account you want for this purpose.

Don't forget to charge your Moto phone well before performing this reset. To reset it, turn it off.

For opening boot menu, keep your finger on power button. Press the "Volume down button" and choose "Recovery Mode". Press the Power button again.

After that, press the "volume up button" and then release it after a few seconds.

Press the "Volume down button" to choose "Factory Reset".

Press Power button again and then press "volume down button" to choose "Factory Data Reset".

After that, press "Reboot System Now" and then the power button.
You've now deleted all settings and data from your Motorola phone. After its reboot, set it up the way you want again.
Part 3: Motorola Pin Code Bypass with PassFab Android Unlocker
Hot
If above 2 solutions are not workable for "how to unlock pin lock on motorola without data reset". There are certain tools you may use to encounter motorola default pin code and bypass screen lock. PassFab Android Unlocker is the best alternative tool that will help you troubleshoot the problem of how to unlock motorola phone pattern without any hassle.
Some of the features of this PassFab Android Unlocker are given below:
Effortlessly unlock password, pin, pattern and fingerprint.
Unlock early Samsung devices without any loss of data.
Reset your Moto phone without any password.
Compatible with the lock screens of Motorola, Xiaomi, Samsung and other Android phones.
Video guide for how to bypass a password on a motorola phone
Step 1:Launch PassFab Android Unlocker
Launch PassFab Android Unlocker on your PC and click on "Remove Screen Lock". After that, use a USB cable to connect both the devices i.e. computer and phone.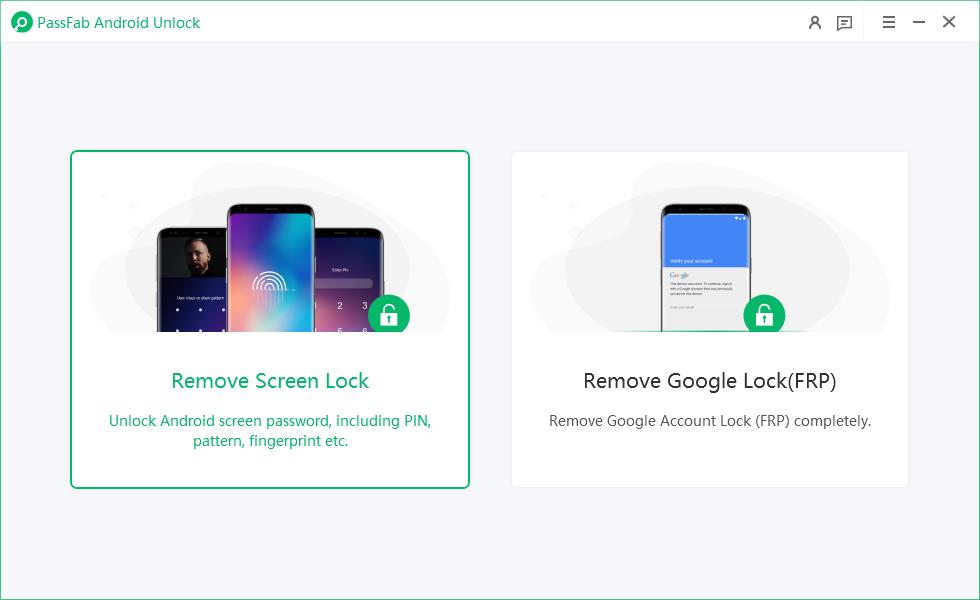 Step 2:Remove the Screen Lock
For Moto phone, click on "Start" to begin the process.

It'll give you a reminder: "Removing the lock screen password will erase all data on the device. Are you sure you want to proceed?". Press "Yes" to let it proceed further.

Wait for some time and you won't see the Android Lock Screen anymore. Press "Done" to completely finish it.
Conclusion
You may regret your decision of putting a complex motorola default pin code if you forget it. The only thing you're concerned about at such moments is the data in your phone that you may lose after resetting the phone. However, knowing how to bypass pin lock on Motorola without data reset may prove to be handy for you.
PassFab Android Unlocker is one of the tools that may help you in this regard. The steps mentioned above for Motorola pin code bypass without a password have made the things easy for you. Just download PassFab Android Unlocker now and give it a try!