"I have heard that you will lose all of your contacts if you don't backup your contacts, and it seems a little risky to me. Do any of you have an opinion on this? Thank you."
You could memorize phone numbers of family members or close friends but think of some business contacts or other important information such as electronic mails, address, etc. The loss of any of these data must be a disaster, not to talk about losing all. Now, in this article, we offer tips on how to backup contacts on iPhone by using different methods, which are applicable to all old and new Apple devices.
Solution 1: Back up Only Contacts on iPhone to iTunes
Due to recent reports about iCloud vulnerabilities, iTunes should be a more secure way on how to backup contacts on iPhone. But before using it, please make sure you are using the latest version of iTunes so that it can be fully compatible with the new iPhone running on iOS 12.1. Now follow the steps to make the full backup:
Step 1: Open iTunes and connect the iPhone you want to back up its contact to the PC through the USB cable.
Step 2: Search and select your iPhone device in the top list.


Step 3: The information interface of your iPhone will be displayed, you can either choose to automatically backup or manually backup. Click "This Computer" and then "Encrypt iPhone backup" if you want an aumomatically back up. Click "Back up now" if you want to back up all your contacts manually.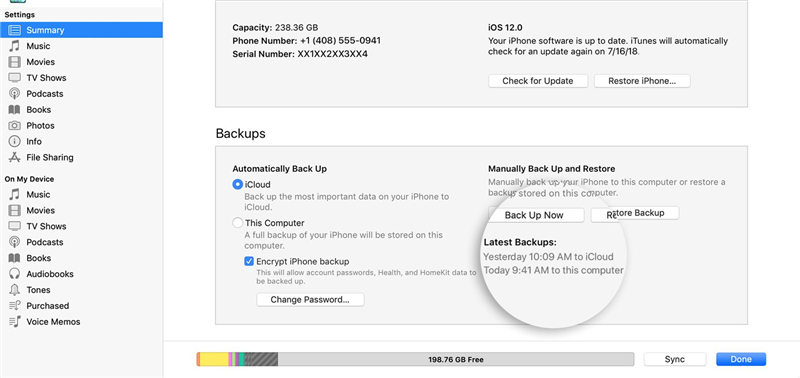 The backup of iTunes is much slower because you have to copy all the information from the iOS device including music, videos, photos, and other large data. You can not choose only the contact lists to make a backup. Sometimes, the process could be interrupted due to a lot of reasons. If this looks cumbersome to you, let's try out the iCloud option.
Solution 2: Backup Contacts Only on iPhone to iCloud
You certainly do not want to lose important information on your mobile phones such as your contacts, private photos, music, videos, applications, notes, and messages, which could be lost due to some reasons beyond your control. Among these data, contact information is probably the most important among those stored on your iPhone.
The iCloud solution is probably the best option on this list. Now, we give you the tutorial on how to backup contacts on iPhone to iCloud. This is another backup solution that allows users to have 5GB of free space to store data.
To transfer contacts from iPhone to iCloud, you need to go to "Settings" -> "iCloud" -> "Backup" -> "iCloud Backup", and then slide the button to activate the contacts. Now, you can click "Back up now" for the backup process to begin.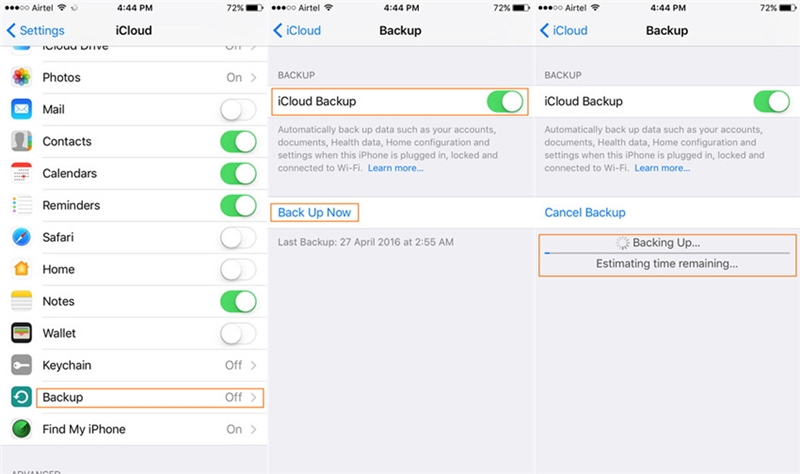 However, you should keep in mind that the capacity iCloud offers is not usually enough for most of the users in terms of storing all the data. When backing up the contacts of the iPhone, it is necessary to make use of the 5 GB space for the lists of contacts and most important information. Therefore, there will always be enough space for large files such as photos, videos, music, etc. On the other hand, to guarantee the security of the data, the backup to the iCloud requires a Wi-Fi network for an excellent performance.
Solution 3: Sync Contacts on iPhone to Google Contacts
In this section, we will tell you how to backup contacts on iPhone to PC or the cloud using your email such as Gmail, Yahoo, and Outlook. We think Gmail seems to work well when exporting contacts from an iPhone because of its flexibility. If, in the future, you want to use Android for some reason, you will have no trouble processing the transfer.
Follow these steps to export contacts from your iPhone to Gmail:
Step 1: Launch iTunes. Check for updates first.
Step 2: Connect the iPhone to the computer.
Step 3: Select your device icon when it appears on iTunes.
Step 4: Go to the "Info" tab.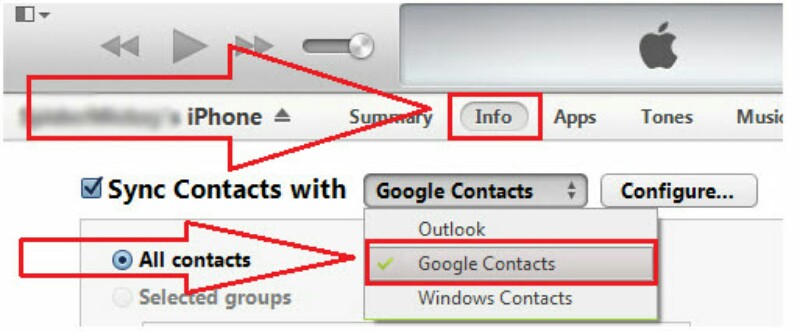 Step 5: Click on "Google Contacts" where you have "Synchronize Contacts".
Step 6: Enter your Gmail username and password.
Step 7: Click OK and sync your iPhone.
Step 8: Click on Apply.
That's all! You have just exported your contacts from iPhone to Google Contacts using your iTunes.
Solution 4: Backup Contacts on iPhone to Mac
Because the iTunes application poses to be more of a problem rather than a solution to export the data from our iPhone contacts, we are forced to resort to third-party developers to obtain a copy of all data stored on our device.
If we intend to add our iPhone contacts to our Mac, the process to do it is very simple since we only have to activate the iCloud synchronization on both our iPhone and our Mac. All we need do is go to Settings and click on our account that is on the top of the menu.
Then we go to iCloud and activate the contacts box. Once we have activated it, we go to the Mac, open "System Preferences" and click on "iCloud". If we have not previously entered our Apple ID data, we have to enter them. In the next step, we just have to check the Contacts box so that all contacts that are stored on the iPhone and synchronized with iCloud are also available on the Mac.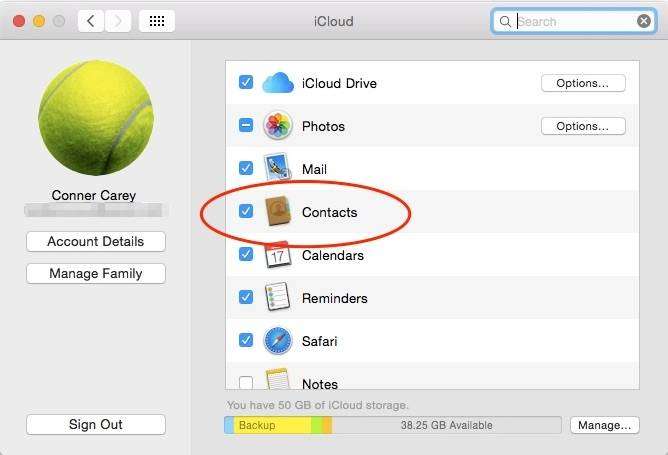 That's all about how to backup contacts on iPhone to Mac.
Bonus Tips: How to Unlock iPhone Backup Password
And after backing up your data to your computer, what happens when you forget your iPhone backup password? With PassFab iPhone Backup Unlocker, users can have their backup passwords back without many efforts. When you unlock your password with the software, you can have the full access to all your contacts, photos, messages and apps, as they are in the backup files.
Below are the steps to carry out an unblock:
Step 1: Download, install and launch this program. Click on "Retrieve iTunes Backup Password" and then "Next". Select the backup file that contains your data from the list.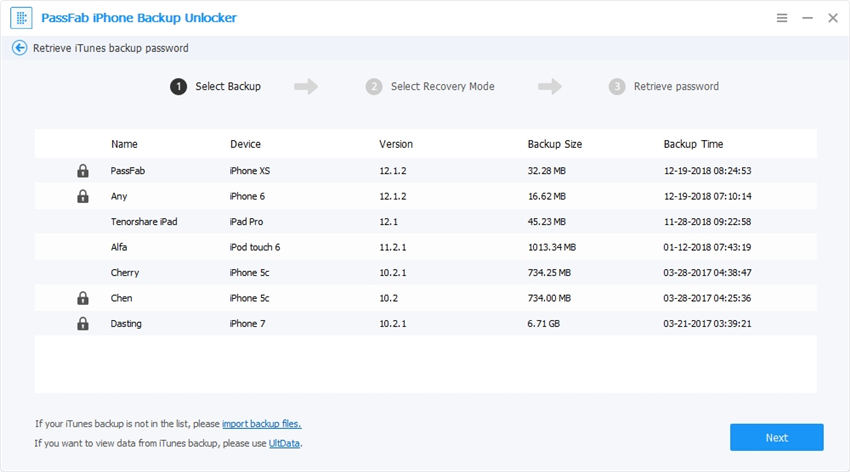 Step 2: Choose an attack between the 3 options: Brute-Force Attack, Brute-Force with Mask Attack and Dictionary Attack.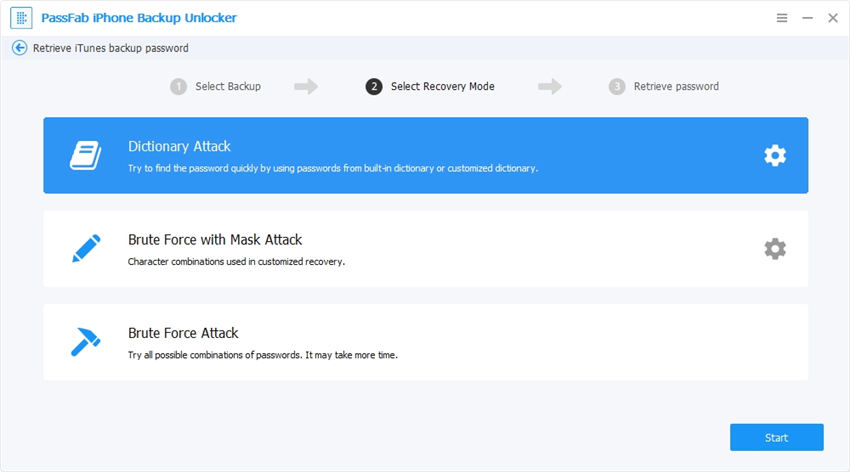 Step 3: Backup password recovery by clicking the start button. Wait for a moment, your backup password will be shown in this iTunes backup password recovery tool.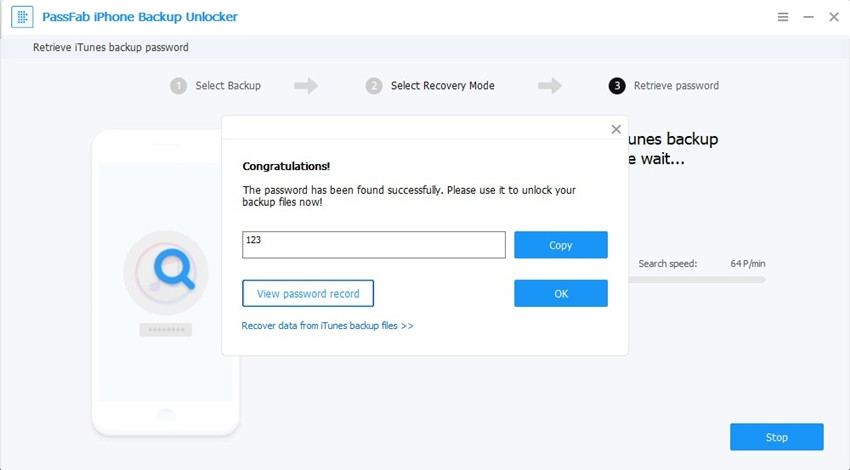 Conclusion
As we have seen in this article on how to backup iPhone contacts, the fastest and most convenient way to have a backup of our iPhone is to have synchronization enabled with iCloud. This also allows us to have the same data on all Mac devices. It is the most comfortable option. With iCloud, we wouldn't be forced to install or purchase any application. Meanwhile, synchronizing to your Gmail account is also one of the easiest and safest way to have your data backed up as you can easily transfer them to an Android when you get one. Finally, with PassFab iPhone Backup Unlocker, there'd be nothing like a missing backup password. Last but not least, read this article if you need to restore iPhone from backup.