"Hi, I am using an iPhone 7 Plus 256GB device. What is the best way to backup 90GB of files on a Mac so I can restore it on another 256GB device? Is it possible to backup the entire data on an external hard drive (as an iTunes backup)? Thanks in advance!"
If someone is using iPhone 7/7 Plus or plans to change to the new iPhone 7/7 Plus, you are recommended to know something about how to backup iPhone 7 Plus and how to restore contents on iPhone 7 in easier ways. There are a number of ways to do so, here we will introduce some of the easiest ways to backup iPhone 7/7 Plus:
Part 1. Backup iPhone 7/7 Plus on Windows/Mac Manually with iTunes
It is very essential and fundamental to backup iPhone 7. It can be lifesaving to back up the phone because just in case of a mistaken deletion or a failed iOS upgrade. It will be very difficult to get back the lost substance in such cases if one has not backed up their iPhone 7 and ultimately may have to say farewell to your vital information. That is why backing up is specially prescribed among cell phone clients particularly when endeavoring to roll out new improvements on the gadget settings.
In order to backup iPhone 7/7 Plus to computer, follow the below steps:
Step 1: You will have to connect your iPhone 7 or 7 Plus to your computer, run iTunes and connect your device to it
Step 2: Click the Device tab under the menu bar and click "Summary" which is under "Settings" section.
Step 3: In the summary under "Backups" section, you will have to choose "This computer" to store your iPhone 7/7 Plus backup.
Step 4: Now tap on "Back Up Now" on the right side and start backing up your iPhone.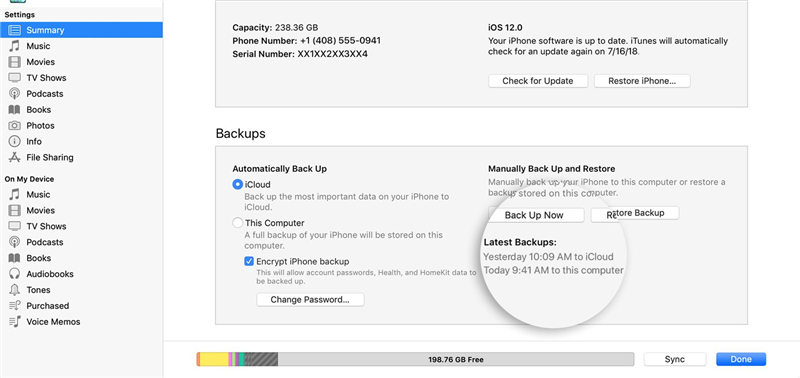 Extra Tips: How to Delete Back Up in iPhone 7/7 Plus from iTunes
For this purpose, these steps can be followed:
Step 1: You will have to connect your iPhone 7 or 7 Plus to iTunes in your computer.
Step 2: Now click on "Edit" and then "Preferences..." in the menu bar and then choose "Devices" among the options.
Step 3: Choose your backup file and then click on "Delete Backup" to begin to delete back up iPhone 7/7 Plus in the computer.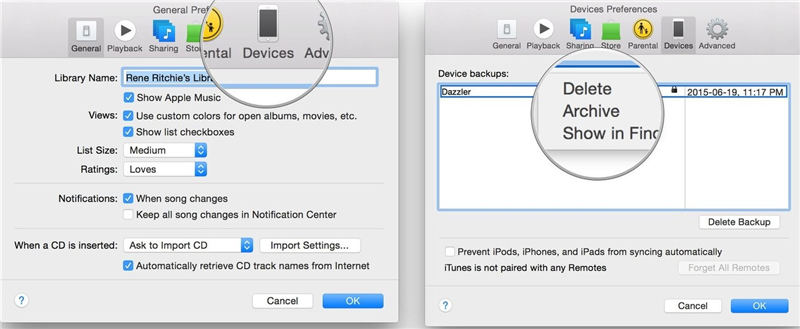 Part 2. Backing Up iPhone 7/7 Plus on Windows/Mac with iCloud
For backing up iPhone 7 to iCloud, this comprises the following steps:
Step 1: Open the Settings and launch iCloud on the iPhone 7.
Step 2: After the verification of the iCloud account, turn on all the items you want to backup.
Step 3. Then turn on the Wi-Fi on your iPhone 7, data on your iPhone will start syncing to iCloud. Now onwards whenever you log in iCloud on the computer, you can view your data on your phone.
This can also be done manually by making an iCloud backup in open Settings, launch iCloud, in the Backup and tap on "Back Up Now".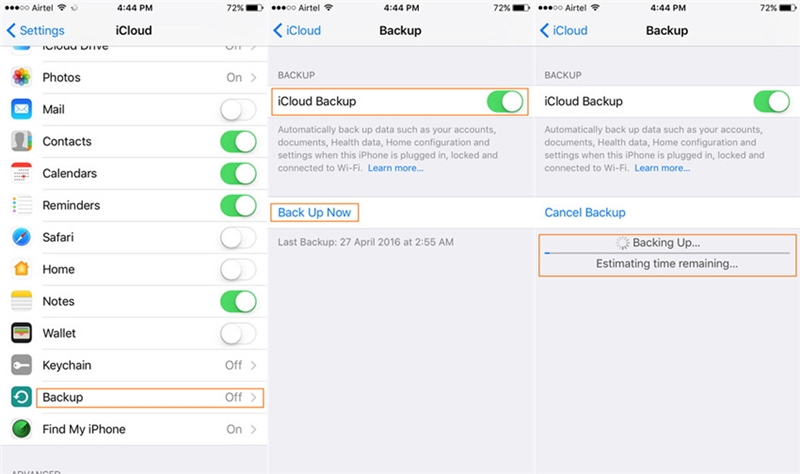 Part 3. How to Backup iPhone 7/7 Plus with Third-party Backup Service
Backing up can also be done by means of third-party backup services such as Google Drive, Microsoft OneDrive, Amazon Cloud Drive, iCareFone, etc.
If you use Google Drive to backup data in iPhone 7, photos wil back up to Google Photos, contacts will back up to Google Contacts, Calendar will back up to Google Calendar. Following steps are to be used by Google Drive:
Step 1: First install Google Drive from iOS App store on your device.
Step 2: Open the app and tap on the Menu in the left corner.
Step 3: Tap on the Settings option and now choose the "Start Backup" option.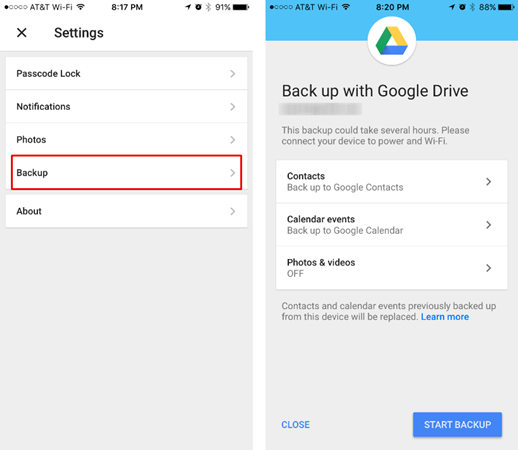 Once backed up you can view your photos contacts and other content across the device.
Bonus Tips: How to Unlock iPhone Backup Password
Just in case we forget the backup password of our device, a app like PassFab iPhone Backup Unlocker is one of the most useful tools to do so, It saves from a lot of trouble. It has a simple and easy solution to unlock backup file password for iOS devices. The following steps can do this:
Step 1: Firstly launch iPhone Backup Unlocker, choose "Retrieve iTunes Backup Password" from the main interface. Click Next and then select your encrypted backup file from the list.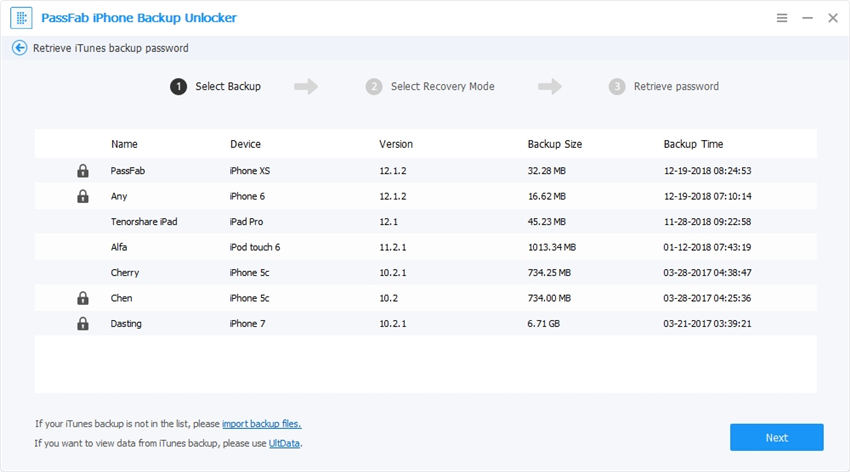 Step 2: Select password unlock type. There are three password attack modes. Choose one that suits you. You can also define the specific settings, like password length, possible characters, etc.
Dictionary Attack: This mode automatically tries thousands of possible password combinations in provided dictionary. One can also add their own dictionary library by clicking the Settings.
Brute-force Attack: This mode runs matching of every combination of letters and numbers, characters and symbols. This is the mode which will take the longest time.
Brute-force with Mask Attack: This suitable for those who still have an impression of the password. The user can define the Min/Max Length, letters used frequently and numbers, special characters to help decrypt.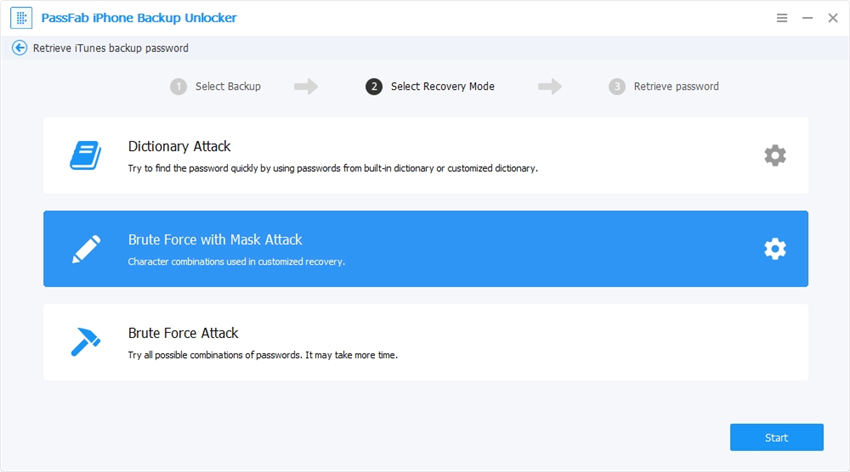 Step 3: Now wait for unlocking iTunes backup password until the iTunes backup unlocker finds it successfully. Depending on the password difficulty, the process can take different amount of time. Once the password has been unlocked, you can use the found password to decrypt backup file.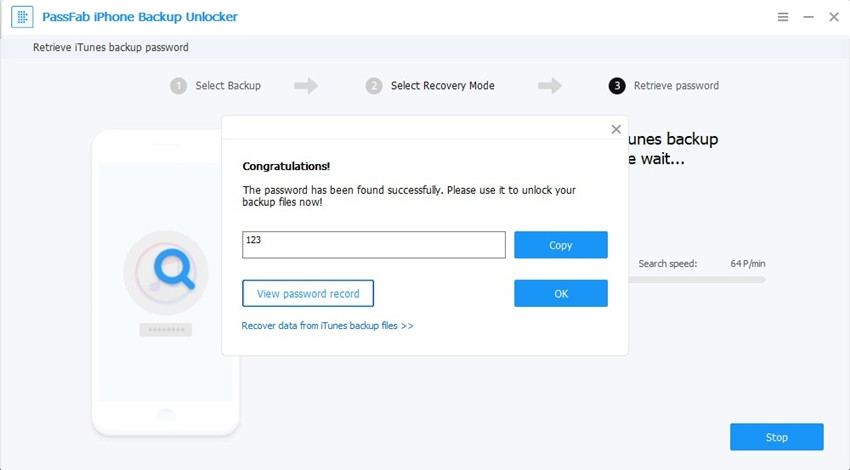 Conclusion
These were some major and easiest ways to back up iPhone 7/7 Plus. All the steps about how to backup iPhone 7 Plus have been detailed. The simple ways to backup iPhone 7 are to use iCloud, iTunes or simply back it up by using any third party software like Google Drive. Just in case you forget the backup password, PassFab iPhone Backup Unlocker is one of the best apps to recover the password easily and accurately. The software provides assistance to unlock the backup passwords via different modes depending upon the type of users. After unlocking the backup password, you are able to restore iPhone from backup.