If you are a user like many others, your iPhone must have saved very important information such as photos of your children, your favorite songs purchased in iTunes, the phone numbers of your friends or customers, etc. That is why the data backup of the iPhone is very important. In case of loss of your device or any other unprecedented incidents, you can recover your data on your iOS quickly or restore your settings on another device.
How do you know how to backup an iPhone on the computer? Let's see how to backup iPhone to computer with iTunes and other means to achieve it.
There are several ways to backup iPhone to computer. These include with Apple iTunes, iCloud and other third-party software. We will show you exactly how with a step-by-step guide and screenshots to help you out.

Option 1: Backup iPhone to Computer with iTunes
With iTunes, the official Apple software, you can easily backup your iPhone. You can complete this process on iTunes as well as through iTunes sync.
With this option, it's impossible to save the data selectively. However, using this way will cost a lot of time and storage space. Also, when you want to recover your data for this backup, it will recover everything as well. With this option, you cannot preview and you cannot choose. If you want to backup your iPhone selectively, continue below as we explain both options to you.
1.1: Backup iPhone to Computer via iTunes
As you would have Imagined, to back up your iPhone with iTunes, you will need to have the Apple application installed on your computer. If you don't have it on your computer, then you have to install it before starting your backup session.
If you use an Apple computer, iTunes will come pre-installed, but if you use a Windows computer and still do not have it installed on your computer, go to the download store and install it on your computer.
Here's how to backup iphone to computer iTunes:
Connect your iPhone to your computer via USB cable and start iTunes > go to the backup section in Summary > click on Backup Now.
1.2: Backup iPhone to Computer via iTunes Sync
iTunes is much more than a simple music player. It is the management center for your iPhone, iPod or iPad, so having it installed on your computer will facilitate the management of your devices' files and their maintenance and synchronization.
Once you have finished the installation of iTunes as explained in the previous section, access the iTunes Account menu and log in with the Apple ID account that you have linked to your device.
Once you have logged in, connect the iOS device to your computer with the USB cable and let it recognize it.
When it does, it will display the device icon in the top bar and in the Devices section of the sidebar.


Click on the device icon in the top bar to access its details page. From this section, you can manage all the content and synchronization of your iPhone.
In the side panel, click on the Details section. In the Backup section, you can choose the way in which the backup of your device will be stored.
Once you have established the type of backup you are going to perform, proceed to execute it.
To do this, you only have to click on the button Make a Copy Now. Immediately, the process that will copy all the data and configurations of your device to a file on your computer's hard drive will start.
Do not disconnect your device while this process is taking place, which may take more or less depending on the number of files you have on your device, but that normally does not take more than a few minutes.
Note that once you have backed up your iPhone in the Most Recent Copy section, it shows when it was the last time that device was backed up. Try to do this on a regular basis so, if you need to recover it, it will be as up-to-date as possible.
What if iTunes Does Not Recognize your iPhone?
You can solve this by increasing the security of your data by encrypting the contents of the backup of your device. You can do this by simply checking the Encrypt local backup option and establishing a password to protect it.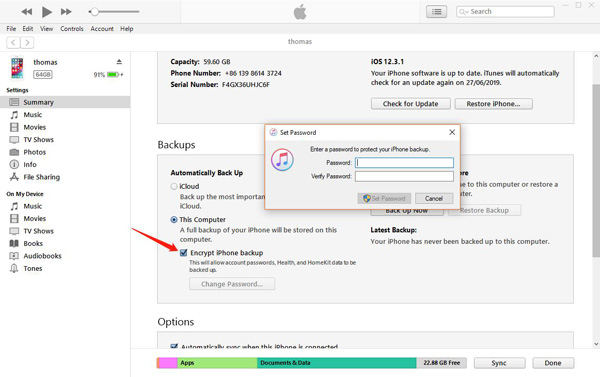 Option 2: Backup iPhone to Computer without iTunes
There are several options to backup your iPhone to your computer without the use of iTunes. We recommend two options. They are:
2.1: Backup iPhone to computer via iCloud
Continuing from the steps in the last session, If you want to backup your iPhone via iCloud, the Apple Cloud service, you just have to mark the iCloud option in that section during synchronization. That way, your backup will always be available in the cloud even if your device is not connected to the computer.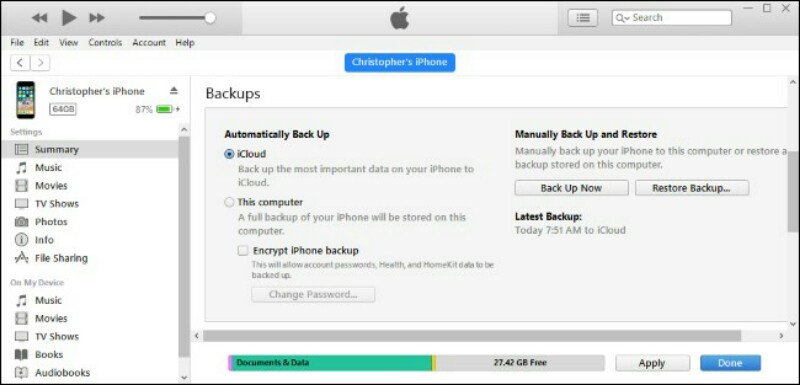 However, if you want to save the backup copy of your iPhone to your computer's hard drive, check the This computer option. That way, the backup will be saved in the iTunes data folder of your computer and you can restore it from there.
2.2: Free iPhone Backup to Computer via iCareFone
Currently, there is a tool with which you can use, helping you avoid the limits of iTunes. Here we present you one, which is called iCareFone. It is applied to all iOS devices such as the iPhone, iPad, and iPod. It allows you to backup your iPhone to your computer with ease, including photos, videos, music, contacts, messages, notes, books, voice messages, voice notes, etc. The software keeps this data in a readable format on your computer, and you can check it at any time you need.
When you lose your data, iCareFone allows you to pass data, such as photos, music, notes, etc., from your computer to iPhone easily. With this app, iPhone users can easily control what happens to their data. The software has the import option, the export option, the add option, the delete option and also the re-duplicate option.
Step 1: Download iCareFone and install it on your computer > Connect your iPhone to your computer via USB cable > Click and click on Content on PC.
Step 2: Select the types of iPhone data you want to back up to the computer. Begin the transfer. Wait a moment, you can check them on your computer. You can pass the files to your iPhone from the computer whenever you want.
Why Use iCareFone to Backup Your iPhone?
Although iTunes and iCloud can also back up your iPhone, the insecurity and inadequate functions of these tools make people uncomfortable. Therefore, compared to these two impractical tools, the software:
Transfers multiple media files, playlists, SMS, etc. from an iPhone to the PC easily and quickly.
It backs up the data of an iPhone without the iTunes or the iCloud and safely without loss of data.
It supports the backup of iOS devices to the PC and between the devices themselves.
It is compatible with the latest iOS devices.
How to Restore a Backup
loss of data, you can restore the backup you have stored on your computer and quickly recover the configuration and data of your device.
To do this, you just have to connect to iTunes as we have shown in the previous sections and click on the Restore Copy option.
An assistant will guide you through the entire process since if you have your iPhone connected to the Find My iPhone app, you must disconnect it before performing the restoration.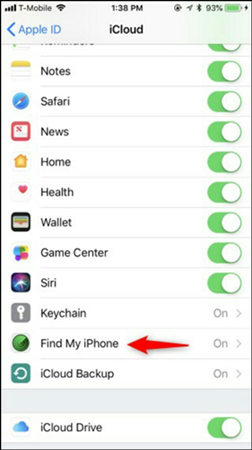 Then, choose the device you are going to restore (in case you have several registered under the same Apple ID) and click on Restore.
After a few seconds, the restoration process will start, which will return your device to the configuration it had when you made that backup.
Bonus Tips: How to Unlock iPhone Backup Password
PassFab iPhone Backup Unlocker is a premium iPhone backup password recovery app developed for every iOS devices. With the use of this software, you can have access to your contacts, messages, photos, apps, and so on that are present in your backup files.
The PassFab iPhone Backup Unlocker is the simplest, fastest, safest and one of the most powerful backup passwords unblocking solutions for iOS devices. Follow the simple steps below to use the unblock tool:
Step 1: Import the file which contains the iPhone backup data.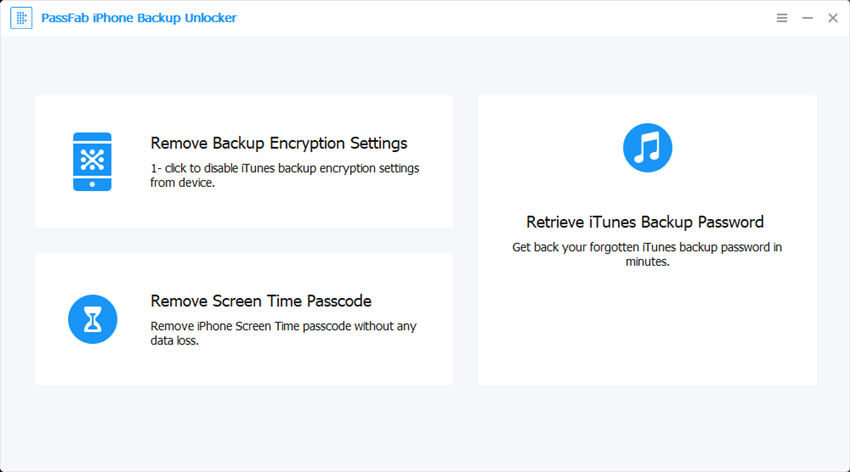 Step 2: Select your proper attack from the three options – Brute Force Attack, Dictionary Attack, and Brute Force with Mask Attack.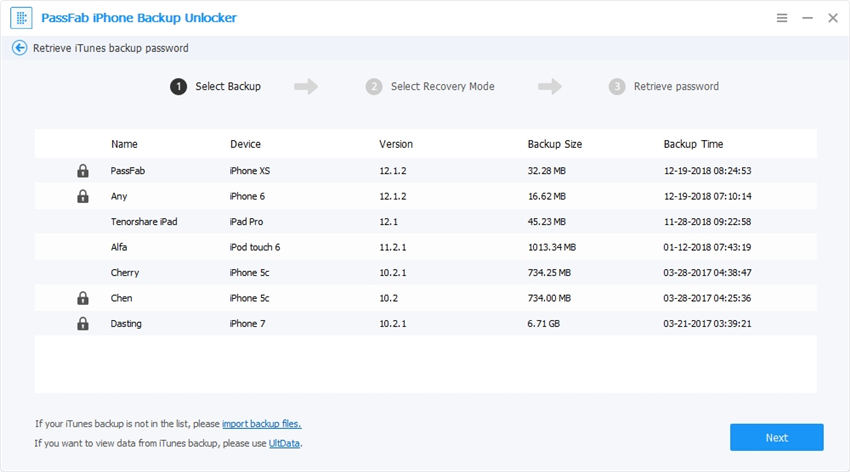 Step 3: Begin recovery of the backup password by clicking Start.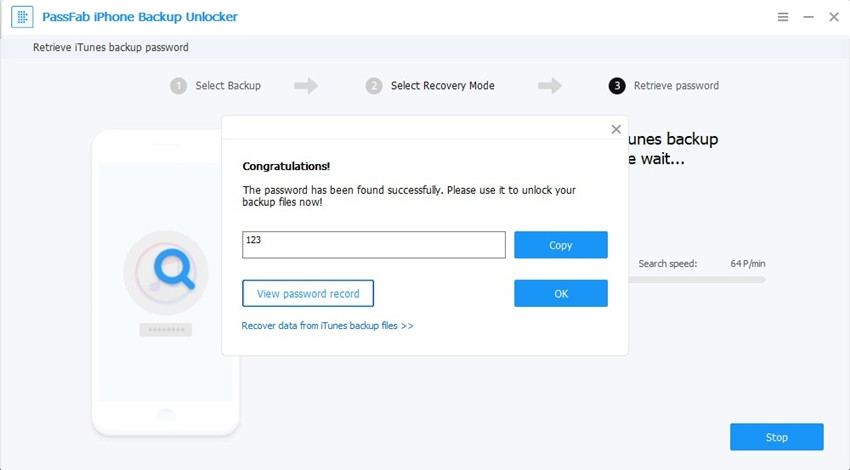 Conclusion
That's all about how to backup iPhone to computer so you can choose the most suitable one for you. Except to pass data from iPhone to the computer with iCareFone, you can also transfer data from your computer to iOS devices, between iOS devices, from Android device to iOS device, etc. With PassFab iPhone Backup Unlocker, you would have almost nil problem when you fail to remember your backup password, just in case you need to initiate a recovery process. You can download the recommended iOS software now and you will find out more. By now, we hope we have helped you find an answer to one of your most-asked question: how do you backup iPhone to computer.