The need to backup files and data cannot be overemphasized as there are many unexpected risks associated with handling any electronic device. Apple gives users two simple and free ways to store copies of their information; you have the options of backing up to either iTunes or iCloud.
Although iCloud gives 5 GB space for free, it is not always enough but with iTunes, the space allotted to backups is dependent on the user and this is one good reason why people want to backup iPhone using iTunes. Backing up your iPhone or iPad with iTunes saves copies of your files on your computer. You will learn how to backup iPhone to iTunes in the following content.
How to Backup iPhone via iTunes
Here are some simple steps to backup your iPhone or iPad to iTunes in no time.
To get started, first plug your iOS device in to your computer with a USB cable. This will prompt a message asking for authentication. If you haven't synced or backed up with iTunes before, you will need to tap Trust on your device.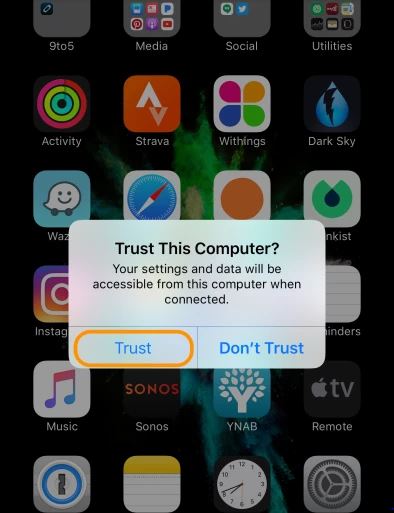 Step 1: Launch iTunes. iTunes should launch automatically when you plug in your device but in a case where it doesn't, open it manually by clicking on Finder → Applications → iTunes. Click the device icon in the top left hand area. Before you backup any files on iTunes check for the latest version of iTunes.
Step 2: Click on the summary window in the iTunes application, there are two options "automatically sync when this iPhone is connected" and "Sync with this iPhone over Wi-Fi". To save any changes, click on "Apply" at the lower right corner.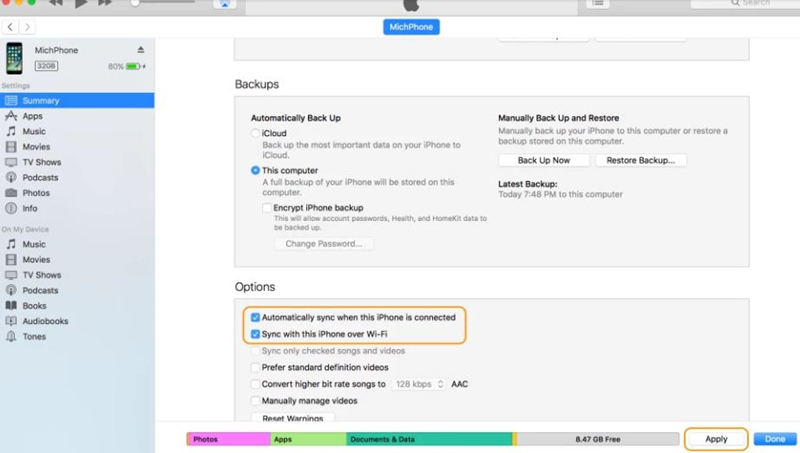 Step 3: Back up your device. Click "Back Up Now" to manually start the backup. When your backup to iTunes is completed, a timestamp will appear at the right side of the iTunes application. You can select "This Computer" for the option "Automatically Back Up your device anytime you plug it into your computer". You can choose iTunes as the primary backup option or use iCloud alternatively as needed.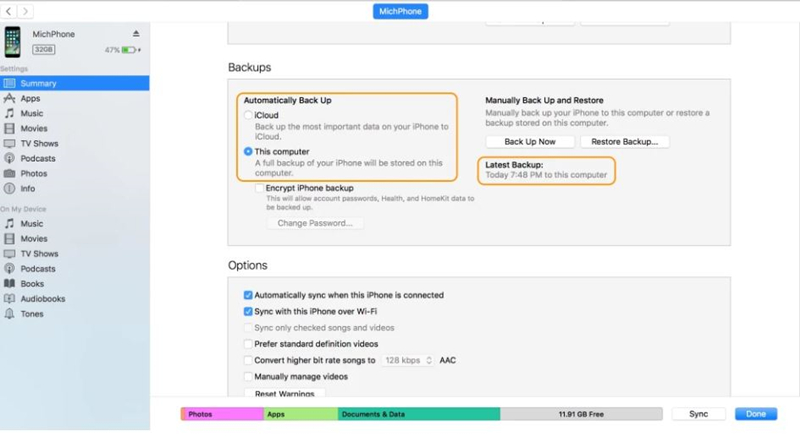 Related Tips: How to Unlock iPhone Backup Password
PassFab iPhone Backup Unlocker is a tool designed to help users quickly recover backup file password for iOS devices (iPhone, iPad or iPod touch). This software utility tool has helped millions of users find their iTunes backup password and solve their password problems. It is an excellent, secure and affordable product. it is the simplest and fastest iPhone backup password recovery tool. If iTunes keeps asking for a password protecting your iPhone backup, it means you cannot restore your iPhone backup if you don't have the password. In an event like that, this tool offers you the best solution to unlock your backup file password on your iOS device using the following steps.
Step 1: Choose iPhone Backup File
Install PassFab iPhone Backup Unlocker software then launch after it has been installed. Click on "Retrieve iTunes Backup Password" add then select your encrypted backup file from the dropdown list to import it to the software. If you do not find your backup file in the list displayed, click on "Import backup files>>" link to call it into this program.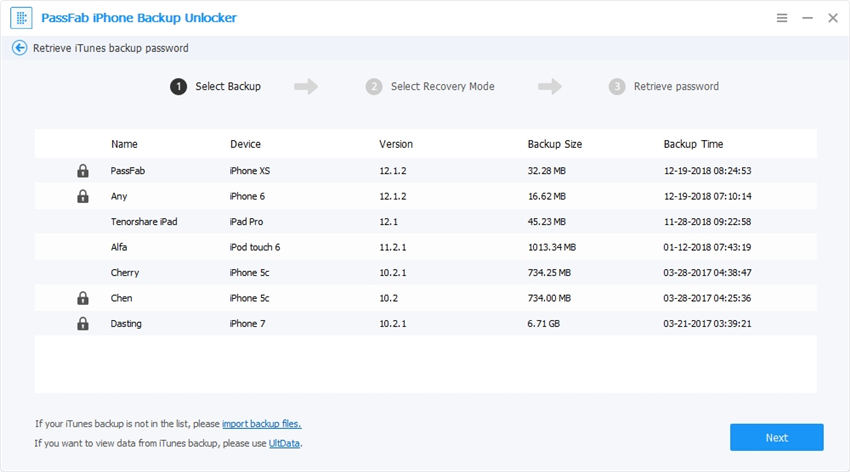 Step 2: Select Proper Attack Mode
There are three password attack modes in this iTunes backup unlocker namely Dictionary Attack, Brute Force with Mask Attack and Brute Force Attack. They are listed on the open window; there you can click on the option that suits you. Below are few descriptions of each attack mode.
Brute-force Attack: In this attack mode, a comprehensive batch of letters, symbols, and numbers all combined. It basically tries all possible characters combination randomly when the user has forgotten the password completely. It is the most time-consuming password recovery mode because of the nature of its approach.
Brute-force with Mask Attack: This approach is recommended for users who still have a tentative idea (e.g. length of the password or some parts of the character set) of the password in question. With that, you can define the parameters to fasten the decryption process.
Dictionary Attack: This attack mode automatically searches for the possible password combinations based on the integrated dictionary or the one provided by the user. You can add your own dictionary library by clicking on the Settings button.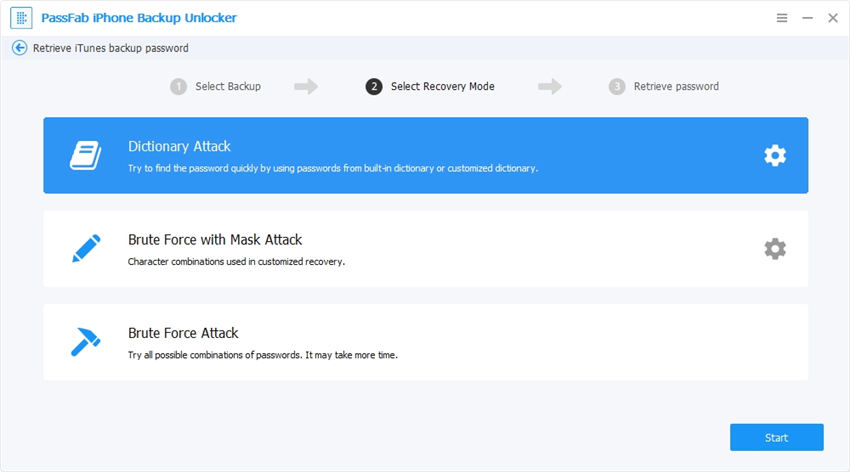 Step 3. Unlock iTunes Backup Password
After a while, your backup password will be displayed in a pop up window. After the program finds your password, the password can be used to decrypt the document file.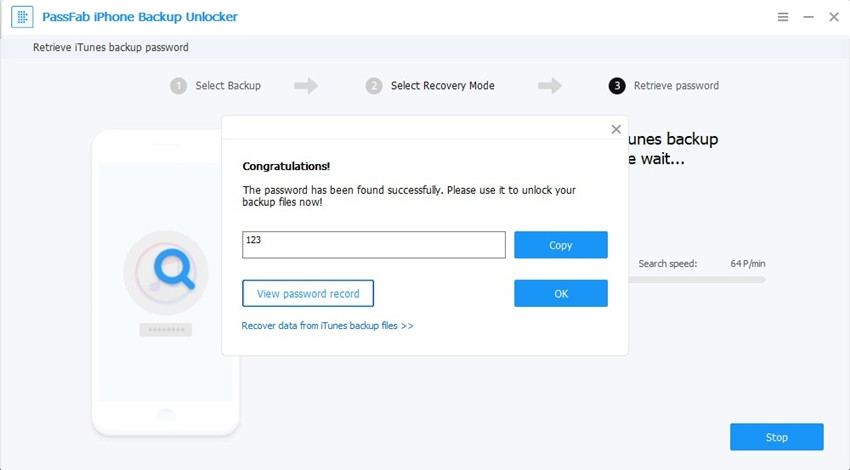 Summary
We hope that these detailed steps provided above have been very helpful and that you have been able to backup iPhone to iTunes without a hitch. PassFab iPhone Backup Unlocker has been tested and proven to generate accurate results but if you had any difficulties using the software to recover your forgotten iTunes backup password, please leave a comment in the comment section and we would get to that as soon as possible and if you have tried any other more efficient methods, we would be glad to receive your feedback and respond to any questions you might have. We are also sure to update this post with some more useful tips to keep you covered. Last but not least, check this article if you need to restore iPhone from backup.