iCloud backup is a backup tool for Apple device. With iCloud backup, you can backup data in iCloud. In this article, we will talk ecerything you need to know about iCloud backup.
Part 1. Why You Need to Backup iPhone/iPad to iCloud?
Backing up data and files is really important because there are certain risks associated with handling any device. There are a number of ways files can be lost unexpectedly such as theft, iPhone crashing or physical damage to the device. Files stored on iCloud are safe from damage to physical devices and can be remotely accessed from any apple device with proper authentication. Another reason why people backup their iPhones to iCloud is to maximize memory. Some iPhone versions have small memory e.g. 16 GB devices, backing up to icloud frees up the memory and gives 5GB of storage. When you backup your iPhone or iPad, you will have a copy of your information to use in case your device is ever replaced, lost, or damaged. These files can be stored on the cloud for as long as needed and can be easily accessed anytime.
Part 2. How to Backup iPhone and iPad to iCloud
Before now, you may have been looking to find an easy and straightforward way to backup your iPhone or iPad to iCloud. Here are some simple steps to get that done in a few minutes.
To get started, first connect your device to a Wi-fi network all through the backup process.
Step 1: Go to Settings on your device, tap on your name and then tap iCloud.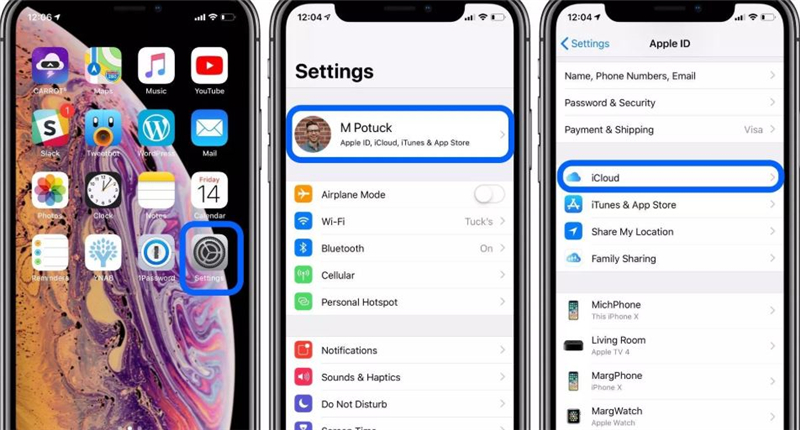 Step 2: Scroll down till you see iCloud Backup and tap on it. If the toggle to the right of the iCloud Backup option is not green, tap on it to turn it on. Below that, there is an option to start a backup manually by tapping Back Up Now.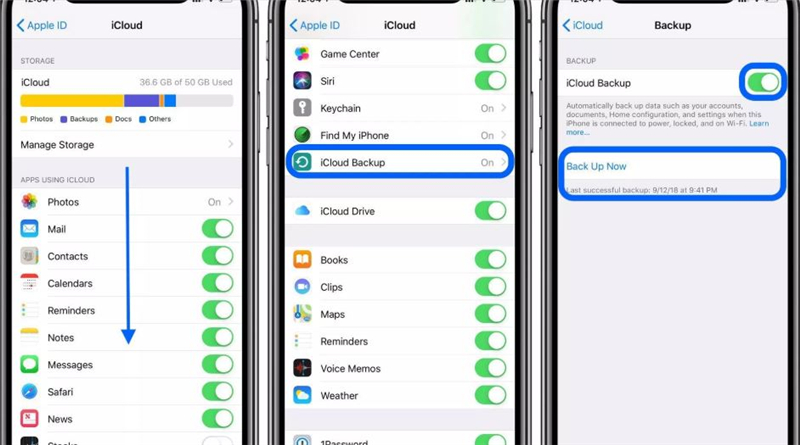 Step 3: Select the "backup now" option to start the process. Below that option, you will see a timestamp indicating your last successful backup.
Part 3. How to Automatically Backup with iCloud Backup
You can automatically backup to iCloud everyday. Once the iCloud Backup option is turned on, your iPhone or iPad will automatically backup any time it is connected to a power source and a Wi-Fi network with the screen locked. Apple includes 5 GB free icloud storage but it sometimes isn't enough. Another option is to upgrade to a larger plan like buying 50GB at a rate of 0.99$ per month. There are other storage plans available for different rates. You can check how much iCloud Storage you have and upgrade it using the following steps.
Step 1: Scroll to the settings widget on your device, tap on iCloud then tap on storage.
You will see "change storage" option, tap on it. This should show you your current plan and the upgrade options.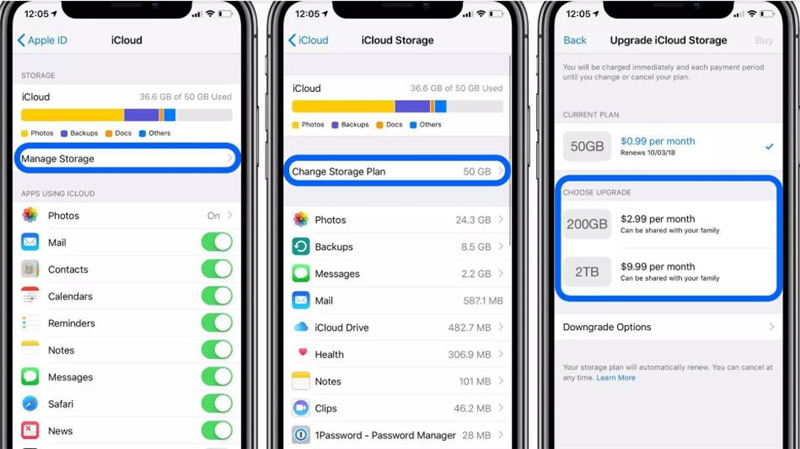 Bonus Tips: How to Unlock iPhone/iPad Backup Password
PassFab iPhone Backup Unlocker is an effectual backup password tool used to unlock backup file password in iPhone, iPad or iPod touch. This tool is the simplest and fastest iPhone backup password recovery tool. It offers you the best solution to unlock your backup file password on your iOS device using the following steps.
Step 1: Select iTunes Backup File
Install PassFab iPhone Backup Unlocker and launch after installation. Click on "Retrieve iTunes Backup Password" add then select your encrypted backup file from the list. If you do not find your backup file in the list displayed, click on "Import backup files>>" link to call it into this program.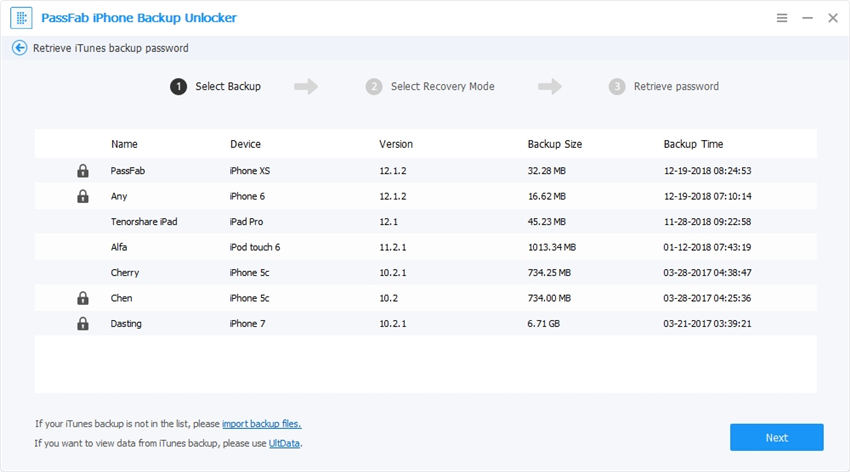 Step 2: Select Password Unlock Type
On this page, three password attack modes are listed. Click on the option that suits you. The three password attack modes are dictionary attack, brute force with mask attack and brute force attack.
Dictionary Attack: This attack mode automatically tries multiple possible password combinations in the provided dictionary. You can also add your own dictionary library by clicking the Settings button.
Brute-force with Mask Attack: If you still have a rough idea of the password in question, this mode is preferable. You can define the parameters (e.g. Minimum or Maximum Length, frequently used letters and/or numbers, special characters) to fasten the decryption process.
Brute-force Attack: This is the most time-consuming and last attack mode; it runs an all-encompassing match of letters, symbols and numbers combined.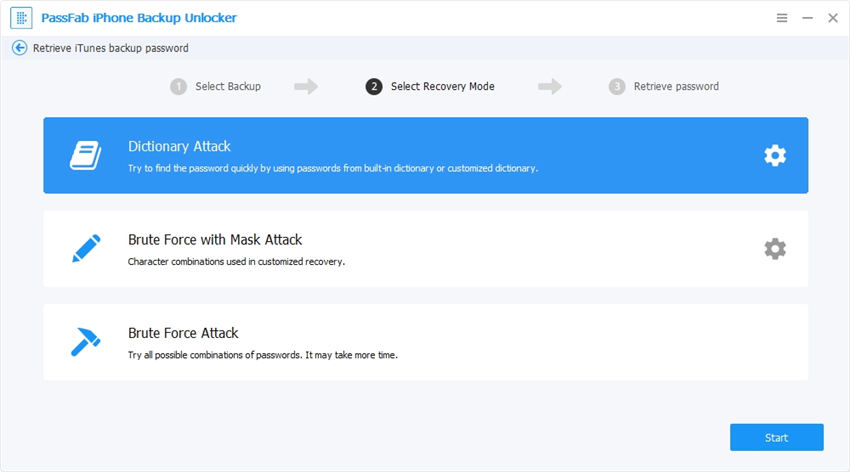 Step 3. Unlock iPhone Backup Password
You should wait until the software shows your password in a new window. After the iTunes backup unlocker finds your password, you can use the found password to decrypt the document file.
Summary
With the steps provided and thoroughly explained above, we hope you have been able to acquire enough knowledge on how to backup iPhone to iCloud without any difficulties. It is possible that you might be learning about PassFab iPhone Backup Unlocker for the first time, you can try using this tool to recover your forgotten password by following the steps listed above.
If you have tried any other more efficient methods for iCloud backup, you could post a comment or suggestion in the comment section. And if you found this information really helpful, please do not hesitate to share with others. We would be glad to receive your feedback and respond to any questions you have as soon as we can. We are also sure to update this post with some more useful tips to keep you covered. Much thanks for reading. Last but not least, also reading this article if you are interested in how to restore iPhone from backup.