In these days of technology, all the mobile companies are providing the option of encryption. All iPhones have the feature to encrypt iPhone backup and to make it more secure you can protect it with a password. What if you forgot iPhone encryption password because you haven't logged in for a long time? Now, let's talk about how to set the password for the encrypted data and how to recover the backup password .
Part 1. How to Encrypt iPhone Backup with iTunes
I saw a lot of users asking what is the default backup password for iphone. Well, there is no default iPhone backup password, if you saw the prompt box remind you to enter your password it means you did set the password before. Check how to back up the password now.
Step 1: Open iTunes on your computer. You have to make sure that you have the latest version of iTunes.
Step 2: Now connect your device with your computer. You will see your device (iPhone, iPod or iPad) appears on the top left corner of the iTunes window with Music button. Select your device. If you do not see your device icon, learn what to do.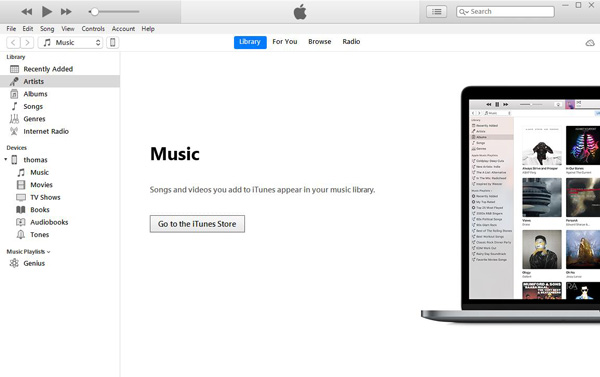 Step 3: On the next window, click on Summary in the left pane. Summary screen will open. In the Backups section select the "Encrypt iPhone backup" option written under "This Computer".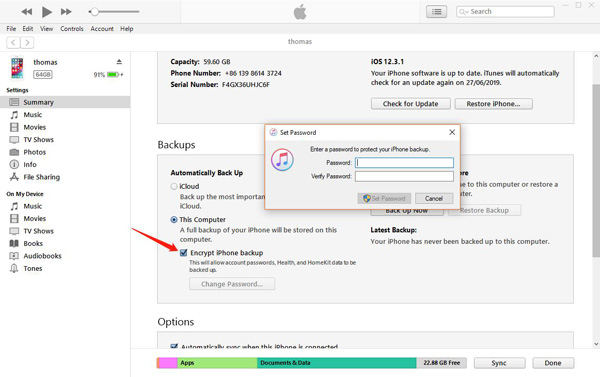 Step 4: Next you will be asked to make iPhone encryption password. You have to create a password that you can easily remember yet difficult enough for other people and specially hackers to guess and crack it.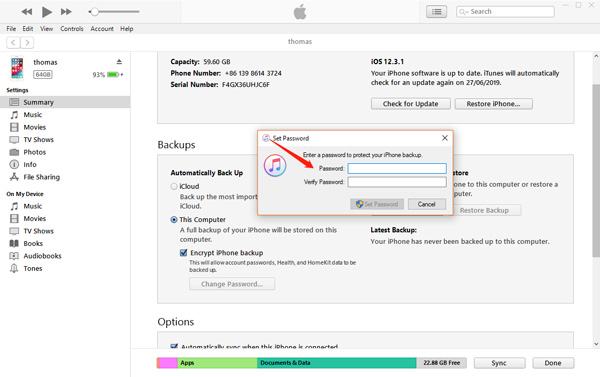 When you confirm your password, iTunes will start backing up. If you have backups stored prior to the latest backup, iTunes will overwrite it and encrypts them too.
After the completion of process make sure that your backup encryption is successfully finished. For this purpose, follow the below steps.
Step 1: For Windows users: Open iTunes. Choose Edit from the menu bar then click on Preferences. For Mac users: On top of your computer screen choose iTunes from the menu bar. Then click on Preferences.
Step 2: A window will open. Click on the Devices tab.
Step 3: You would see a lock icon is appearing on the right of your device name. This is because the iPhone backup is successfully encrypted. You can also see the date and time when the backup was created.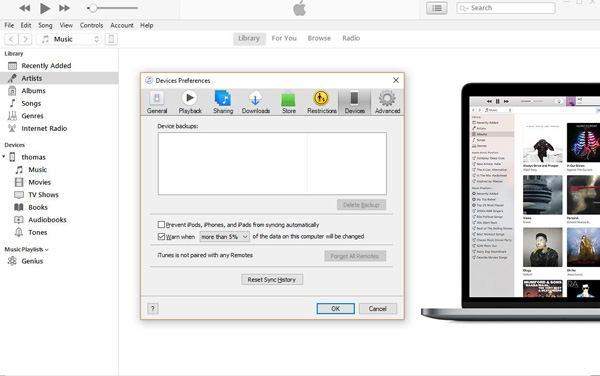 Step 4: Click on OK.
Part 2. How to Recover iPhone Backup Password in Minutes
Remember that you should store the iPhone backup password safely and do not lost it because it will be big trouble and you will not be able to restore the backup. But if you have forgot iPhone encryption password, you can try PassFab iPhone Backup Unlocker to unlock the password. It is an amazing software which can recover the password easily and efficiently. It has 3 types of effective attack modes which are:
Dictionary Attack: In this attack, iPhone Backup Unlocker will seek the possible password which is based on a dictionary.
Brute-force with Mask Attack: This attack type is used if you still remember parts of the password, such as length, character set, etc.
Brute-force Attack: In this attack type, the unlocker will try all possible character's combinations randomly when forgot password completely.
Here is how to reset encrypt iPhone backup password with PassFab iPhone Backup Unlocker
Step 1: Download and install PassFab iPhone Backup Unlocker. Run it on your computer where your encrypted backup is saved.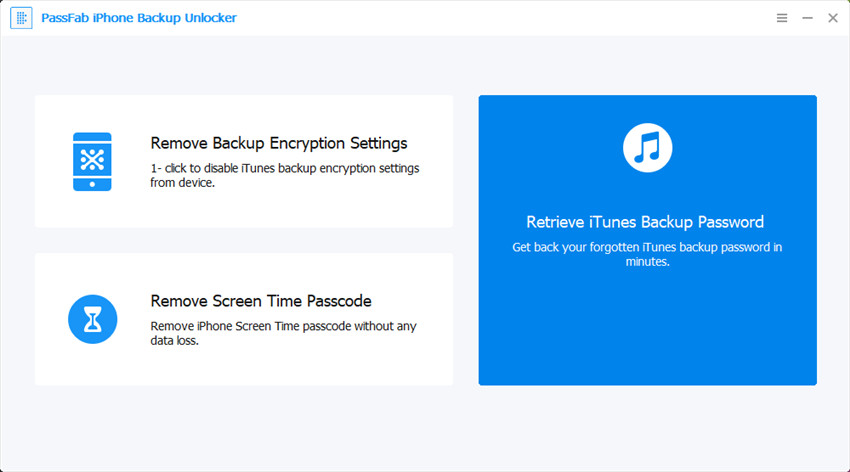 Step 2: Click on Retrieve iTunes backup password option. You will see all the backup files listed. If your target file is not listed then click on "import backup files" and import the backup file.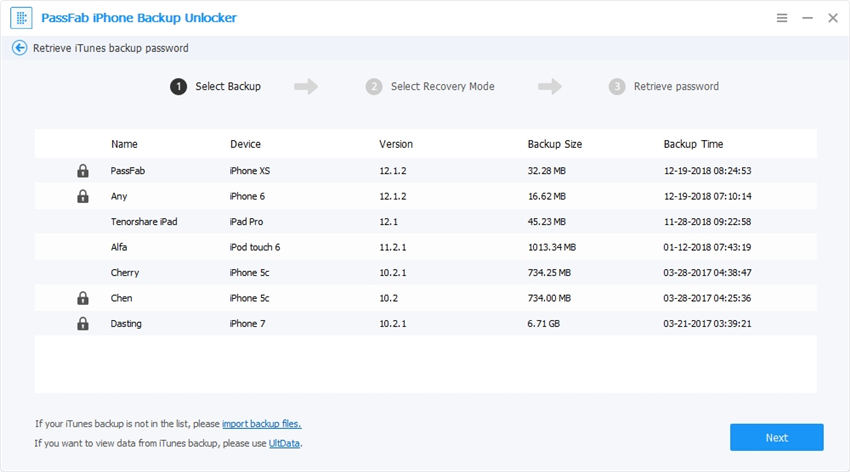 Step 3: Select the backup file and click on Next. On next screen you have to select an attack mode. You have to select from 3 types of attack modes. Choose one which suits you best. You can change the settings to cut the process short.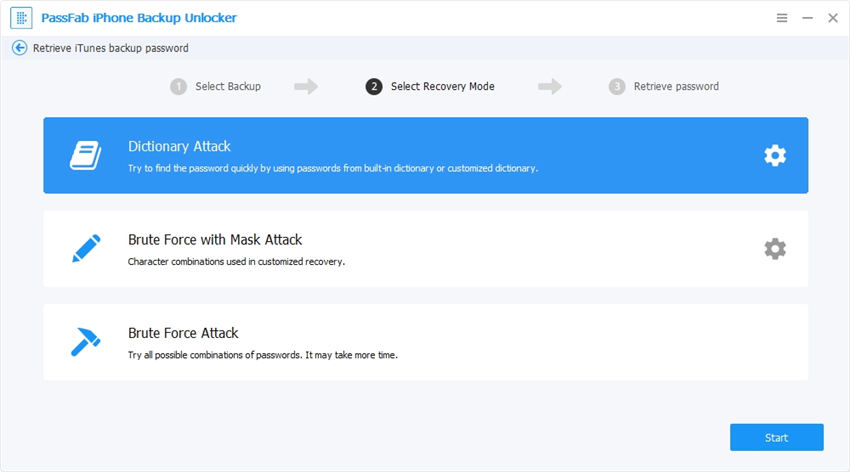 Step 4: When you click on Start, the recovery process will start. While the program is decrypting the password, you have to wait. The time required to find the password depends upon the password complexity.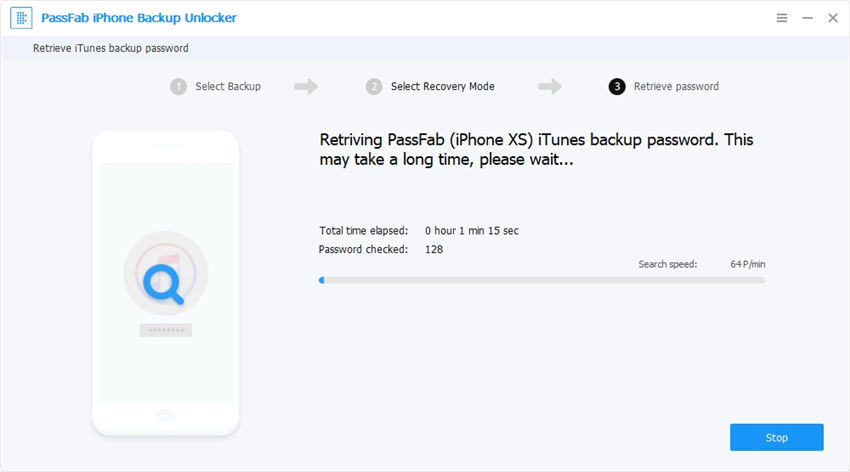 Step 5: When the process is completed, a pop up window will appear which shows your decrypted the password. Use this password to unlock the password protected backup file.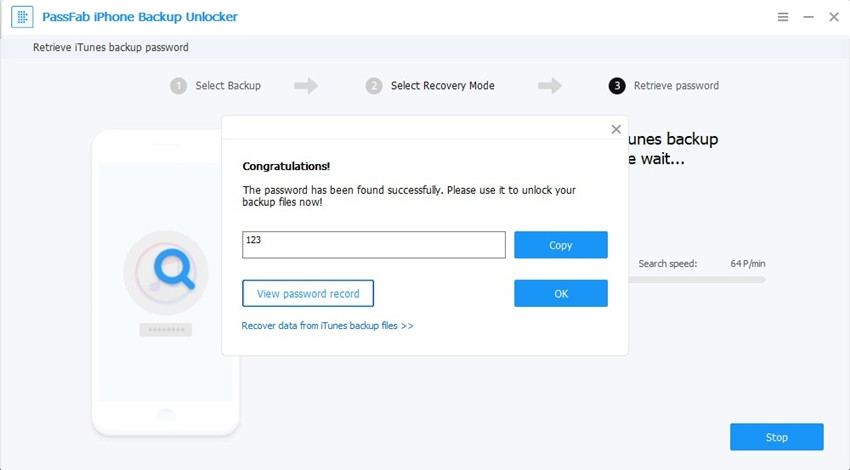 Summary
iPhone Backup encryption is the best method to store your data safely on your computer. A lot of people are becoming victim of personal information theft and it is troublesome to lost your personal data and files to someone stranger who can use that to hurt you. But that's not a problem anymore, as you can recover iTunes Encrypted Backup Password even if you forgot it.