'Your PC ran into a problem and needs to restart.' It has happened to the majority of us. You're working on your computer, then boom- a blue screen of death error message! It's one of the most annoying error messages as it crashes your computer randomly, and, in some cases, you might have trouble starting it back up.
While this issue could result from a problem with your registry, its roots may be Software and hardware incompatibility, faulty drivers, or firmware. We all appreciate a computer that runs smoothly.
Unfortunately, if your storage disk is saturated with outdated files, you won't get the system performance you need. You can quickly fix that by getting a new hard drive, but there's a much easier way to reclaim your space without breaking your bank. And that's where a Windows disk cleanup tool comes in.
Part 1: What is a Windows Disk Cleanup Tool?
Disk cleanup tool is a software tool on Microsoft that debuted with Windows 98 and has been part of every version of Windows after that. This feature allows users to delete files they no longer need safely.
Removing unnecessary files on your computer, including the temporary files, runs faster and more efficiently. In fact, it's a great maintenance practice to run a disk cleanup tool at least once a month.
The disk cleanup tool can remove downloaded application files, offline webpages, temporary files from the internet, and program files you can safely delete. On top of that, the tool can help you delete thumbnails and temporary files and empty the recycle bin.
Part 2: What Can be Deleted Through Disk Cleanup?
A disk cleanup tool comes in handy as it helps keep your Windows device in good health. While there's so much you can delete with this tool, the main focus should be on;
Internet cache files
Downloaded program files
System log files
Recycle bin
Temporary files
System queued Windows Error Reporting
Per user queued Windows Error Reporting
Per user archived Windows Error Reporting
Delete old restore points after creating new ones
Remove sent windows error and crash files
Tips:
Before you delete the recycle bin and local temporary files, go through them and confirm if there's anything you'd like to keep. It's crucial to delete both as they take up the most space.
Part 3: How to Use the Disk Cleanup Tool?
Open the File Explorer on your Windows device

On the hard drive icon, right-click then select properties

Click 'disk clean' on the General Tab

The disk cleanup will start running. This may take a few minutes as it calculates the space to free up.

A list of files will pop up. Uncheck any files you don't want to delete. Then click 'OK.'

To start the cleanup process, click the 'delete files' button, then wait for the disk cleanup to finish.
Part 4: Extra Tip- Free up Your Space with Delete Duplicates on Windows
Removing the old and unnecessary files from your computer is crucial as it improves the Pc's overall performance.
One of the best Software in the market right now is the PassFab Duplicate File Deleter for Windows. It cleans your Windows hard drive, ensuring your computer runs at optimal levels. This helps lessen the frustration that comes with performance issues, all while removing any unnecessary files that might be taking up space on your PC.
Essentially, the PassFab windows cleaner saves time and money, so you don't have to go to a professional immediately when your computer slows down. Some of the features that make PassFab Duplicate Files Deleter for Windows stand out include;
It can find and remove duplicate files and images on windows
It works with all file formats; audio, document, photo, and video
It's compatible with Widows laptop, PC USB flash drive, internal and external hard drive
It supports Windows 11/10/8.1/8/ and 7
Download and install the Software to your Windows computer, then launch the main interface.
Add the folders you'd like to scan with the Software
Use the settings button at the bottom left corner to set your scanning mode.
click on the 'scanning duplicates' button and start your scan.

After the scan is complete, the duplicate files will appear on the left side of your interface. You can click to see the duplicate files, and you can preview and compare them before removing them.

Click yes to delete the duplcites from your computer after scanning
Part 5: Frequently Asked Questions
Q: How do I open disk clean up?
A: While multiple ways to open disk cleanup on all Microsoft Operating Systems exist, the most convenient way is using the start menu.
Just type in 'Disk Cleanup' in the search bar, and you will access the tool.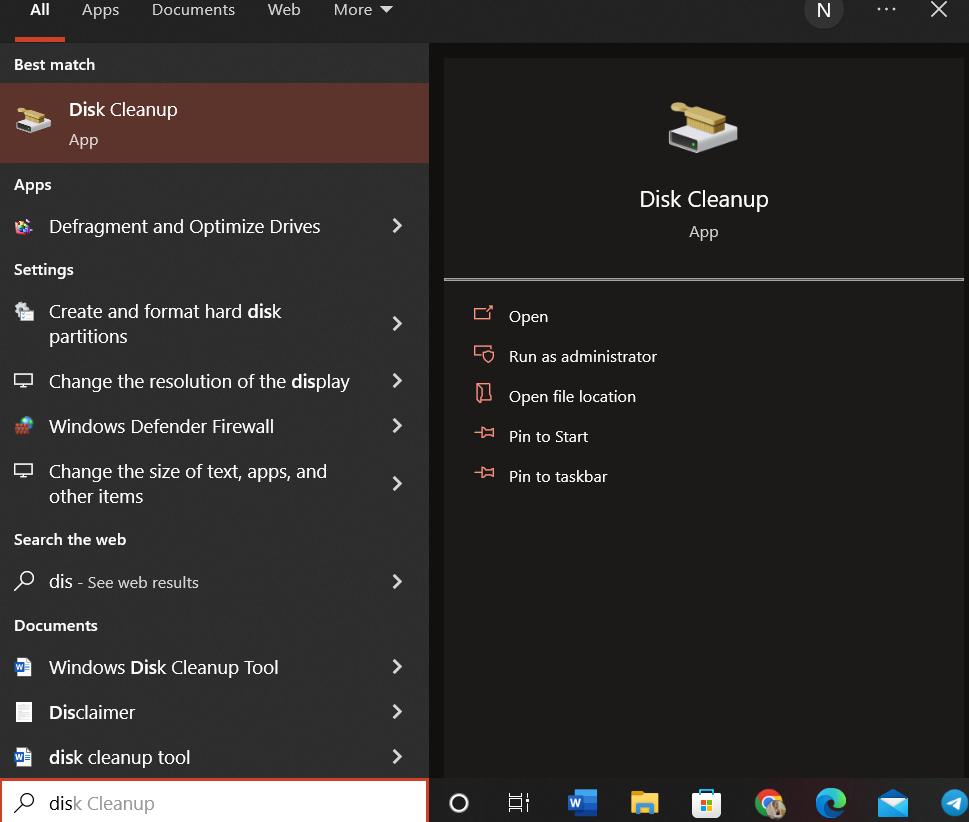 Q: Is it okay to do disk cleanup?
A: Generally, you can safely delete anything you'd like with the disk cleanup tool. All the same, avoid touching the 'Windows ESD Installation Files' unless you really need that extra space. Also, remember that the disk cleanup tool cannot uninstall an update, remove a device driver or troubleshoot system problems.
Q: Do I need disk clean up?
A: Disk cleanup helps remove files you no longer need hence reclaiming so much space on your hard drive. Also, disk cleanup improves your computer's performance, making it a crucial monthly maintenance task.
Final Thoughts
If you use a Windows computer often, I'm sure you want it to function at optimal levels at all times. Unfortunately, if your hard disk is full of unnecessary files, that can primarily impair its function.
The good thing is that with the help of a Windows disk cleanup tool , you can increase your hard disk's capacity and system performance. With that said, take advantage of the PassFab Duplicate File Deleter - a professional disk cleanup tool that can accurately and efficiently delete duplicate files on your Windows PC.