In many cases when we want to save or protect our worksheet or workbook from other people so that no one can modify our personal or important data, we always prefer to encrypt our worksheet with password. But doing this can take us into lots of problems if we lost that password. Because of lost password we can't open our important worksheet when there is more need of it. So the question is that what we need to do in such case if somebody lost it. Today we are going to let you some amazing step by step instructions that will help you brute force Excel password.
Solution 1: Brute Force Excel Password with ZIP Software
If you are looking for password for Excel document that are .xlsx format, then this solution only can be helpful for such documents only. Consequently, if you are using an Excel document is in .xls extension, simply access your protected file and afterward spare it as .xlsx extension.
Stage 1: In second step you need to change Excel document format from .xlsx to .zip. Simply tap on Yes to ensure when incited.


Stage 2: In second step you need to access the ZIP achieve with 7-ZIP. Then you need to open xl->worksheets and there you will be able to find different sheets.xml document. On the off chance that you need to open the sheet1.xml document, then choose that sheet. Right tap on it then you need to choose Edit, at the end you need to access it with the help of Notepad. You can see everything in the pictures below. I am explaining each and everything step by step.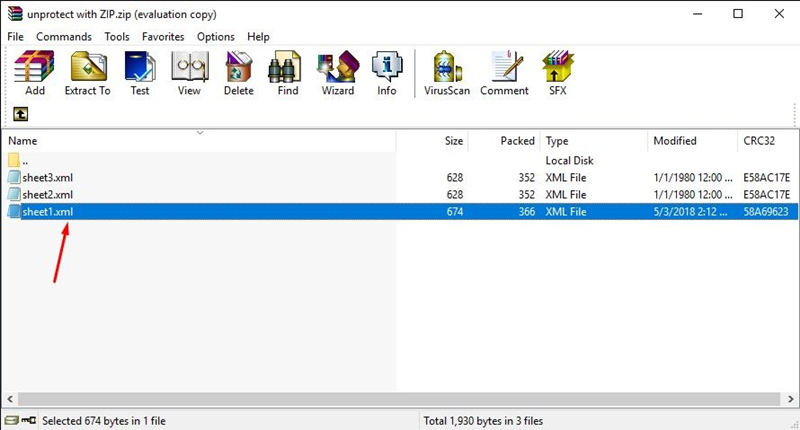 Stage 3: In step 3, you need to delete label starting along sheet Protection. At that point just save and shut down the sheet for which you are looking for password.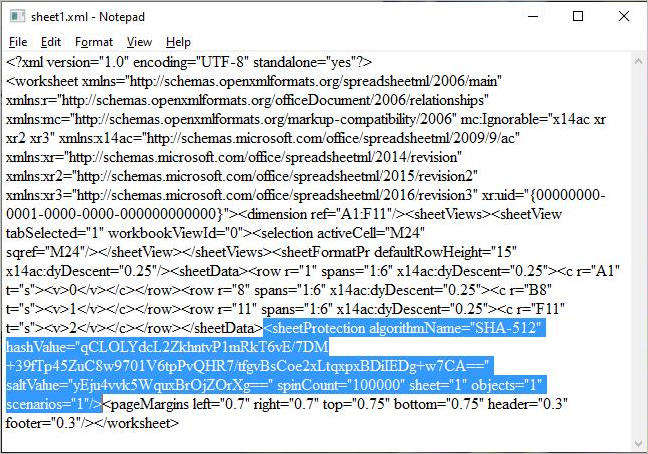 Stage 4: Now in fourth step you just need to update the changed sheet1 in the ZIP archive when provoked. At that point close the ZIP document.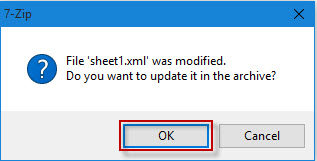 Stage 5: Now you need to change the ZIP format back to .xlsx. Now, you can see the file you were trying to open is now unprotected. Open it and you can alter the sheet without secret words.
Solution 2: Open Encrypted Excel File with the Use of VBA Code
You are also allowed to open encrypted Excel file with VBA code. For this you need to follow few steps.
Step 1: Open VBA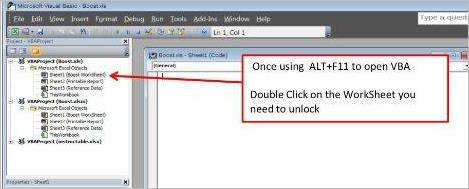 Just open an Excel sheet for which you are looking for password. Utilize Alt+F11 to enter the full scale proofreader. In VBA double tap the sheet you have to open from the menu posting on the left. This will open the general affirmations page for the sheet.
Step 2: Cut and Paste the Code Breaker.
Now I am going to show a password breaker code in the picture below, type it carefully.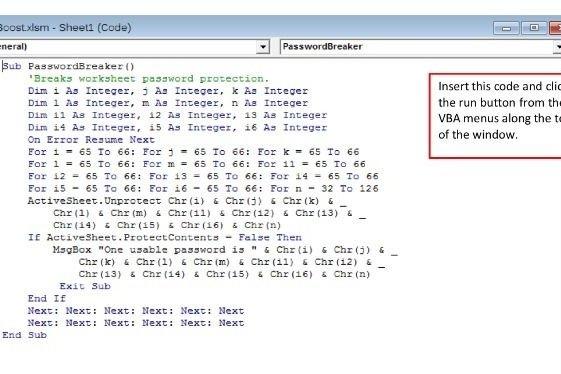 Hope you have type this code from above picture just insert this code, make sure to type it correctly.
Step 3: In 3rd and the most important step you need to run the Macro.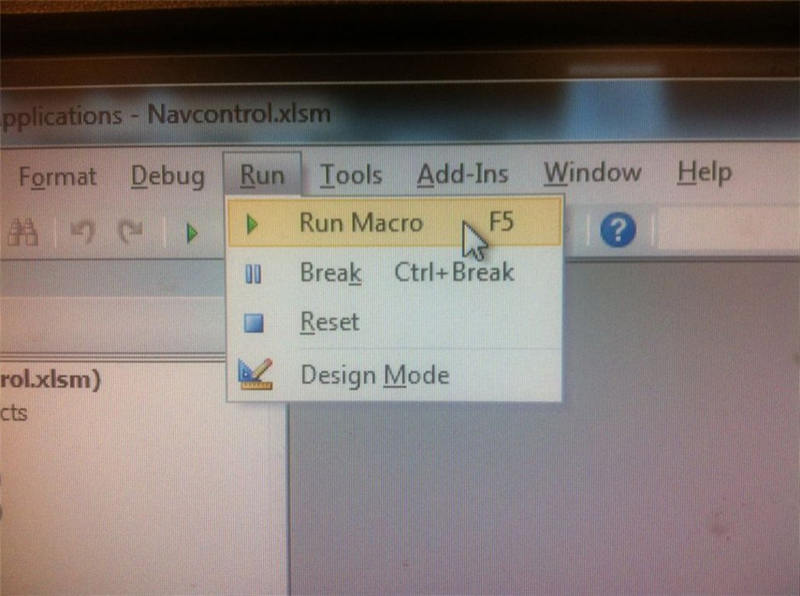 After the code is included run the Macro by choosing Run from the menu tab bar at the highest point of the VBA manager screen or press F5.
Step 4: In last step just need to use the Generated Code.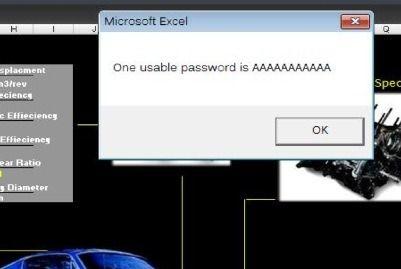 The full scale will return you to the worksheet you need to unprotect. An alarm style box will show up with a usable code.
In the Review menu tab click Unprotect sheet. Enter the created code for brute force xlsx password. Your sheet ought to be opened. Don't use this method to open others important and personal files use these tricks and software only for your use.
The above mentioned two approaches to unprotect Excel sheet without secret word. They appear a marginally bulky, yet they truly do work. In the event that you need a less demanding approach to spare time and inconvenience, attempt this amazing solution 3. You will definitely in love with this software.
Solution 3: Unlock Password Protected Excel File with PassFab for Excel
Last and the most important solution for all worksheets from 2003 to 2016 is using PassFab for Excel. We all know that every person always try to use free method so that he/she can open its important documents but at the end all these free methods doesn't work for brute force attack Excel password recovery but no more worries now we are here to let you know with PassFab for Excel to supprt all worksheets from 2003 to 2016 and if you are using a window Windows 10/8.1/8/7/XP/Vista.
If you are looking for Excel brute force password recovery, then just download this software - PassFab for Excel in advance. Just by following these amazing four steps you will easily find Excel password.
Step 1: In step 1 after you download the Excel password recovery software then the things you need to do is to install this software.
Step 2: After launching this software you will find an "Add" button, just click on that button and import the sheet for which you are looking for password.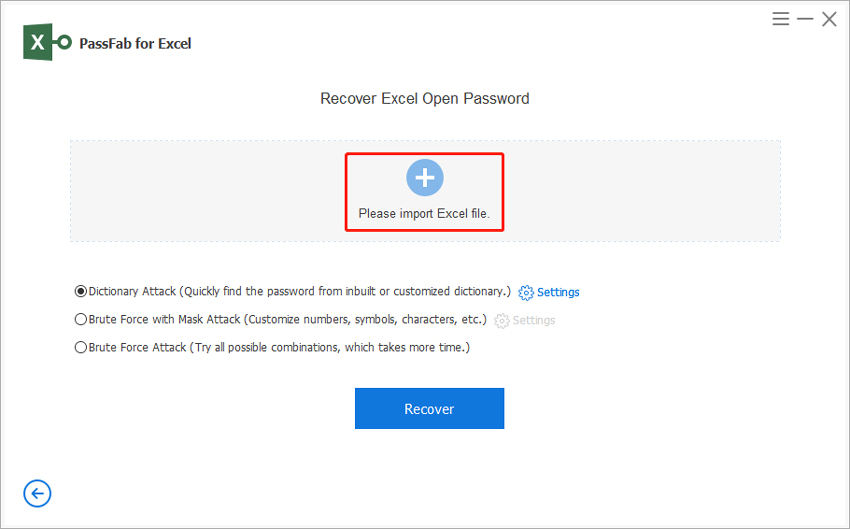 Step 3: In 3rd step you will find 3 attack modes. Brute-force Attack, Brute-force with Mask and Dictionary attack so just go for one mode that meets your requirements.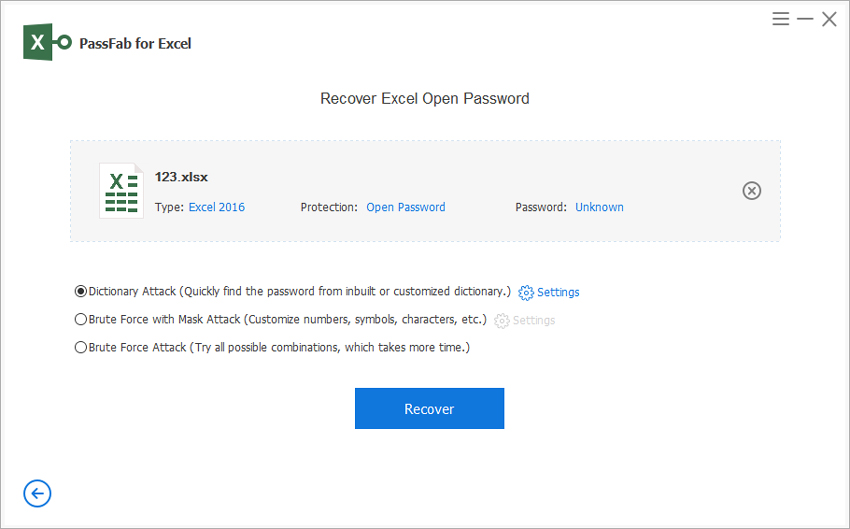 Step 4: Just click on "Start "and find your Excel file password successfully.
Summary
Ideally, the tip and traps we gave above will be useful to expel or recuperate Excel brute force password recovery, and get you into your secret word ensured Excel document! If you have gone for some other wonderful Excel secret key recuperation instrument, then must share your experience, post a remark in the remark segment, we will let you know with some more valuable tips secured to decrypt Excel file!
We have recommended these amazing tricks and ideas to others and got positive results from all of them. So after getting amazing reviews we made a blog so that everybody can get benefit from these ideas and software and if you like these then don't forget to share this post. We will recommend you don't go for free methods as free methods just waste your time. Free methods nothing helps you find the password back. Stay tuned with us for more blogs! For now, happy learning.