Microsoft Excel is a very convenient software for various people. However, we also often encounter different problems while using Excel. What you will do when you are facing corrupted, lost, damaged or unsaved Excel? If you are looking for solutions, then try the following third-party Excel repair tool to fix your files.
Part 1: Best 5 Excel File Repair Tool
1. Stellar Repair for Excel
Stellar Repair for Excel is a very useful Excel file repair tool on recovering corrupted or lost Excel files. With powerful advanced technologies, this tool can help you repair .xls or .xlsx files easily. It supports nearly all Microsoft Excel versions: 2019, 2016, 2013, 2010, 2007, 2003 and 2000. You can scan your Excel files and preview recoverable data in free trial.
This wonderful program has 5 features:
Repair corrupted Excel files simply and fast
Fix all corruption errors
Recover everything in your Excel files
Preserve properties of worksheet
Compatible with Windows 10, 8.1, 8, 7, Vista and XP and MacOS
You can have a try just following the below steps:
Step 1: Install and launch Stellar Repair for Excel.
Step 2: Select your corrupted Excel files by clicking "Browse". If you don't know where your files are, you can click "Search".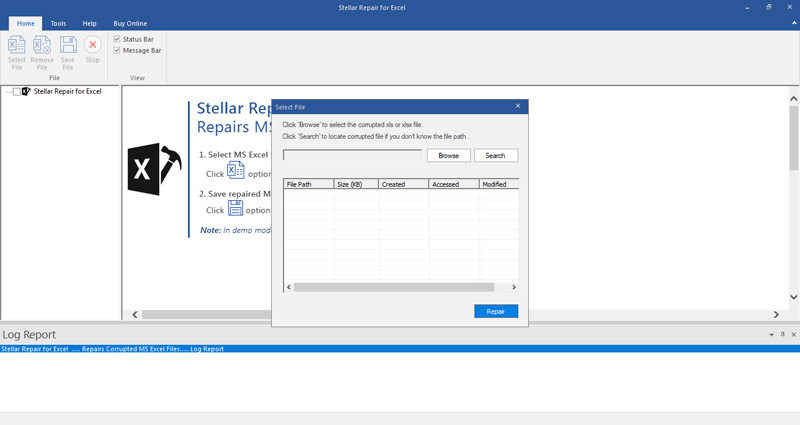 Step 3: Select Excel files you want to repair and click "Repair" button.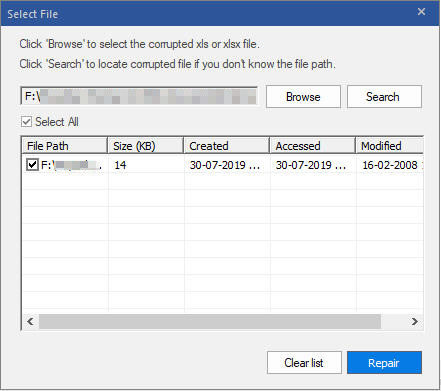 Step 4: The software will show all the files it has scanned in the left. And you can preview which you click.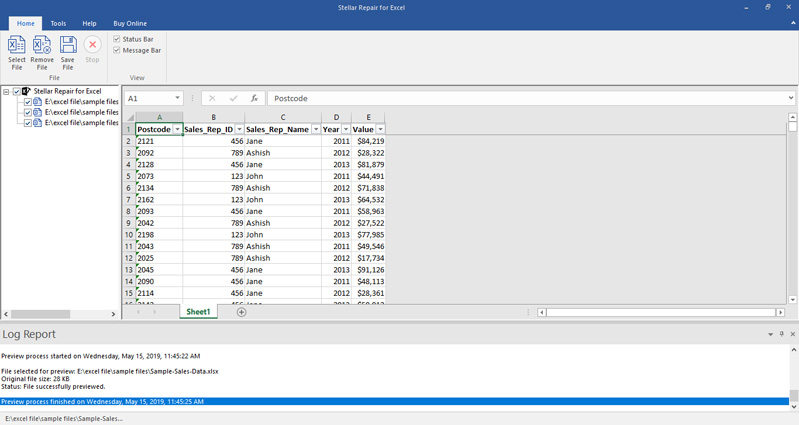 Step 5: Now you can save repaired Excel files in your destination. Choose "Default Location" or "Select New Folder".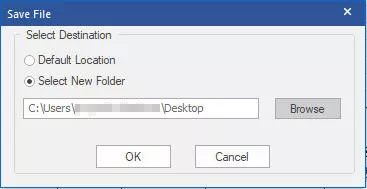 2. Excel Repair Toolbox
Excel repair toolbox is also a good MS Excel repair tool. It supports to fix corrupted excel with .xls, .xlt, .xlsx, .xlsm, .xltm extensions. But it is only compatible with Windows 95, 98, Me, 2000, XP, Vista, 7, 8 and 10.
You can follow these steps to use this tool:
Step 1: Install and run the program.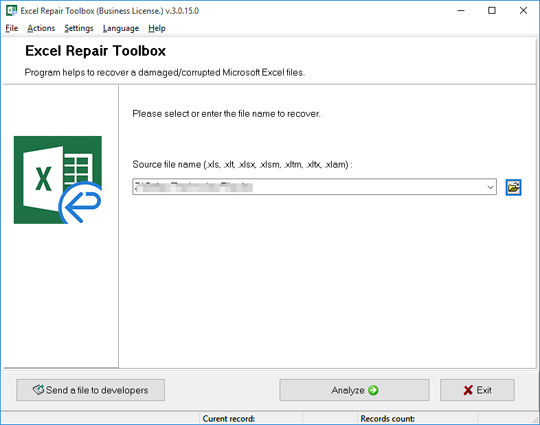 Step 2: Select one corrupted file.
Step 3: Click Analyze.
Step 4: Wait and preview cells.
Step 5: Select Start recovery.
Step 6: Save the file.
3. Recovery Toolbox for Excel
This software is similar to Excel Repair Toolbox, and it is not free to use. Like the former one, it also only supports Windows operating system. Detailed steps are as following:
Step 1: Install and launch Recovery Toolbox for Excel.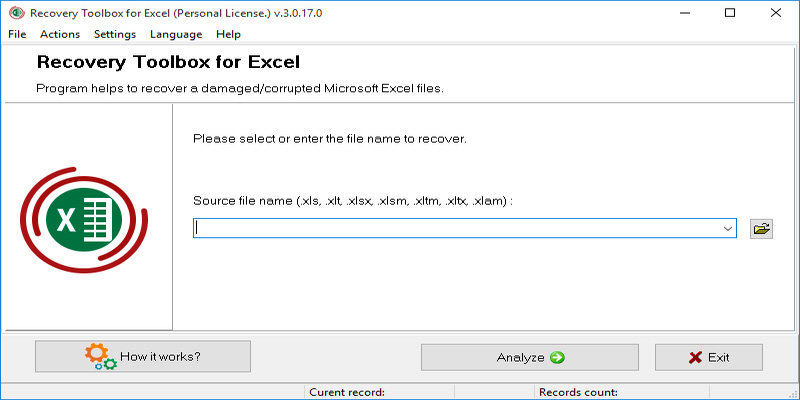 Step 2: Select a corrupted Excel file you want to repair.
Step 3: Press Analyze and wait.
Step 4: Preview the content.
Step 5: Tap Start recovery.
Step 6: Save the Excel file as .xlsx file.
4. XLS Repair Kit
This is another Excel repair tool for repairing corrupt Excel. Using this tool you can repair Excel files supported by MS Excel, and your system should be Windows 98 and later versions. Below are detailed steps:
Step 1: Install and Start XLS Repair Kit.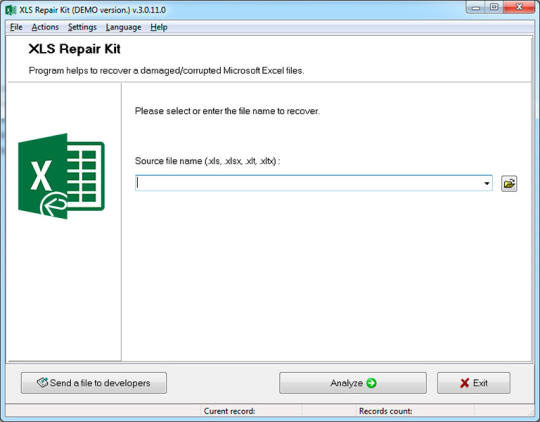 Step 2: Choose one corrupted worksheet.
Step 3: Click Analyze button.
Step 4: Confirm to recover your worksheet.
Step 5: Preview the worksheet.
Step 6: Click Start Recovery.
Step 7: Save the worksheet.
5. DataNumen Excel Repair
This one is an Excel repair tool free for personal use, only repair .xls and .xlsx files. It is also a software compatible with Windows system. And the repairing process might be a little longer. Follow these steps to repair damaged Excel files:
Step 1: Download and start the software.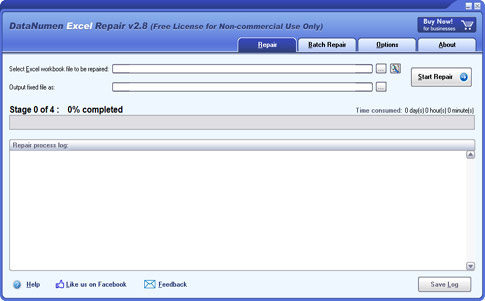 Step 2: Choose the Excel file need to be repaired by clicking three dots at the right side.
Step 3: Edit "Output fixed file as".
Step 4: Tap "Start Repair" to start the process.
Step 5: Check your output fixed file.
Part 2: Frequently Asked Questions
Q1: How do I recover a corrupt Excel file for free?
You can open Microsoft Excel and click File, then select open. Browse your files and find the corrupt Excel need to be recovered. Press the arrow next to 'Open', and select 'Open and Repair' in the menu. In a pop-up window, choose 'Repair'.
Q2: How does an Excel file get corrupted?
An Excel file get corrupted may be caused by a sudden power failure or a sudden mistake. Also, the Microsoft Excel can also get mistaken. And the extension might be not compatible with your Excel. These all may cause an Excel file get corrupted.
Q3: Can I recover an Excel file I didn't save?
Of course you can. Microsoft Excel provide automatically save the file service. If you have opened it, you can recover an unsaved Excel file from automatically saved files. Just click File in Excel and choose options. In the menu of Save, you can see where the automatically saved files are. Follow that path and you can find your unsaved Excel.
Read Also: How to Recover Unsaved Excel 2016 File Easily
Final Words
In this article, we have discussed 5 Excel repair tool that support different Excel files format and operating systems. And we also introduced the detailed steps using 5 tools for repairing Excel files below every tool. For the author's perspective, Stellar Repair for Excel is the simplest tool to use and the most convenient tool. Last, if this article is useful, please share it with others. Besides, you can try PassFab for Excel if you want to unlock password protected Excel files.