Sometimes to protect our confidential workbook from other users, we secure it through the password. When we want to send it to somebody else to use the same data, we can unprotect it, too. However, what if you forgot password to unprotect Excel workbook? Now, this article would introduce effective methods to unprotect Excel 2013 workbook with or without a password while Excel file is protected by an open password or modify the password.
Solution 1. Unprotect Excel 2013 Workbook with Structure Password
If you know the password of Excel 2013 workbook, then just clik on "Review", and then "Protect Workbook", and then type the password while it pops up a window to ask for it. After typing the Workbook structure password, you can easily unprotect Excel 2013 workbook easily.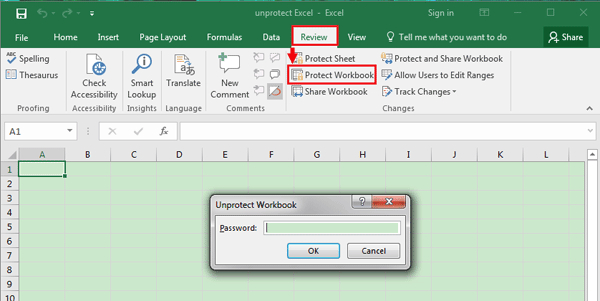 Solution 2. Unprotect Excel 2013 Workbook Using VBA Code
If you forgot the password to unprotect Excel 2013 workbook, VBA code is another method you can attempt to use. You'll know how to do that by following the below steps.
Step 1: Open the Excel file, and press Alt + F11 to open VBA window.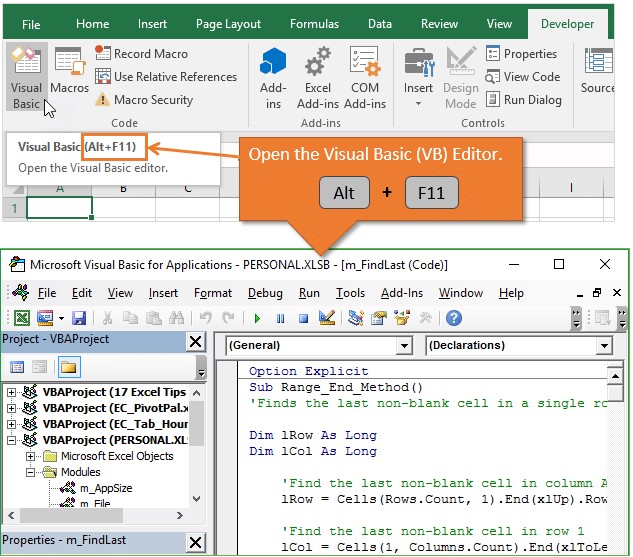 Step 2: Click on Insert, select Module.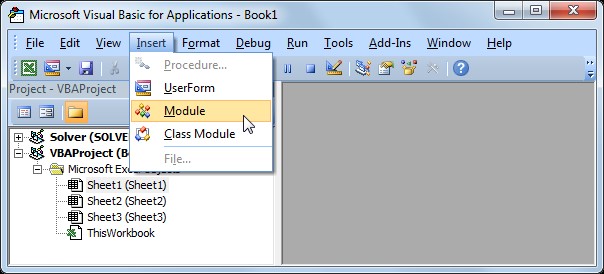 Step 3: On the General window, enter the VBA code.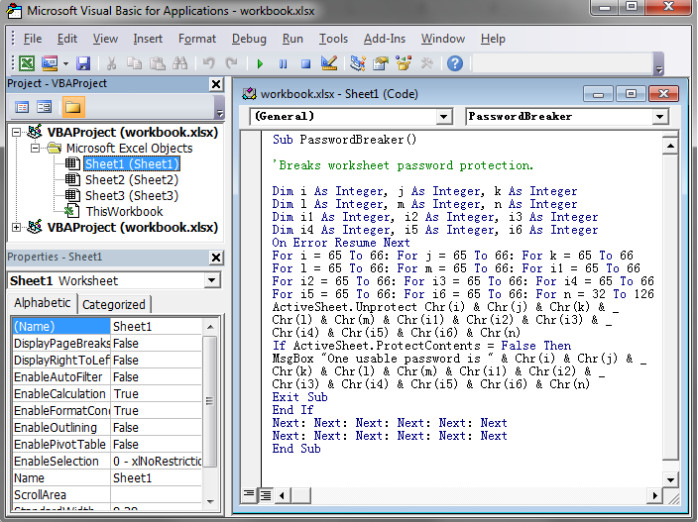 Step 4: Click on "Run" button (or press F5 key) to run it.
Step 5: In a second, a small box pops up, in spite of the password, just click on OK to close it. Close the VBA window, you will find your Excel sheet has been unprotected without the password.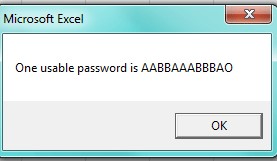 Solution 3. Copy Protected Excel Contents to Another Workbook
Supposing, you receive an Excel file from another person which workbook is protected by the user, now, you can't edit it. It pops up a window saying that "the cell or chart you're trying to change is on a protected workbook. to make changes, click Unprotect Workbook in the Review tab(you might need a password)". What can you do then? Just hit on OK and close the screen, copy and paste the raw data to another new workbook is a smart way.
Soluton 4: Unprotect Excel 2013 Password with Software
If your Excel password has been lost and forgotten, then effortlessly get it back using the best third-party Excel password recovery software which is a talented application to recover lost Excel password and unlock Excel file in a safe manner. Software never makes changes in Excel file records while extracting the password.
Here you can get the best solution to recover lost Excel password. Here I find PassFab for Excel software to crack Excel file password to open locked Excel file again. It's a relevant platform to get overcome of issue related to cracking Excel password or open excel without a password. Below steps are how to open Excel 2013 when you forgot the password.
How to unprotect Excel workbook 2013 via PassFab for Excel can be done in the below methods:
Step 1. Download PassFab for Excel, install and launch it.
Step 2. Choose "Remove Excel Restriction Password" option.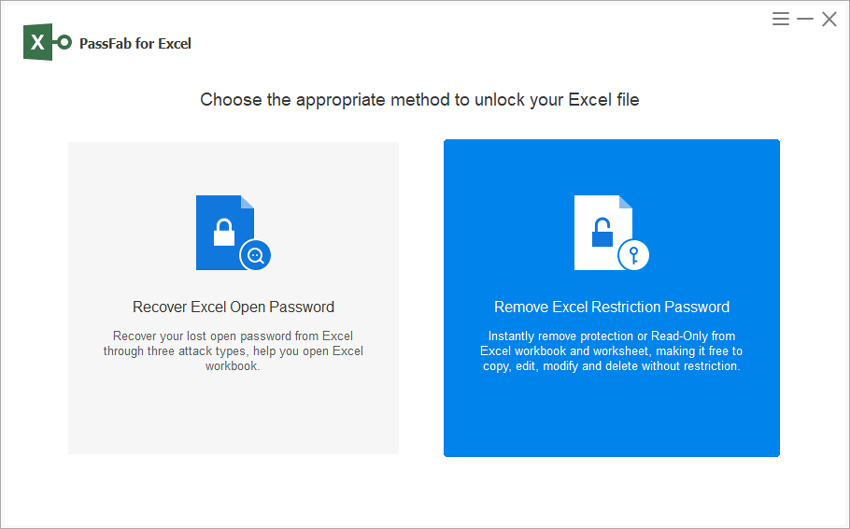 Step 3. Import the Excel file which you want to unprotect.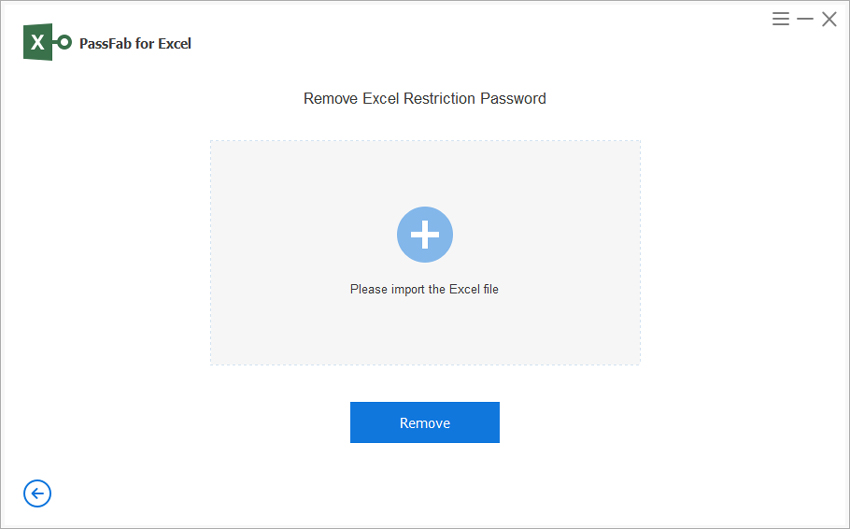 Step 4. Click "Remove" button, your Excel workbook password will be removed within second.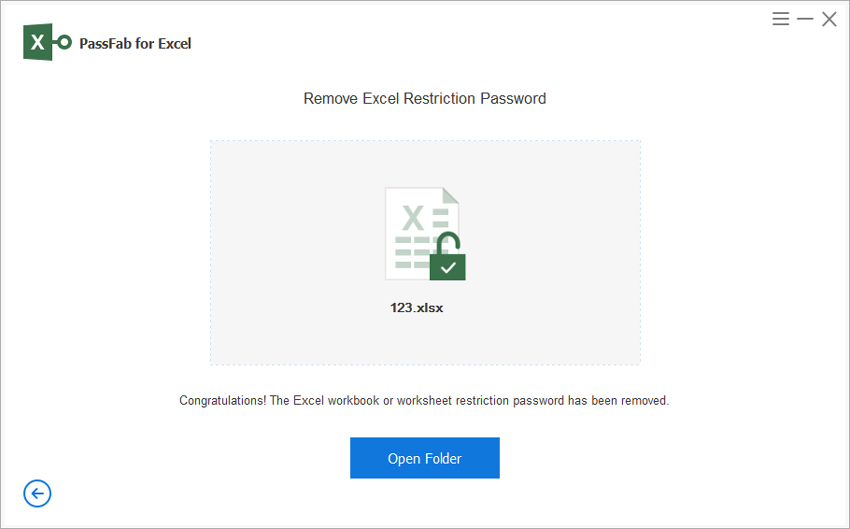 Here is the video tutorial about how to unprotect Excel worksheet without password, which is also working for Excel 2013 workbook unprotect:
Conclusion
In summary, are you still looking for a useful way to unprotect Microsoft Office Excel 2013 password? then you come to the right place. Hope you've read the information in details and you've gotten your best program. this is how you can unprotect an Excel workbook 2013 and unlock the entire workbook for changing or opening.