First of all, free download and install PassFab for Excel to your computer that is running on Windows operating system.
Step 1:Open PassFab for Excel
Double click the desktop shortcut of PassFab for Excel and open it directly. You will catch sight of its main interface.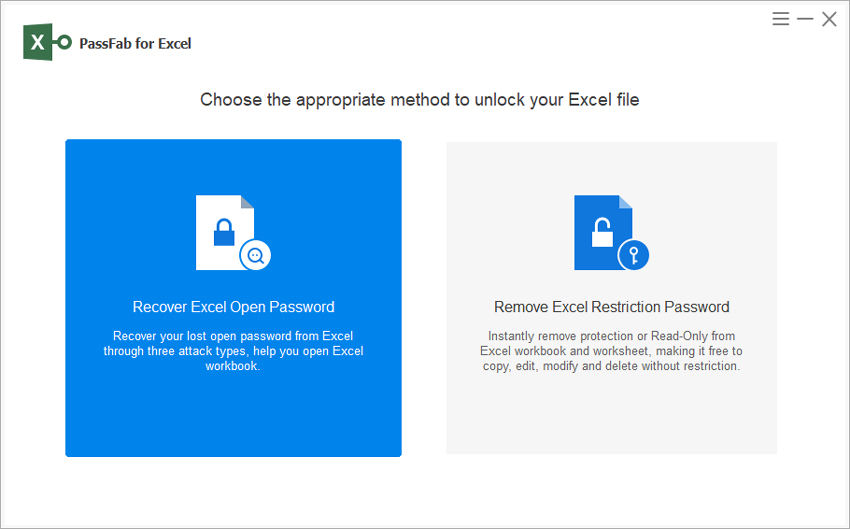 Step 2:Add Encrypted Excel File
Click on "Add" button to import password protected Excel workbook to this software. After that, it will detect the encryption algorithm and password complexity automatically.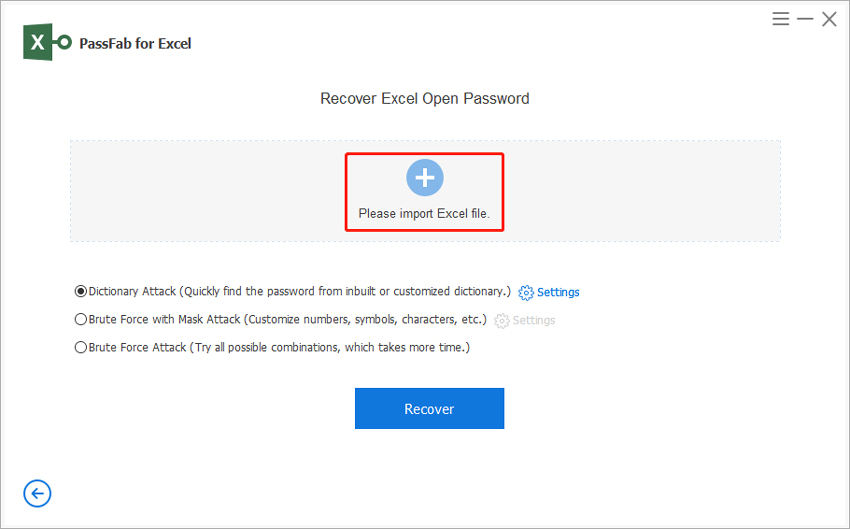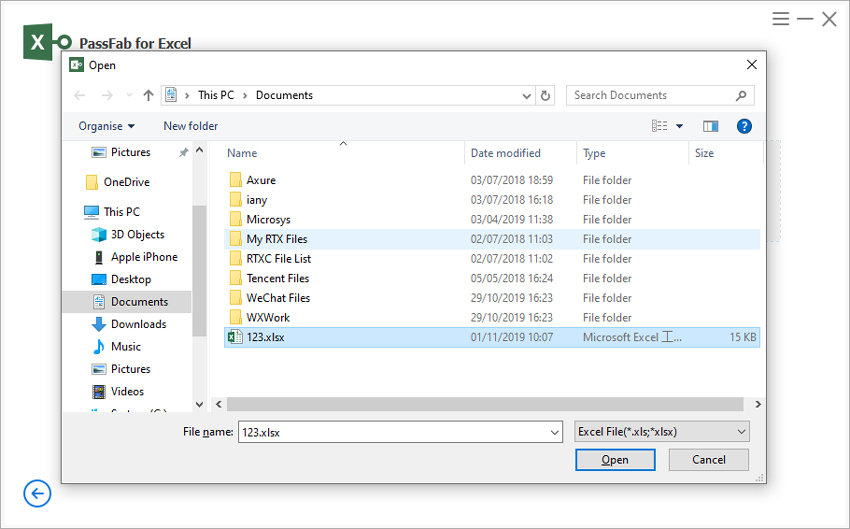 Step 3:Choose Password Recovery Mode
You can see list of password recovery modes, which are Dictionary Attack, Brute Force with Mask Attack and Brute Force Attack. Dictionary Attack is the default option. Just pick up one of them based on your actual situation.
1. Dictionary Attack
When to Use: If you know what passwords you've ever used, and they may be your Excel file password, then please put them in a txt file and import it to our software, it will automatically find out the correct one. If you have no idea about such files, this program provides a latest password dictionary for you.
How It Works: When you choose this type, you are capable of downloading the latest password dictionary built from our software as long as you click on "Settings" option.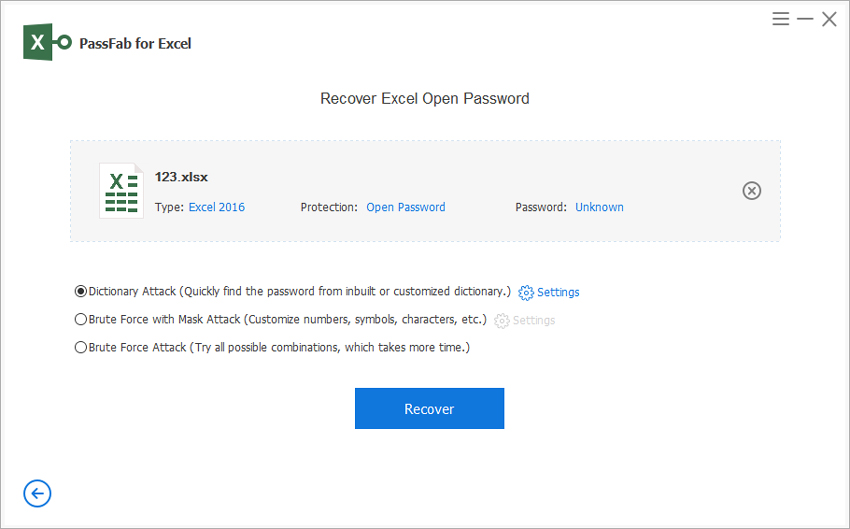 In the Dictionary Attack Settings, click on "Download Dictionary" button and start to download the latest and full-scale dictionary. Hit on "OK" and start to run the software.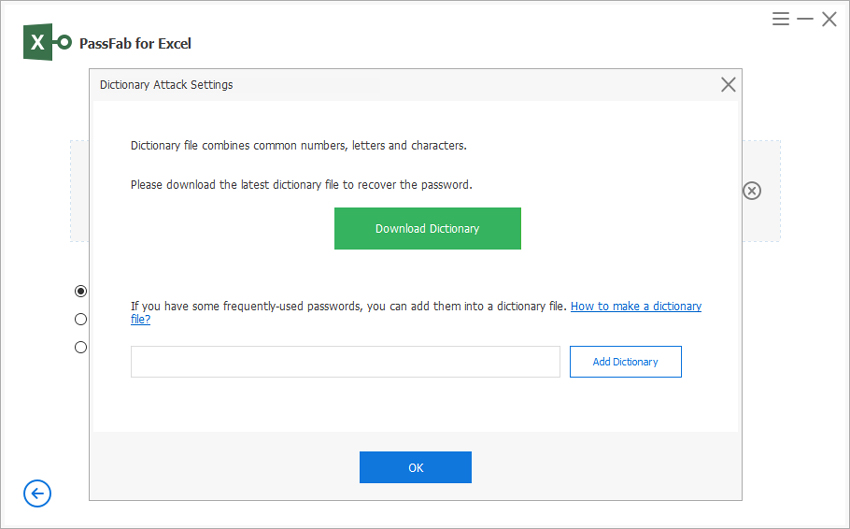 For Example: Put all the possible passwords in a text document, insert the document into PassFab for Excel and then run this software, it will get your password back. Otherwise, it will recover password from built-in dictionary.
2. Brute Force with Mask Attack
When to Use: If you know any clues about your password, such as length, characters, specify prefix or specify suffix, this is your better choice, then this mode is strongly recommended.
How It Works: Choose "Brute Force with Mask Attack" and hit on "Settings". In the Settings panel, set up the best combination for your lost password. Single click on "OK" button and exit Settings. Click on "Start" button to begin recovery.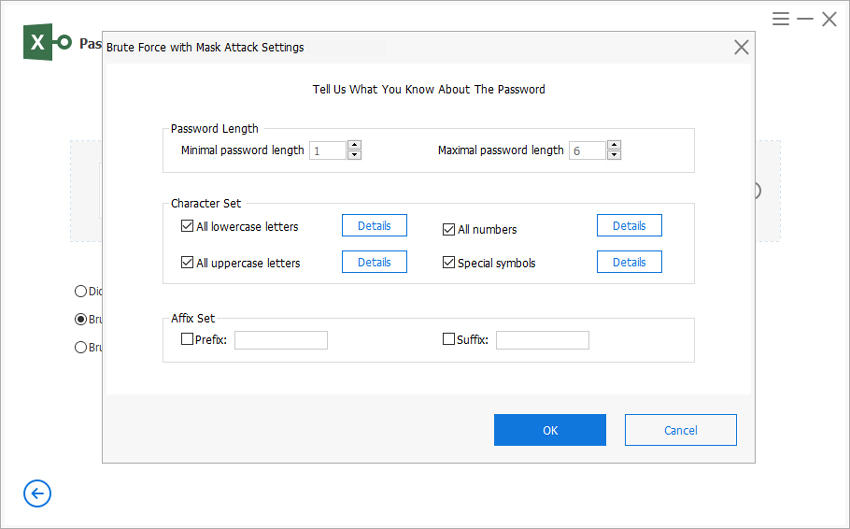 For Example: Suppose your password is five-figure, includes "8", "h" and "_" and the first character is "h", then you are suggested to tick:
Minimal password length: 1
Maximal password length: 6
All lowercase letters (a-z): h
All numbers: 8
Special symbols ([email protected]#): _
Specify prefix: h
After these settings, you are going to get password back smarter and quicker.
3. Brute Force Attack
When to Use: If you really have no idea about your lost Excel file password, then this is the last but not least option.
How It Works: Click on "Brute Force Attack" in the main user interface and then hit "Start" button to perform Excel password recovery.

Step 4:Recover Excel Workbook Password
The program will start recovering Excel password. In a few minutes, the correct password will be displayed in a pop-up window.