You must be reading this article because you encountered the Windows 10 WiFi not working issue. Basically, it makes the user unable to connect to any network. It is true that this matter can be quite frustrating as it halts whatever work you are performing with the help of an internet connection. Many Windows 10 users have reported that WiFi is not working on their laptop. So, if you are one of these unfortunate users, you may be asking what you can do about it? Well, don't worry anymore. In this article, we have gathered some of the best methods that can make your problem vanish. So, let's check them out!
Why Is My WiFi Not Working in Windows 10?
The first question which arises when a user comes across this issue must be that "why is my WiFi not working in Windows 10?" So, before we move on to the methods to solve this problem, let's first understand that what causes this issue in the first place. Here are some potential causes of WiFi not working on Windows 10:
Sometimes, the drivers of your network card are outdated or get corrupted. This, in turn, makes it impossible to establish WiFi signals.
Every system requires a certain WiFi service. If these services are not working properly, then your WiFi will not operate.
The very common thing that most users ignore is that maybe wires that connect to the system or router are loose or unplugged.
At times, routers also cause various problems which make the WiFi to stop working.
Now, if you are a Windows 10 user and your WiFi is not working, then you should definitely check all the following methods to resolve this issue on your hp laptop!
What To Do If Windows 10 WiFi Not Working
There are a lot of methods that you can follow if you are facing the WiFi not working issue on your Windows 10. So, what are we waiting for? Let's dig in and solve the problem as soon as possible.
Method 1: Restart WiFi and Reboot Windows
The simplest method is to restart your WiFi and reboot windows. You can do this by following these steps:
1. Turn off your router by pressing the power button.
2. Restart your router by pressing the same button again.
3. Now, go to your computer and restart the WiFi.
4. To reboot Windows, open Start Menu.
5. Click on the Power Button.
6. Finally, click Restart and wait for your computer to reboot.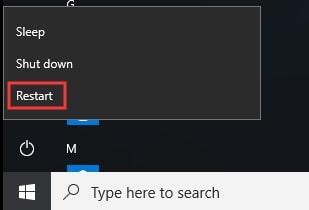 Most of the time, your WiFi Windows 10 not working issue will resolve after you follow the steps mentioned above. But if it doesn't, then move on to the next methods!
Method 2: Enable WLAN AutoConfig Service
WLAN AutoConfig is actually a Windows management utility that helps a user to connect or disconnect any network adapter. Hopefully, by enabling this service, you can get rid of the WiFi not working windows 10 issue. Follow these simple steps to enable WLAN AutoConfig service:
1. Click on the Start menu.
2. Search services.msc in the search bar.
3. Now, you need to left-click on the services.msc pop up icon.
4. A Services window will appear in front of you. Here, you have to look for WLAN AutoConfig.
5. Right-click on it when you find this feature.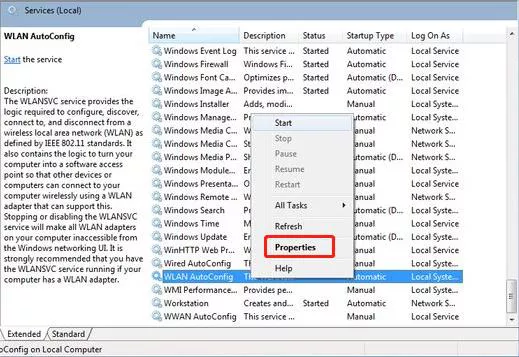 6. Tap on Properties and click on General.
7. Here, you have to select a startup type. Enable it to Automatic Running.
Method 3: Update Your Wireless Network Driver
Now, there are two ways you can update your Wireless Network Driver. The first method is to manually update the WiFi drivers through Device Manager. Another approach is to simply update WiFi drivers by using a Driver Updating Utility tool such as Driver Easy. Let's take a look at both methods.
Option 1: Manually update WiFi driver in Device Manager
As we mentioned earlier, the reason behind WiFi not working in Windows 10 could be that your WiFi driver is outdated. To update to the latest drivers, follow these steps:
1. Click on the Start menu.
2. Search for Device Manager and open it.
3. Now expand the Network Adapter feature.
4. Right-click this and select the Update Driver option.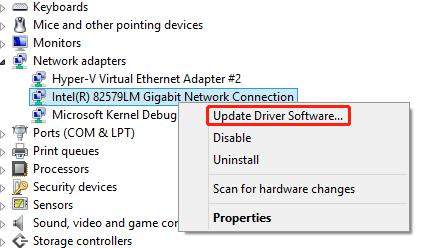 5. Now, click on Search automatically for update driver software option. That's it!
Option 2: Update WiFi Drivers using a Driver Updater – Driver Easy
If you are a novice user, updating the network adapter manually to resolve the WiFi not working issue in Windows 10 can be quite hectic. If that's the case, you can use Driver Easy to update to do this in a much easier way. Here is how you can use Driver Easy for this purpose:
1. Download and install Driver Easy on your PC.
2. Click on Scan Now. The program will start scanning your computer to see if there is any missing or outdated driver.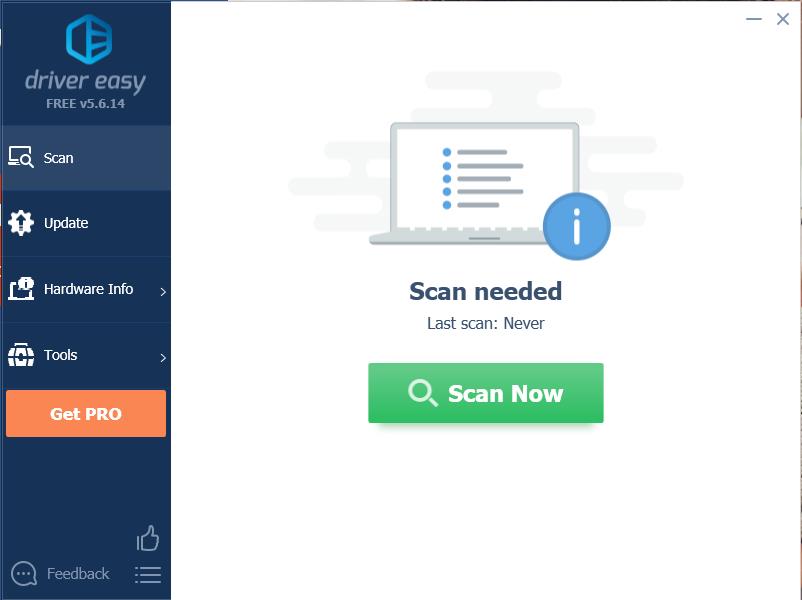 3. Once you have the list of outdated or missing drivers, select them and click on Update. Driver Easy will download and install a compatible driver for your PC.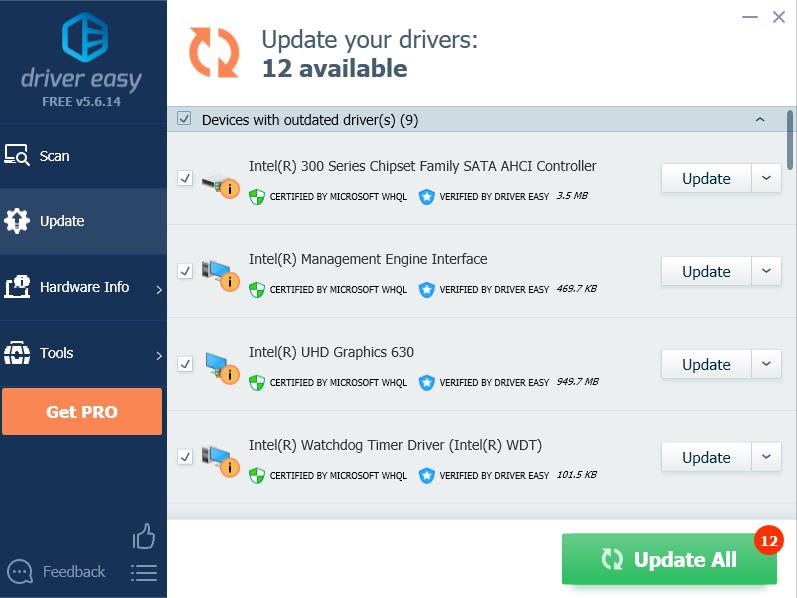 Method 4: Reset Network Connection Settings in CMD
The Network Reset feature in Windows 10 allows us to reset network settings to resolve connectivity issues. Here is how to use this feature:
1. Click on Search and type cmd.
2. When you see the Command Prompt icon, right-click on it and then click on Run as administrator.
3. Now, type netsch winsock reset in the black box and hit enter.


4. After the reset process is complete, the final step is to restart your computer.
Method 5: Run Network Troubleshooter
Running a "Network Troubleshooter" is one of the easiest ways to get rid of the WiFi not working problem in your Windows 10 laptop. The steps are pretty simple too:
1. Search for Network Troubleshooter.
2. Select Identify and repair network problems option.
3. Now, simply follow the wizard guide and you are good to go!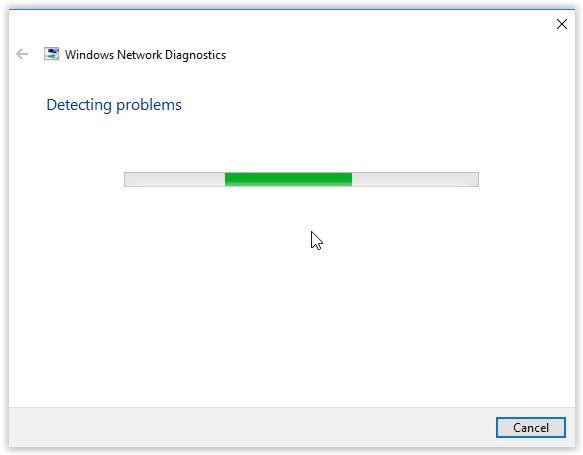 Summary
I hope this article helped you in solving your Windows 10 WiFi not working issue. Now, hopefully you can easily surf all your favorite websites without any hassle. Just make sure you follow all the our methods in a step-by-step manner! Also, if you lose your WiFi password by any mistake, then I suggest you use PassFab WiFi Key . You can get access to your lost password by using this in little to no time. Cheers!