Many people have reported experiencing a black screen with a cursor on their Windows 7 Dell or HP laptop. This issue can occur before or after login, and it can be caused by a variety of factors. According to Microsoft Community, there are many people who suffer from the same issue. They have reported experiencing a windows 7 black screen with cursor which is a frustrating and confusing problem to deal with.
By mentioning this, we hope to convey that you're not alone in experiencing this. we've gathered valuable insights from the Microsoft community, alongside expert solutions from reliable sources.
In this article, we will examine some of the reasons why this issue occurs and provide some effective solutions.
What Cause Windows 7 Black Screen With Cursor
Many factors might contribute to the windows 7 black screen with cursor, which affects users from multiple laptop brands, including Dell and HP. Common reasons include, among others:
Updated or incompatible graphics drivers cause a black screen with cursor.
Corrupted system files cause boot issues and black screen issues.
Malware infection causes a black screen and can disrupt computer startup due to harmful software.
Hardware issues, like graphics cards or hard drives, can cause issues.
Windows 7 compatibility issues may cause conflicts with recent software installations, causing black screens.
Incorrect power settings cause display issues, including cursor problems.
Some Windows updates may lead to conflicts with existing drivers or software.
Problems with the BIOS can prevent proper computer startup if it's not functioning properly.
How To Fix Windows 7 Black Screen With Cursor On Startup
Don't panic if your Windows 7 Dell or HP computer displays a windows 7 black screen with cursor before login. To obtain the answer that best fits your particular circumstance, carefully follow these steps. You will have several alternatives available to you by the conclusion of this article, and you will be able to use your Windows 7 computer without experiencing any black screen problems.
Method 1: unplug external hardware
If your computer comes up with a windows 7 startup black screen with cursor, an external hard drive that is incompatible with your PC may be the reason. All external hardware, including USB drives, external hard drives, printers, and scanners, must be disconnected.
Step 1:In the system tray, next to the clock, click the Safely Remove Hardware icon.
Step 2:On the pop-up menu, choose the item you wish to delete.
Step 3:Unplug the device when you get a pop-up notification indicating that it is safe to remove the hardware.
Method 2: Use windows boot-up tool [Quick and Easy]
PassFab FixuWin is a quick and straightforward way to fix windows 7 black screen no cursor. This software is intended to repair a variety of start-up issues, including boot loops, black screens, blue screens of death, and more. Making a bootable media is one of PassFab FixuWin's most notable functions.
Even if you are unable to do any actions on your PC, this enables you to access your computer and resolve boot-up difficulties. You may make a bootable CD/DVD or USB drive using PassFab FixuWin that has all the files required to resolve boot-up issues.
Video Guide
Step 1: Install the PassFab FixUWin tool on your PC as the first step.
Step 2: Subsequently, utilize whatever USB you may have. Press the Create boot disk now firmly.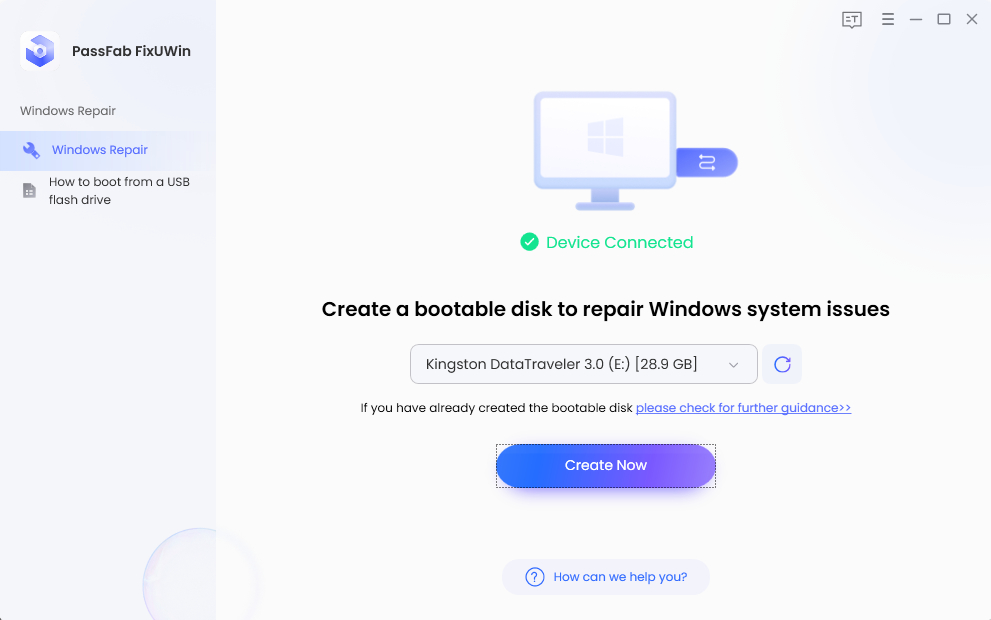 Step 3: Choose the USB and then select next.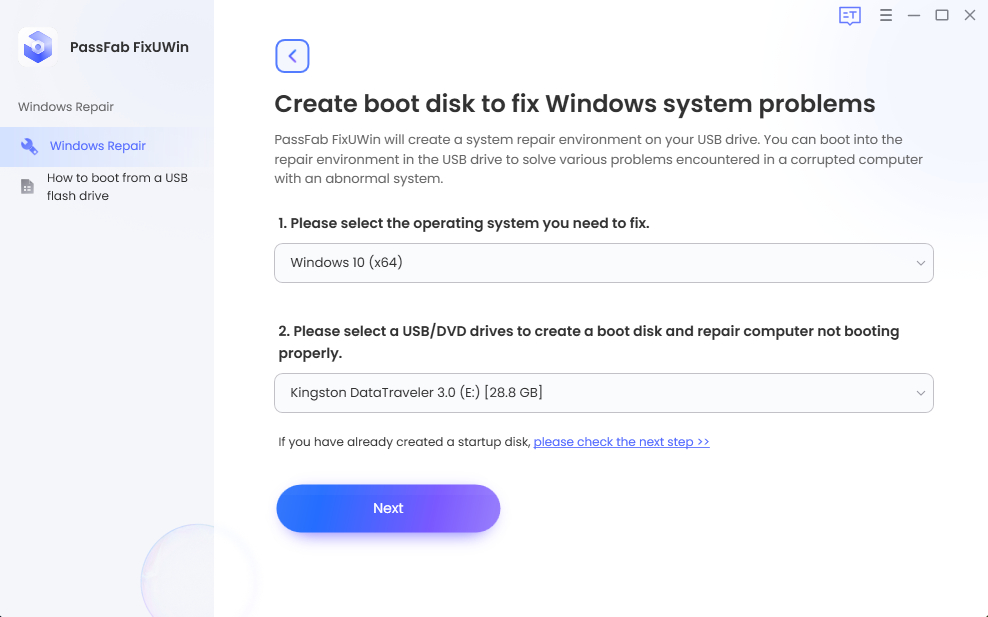 Step 4: Restart your computer and press F12 and ESC to access the bootup menu.
Step 5: Choose the USB as your first priority at this point.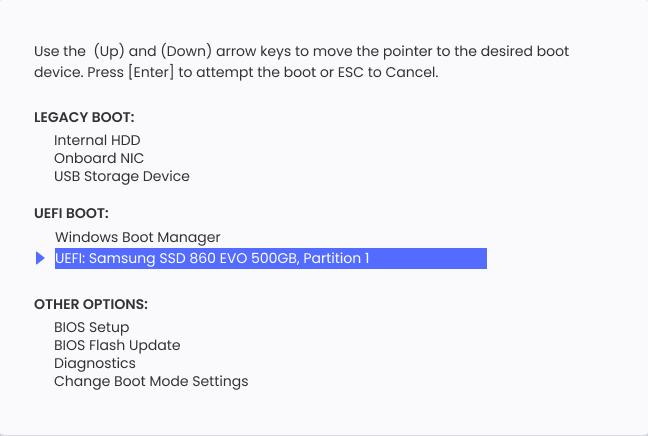 Step 6: Next, select "automated repair" from the tool.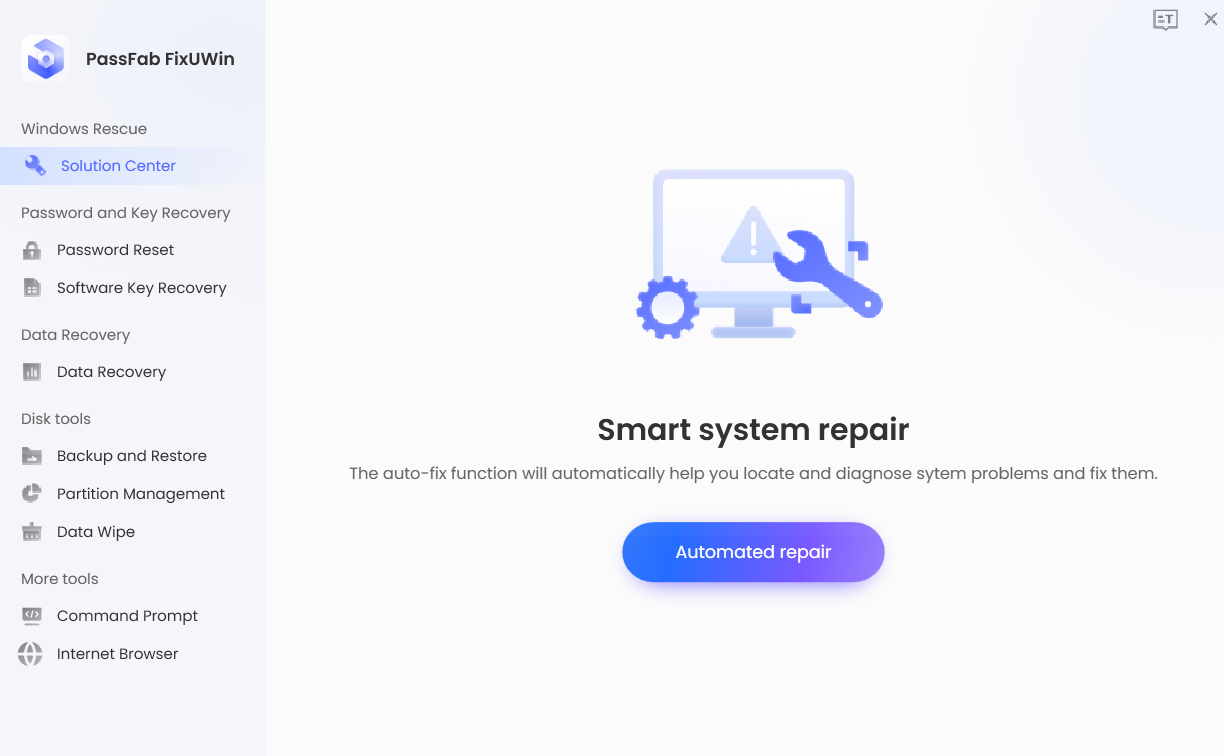 Step 7: After the laptop has finished being repaired, select "Restart" to restart it and make sure it is functioning properly.
Method 3: Update driver
Drivers that are outdated or corrupt might potentially contribute to the windows 7 black screen with cursor mouse pointer only.
Step 1: Reboot your computer in Safe Mode.
Step 2: Launch Device Manager. Increase the device's category before updating its driver.
Step 3: Right-click the device and choose "Update driver".
Step 4: Choose "Automatically search for updated driver software." Windows will install a newer driver if it is available. And then Restart your computer.
Method 4: Use Windows Build-In Repair Tool
The System File Checker (SFC) scan is a built-in Windows utility that helps detect and repair corrupted or missing system files. When your Windows 7 operating system encounters issues like the "black screen with cursor" problem, it's possible that essential system files required for proper functioning may have become corrupted or damaged.
Step 1: To enter the Advanced Boot Options menu when your computer starts up, continually press the F8 key.
Step 2: Press Enter after selecting Safe Mode using Command Prompt.
Step 3: In the Command Prompt window, type "sfc /scannow" and hit Enter.
Step 4: Hold off until the system file checker has finished scanning and repairing any damaged system files.
Step 5: Restart your computer to see whether the problem is fixed.
Method 5: Use Startup Repair
You may identify and resolve problems with your computer's startup using the built-in startup repair tool in Windows. The purpose of Startup Repair is to automatically identify and fix any issues that could be windows 7 black screen with cursor on startup.
Let's see how to solve the Windows 7 black screen with cursor using Startup Repair.
Step 1: Restart your computer.
Step 2: Press F8 repeatedly while your computer is booting up to bring up the Advanced Boot Options menu.
Step 3: Press Enter after selecting Startup Repair.
Step 4: Startup Repair will check for issues on your computer and make an effort to solve them.
Method 6: Boot Into Last Known Configuration
Try booting into the "Last Known Configuration" as one potential fix for Windows 7's black screen with a cursor problem. It allows you to revert your system settings back to a previous state when your computer was working correctly. It does this by using a copy of the registry and driver configurations that were known to work without any problems.
Step 1: Reboot your computer.
Step 2: Before the Windows 7 logo displays, keep pressing the "F8" key while the machine begins to load up. The "Advanced Boot Options" menu will then appear.
Step 3: Using the arrow keys, choose "Last Known Good Configuration (advanced)" from the "Advanced Boot Options" menu, then press "Enter."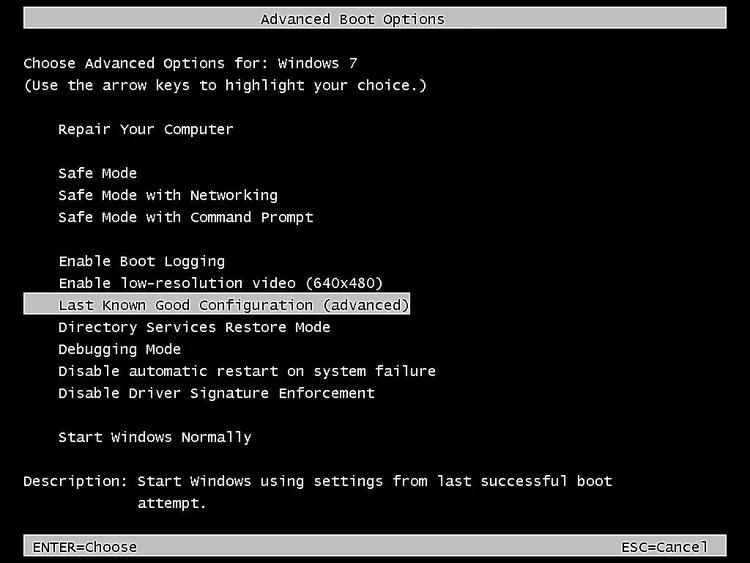 Step 4: To start with the most recent settings that were successful, your Windows 7 will try.
Note:
It is only work for Windows 7 while windows 10/11 is replaced this function with safe mode.
Method 7: Perform System Restore
The act of performing a system restore is one of the ways to troubleshoot dell laptop black screen with cursor windows 7 problem. You may return your computer to a prior state using the System Restore function of Windows. If you have installed a new programme or driver that is producing issues with your computer, this might be useful.
The steps are as follows:
Step 1: Restart your computer and keep pressing F8 until the Advanced Boot Options screen opens.
Step 2: Click "Repair Your Computer" and then click the Enter key.
Step 3: Click "System Restore" and adhere to the prompts on the screen.
Step 4: To restore your system, select a restore point that was created before the problem appeared.
Final words
There are numerous ways to resolve the windows 7 black screen with cursor in hp or dell devices, which is fortunately a frustrating and perplexing issue to deal with. There are several options, ranging from disconnecting extra hardware to utilising PassFab FixuWin. One of the most effective tools for resolving the Windows 7 black screen with cursor issue is PassFab FixUWin.