Many people who are using iPad are facing iPad Activation Lock Bypass jailbreak issues. If you are also facing a problem related to this, then you must go through this article to solve your issues. Here we will tell you the whole concept of what jailbreaking for iPad is, how jailbreak works, and how you can jailbreak your iPad.
Part 1: Will Jailbreak Locked iPad Bypass Activation Lock
1. What is jailbreaking an iPad
Most of the people who are using iPad, or iPhone must have heard the term jailbreaking. Some people even jailbreak their device without knowing the meaning of it. So here we will tell you what does jailbreaking means and what is the process behind it.
Jailbreaking means gaining the ability to install custom third-party apps on your iPad /iPhone. By jailbreaking your device you will be able to install apps that aren't in the Apple App Store. It is completely legal, but Apple does not want you to do this because they want to make the user experience the same for everyone. What makes Apple's devices different from others is their simplicity. It is also one of Apple's key selling points and they don't want people to customize or hack their device. It can also result in a bad user experience and somewhere affect their goodwill. But if you ask for my personal opinion, I am jailbreaking my iPad because the device is mine, I pay for it and I can do what I want to do. So if you also want to jailbreak your device then go for it.
2. What Does Jailbreaking an iPad Do
Jailbreaking an iPad allows you to install and use apps that are not available in the App store. Generally, these are optimization tools (tweaks), extensions, and themes that Apple does not support by default. Some stores supply third-party apps for jailbroken devices.
Here is the list of what does jailbreaking an ipad do:
Installation and use of third-party apps which are not available in the App Store.
Customizable appearance of your iPhone/iPad. (By using various icons, boot animation, and themes).
3. Will Jailbreak Locked iPad Bypass Activation Lock?
In fact, jailbreak iPad only cannot bypass activation lock on it. But you can know how to jailbreak your iPad here.
Checkra1n is a jailbreak solution for iPhone/iPad that also works in the latest versions of iOS. Here we mentioned the process to use Checkra1n to jailbreak your iPad/iPhone.
First of all download the Checkra1n jailbreaking tool from checkra.in on your Mac. (Always download it from the official site of Checkra1n; otherwise, it may contain malware)
When the download is completed, double click on the .dmg file to open it.

Now drag and drop the checkra1n app into the Applications folder of your Mac.

Then open the Applications folder on your Mac and right-click on the Checkra1n app to open it.

Note: If Apple's security system won't allow you to open the application then follow the following steps, otherwise move to step no. 5.

Go to system preferences and then select the Security and privacy option.
Now select open anyway and then click on Open. Then enter the administrator password if asked.
Now try to run the checkra1n app again, and this time you will not face any issues.

Connect your device to the computer via USB cable, and if you are connecting it for the first time your device will ask you to trust it.

Launch the checkra1n application and move into the checkra1n options.

When the following screen appears:

iOS 14.6 users should enable: Allow untrusted iOS/iPadOS/tvOS versions.
iPhone X, iPhone 8, iPhone 8 Plus users should enable: Skip A11 BPR check.

Press the Next button and follow the on-screen instructions by the checkra1n app. It will result in going your device into DFU mode.

Your iPhone/iPad will reboot so many times during this process. Please do not disconnect it while checkra1n is jailbreaking your device.

After the jailbreak finishes, click on the Done button and close the application.
Now check your device, you can see the checkra1n app on the home screen.
Part 2: How to Perform iPad Activation Lock Bypass Jailbreak
Here we will break down the complicated process of jailbreaking the iPad for you. After reading this guide it will become easy for you to use jailbreaking for iPad bypass Activation Lock. The following solutions unlocked most of the devices for iPad activation lock bypass with PassFab Activation Unlocker.
1. iCloud Locked iPad Jailbreak
There are so many tools in the market to jailbreak locked ipad. But in most of the tools and software, you need to enter your Apple ID and Password. Now, what if you don't have these credentials? How to jailbreak iCloud Locked iPad/iPhone?
The solution is PassFab Activation Unlocker. If your iPad is locked and Activation Lock is enabled then you can easily jailbreak your iPad with PassFab Activation Unlocker.
First of all download the PassFab Activation Unlocker on your PC/Mac.
Now run the downloaded file and install it. When the installation is completed, launch the PassFab Activation Unlocker on your system.

When the following screen appears, select Remove iCloud Activation Lock.

Then click the start button to start the process. Then you have to read Terms and Conditions carefully and then click on Next.

Now connect your iPad that you want to jailbreak via a USB cable. PassFab Activation Unlocker will automatically detect your device.

When your device is detected by PassFab Activation Unlocker, it will download the jailbreak tool for you automatically. Now you have to insert a USB drive into your computer to burn the jailbreak environment into it. Click Start.

When the jailbreak environment is burnt successfully, there will be some further instructions on the screen to jailbreak your device. Read all these instructions carefully and follow those instructions to jailbreak your iPad.
2. iCloud Locked iPad Bypass
PassFab Activation Unlocker also allows you to bypass the iCloud Activation Lock on your iPad. Follow the following steps for activation lock iPad bypass:
After jailbreaking your iPad successfully, the following screen will appear. Click on the Start button and wait for a moment. The program will remove the iCloud Activation Lock from your device.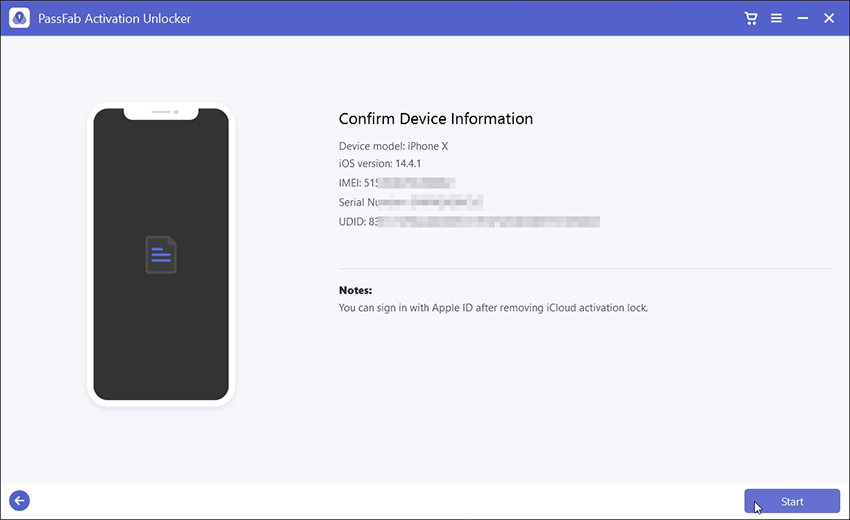 You will receive a message, "The iCloud Activation Lock has been removed successfully". Click on Done.
Conclusion
We hope this guide will help you for iPad activation lock bypass jailbreak. Here we shared how to jailbreak your iPad. We also shared with you how you can bypass the iCloud Activation Lock on your iPad using PassFab Activation Unlocker. If you still have any questions or queries let us know in the comment section, we will try to solve your queries as soon as possible.