Ask any iPhone user, and they'll tell you that the one thing they absolutely can't afford to forget is their phone passcode and backup passwords. If you lost iPhone backup password means you're going to lose access to your encrypted backup. Staying locked out just won't do. You need to figure out how tochange iPhone backup password so you can have access to the iPhone backup service again. Surely, there has to be a way to retrieve your iPhone backup lost password? Well, there are three solutions to your problem.
Solution 1: How to Change iTunes Backup Password in 2 Situations
Let's start with the official help guide, the stuff Apple expects you to do if you ever find yourself in this sticky situation. Before getting started, please ensure your iOS version.
1. For iOS 11 And Above User
Here are all that you need to do to change the password of your encrypted iPhone runing iOS 11, iOS 12, iOS 13 and above.
Step 1. On your device, go to Settings > General > Reset
Step 2. Select Reset All Settings and enter your iOS passcode.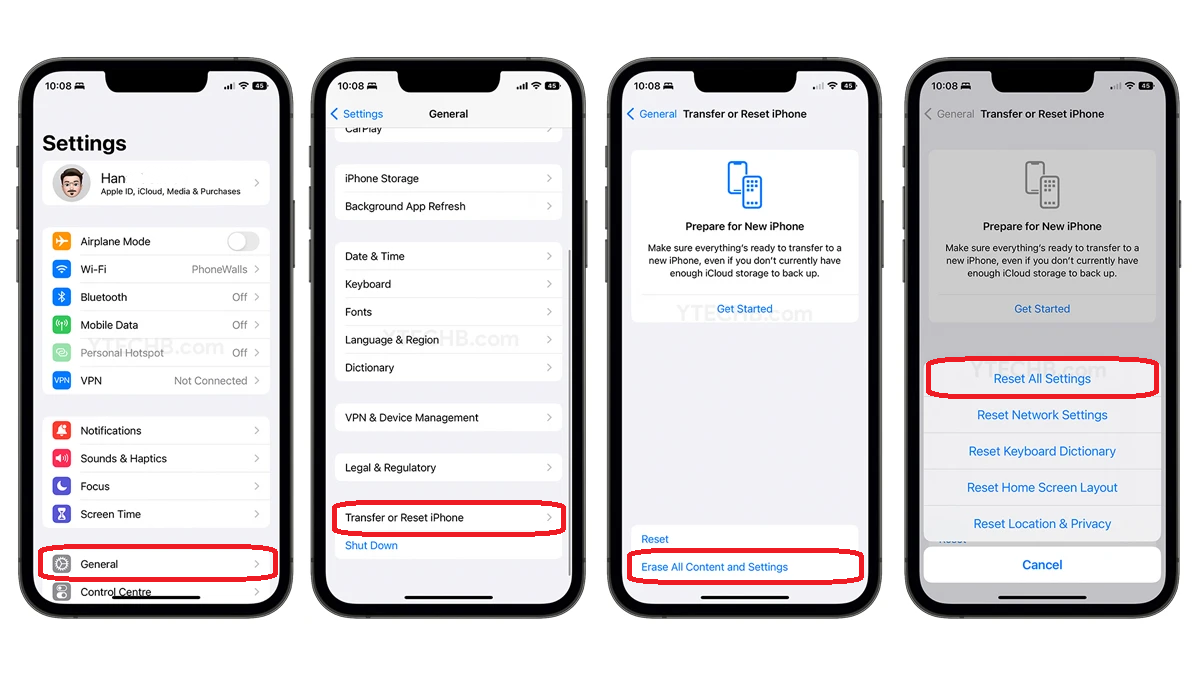 Step 3. Follow the steps to reset your settings. After your settings have been reset, your backup password is also reset.
Note: Your user data and passwords won't be affected, but all settings like display brightness, Home screen layout, and wallpaper, will be restored to defaults.
Step 5. Connect your device to iTunes again and create a new encrypted backup.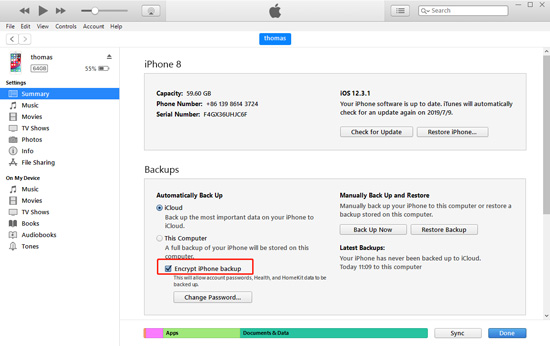 For iOS 10 And Below User
Unfortunately, resetting your settings on iOS 10 and below doesn't reset the backup password. You can, however, try these things:
If someone else set up your device, ask them for the password.
Use an iCloud backup instead of iTunes. If you don't have an iCloud backup, you can make one.
Try using an older iTunes backup.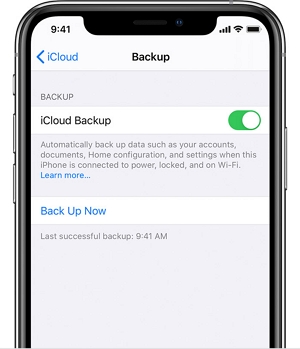 Solution 2: Retrieve Your iPhone Encrypted Password with Professional Tool
Now, what if the data in the previous encrypted backup was actually very important and you needed it at all costs? Fortunately for you, while Apple can't help you out in this matter, there are a couple of third party softwares that can help you out of this pinch, the most notable of which is the PassFab iPhone Backup Unlocker.
Here's how to recover iPhone password using this software:
Step 1. Download and install the software.
Step 2. Select retrieve iTunes backup password from the three options on main startup screen.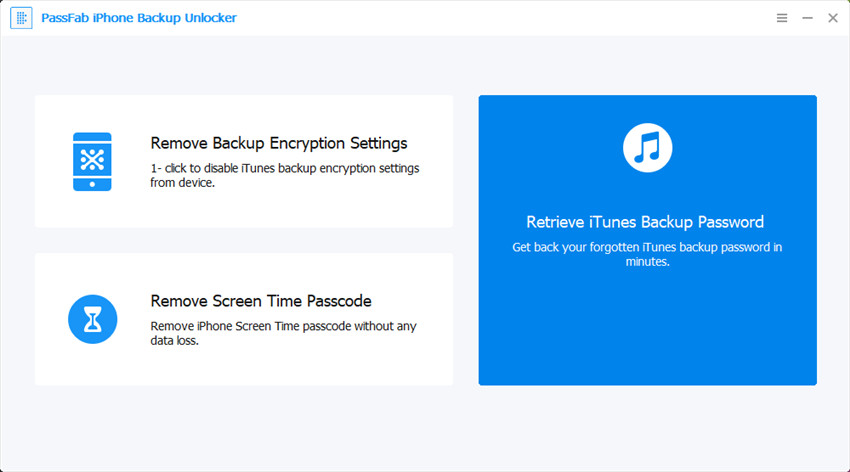 Step 3. You can now see all the backup files on your PC. If you don't see any backup file, you can just click on "Import backup files" link to get started.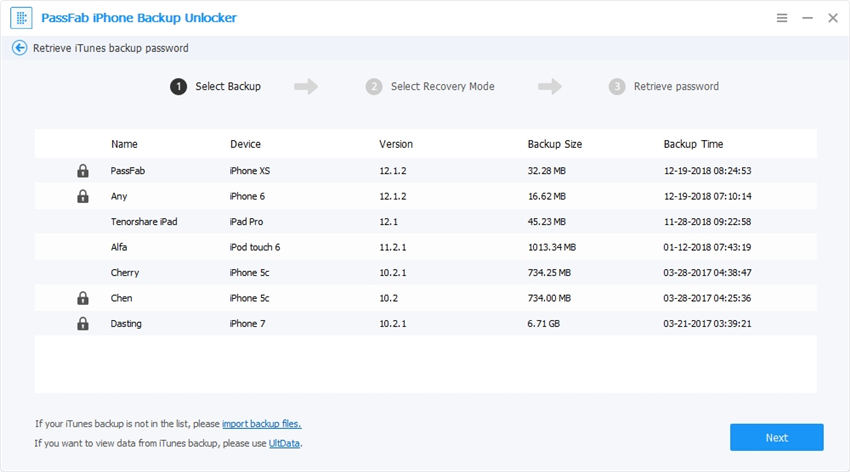 Step 4. Once you click on the iTunes backup, you will have three different password attack modes to select from. Select your password recovery method easily.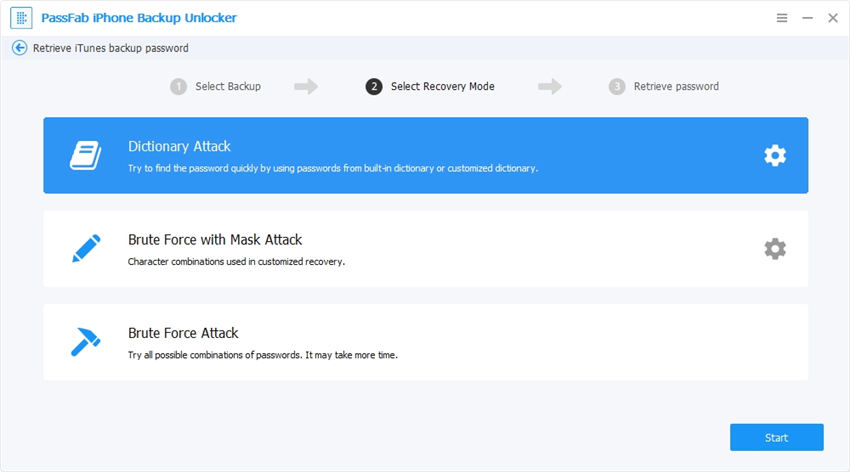 The three methods are explained in detail below.
Dictionary attack: Choose this retrieval method if you have some idea as to what the password might be. Upload a text file containing all the key words you think the password may have had, or use the default dictionary to help you out.
Brute force with mask attack: If you remember some parameters about your password like the word length or character range you used, then this method will help you retrieve your backup faster.
Brute force attack: Choose this method if you can't remember your password at all. This will try out every single combination to get the right password so it may take time, but it will get your password eventually.
Step 5. The last step is to just hit the Start button and wait till the program finds your password. Now, you might have to wait for just a few minute here, or even an hour or so, as it all depends on the password complexity that we are looking at.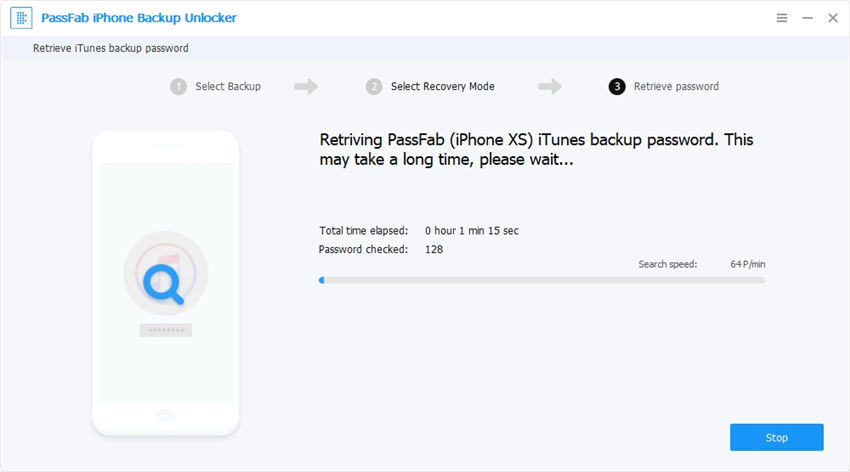 When the password is decrypted, a pop up window with the password will be shown. You can use it to decrypt the file easily.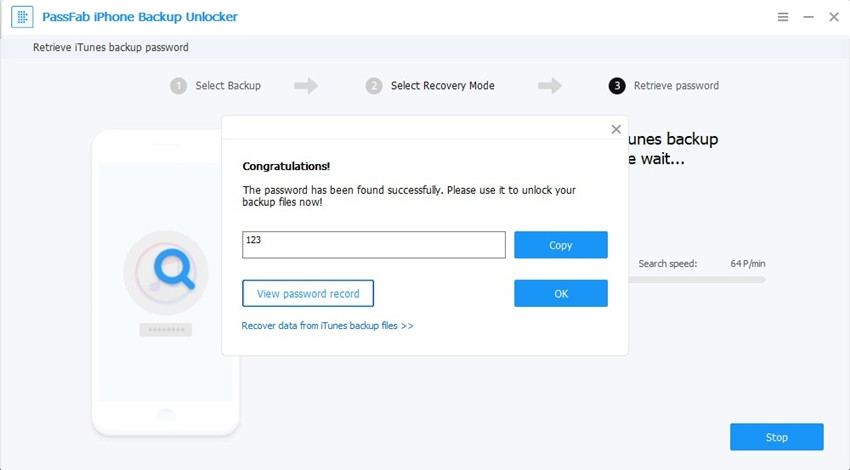 Solution 3: How to Use iCloud Restore Backup Password
Your iTunes backup may have failed you (or well you failed yourself by forgetting the password, to be honest), but all hope is not lost. iTunes isn't the only software Apple offers you with the ability to create backups on to help recover data in times of need.
Here's how to go about resetting your phone with an iCloud backup restore:
Step 1. Prepare your device for a backup restore by erasing all data on it, then restart your iPhone.
Step 2. Tap Restore from iCloud Backup when the onscreen setup takes you to the Apps & Data screen.
Step 3. Sign in to iCloud with your Apple ID.
Step 4. Choose a backup from a list off your iCloud account, looking at the size and date and size the backups to help you choose. On selection, the transfer of data starts.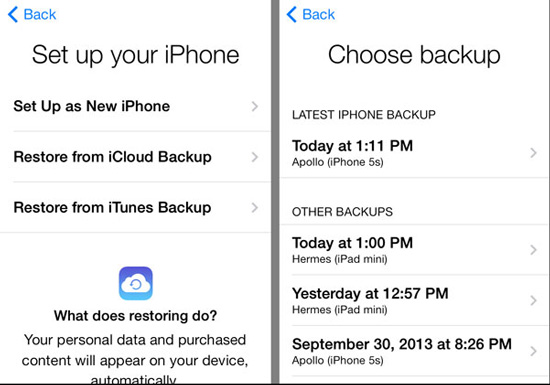 Step 5. Install a newer version of iOS if the device prompts you then sign in to your Apple ID account to restore your apps and purchases or tap Skip this Step and sign in later.
In the end, Wwait for the setup to complete. It may take some time depending on your internet speed and backup size.
Conclusion
Apple doesn't offer you a way to retrieve iTunes encrypted backup password without which you can't access your old backups. If the data you lost isn't too important, we suggest you let it go and create a new backup password. On the other hand, if the data in the old backup was quite important, then we believe it's necessary to rely on a third-party solution like iPhone Backup Unlocker to get the job done.