"Hello! I am facing an "unable to activate face ID on this iPhone" issue, will anybody solve my confusion? Is it a hardware issue or software? Secondly, if its software issue then please come up with great solution. I am really fed-up from this, if you get me out of this I will be very thankful to you! It's iPhone X iOS 13.6."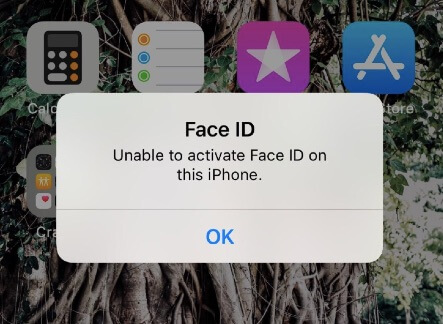 A new version of iOS firmware will be in the market soon, such as iOS 14 and iPadOS 14. It is especially designed for all the users who are dealing with unable to activate face ID. But the question is that, for now how one can deal with such issues? Well! We have introduced this article just for this purpose. Here we are going to share few amazing tips that will help you to solve unable to activate face ID on this iPhone. Till the launch of stable iOS firmware you can utilize these few tips.
8 Great Tips to Fix Unable to Activate Face ID on this iPhone
iOS 12 update brings new features and functionalities into the iPhone because of this update 90% people are facing lot of bugs which are creating problems like unable to activate face id on this iPhone. Yes! These bugs are properly effecting the functionality of Face ID.
Fix 1. Disable and Re-enable Face ID on iPhone
In case your iPhone X face ID function is not working properly then it is one of the simplest tip to try, simply turn off and then enable your phone, the phone will be refreshed and start working.
Step 1: Open Settings and navigate to Face ID & Passcode.
Step 2: Now go to Use Face ID and choose iPhone Unlock option from the drop down.
Now you have to wait and repeat the same steps, doing this will refresh Face ID function.
Fix 2. Try Resetting Face ID on iPhone
Resting face ID can also be a good option to fix this Face ID issue.
Step 1: Simply Navigate to Settings and choose Face ID and Passcode.
Step 2: Reset Face ID, its end, doing this will fix Face ID issue.
Fix 3. Force Restart on Your iPhone
It's one of the trusted ways to fix Face ID issue.
Step 1: Simply press up the Volume Up Key and Volume Down Key.
Step 2: Push down the Sleep/Wake Key till Apple logo appears on the screen.
In such a way, you can forcefully Restart an iPhone and can fix Apple ID issue.
Fix 4. Reset All Settings on Your iPhone
If you have tried all above methods but still the issue is not resolved then you can try on this method.
Step 1: Go to Settings, and then navigate to General' > 'Reset' > 'Reset All Settings'.
Step 2: At the end, key in the passcode when prompted and confirm.
Fix 5. Update Your iPhone to Latest iOS Version
Updating to Latest iOS can also fix Face ID issue.
Step 1: First of all go to 'Settings' > 'General' > 'Software Update.
Step 2: Now navigate to Download and install and then Install and Enter Passcode. Soon the software will be updated.
Fix 6. Put iPhone in Portrait Orientation
Putting the iPhone into Portrait Mode can fix this issue, after keeping phone in portrait mode face the camera. Make sure the proper light is falling on your face so that face ID captures your face features properly.
Fix 7. Ensure Nothing is Covering Your Face
Make sure your face is not covered and nose, eyes, mouth must be completely visible to the camera. If you are wearing any sunglasses then put if off. You must be into a well-lit place.
Fix 8. Make Sure iPhone is No Further than Arm's Length
If you are away from camera then it will be difficult for the software to capture your features, so we will recommend you highly to be in an arms' length of camera. And keep in mind that light must be on your face while facing the camera.
Bonus Tips: How to Remove Apple ID on iPhone
Now removing an Apple ID is no more difficult, PassFab iPhone Unlocker is here to remove iPhone Apple ID anytime, anywhere. It is well known worldwide because of its popularity.
PassFab iPhone Unlocker Key Features:
Just with a single click now you can bypass or remove Apple ID without password.
Its compatibility is so wide, either it's iOS 14, iPadOS 14, iPhone 11, it works amazingly with all.
This tool is 100% free of viruses, it does not harm your device at all.
Its supports all types of lock screens, either its Touch ID / Face ID, 4-Digit/6-Digit, Numeric Code, Custom Numeric Code, Custom Alphanumeric Cod, it works with all.
It also allows you to reset your iPhone without passcode.
Professional have tested it and reviewed that it is much better than other alternatives in the market. Its reliability and efficiency is simply outstanding.
Steps to Use PassFab iPhone Unlocker
Step 1: First of all, you have to Download and launch PassFab iPhone Unlocker, on PC. When you launch it, you can see two interfaces, simply navigate to Unlock Apple ID & choose Next.

Step 2: In 2nd step, you have to put idevice with PC & navigate to Start button.

Note: If you are connecting the device for the very first time then you will be able to see a lock screen passcode settings. Simply unlock the device and press Trust, now enter the passcode again.

Step 3: After connecting your device with PC choose Start Button.
Step 4. You have to wait, it will take a short time and soon your Apple ID will be remove from device, and one can easily login with new Apple ID.
Few things to keep in mind while using this tool:
iPhone must be connected all the time with PC.
There is not fear of data loss while removing Apple ID only if your iOS version is below 10.2.
Keep remember, this tool will not work if your iOS version is 11.4 and above.
Bottom Line
The short conclusion of this article is that we have introduced amazing tips for those who are stuck with "unable to activate face ID on this iPhone after screen replacement" issue. We have also introduced PassFab iPhone Unlocker, this amazing iPhone passcode unlock tool is simply awesome to remove Apple ID without password. Share this article to all those who are facing Face ID bugs in iPhone or have forgotten Apple ID. Stay Tuned for more related article.