Are you also getting the 'Update Apple ID Settings' suggestion every other second on your iOS device?
The iOS 15 update adds a slew of new capabilities to the iPad that vastly improve the user experience, but many iOS owners have reported several difficulties. After updating iOS 15, users' most prevalent difficulties is the constant annoying "Update Apple ID Settings" notification error on the screen.
This commonly occurs when the Settings app cannot contact the Apple Servers during the update process, there is a background service conflict, or your device is still attempting to obtain tokens and security tickets from its previous cache.
Part 1: How to Fix "Update Apple ID Settings Stuck?"
To fix the 'Update Apple ID Setting' bug problem on your device, you can try several methods and get rid of it. We have gathered the most effective solutions to this bug issue, which guarantees to remove this loop of notifications.
Here is the video guide of how to fix update Apple ID Settings Stuck.
Way 1: Check Apple System Status
Even after properly verifying the Apple ID password, the Apple server may be down for maintenance in rare situations, preventing this warning from being correctly erased. In this case, check Apple's system status page for a green dot next to App Store, Apple ID, iCloud account and sign in, and so on. Please wait till Apple resolves this if they are on maintenance.
When the disruptions are rectified, Apple will update its System Status page to reflect this. Whether there is any imminent maintenance or not, Apple will make a notification on this page.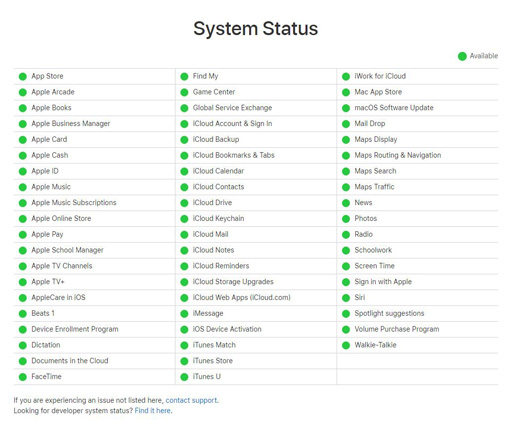 Way 2: Force to Exit Setting
You can temporarily stop the iOS from prompting you to the "Update Apple ID Settings" by tricking the settings into closing. You can force exit the Settings by following the steps below: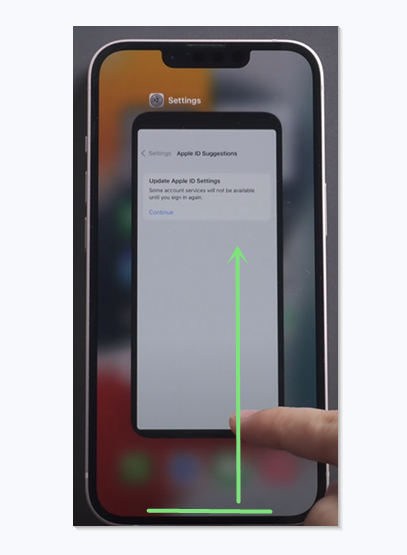 Quit Settings App and reopen it, so the device doesn't hang the screen. Swipe up to open the App Switcher, then swipe up again to shut the Settings card.
Return to Settings and choose Update Apple ID Settings from the suggestion box located just underneath your Apple ID.
Way 3: Check for Updates
Look for new iOS updates to fix the Settings Update bug! The issue might have appeared during your previous iOS installation process, so install it if you have an update.
If you're using an older version of iOS, you may try updating it to the most recent version to resolve the problem. Your iPhone's updated Apple ID Setting can be stuck due to iOS issues in current releases. This problem may be addressed in the most recent iOS version. Your iPhone may be updated by going to Settings > General > Software Update. You may also connect your device to iTunes to get the most recent iOS version.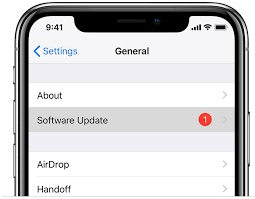 Way 4: Restart your iPhone
If your device is stuck on the "Update Apple ID Settings" suggestion, try restarting it. It will reboot your device, temporarily removing the error.
To restart iPhone X, 11, 12, or 13, press or hold down either the volume or side buttons until the power off slider displays. Slide it to switch off the iPhone. Now restart your device by pressing the side button till you see the Apple logo.
To restart iPhone SE (2nd generation), 8, 7 or 6, hold the side button until you see the power off slider appear. Slide it to switch off your phone. Now press and hold the side button till the Apple logo appears and your device restarts.
Way 5: Sign Out and Log in
One of the methods you can use to remove the annoying update setting notification is to sign out and back in your Apple account. Before signing out, make sure you know the credentials to log back in.
On your iPhone, go to Settings and then to your Apple Account. Scroll to the bottom of the page and press Sign Out. Sign back into your Apple ID once you've logged out.
Way 6: Update Apple ID Password
The "Update Apple ID Settings" bug might go away if you update your Apple ID password and log into the account.
To do this, when you complete setting up a new iPhone, you'll be invited to check in with your Apple ID to access all of your iCloud services. You can choose to press the Continue button. After that, you'll be prompted to enter your Apple ID password. Tap Sign In after you've typed it in.
You will see the Apple ID Suggestion screen grey out, and the Settings app won't respond.
Bonus: What to Do If You Forgot Apple ID Password -PassFab iPhone Unlocker
Have you forgotten your Apple ID password and can't access your device? Don't worry anymore! PassFab iPhone Unlocker guarantees to unlock your iPhone without any password.
PassFab Iphone Unlocker software uses advanced features that unlock iPhone/iPad and other iOS devices without the passcode. It can also bypass screen time passcode and MDM efficiently.
To bypass the Apple ID password using PassFab, follow the steps below:
Install and open the PassFab iPhone Unlocker. Go into the "Unlock Apple ID" mode on the interface.

Now you must plug in your iPhone or iPad to the PC running PassFab iPhone Unlocker. For the first time, you need to unlock the screen first and touch "Trust" on your smartphone, then input the device passcode again to trust the computer.

Next, press the "Start Remove" button to remove your Apple ID or iCloud account from your iPhone or iPad. There are two ways to move forward depending on your Find My iPhone setting.

Following the on-screen guide base on the status of Find My iPhone is Disabled or not:

If Find My iPhone is disabled, PassFab iPhone Unlocker will quickly recognize Apple ID and unlock it without harming your data. Wait for a short while till the loading completes. Now you can access your device again! If Find My iPhone is enabled, it will be a little complicated.

Finally, you can remove the apple ID successfully.
Conclusion
Many iOS users have faced the "Unlock Apple ID Settings" issue after updating the new iOS 15 version. This error bug may arise for other reasons and annoy you with the notification all the time. We have presented some effective ways to get rid of this bug. Try and see which one works best for you!
Moreover, if you forget their Apple ID password often, the PassFab iPhone Unlocker tool works best. It will help you unlock your iOS device by bypassing the password with advanced so you can access your device again. The software also lets you unlock iOS devices with or without Apple ID, bypass MDM without iCloud login.
We hope this article answers your queries and helps you in the future!